Following the successful workshop held at ECCC last month, the Wildlife SOS team hosted a second Wildlife Crime Enforcement & Human-Wildlife Conflict Mitigation Workshop in Gorakhpur University, Uttar Pradesh.
This workshop was a joint initiative with the Uttar Pradesh Forest Department and was attended by nearly 250 members of the Special Task Force U.P. Police, Administration and Forest Department. The workshop commenced with Hon'ble PCCF (Wildlife) & Chief Wildlife Warden Shri Pawan Kumar, IFS addressing the importance of wildlife crime investigation in the state & collaboration between various agencies. This was followed by presentations and awareness talks by Wildlife SOS co-founder Kartick Satyanarayan, Retired PCCF (HoFF) Karnataka, B.K. Singh and our legal team.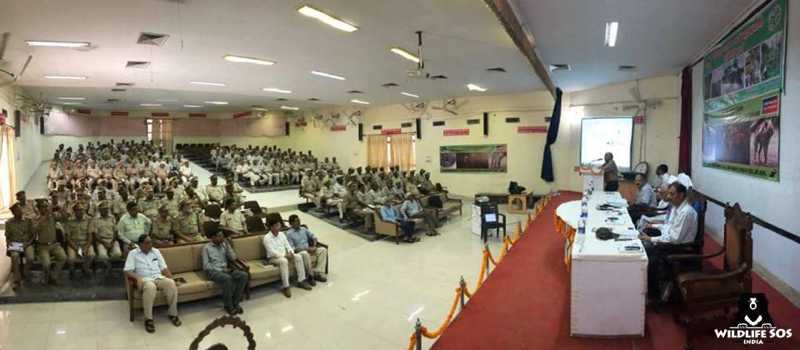 N K Janoo, IFS- DFO Gorakhpur discussed the challenges faced at grass root level by the Forest officers while handing matters pertaining to wildlife crime. Arvind Chaturvedi, IPS Special Task Force Lucknow, U.P. Police shared cases studies on police investigation & prosecution case studies. Wildlife SOS Conservation Director, Baiju Raj M.V shared cases studies about human-wildlife conflict mitigation and methods to approach such situations.
The workshop focused on human-wildlife conflict issues & detection, prevention and prosecution of wildlife crime. It provided insight on the various factors involved in carrying out successful rescues and seizures and highlighted the various provisions of the Wildlife Protection Act, 1972 including taking necessary legal actions against such criminal offences. This helped increase sensitivity towards wildlife offences and educate front line officers on the measures they can take to reduce wildlife crimes and protect India's rich wildlife heritage. The session concluded with a snake demonstration by our team detailing the methods to identify snakes and the proper protocol to follow in case a snake is found, while also busting myths & rumors about snakes that cause people to fear them.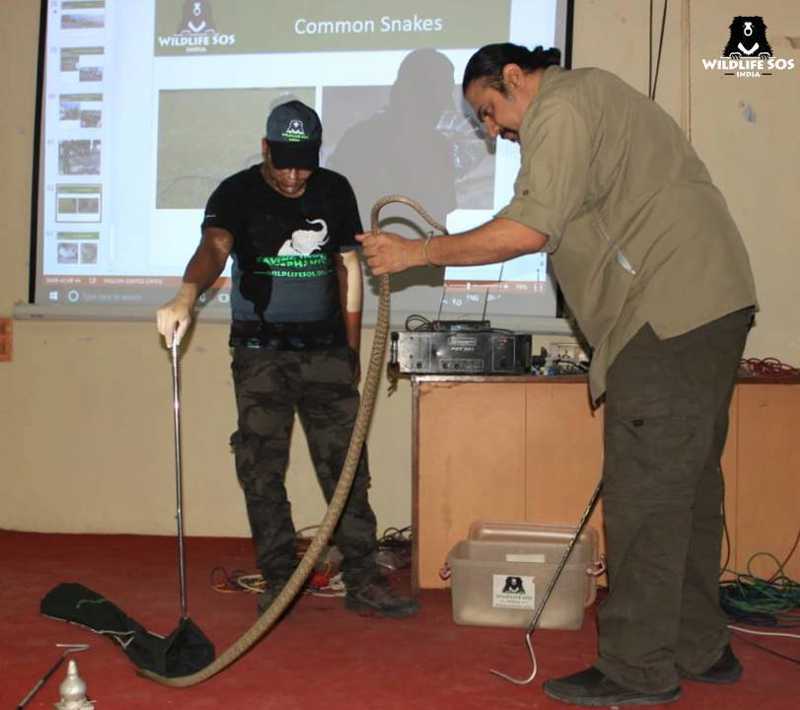 According to the attending officers, the workshop was very helpful as they had the opportunity to learn more about wildlife crime and how they need to investigate such matters, producing evidences in the court, filing cases against the offenders and other related matters. We look forward to hosting similar sessions with the Forest Department and Police in the future.
Wildlife SOS has released a 'Wildlife Crime Enforcement Field Guide & Manual' which provides a detailed approach to detection, prevention and prosecution in the field of wildlife crime. The manual is a result of several years of hands on experience in anti-poaching operations.