Wildlife SOS hosted a Wildlife Crime Enforcement Workshop at the training class room in the Elephant Conservation & Care Center, Mathura. The workshop organised in collaboration with the Uttar Pradesh Forest Dept. was attended by members of the Judiciary, Police, Administration and Forest Department.
Hon. Secretary, District Legal Service Authority (Mathura) Shri Shailendra Verma, inaugurated the workshop which was followed by presentations and awareness talks by Wildlife SOS co-founders Geeta Seshamani, Kartick Satyanarayan, Supreme Court Advocate & Wildlife Criminal Lawyer, Shri S N Vashishth, & Wildlife SOS Conservation Director, Baiju Raj.
The workshop was aimed at sensitizing the front line officers and creating awareness to minimize wildlife crime in the country, highlighting the various provisions of the Wildlife Protection Act, 1972 including taking necessary legal actions against such criminal offences. S N Vashishth, Supreme Advocate, Supreme Court, Delhi who elaborated on these legal aspects emphasized that the application of legal provisions is extremely crucial for effective implementation of the law in order to protect the wildlife of this country.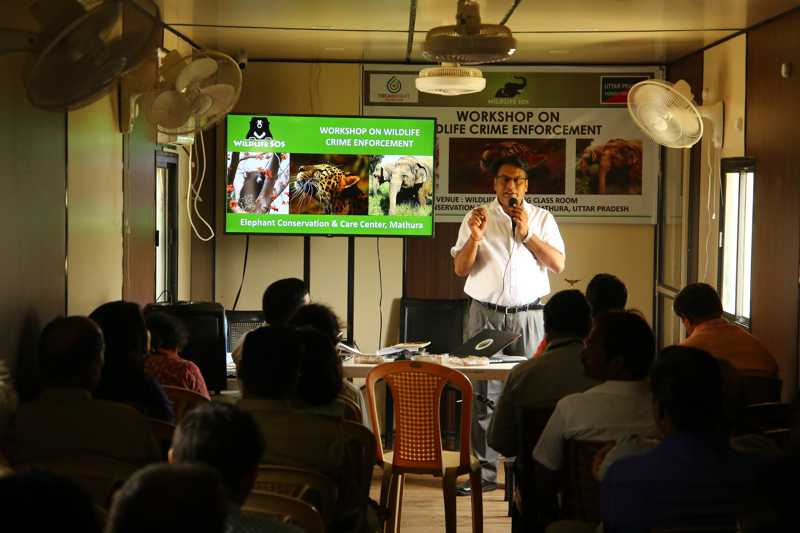 With this in mind, Wildlife SOS has released a 'Wildlife Crime Enforcement Field Guide & Manual' which provides a detailed approach to detection, prevention and prosecution in the field of wildlife crime. The manual is a result of several years of hands on anti-poaching operations. We actively assist enforcement agencies like Forest Department, Police, Special Task Forces, Wildlife Crime Control Bureau, Directorate of Revenue Intelligence, CBI etc. by gathering and relaying valuable intelligence pertaining to wildlife trafficking and crimes.
Another key aspect of the workshop was highlighting the intricacies involved in carrying out anti-poaching operations such as the recent seizure of nearly 20 kilos of Tiger bones & a tiger skin from two tiger poachers, conducted by Wildlife SOS and the U.P. Special Task Force in Bijnor, Uttar Pradesh. We concluded the day with a tour of the facility and elephant enclosures.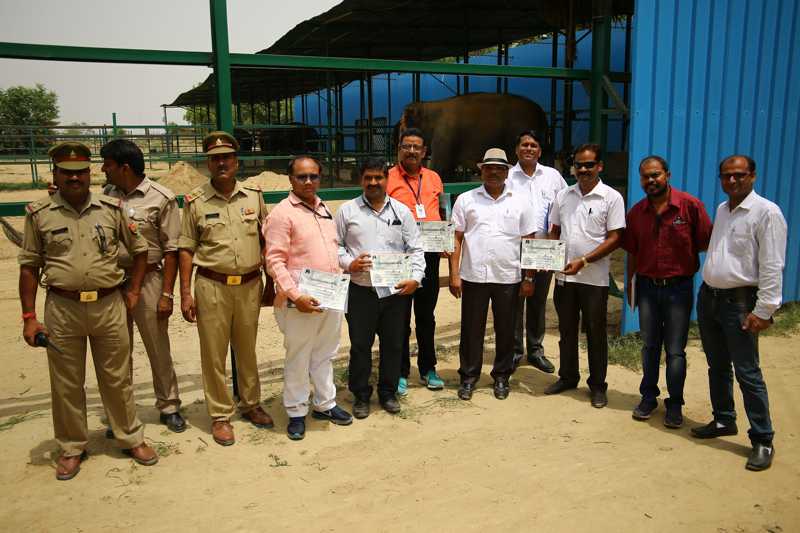 Such workshops help us build capacity on the ground. It was very interesting for our team to interact with the police and forest department staff as well as the judiciary. According to Shailendra Verma, Hon. Secretary, District Legal Service Authority (Mathura), the workshop was very helpful as the attending officers had the opportunity to learn more about the measures they can take to reduce wildlife crimes and how they need to investigate such matters, producing evidences in the court, filing cases against the offenders and other related matters in protecting India's rich wildlife heritage.