This year, World Wildlife Day which is celebrated on 3rd March was centered on the theme "Big Cats: Predators under Threat."
Keeping the theme in mind, our team at the Manikdoh Leopard Rescue Center and the Chief Conservator of Forests (Pune), Mr. Vivek Khandekar hosted a leopard awareness program for a group of local journalists, who were keen on getting insight on the conservation efforts being carried out in the region.
Maharashtra is home to a significant leopard population that is under constant threat by habitat degradation, poaching and conflict with communities. Wildlife SOS has been working with the State Forest department on the conservation of these elusive big cats by addressing these issues that challenge their survival, particularly human-leopard conflict and destruction of their natural habitat. Senior veterinarian, Dr. Ajay Deshmukh, emphasized the need to understand the scale of human impact on the vanishing population of wild species and how we can help mitigate these threats by working hand in hand with the local community. The goal is to help people co-exist with leopards with increased tolerance, and to diminish fears that have manifested due to ignorance and misconceptions about these magnificent cats.
Later, the visiting journalists had the opportunity to see the rescued leopards in our lifetime care.
They were awed by the sight of these majestic felines strolling gracefully across their large free range enclosures and playing with various enrichments that have been specifically designed to keep them mentally and physically stimulated. The tour concluded with the inauguration of a new leopard enclosure by Mr. Vivek Khandekar.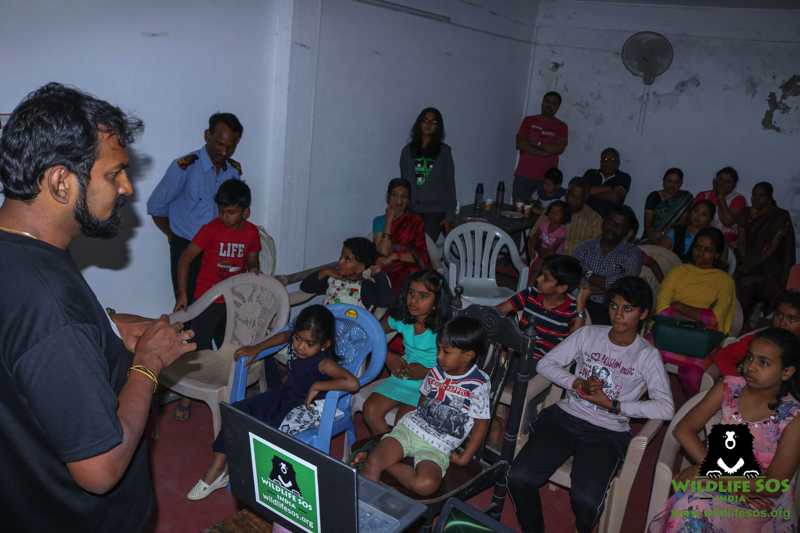 As part of the World Wildlife Day activities, the staff at Bannerghatta Bear Rescue Center organised a snake awareness program for residents of N.S. English County. As the residential gated community is located close to the Bannerghatta National Park, residents often encounter reptiles such as snakes and monitor lizards in the neighborhood. Such programs play an effective role in sensitizing the public to the presence of urban wildlife and to encourage a peaceful coexistence.
The audience listened intently as our team gave a talk about the various species of snakes commonly found in India and detailed the methods of identifying snakes in order to distinguish venomous snakes from nonvenomous species. They also discussed avoidance behavior and the proper protocol that needs to be followed in case anyone encounters a snake. Our veterinary & research director, Dr. Arun A Sha stressed on the fact that these magnificent reptiles are greatly misunderstood on account of being commonly associated with fear and danger and that Wildlife SOS works to alleviate such misconceptions by educating the general public to have increased tolerance towards snakes and other reptiles. This was followed by a talk on wildlife conservation ethics and the work done by our organization across our centers as well as a fun drawing competition for the children.
The team also hosted a group of volunteers from USA who engaged in poster making sessions to commemorate World Wildlife Day and spent the day building new enrichment's for our sloth bears at BBRC.