Nibbling on food, grooming their tails, and fearlessly scurrying up trees — squirrels are a common sight to one and all. These grey-coloured, furry rodents produce a chip-chip sound to make everyone around them aware of their whereabouts. While they're up to their antics, these animals do play a huge role in the ecosystem by assisting with seed dispersal. They are also prey for many other animals.
While certain squirrel species inhabit dense pockets of the forests in India, there are some that have easily adapted to human-dominated environments. Indian Palm squirrel, for instance, is commonly spotted in urban areas, plantations, as well as forests. In the northern parts of India, Five-striped palm squirrel (Funambulus pennantii) is found, whereas the southern states are home to the Three-striped palm squirrel (Funambulus palmarum). 
The squirrel that you sometimes find running around in your backyard is actually a Palm squirrel! But if you find an infant squirrel lying on your balcony, what do you do? Read on to find out.
Steps to Help a Baby Squirrel
Make sure the little squirrel is really a baby.
Squirrels are indeed tiny mammals, but every individual must not be confused for an infant. If you come across one with a fluffed-out tail or a body longer than six inches, it is independent. However, if the found animal is much smaller, hairless, pink, and has closed eyes, it might need intervention.
Rule out injuries.
If you confirm the found squirrel is an infant, carefully examine it for any injuries or infections. Use towels, cloths, or gloves to handle the animal — you do not want to leave your scent on the young one. If possible, use a warm cloth or towel to care for the baby. 
If found uninjured, the infant should be left free, wherever they are. You can keep pets and other animals away while monitoring them from a safe distance. In most cases, mothers retrieve their young ones. However, if there is no sign of the mother, contact the Wildlife SOS helpline, your local NGO, or the state forest department.
Reunite the baby with its mother.
In case it is unharmed, the goal is to reunite the baby with its mother, preferably during the daytime. Usually, baby squirrels fall from nests, so we can design a DIY-nest box for it. A simple, small basket or cardboard box (or even a shoebox!) can be lined with soft materials to keep it warm and comfortable. You can place the baby gently within the box, and tie this box to the tree nearest to where the rodent was found. You may even place the box under the tree to help the mother find it. Ensure no pets or other animals are nearby until the baby is reunited. Be on a constant lookout for the mother squirrel — they are quite attentive and will almost always hurry to the infant.
Contact a wildlife rescuer and rehabilitator.
In case the mother does not return to care for the infant or the baby is found injured, contact the Wildlife SOS helpline, your local NGO, or the state forest department. You may also call for help if you find an injured adult squirrel.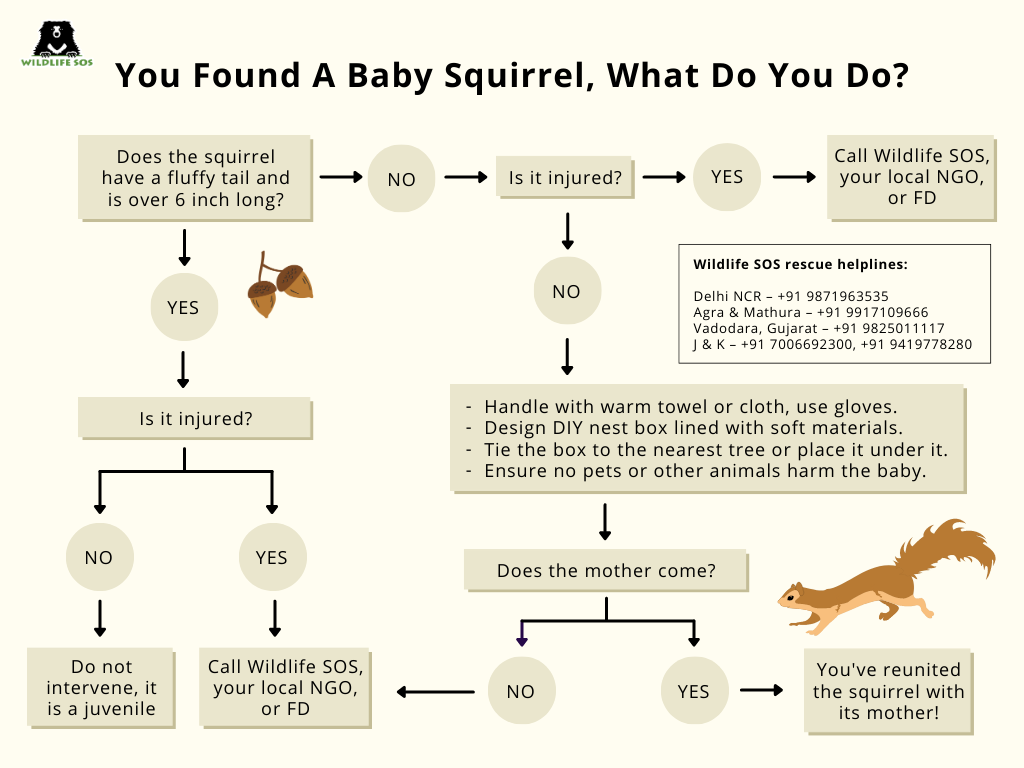 Rescues by Wildlife SOS
Earlier this month, our Rapid Response Team based out of Delhi rescued a squirrel from a residential area in South Delhi. The resident contacted our helpline after spotting a squirrel in their backyard. Upon closer inspection, they realised that the animal was injured and immediately reached out to us.
Similarly, last month, a resident in Paharganj reached out to the Wildlife SOS helpline when he found a fallen squirrel inside his home. The Three-striped palm squirrel fell through a window from the second floor to the first floor. Our rescue team soon reached the venue and kept the rodent under medical observation to check for any sustained injuries. The tiny mammal was found unharmed and was soon released.
In the month of October, our team responded to rescue calls for three squirrels in Delhi. All the animals were kept under medical examination and later, they were released into the wild.
Our Rapid Response Units actively address situations of distress and conflict to make sure that any animal caught in such a scenario is fast attended to. Our units are established in the following regions and can be reached out for assistance on the 24-hour helpline numbers:
Delhi NCR – +91 9871963535
Agra and Mathura, Uttar Pradesh – +91 9917109666
Vadodara, Gujarat – +91 9825011117
Jammu and Kashmir – +91 7006692300, +91 9419778280