Let us hear the story of a little bird. Wait, who is he? A juvenile Bar-tailed godwit (Limosa lapponica baueri). And why are we talking about him? Because he achieved a feat that deserves all the adulation. He set a new world record when the bird travelled 13,560 km (8,425 miles) from Alaska in the USA to Tasmania, Australia and in the process, completed the longest non-stop migration ever undertaken by any bird! According to the data of the researchers who tracked him, the bird left Alaska on October 13, 2022 and landed on Ansons Bay in north-east Tasmania 11 days and one hour later!
The individual was originally designated as '234684', the number of a 5G satellite tag attached to its back that was used to track him. Not praising this individual for such an extraordinary achievement would be a grave injustice to the bird who undertook such an insurmountable task. The whole purpose of introducing this is to get to know more about bird migrations during winter, and what towering odds they have to overcome in their journeys.
The What and How of Migration
Migration is a natural process in the animal kingdom. While there are examples of various animals such as whales, turtles and elephants undertaking long journeys, bird migration is a widely studied topic. Birds migrate across distances in order to overcome extreme weather and shortage of food in colder regions. Migration of birds takes place seasonally, when they temporarily leave their habitat for another to find better climate and food, or to breed.
The flying superbird in discussion here was born in Nome, Alaska in July 2022 and was tagged by scientists along with two more chicks. But the other two tags were lost, leaving the scientists rooting only for Luffy! With the help of the tag, the location of the bird was being recorded at frequent intervals and the scientists could track the movement precisely. The most unbelievable part was that the bird flew at an astonishing speed of 50 km/hr, without stopping even once to feed or rest!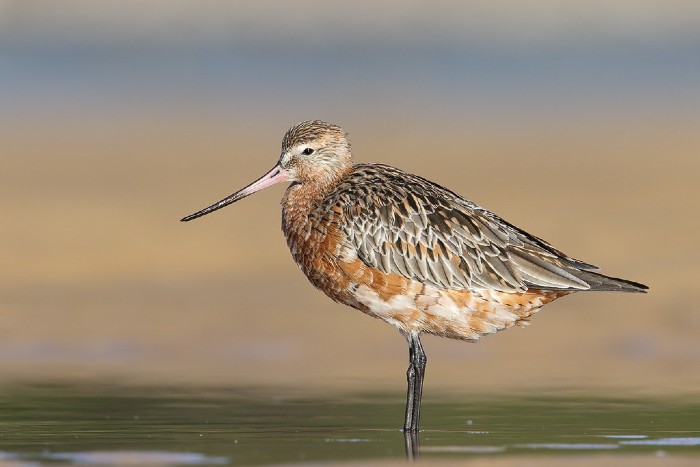 It makes us wonder what can be the reason behind such an inconceivable and almost impossible undertaking. In the winter, Arctic Alaska grows to become colder and inhospitable, wherein the parent Bar-tailed godwits leave for warmer places while the chicks stay back to eat, accumulate fat in their body and prepare for their own journey. They are ready once they have stored sufficient energy-rich fat as fuel, and have developed strong muscles.
The way godwits do it seems close to possessing superpowers. The birds shrink their internal organs, including the digestive system, to lose unnecessary weight and that eventually helps them in this epic aerial journey. The birds are known to lose more than half of their body weight. They can also enlarge their chest muscles and heart while flying, to distribute energy and oxygen.
Had the scientists not lost the transmitters of the other two godwit chicks, we might have had two more champions vying for the world record. But we now know for sure that Bar-tailed godwits are among the longest flying birds and are right at the top of the list of longest-migrating animals.
Someone Else's Tern Now
However, there is another unique avian member that has to be included in the migration conversation. Arctic Terns travel from the north to the south pole, literally flying from one end of the Earth to another, covering over 30,000 km (18,641 miles). Arctic terns hold the record for the longest annual migration recorded by any animal. Almost unimaginable for a bird that weighs roughly 113 grams! They are the comic book equivalent of the superhero Green Lantern (they fly vast distances in space using their rings). The only difference is that Green Lanterns do it because they are intergalactic cops whereas Arctic Terns are not!
These birds hatch during summers in the Arctic Circle, the northernmost part of the Northern Hemisphere. They have to leave the cold, desolate deserts to reach Antarctica in the Southern Hemisphere. They migrate in search of summer sunlight. There, the sun's rays assist in lighting up the ocean surface, enabling the birds to see fishes and insects more clearly for them to hunt. The weather in Antarctica during summer is calmer too, allowing them to fly more seamlessly.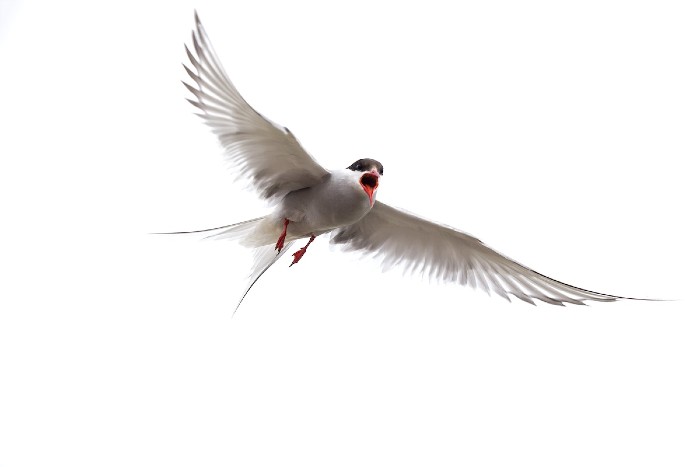 According to National Geographic, new mini transmitters attached to these birds recently revealed that the bird does not travel in a straight line and instead follows serpentine routes between Greenland and Antarctica each year. In the process, the Arctic Tern travels much more than the approximate distance of 30,000 km between the Arctic and Antarctic circles – the current estimate stands at 71,000 km (nearly 44,000 miles), which is nearly double the circumference of Earth!
The length of the distance is more than its archrival, the Sooty shearwater, by almost 6,440 km (4,000 miles). Arctic Terns are known to live for 30 years or more, hence it is estimated that over their lifetime, these birds travel an unfathomable distance of 2.4 million km (1.5 million miles)!
Migration in India
Birds from about 29 countries fly to India every year. Approximately 1,349 species have been recorded in India till 2019, of which over 370 are known to be migratory visitors. These birds begin to arrive in September and return to their native land around March. They utilise three main flyways – Central Asian Flyway (CAF), East Asian-Australian Flyway, and Asian-East African Flyway. The CAF is the most frequented one, with nearly 80% of the species using it.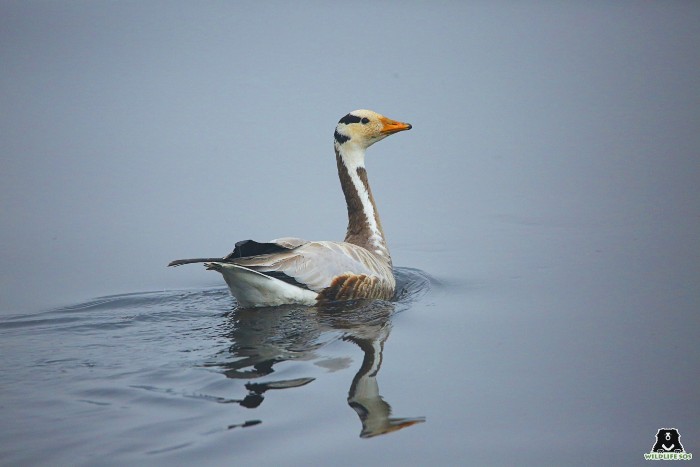 With a flyway as busy as this, it is no surprise that Wildlife SOS has a close association with the CAF as well. The Wildlife SOS rescue centres are home to many birds that are seasonal and full-time residents. Both the Elephant Conservation and Care Centre (ECCC) and the Agra Bear Rescue Facility (ABRF) are on the main corridor of the CAF.
The Soor Sarovar Bird Sanctuary located near ABRF is a haven for birds. The nearly 8-sq km large sanctuary has a checklist of 165 migratory and resident bird species; some of the species spotted here are Eurasian Spoonbills, Egrets, Flamingos, Painted storks, Sarus cranes and Cormorants, among others. Eurasian Spoonbills are in fact resident migratory birds, which means they aren't seen all year round, except for a specific period. They only arrive here during the breeding season as Soor Sarovar is their breeding ground. This habitat also acts as a breeding ground for the Oriental darter. The elephant rescue centres, on the other hand, welcome many migratory birds as well, including the Golden oriole, Asian Koel, Baya weaver and Jacobin cuckoo, to name a few.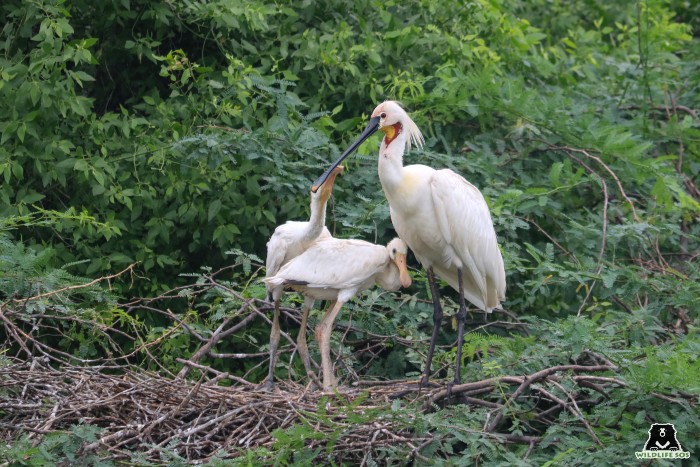 Even the Wildlife SOS Jammu and Kashmir team in northern India has a close connection with migratory birds. Hokersar, one of the largest and more well-known wetlands in Jammu and Kashmir, is an important habitat for medium and long-distance migratory shorebirds, cranes, ducks and geese. Some of the species which can be spotted in large numbers here during winters include the Northern pintail, Gadwall, Mallard, Greylag goose, Ruddy shellduck, Red-crested pochard and Common pochard, to name a few.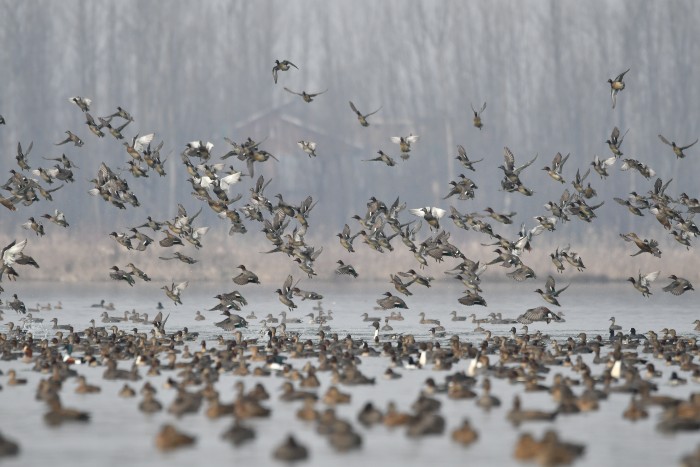 Hokersar is also one of the many wetlands monitored during the annual Asian Waterbird Census, in which Wildlife SOS participates every year. It forms an integral part of the International Waterbird Census to assess the status of wetlands and water birds, and conserve them. Studies like these are significant since birds play pivotal roles in different ecosystems, such as dispersing seeds, pollinating plants, scavenging and regenerating forests. You can play a role in conservation as well by becoming a monthly donor for Wildlife SOS, and support us in our efforts.