Every year, the world has an unofficial celebration of the wonderful relationship between siblings on the 10th of April. We share a beautiful equation with our brothers and sisters as we grow up, spending every moment of joy and pain, health and sickness together. We continuously nurture and groom each other to be better, and play a very integral role in each other's lives. This year, as we celebrate World Sibling Day, we'd like to draw some parallels between the human and animal kingdom, and ruminate on those relationships that defy all odds.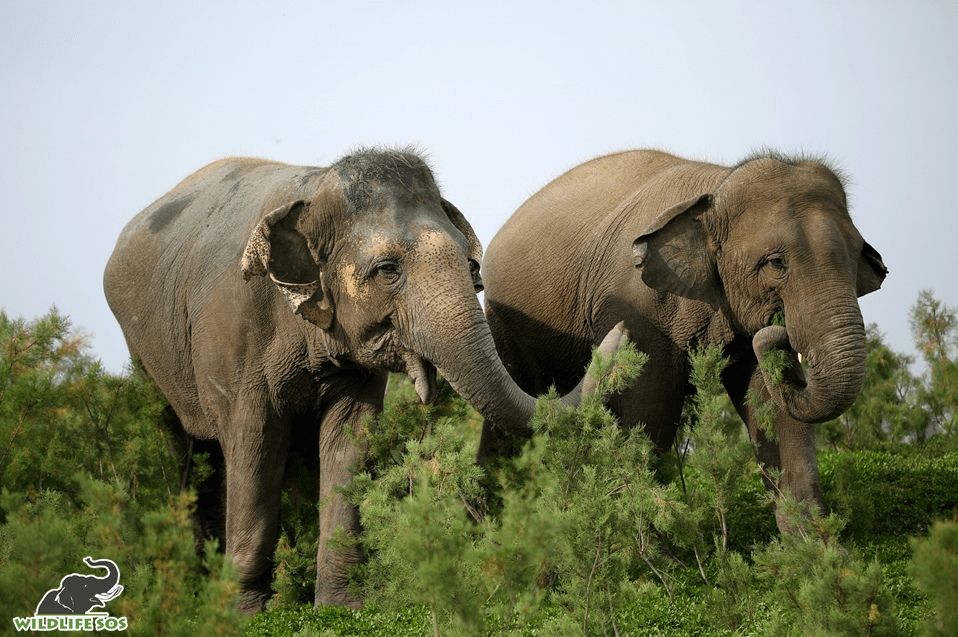 At our centres, some of the rescued animals have families including brothers and sisters while some others have formed foster families with those they feel closest to. When wild animals live in captivity, it becomes essential to ensure that they remain emotionally and physically healthy with the aid of enrichments and social interactions besides regular medical check-ups, maintaining a hygienic and friendly environment and providing a fresh and healthy diet. While enrichments come in many forms to exercise the mind and the brain, socialization with their own kind has shown remarkable results in the emotional rehabilitation of rescued animals.

Around thirty elephants rescued from various stages of neglect, abandonment and illness call the Elephant Conservation and Care Centre home. Amongst them are our youngest inhabitants, rambunctious Peanut and Coconut. Wildlife SOS rescued the two from a circus in Maharashtra along with Wally and Macadamia in 2015. Peanut and Coconut met at the circus, where they immediately formed a deep bond which was evident even after their arrival at ECCC. Coconut assumed the role of protective elder sibling, helping Peanut navigate through their new life and keeping a watchful eye all around. Even today the 10-year-old Peanut is inseparable from 16-year-old Coconut, and does not spend a minute away from her. Herds are an integral part of the lifestyle adopted by wild elephants in their natural habitat, including tons of members. Isolation does more harm to a pachyderm's psyche than any other form of stress, and our experience with Peanut and Coconut has proved that. They enjoy performing daily activities together, which include dust and water baths, meals and long walks. They also rely on physical reassurance such as trunk hugs to overcome discomfort, and communicate with each other constantly, and nobody is fonder of Coconut's trunk hugs than vivacious little Peanut. The adoptive siblings are an adorable sight to witness.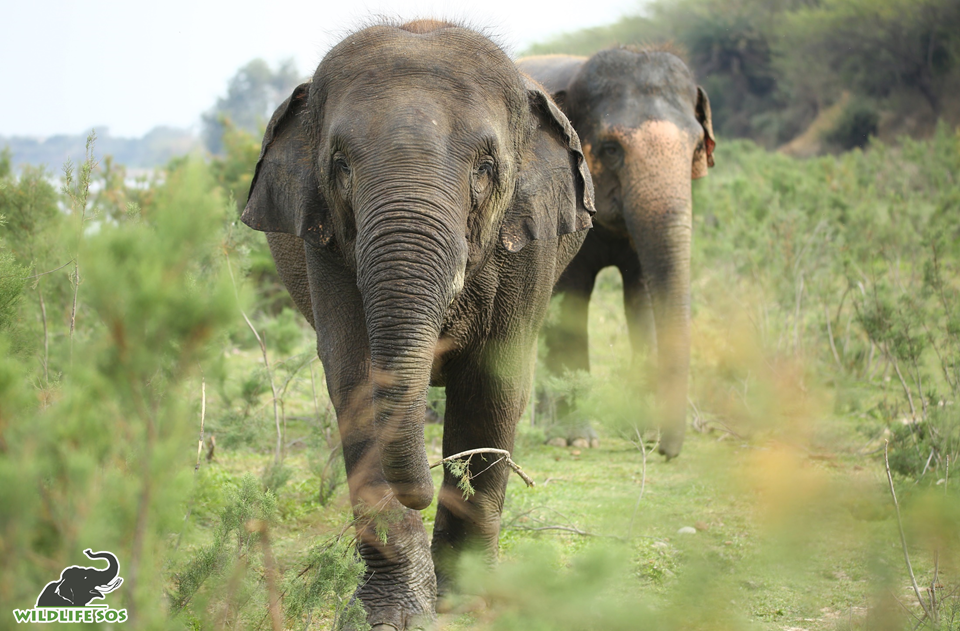 Away from the rumbles of the elephant care centre in Mathura, under the dark cool shade of tall perennial trees, sloth bears frolic in their enclosures at the Bannerghatta Bear rescue Centre. While some prefer isolation, many of these bears share their enclosures with other like-minded inhabitants and some of them like Maahi and Mithali, are in fact twin cubs rescued together by Wildlife SOS. Named after Indian cricket legends, Maahi and Mithali's story has a painful beginning but their life at the centre is very different. Not only did they receive the chance to grow up together, they formed a beautiful adoptive relationship with Ankita who assumed the role of their foster mother. Every day for the two is one full of delights – novel enrichments to explore, hours of endless play out in the pool or hay and yummy meals and lip-smacking treats. It is hard to retain natural instincts in captivity, which is why these relationships play that much more important a role. Maahi and Mithali have taught each other many essentials of being a bear since they were cubs, with Ankita filling in the gaps. Their survival skills (foraging, fighting, climbing and digging) were honed by each other, and as they competed for enrichments, they also received mental stimulation. Today, they are healthy and happy, and live a content life at our centre.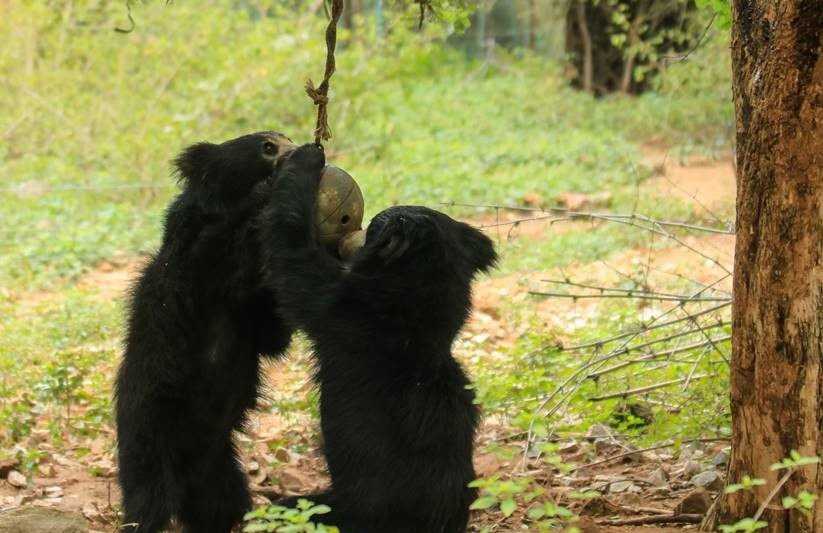 As one moves onto the dense jungles surrounding the Manikdoh Leopard Rescue Centre, in Maharashtra, one can spot a blur of spots wrestle another under the dappled sunlight. Jiya, the more active of the two, tries to goad Jaya into a mock fight while Jaya expertly deflects her. Jiya was rescued as a 3-month-old cub after her mother succumbed to injuries while hunting, and her story had a similar beginning as Jaya's. When they arrived at the centre, the two, tiny, scared cubs formed an immediate bond, and the rest, as they say is history. Today, Jiya and Jaya are magnificent, 12-year-old leopards with sleek coats and unmatched vivacity. The last decade has been a journey of ups and downs, but they have stuck by each other through thick and thin. Like Maahi and Mithali, Jiya and Jaya have been very important in teaching each other basic leopard instincts such as wrestling, hunting and climbing trees. Despite being incredibly solitary creatures, Jiya and Jaya are two leopards who treat each other as family.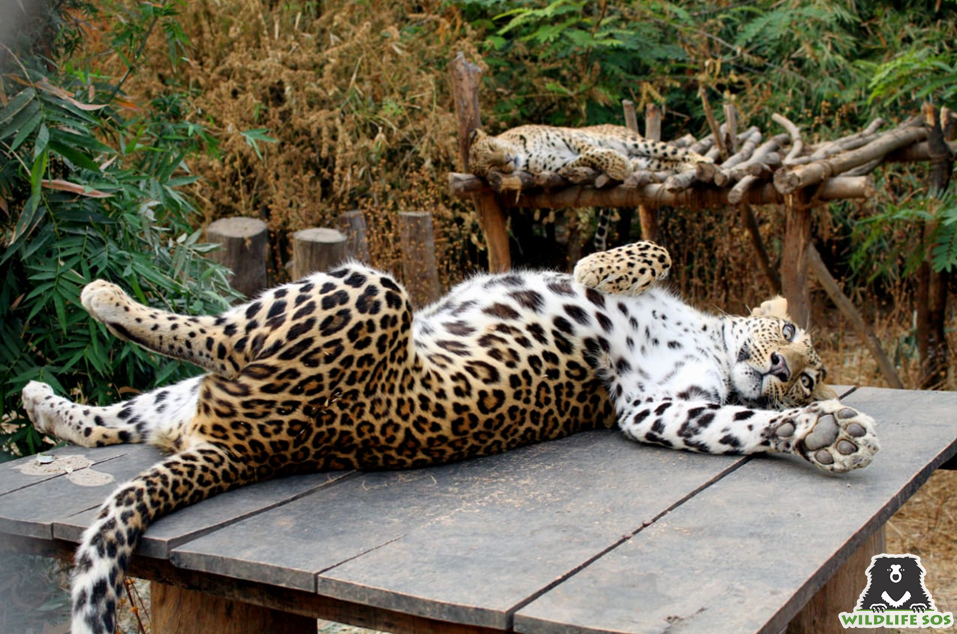 While the importance of family was never a question for elephants, it is surprising that solitary animals like leopards and sloth bears also form deep bonds when in captivity. They form units that go through their daily routines together and help solve challenges collectively. Something like this is hard to observe in the wild, making it a great pleasure to be able to witness it at close quarters and learn more about their physiology. As people around the world celebrate World Sibling Day, we at Wildlife SOS, are celebrating in honour of our animals and their families, and the challenges they've overcome!