At the energetic age of 19 years, though Ramu is at the finality of his teenage years, there is no way he is willing to forego his childlike, enthusiastic self! When Ramu was brought to the Wildlife SOS Elephant Hospital for lifetime care and treatment for his fractured left hind leg, he was weak, emaciated and malnourished as the severe pain in his limbs did not allow him to have a healthy diet that was required.
Weighing barely 2000 kgs, our veterinarians were concerned about Ramu's well-being and understood that a detailed health plan had to be charted out so that he could gain weight in a proportionate manner that his arthritic limbs do not have to bear further the brunt of it and add to his existing misery. Hence, started Ramu's healing journey, and five months on, he has made remarkable progress in every aspect, but still has a long way to go.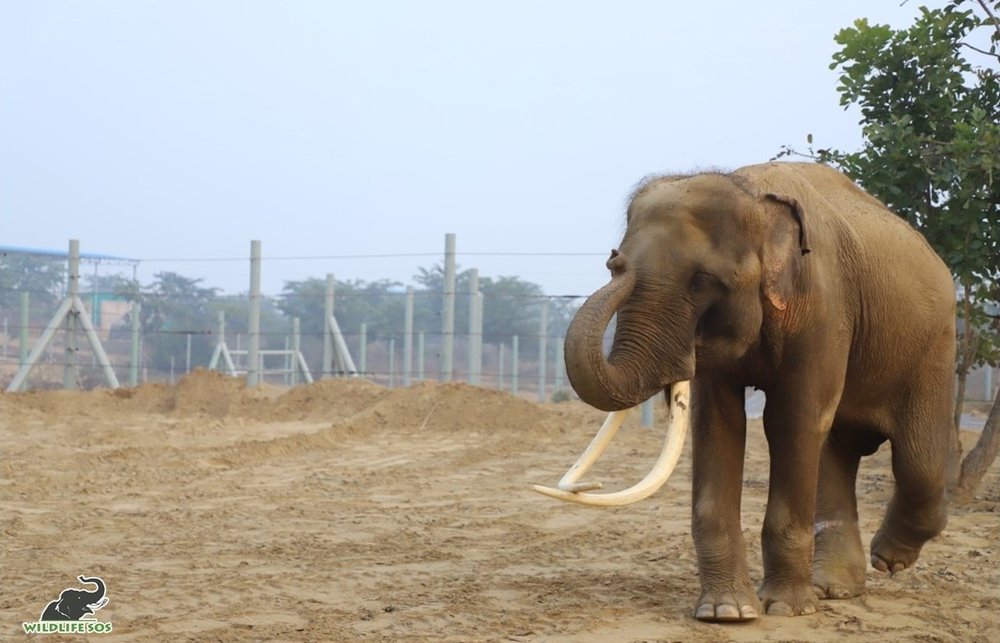 Unfortunately, his fractured leg will remain disfigured but due to regular laser therapy being rendered to him, the veterinarians are confident that he is in less pain now. His laser therapy sessions are 45 minutes long and focus on the affected limb to provide healing and repairing of tissues at a cellular level. Along with the painkillers administered to him, he is also given additional dosage of Vitamin D and Calcium in order to supplement the strengthen in his bones. For Ramu's right hind foot abscess, healing has been tremendous and with a very small portion of the abscess left, it is regularly being cleaned and dressed with antiseptic ointments.
Ramu's enclosure is equipped with high mudbeds, in order to make it easy for him to lie down with the support and get up with ease without straining his limbs. Mudbeds are particularly helpful for the elephants under our care because most of them suffer from the grave condition of osteoarthritis and inflamed joints, which makes it difficult for them to lie down on the ground and get up with swift movements. By leaning against these mud beds, there is soft cushioning on the side which makes it easy for the elephant to get up from.
But dealing with a teenage bull elephant is not always a smooth ride, especially when they are in musth, which is a natural and healthy phenomenon in adult male elephants when they have heightened sexual hormones that can be characterised by a steady secretion of a hormone called temporin from the temples of the elephant. During this period, the elephant is highly moody, aggressive and unpredictable which is why extreme caution has to be addressed while dealing with them. Ramu being in musth means everybody has to be even more careful because one will spot him running around his enclosure or systematically breaking off the branches of the trees in his enclosure (if there are any left!) Not only so, Ramu is a very picky eater and seldom eats anything that is offered to him, an elaborate diet chart that was planned for him could not be followed for more than a day as our dear Ramu refused to ingest the cooked concentrate being fed to him!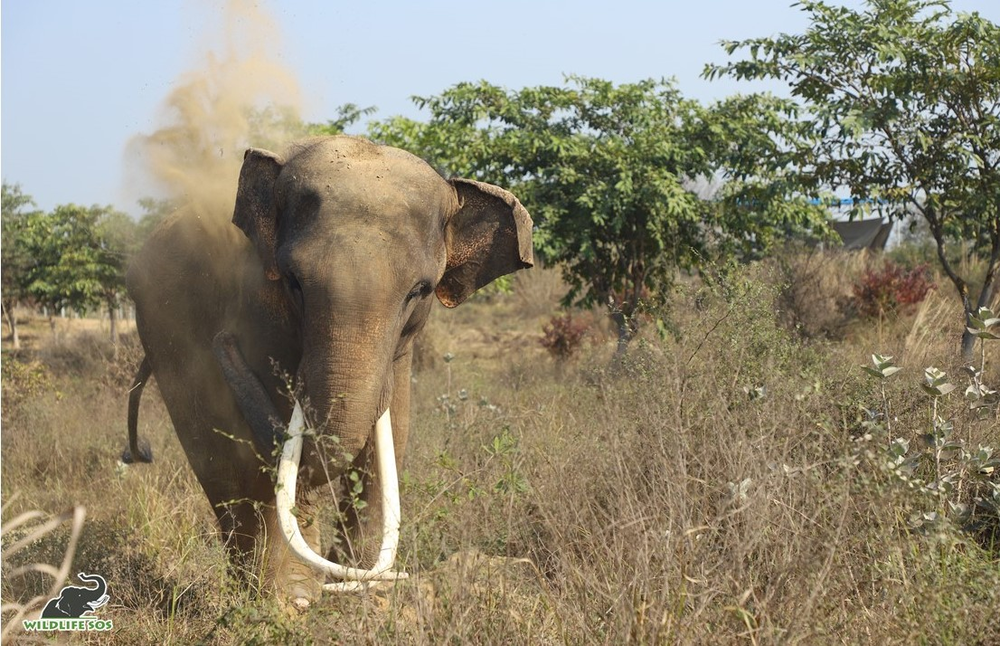 Upon his keeper, Asif's suggestion, the veterinarians decided that Ramu be served roasted Bengal gram powder balls (sattu balls) and the gram powder was specially ordered from the city for Ramu, carefully made into chewable balls and fed to Ramu. With stress levels high, Ramu did us all a huge favour when he happily ate the sattu balls and is now fed only these regularly where the veterinarians carefully place oral medication that are necessary for him. Quick to topple over the bucket of fruit that is lavishly spread for him, Ramu only eats raw banana and watermelon, making the rare exception of apples at times and doing us all a favour. Other than the sattu balls, Ramu's diet includes sugarcanes and green fodder as well which he enjoys munching on!
Initially wary and scared to his new surroundings, in these 5 months, Ramu has grown to be more comfortable, confident and friendly and looks forward to his keeper coming to the enclosure each morning as it is time for Ramu's walk. Our young, handsome tusker Ramu with his infectious energy just bursting at the seams wants to run around his enclosure, though his compromised gait does not allow him to catch the speed, but we are sure he will be able to as his healing progresses.