Have you ever wondered how a rescued sloth bear willingly gives its paw for a blood draw? Or an elephant giving its foot for nail trimming? This humane method of managing captive wild animals is called 'Operant conditioning' which uses positive reinforcement with treats as a reward.
In our latest webinar edition, Wildlife SOS had the opportunity to host Ms. Mary Elizabeth Hampton, the Team Lead of Northwest Passage and Teton Trek at Memphis Zoo, USA. She works with bears, wolves, and other native North American animals. Having years of experience with studying animal behavior, Ms. Hampton talked about the role of operant conditioning, her love of bears, especially sloth bears, and more on this webinar.
She has previously worked with carnivores at the Little Rock Zoo in Arkansas for six years and with marine mammals at the Shedd Aquarium in Chicago for nine years. In 2018, she visited Wildlife SOS to help facilitate the introduction of positive reinforcement training for the rescued sloth bears in our care.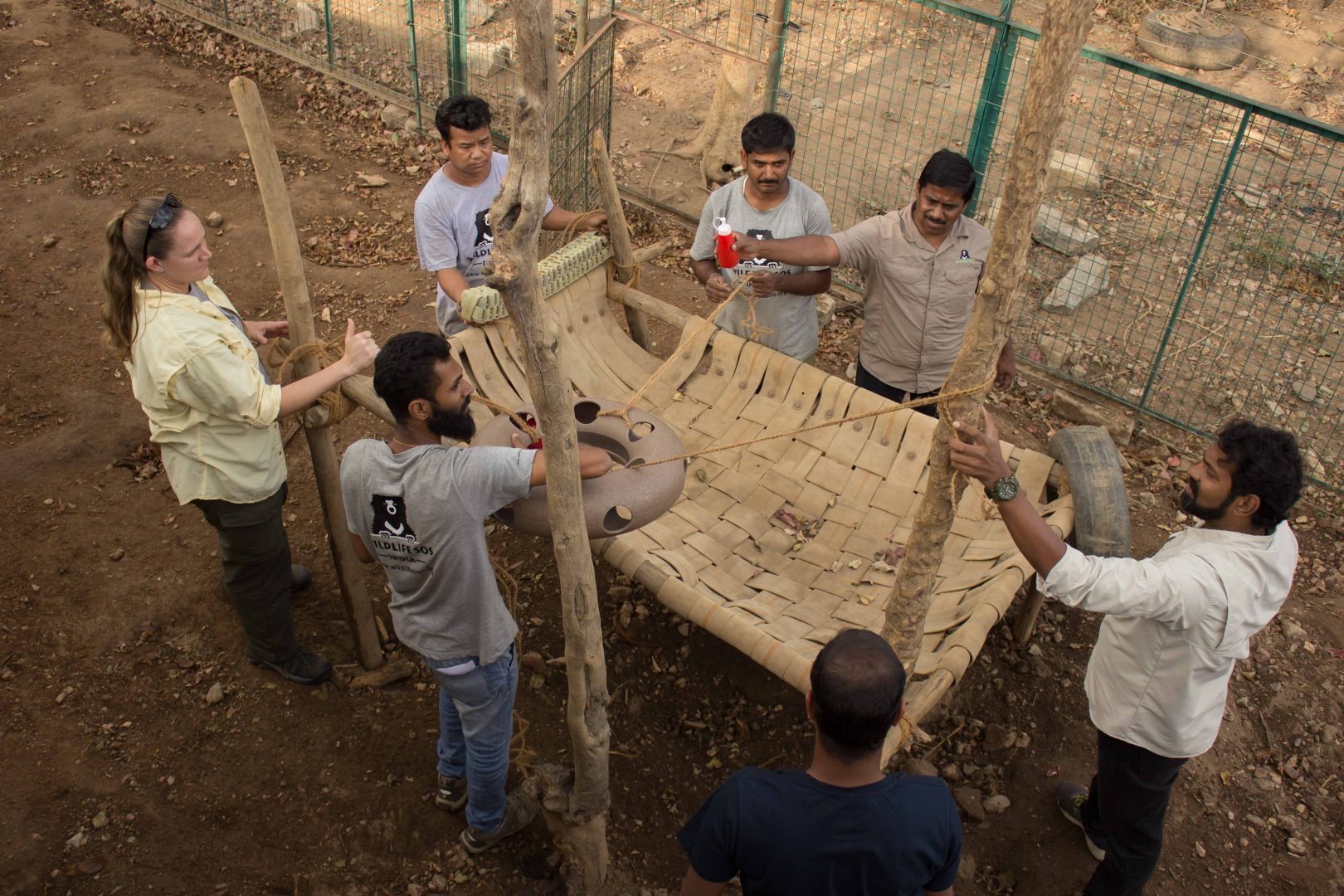 M.E. Hampton delved into several topics within operant conditioning for animals in captivity. Operant conditioning can briefly be described as behavior that is determined by consequence, within which positive reinforcement training helps achieve the most favorable outcomes. Wild animals are highly food driven, hence it is used during the training process for most captive wildlife. She explained how beneficial a positive relationship can lead to great results, not just for the animals but also for their caregivers.
With her vast knowledge of several species, Miss Hampton specified how each animal's capacity and response to training could differ. These methods of conditioning have been proven to reduce stress, provide mental stimulation and help maintain cooperative behaviors. A few more benefits of this practice involve better health care management for the animals, procedures like blood draws, vaccinations, laser therapy, etc, can be conducted with much ease. She also emphasized how learning about the species, the animal's history, the current medical condition, and having clear goals of the results that need to be achieved can help with the process along the way. M.E also gushed about how her own dogs have benefitted from such practices.
On her trip to India in 2018, Miss Hampton visited the Agra Bear Rescue Facility & the Bannerghatta Bear Rescue Centre and was thrilled to meet one of her favorite bear species. She spent an ample amount of time at ABRF to help Rose. Being a wild sloth bear who was rescued at a very young age, Rose was finding it challenging to adjust to her new life and had always found the presence of her caregivers stressful. M.E took upon the challenge of helping Rose overcome her fear and develop a trusting relationship with her caregivers.
After just a week of operant conditioning training, Rose had learned to willingly open her mouth for dental checkups, respond to basic commands, and put her paw out for blood draws. This was a truly miraculous change indeed and we observed a noticeable change in Rose's behavior as well. She was much calmer and her caregivers were taught the ropes of her conditioning in order to keep Miss Hampton's good work going.
The webinar session ended with an interactive Q&A session with M.E Hampton, where the participants had an innumerable number of questions that were discussed. What do you do when wild animals don't respond to training? How do you train an animal with disabilities? What are some of the most difficult animals to train? You can find out the answers in the webinar below.