The spectre of the Covid-19 pandemic continues to cast a dark shadow over the planet, leaving devastation in its trail. With cases on the rise every day, governments are struggling to contain the virus. In India, owing to the high population density in a limited space, the spread of the virus is like wildfire. With the uncertainty surrounding a vaccination to fight this pandemic, life seems to limp along without normality in sight.
In these troubled times, the poorer economy sections of the countries suffer most. Those involved in daily labour, groceries, transportation have suffered the most. However, we were determined to continue providing aid to both communities and wildlife in need. The Kalandar families supported under the Wildlife SOS 'Tribal Rehabilitation Program' have continued receiving aid, as many of the earning members of families had lost their jobs or had to move back home due to the pandemic.
The Tribal Rehabilitation Program was started in 2002 as Wildlife SOS worked on the rehabilitation of the Kalandar communities (originally gypsy communities with a highly nomadic lifestyle) through education and an alternative livelihood program as an extension of the 'Dancing Bear' project. We empowered them to earn their wages through dignified and legal means, and improve their living standards. Over 3,000 families spread out through six states and over 15 villages; have received support to become economically self-sufficient over a period of 2 decades. Today, a significant part of the community has been brought into the mainstream.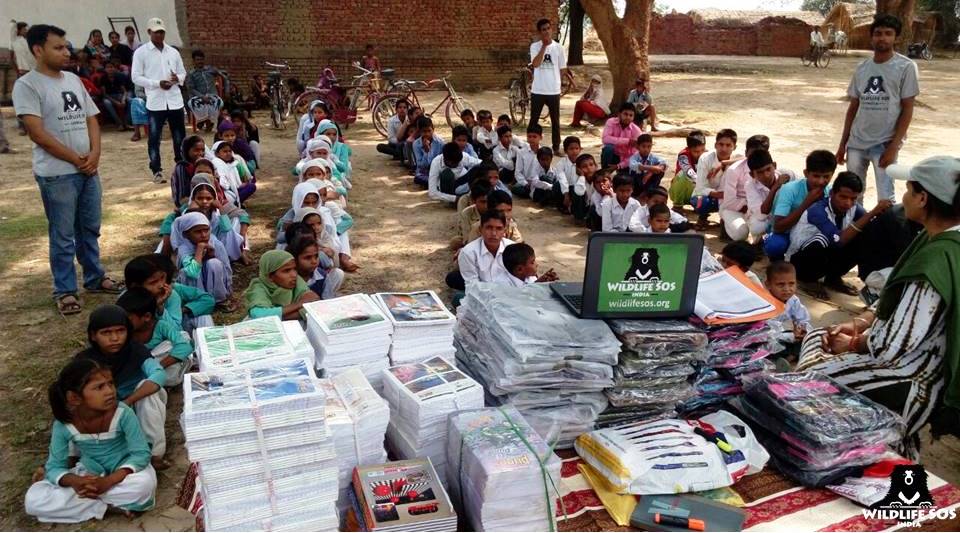 Encouraging the community to accept alternate means of earning has contributed towards pulling them out of the regressive cycle of poverty, illiteracy, child marriage and exploitation. Over 6,500 children have been provided access to primary and secondary education. This enables the younger generation to escape the vicious circle of poverty, and create new vistas of opportunities for themselves. Wildlife SOS's assistance to Kalandar women precipitated a major shift in the very traditional and conservative attitudes of Kalandar communities. Our skill development programs and aid for micro-enterprises have turned these women into independent, confident, and proud second income earners for their families.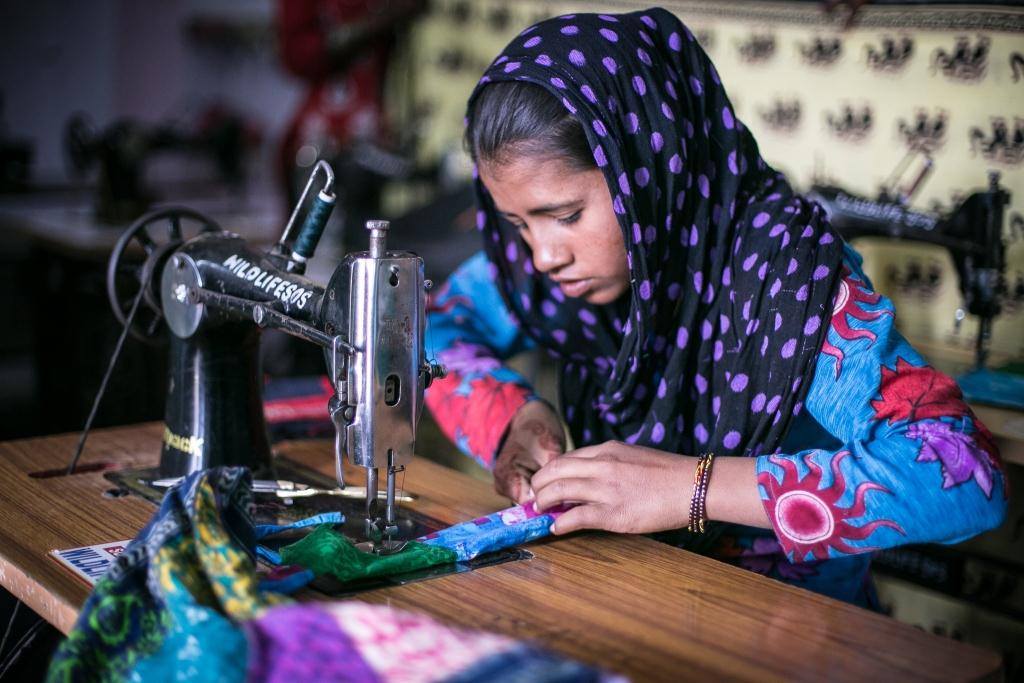 During the pandemic, our 'Livelihood Support Program' was amped up to include financial assistance and funding to Kalandar families in dire need of support during these trying times. Many of these people were working in different states and as the borders shut down, they had to come back to their hometowns. Some of the earning members were laid off from their jobs due to the plummeting economy and yet others whose job included travelling could not continue due to the restrictions in place. When Wildlife SOS heard of their predicament, we immediately started reshaping the 'Livelihood Support program' according to their needs.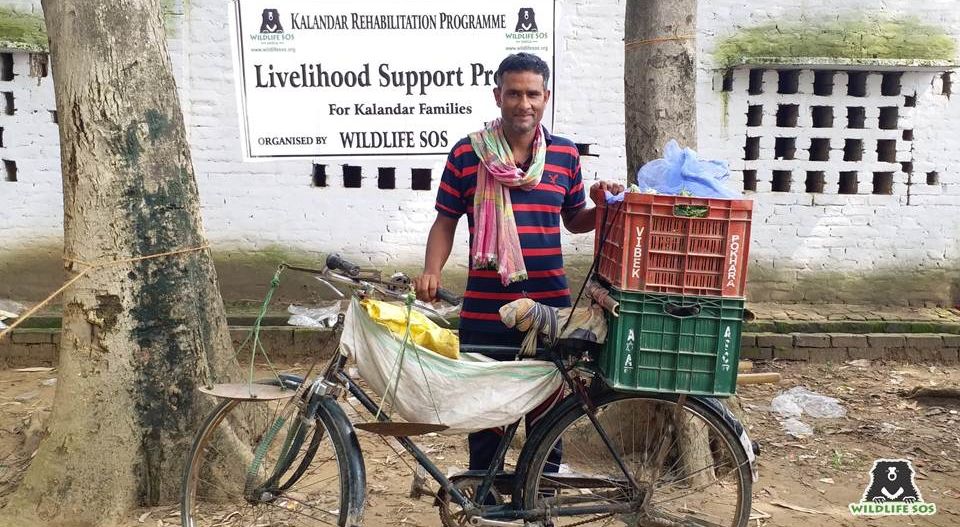 Afzal Shah was previously working as a waiter in Mumbai, but due to the lockdown being announced and borders shutting down, he decided to come back to his village in Deoria, Uttar Pradesh to support his family of 6, including five children. After returning, he regularly assisted his wife in running her snacks shop, but they were barely making enough to sustain the family. Afzal approached Wildlife SOS and mentioned that having a vegetable stall would make a much-needed difference. We immediately stepped in and procured the necessary items to set up Afzal's store and also provided him the requisite monetary support. This initiative has helped Afzal to support his family during this difficult time.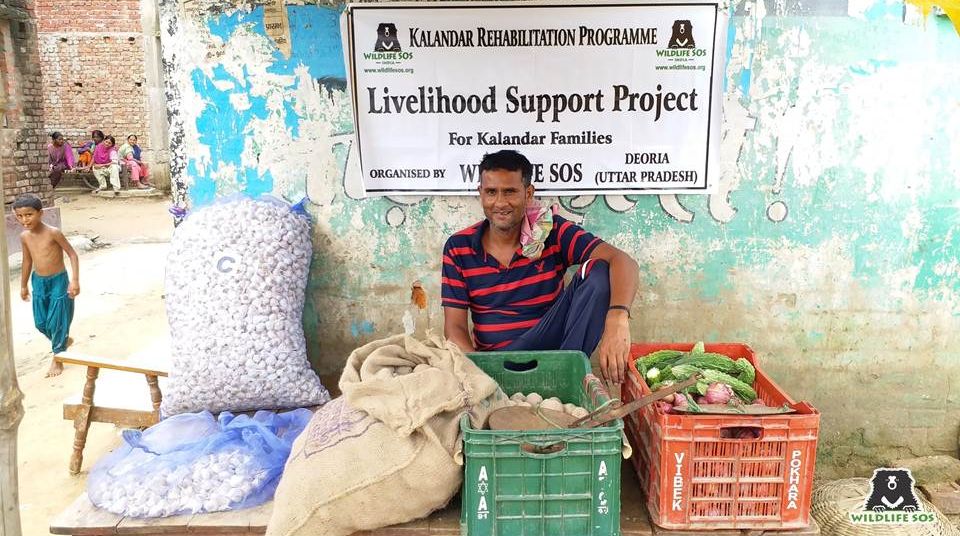 For Ameena Bano, life changed drastically when her father, the sole earning member of the family, passed away. Her mother was suffering from a debilitating illness and she had three young nephews who depended on her for support. To make ends meet, Ameena began picking junk and reselling it. As the Covid pandemic escalated, her movements were restricted and so were her earnings. Wildlife SOS found her in a tough situation, struggling to provide the necessary support to her family of seven. Under the 'Livelihood Support Project', Ameena received financial sustenance to set up a cosmetics shop. This ensured that Ameena could stay close to home and also pocket a steady pay-check, without having to pick up junk.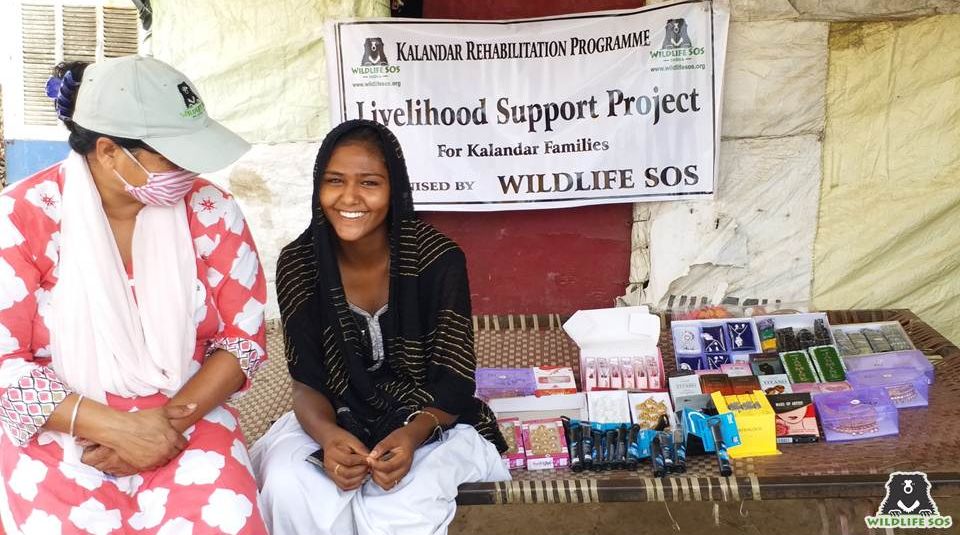 For 38-year-old Dabdin Shah, the sudden lockdown proved to be a death knell to the successful work he was doing at a tailor's shop in Delhi, as he ended up getting fired from the job. He had to abandon his practice and rush back home to care for his family. As Dabdin's wife was a housewife, he needed immediate assistance for supporting his large family. It was at this moment that Wildlife SOS stepped in and helped Dabdin set up a general items/grocery store. This initiative has helped Dabdin and his family survive the tough times following the lockdown.
Bano Bi has been a single parent to her children for a long time. She's a dedicated mother to two extremely intelligent and talented daughters who are immensely capable students- Shahnaaz and Sanna. She also is the only support for her elderly mother. When the pandemic hit and every school and business shut down, Bano Bi was at a loss as her tea stall shut down too. After the lockdown ended, Bano Bi requested Wildlife SOS for support with reopening her tea stall, and we did exactly that! Both her daughters continue to be educated under the programme run by Wildlife SOS and knowing that she didn't have to worry for her young girls, Bano Bi is today able to run her stall without any concerns.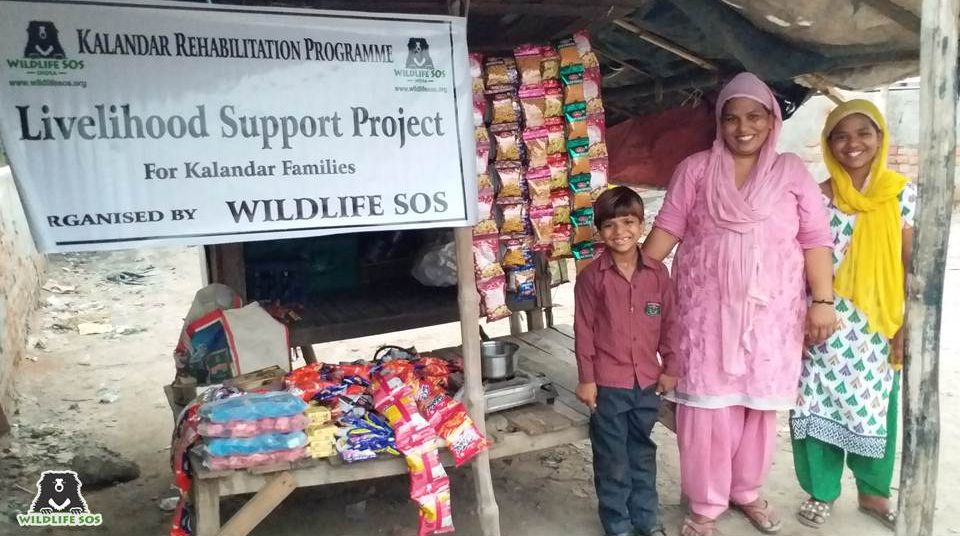 Just like Afzal, Ameena, Dabdin and Bano Bi, over forty families have received additional support from Wildlife SOS during the pandemic. Wildlife SOS' livelihood Support programme is designed to help the families in a way that they can continue sustaining themselves beyond the initial stages of aid provided by us. It is truly a pleasure to see the success yielded by the program.