When it comes to wild animals such as leopards, elephants and sloth bears that cannot be released back into their natural habitats, enrichments play a very important role in their rehabilitation. As free beings in their natural habitats, these animals spend hours in a day foraging for food and travelling long distances looking for apt shelters. Most of the animals under our care have come from extremely traumatic pasts and don't remember what it is like to be in the wild, which makes it extremely difficult for them to be released. Their survival instincts and skills are dulled with time and severe injuries, thus making it important to find ways to keep them psychologically and physically fit.
In the past few years, there have been tremendous improvements in the care of animals in sanctuaries and rehabilitation centres due to a few factors: research conducted by dedicated conservationists and medical experts, increasingly specialized training provided to rescuers and an increased awareness of both physical and psychological needs of wild animals in rehabilitation centres being the foremost of them.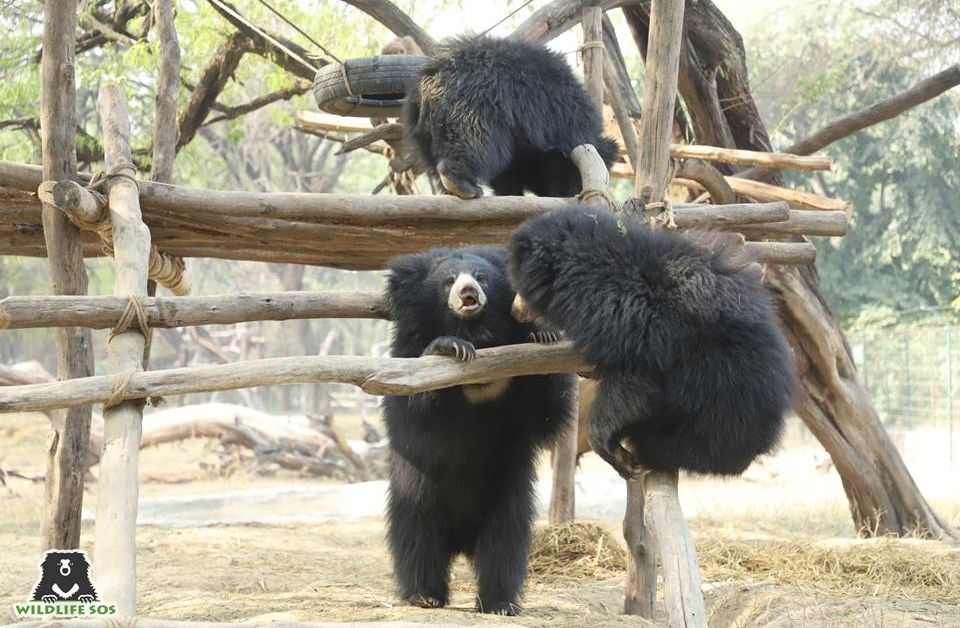 The bear care and rehabilitation centres run by Wildlife SOS, including Agra Bear Rescue Facility and the Bannerghatta Bear Rescue Centre, employ extremely sophisticated, state-of-the-art facilities to ensure our animals receive the best possible care. As these bears have most of their daily needs provided for them – they don't have to spend most of their time simply to survive like their wild counterparts. Here, enrichment activities play a vital role in mental health of the bears. They help lower aggression and stereotypical behaviour. They also provide a way for the bears to interact with each other and keep the feeling of isolation away.
There are many components to conservation practices concerning rehabilitated wild animals and enrichments play a vital role in recuperation. Enrichment protocols aim to fill this free time with activities that encourage animals to utilize the same species-specific behaviors they'd normally engage in during the day in the wild. This help keep their brains and bodies active, by encouraging them to use their senses, and enhancing their behavioural, physical, social and cognitive skills.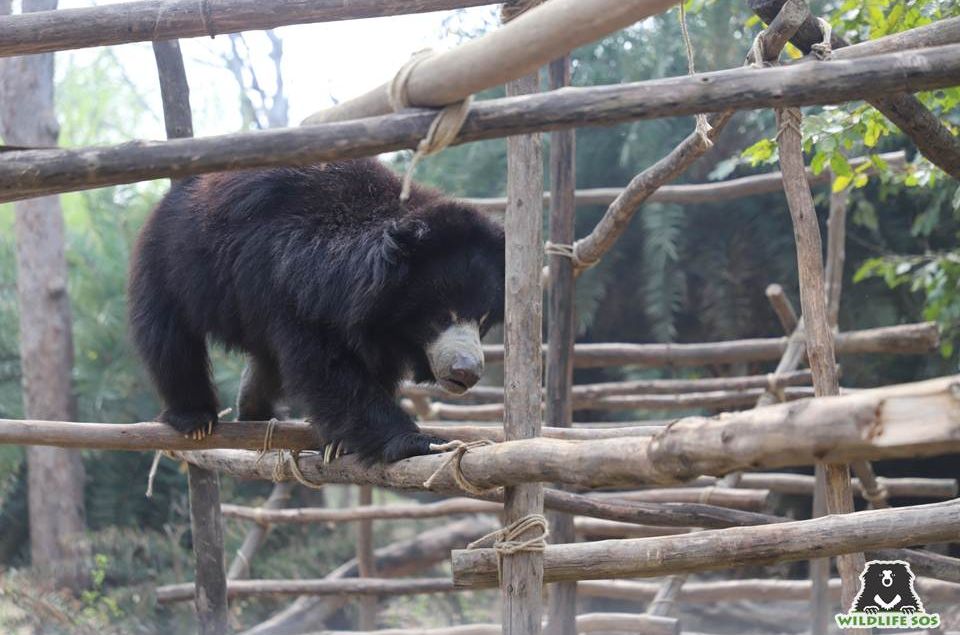 Enrichments come in many forms – some of the most common are structural, social, cognitive, auditory, food-based and olfactory enrichments, all of them directed at sharpening certain skills. At Wildlife SOS, structural, olfactory and food-based enrichments provide incredibly positive results for sloth bears. Structural enrichments include platforms, hammocks, swings and strategically planted trees which enable the bears to exercise their climbing skills and build strength, and the termite mound, used to encourage the sloth bears' digging skills.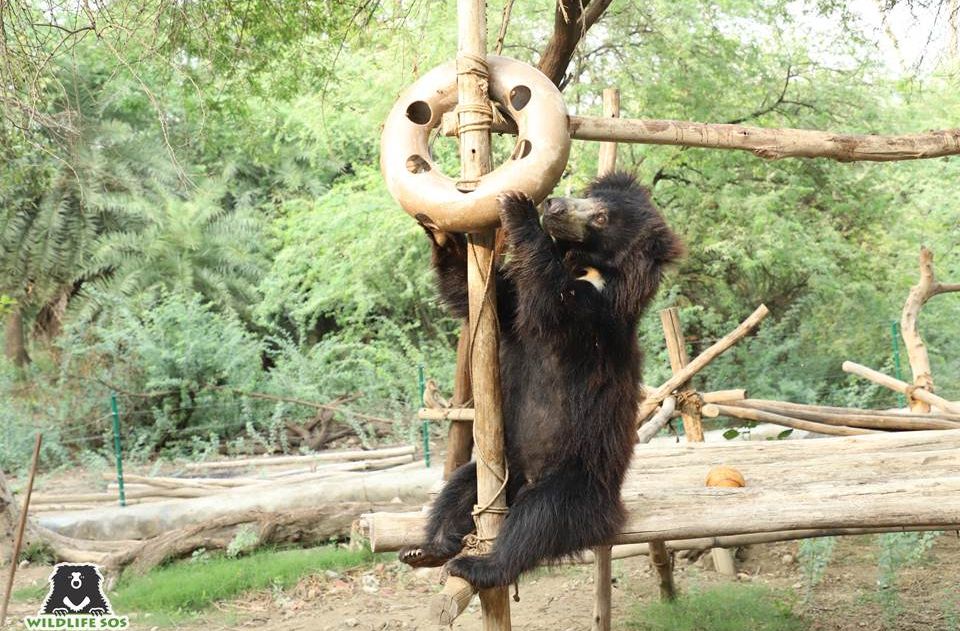 As olfactory enrichments, many of the structural enrichments are pasted with honey and peanut butter to encourage them to use their acute sense of smell. Honey and peanut butter also form an important part of food-based enrichments, along with chopped up fruits and treats like coconuts and dates which are often filled in feeders or strategically placed around the enclosures. To encourage their foraging skills, customized food-based structures are built such as hanging feeders and honey filled balls, which many of the bears enjoy chasing around the enclosure.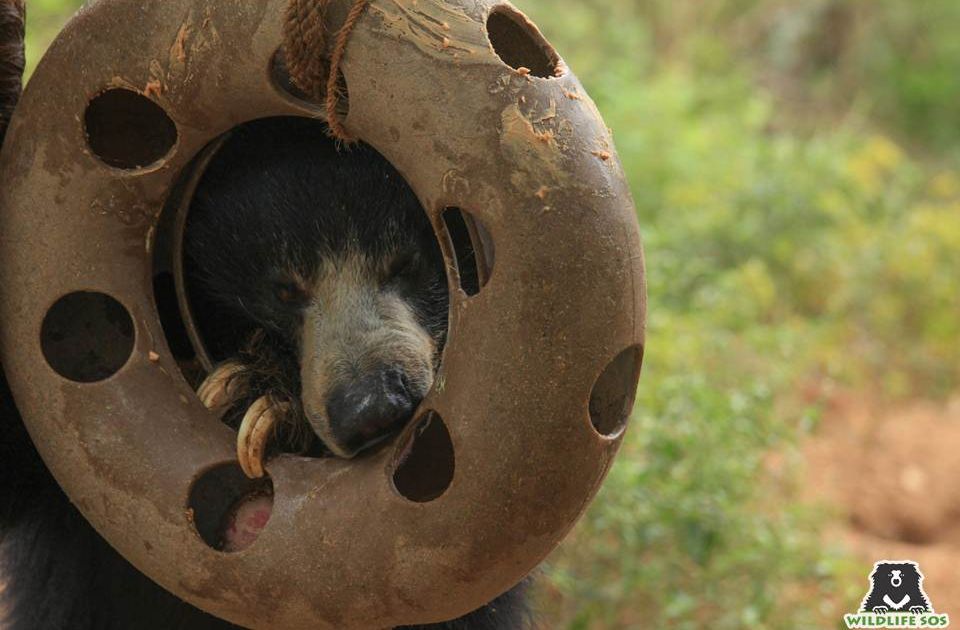 Visual enrichments come in the form of constant changes made to the enclosures depending on seasons, thus ensuring a break from monotony. During occasions like Halloween and Easter, the inhabitants of the WSOS rescue facilities are also treated to festive enrichments designed in fun shapes and sizes to provide breaks from regular routines. Enrichments at the centre are designed according to the age and ability of the animals under the lifelong care of Wildlife SOS.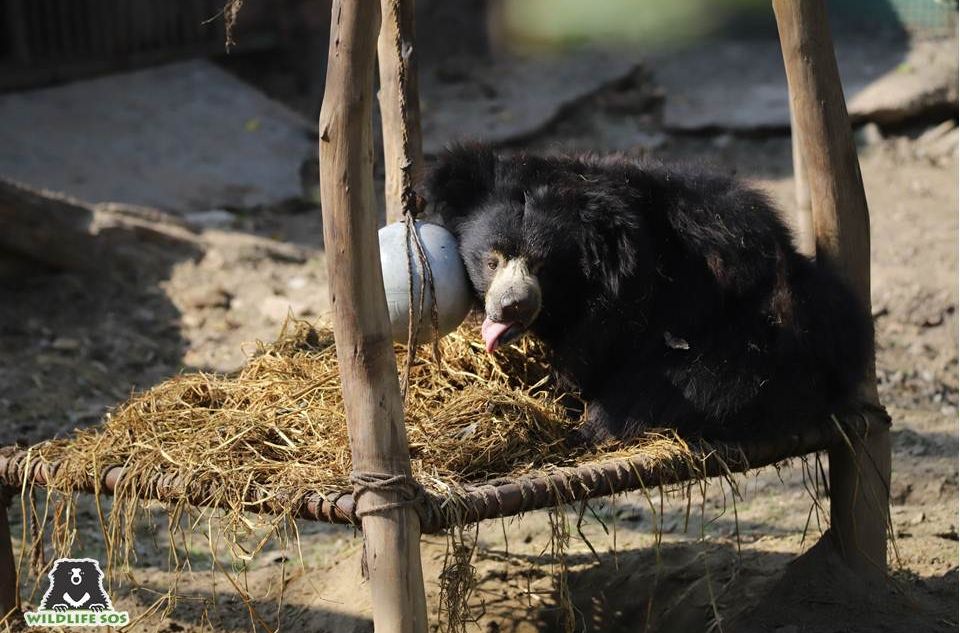 For geriatric animals, whose physical needs differ from the younger inhabitants of the rescue centres, enrichments are slightly modified – hammocks are a preferred enrichment amongst the older bears under our care. For those, that have been blinded in unfortunate mishaps or lost their limbs to threats like snare traps, enrichments are created in a way that doesn't strain them, thus also enabling them to avoid over exertion. For example, bells are attached to the hanging feeders for blind animals so that the sound makes it easier for them to identify the location of the enrichment, apart from just the smell of treats.