Hailing from the town of Mirzapur, Deenanath has been working at the Wildlife SOS Agra Bear Rescue Facility from the last 14 years. When he recalls that it has been so many years, it brings a smile to his face on the wonderful journey that he has undertaken as a bear caregiver.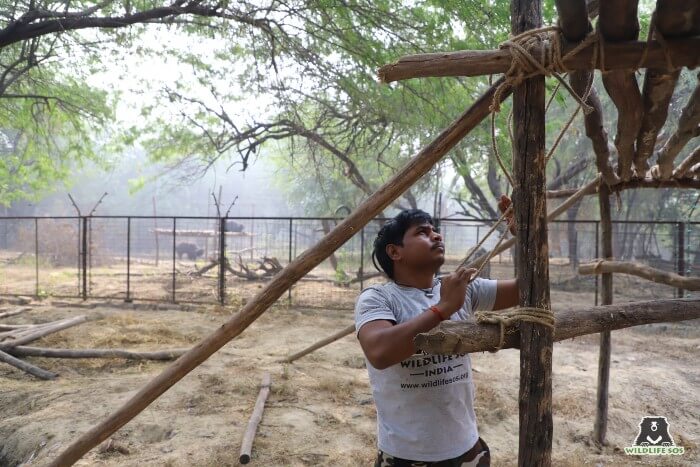 In a candid conversation with Deenanath, we learn about his special bond with Ranjan, our rescued geriatric sloth bear who resides at the Facility and many such interesting incidents of his life!
When did you join Wildlife SOS? How did you know about the organization?
I joined Wildlife SOS Agra Bear Rescue Facility in 2006 when one of the veterinarians working here introduced me to this work. I never knew how to take care of any animal but I always loved them – birds, dogs, cattle. It pained me to see when anybody in my locality would shoo away dogs, cows and monkeys, as we are supposed to share the spaces with them. A few hours into my first day and I instantly knew that there is nothing else I ever want to do in my life.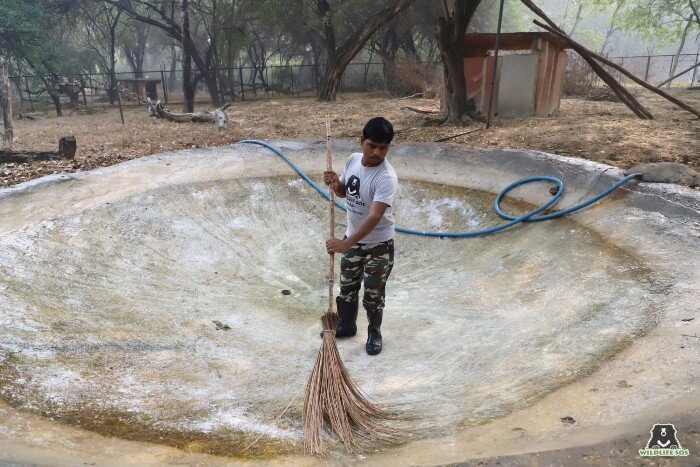 As a bear caregiver, what is the one thing you love the most about your job?
The one thing that I love the most is waking up every day, guided with purpose – to care for the bears. I love bringing them their porridge, it is a fulfilling sight as each bear will react in their own unique way. It teaches you a lot about animal behaviour and how they are so expressive and wonderful, yet humans choose to put them through so much pain for their own profit. The bears make loud, slurping noises when they are served porridge. They get so excited that some of them even end up dipping their paws in piping hot porridge.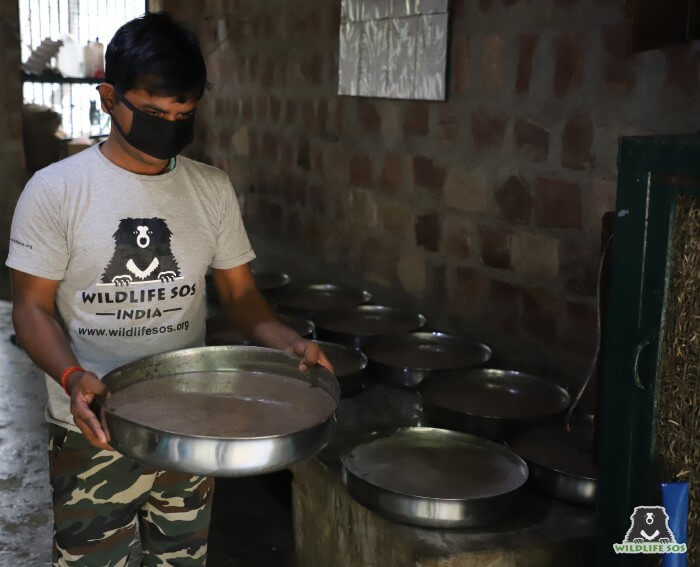 Which bears do you care for? Who is your favourite bear?
I care for the bears housed in the enclosures 5, 6 and 7 which has a total of 12 bears. All of them are my favourite, it is very difficult to name one as I am fond of all of them especially Leena, Abhay and Ranjan. Ranjan is 21 years old and he loves to sleep – these days, you can spot him basking in the winter sun. Ranjan loudly slurps and gobbles down his porridge while it's still piping hot, licking it clean to the very last drop! Once he has had his fill, he finds it impossible to take a few steps and will immediately fall asleep wherever he finds a spot.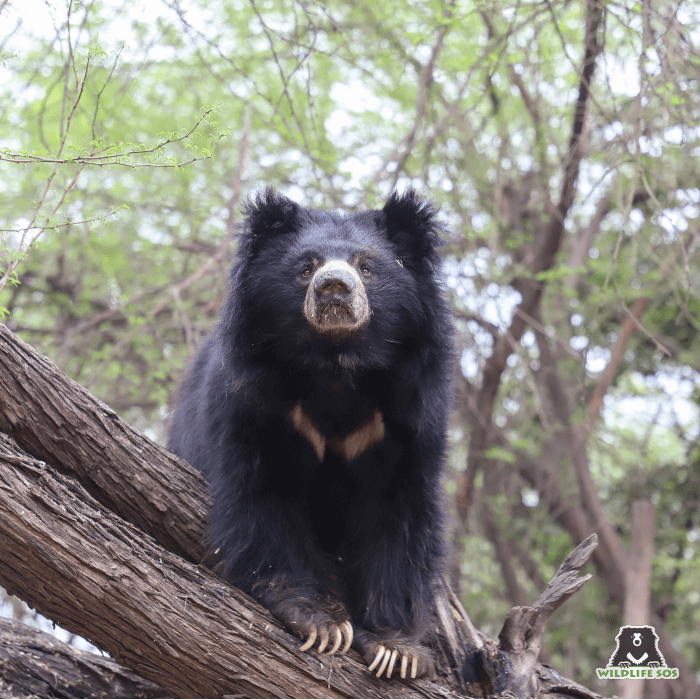 You also have the responsibility of making enrichments, what role do you think these enrichments play in the life of rescued sloth bears?
I learnt here that the sloth bears that were abused for the dancing bear practice were actually poached from the wild as bear cubs. The structural enrichments that we build are pivotal in allowing them proper exercise as well as making them feel as close to their natural habitat as possible. I love to make the hammock enrichment for my sloth bears as they look absolutely relaxed when they nap on it! The bears love to curl up like balls while sleeping on the hammocks– it is an absolutely delightful sight to witness!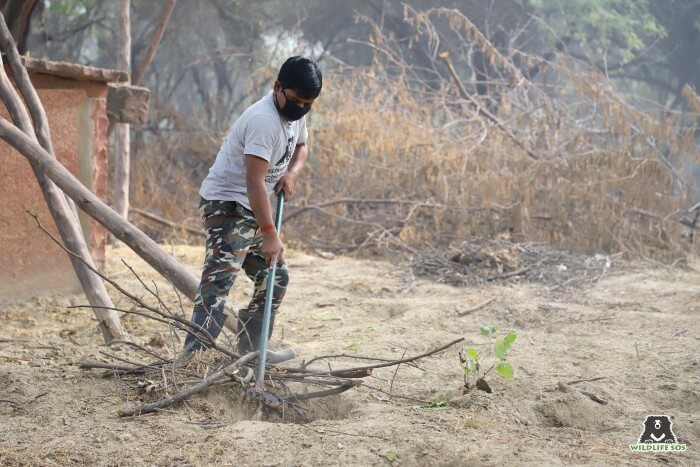 What changes have been introduced in the wake of the COVID19 pandemic at the Agra Bear Rescue Facility?
We have always been very particular about health and hygiene as the priority is the safety of the bears. The bear enclosures are cleaned and sanitised thrice a day and their porridge bowls are washed with warm water and disinfectant, followed by drying in the sun.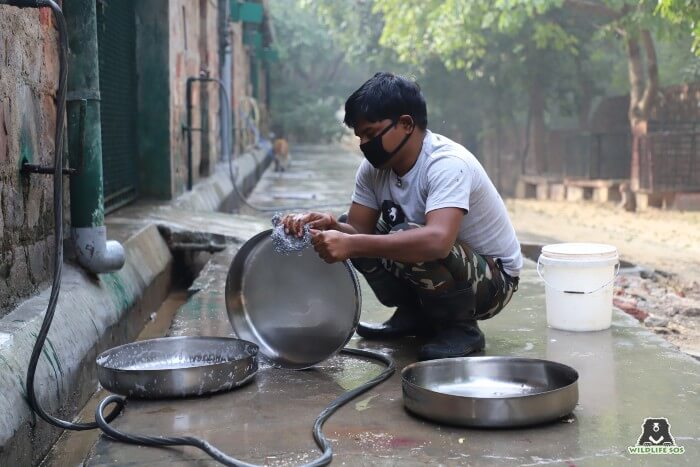 All their enrichments are properly sanitized with the spray disinfectant machine. I am very alert when it comes to the bears I care for and I have to inform the veterinary team if they show unusual behaviour or reduced appetite. The bear care staff has to use shoe sanitisers before entering the enclosures and the bear kitchen.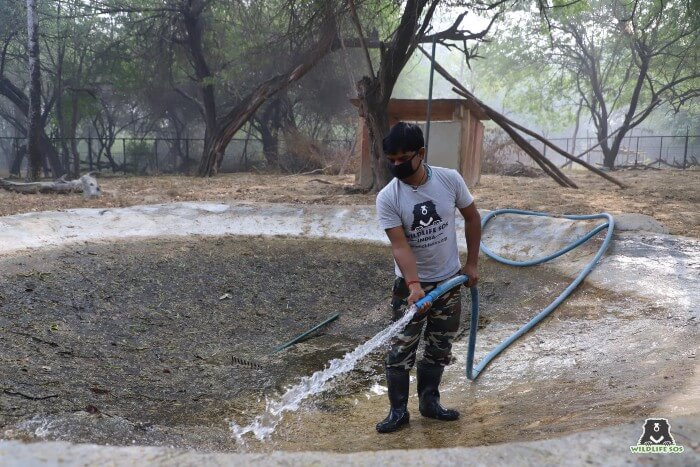 Is there a message you'd like to give our readers?
I wish everyone good health and good luck in these difficult times. Everything will be fine soon! We must wear our masks and practice social distancing. I eagerly await everyone to come and visit the Agra Bear Rescue Facility and meet our rescued sloth bears!