Laser therapy in pain management has been a technique in use since many years, especially for human patients who deal with chronic issues related to bones. However, with the passage of time, the model of laser therapy has been instrumental in spelling relief for animals as well. The term "laser" is an acronym for "light amplified by stimulated emission of radiation". The radiation emitted from the laser therapy machine penetrates through the layers of skin to alleviate pain.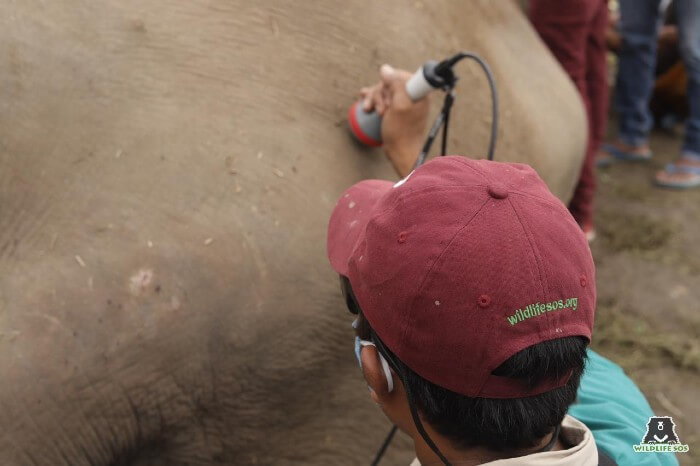 At Wildlife SOS, our veterinary team uses the most advanced model for laser therapy (Class IV) on not just our rescued sloth bears, leopards and elephants but also on rescued hyenas, birds and snakes! The multifaceted nature of laser therapy has played a pivotal role in healing of damaged issues, curing nerve disorders and even in complications encountered during colic episodes.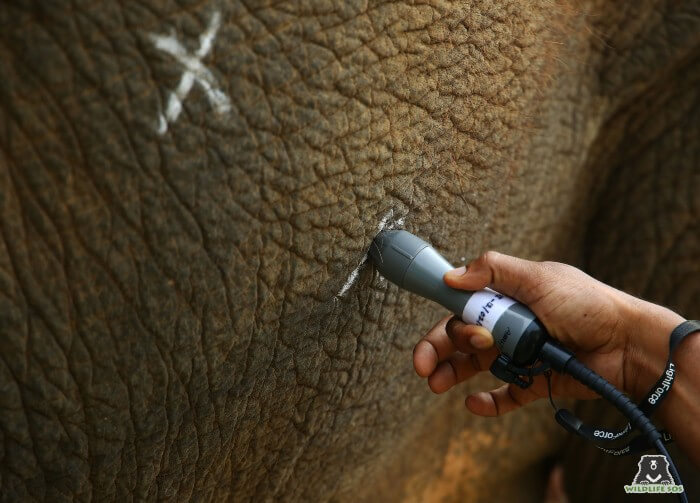 The veterinary team uses laser therapy for our rescued elephants who suffer from serious degenerative joint conditions and osteoarthritis. These pachyderms have lived a life riddled with pain and abuse – whether as performing elephants or begging elephants. The brunt of their weak, battered bodies is balanced on their ailing limbs due to which they develop such ailments at a tender age. Laser therapy provides relief at a cellular level as it aids healing of tissues and relieves stress from the joints.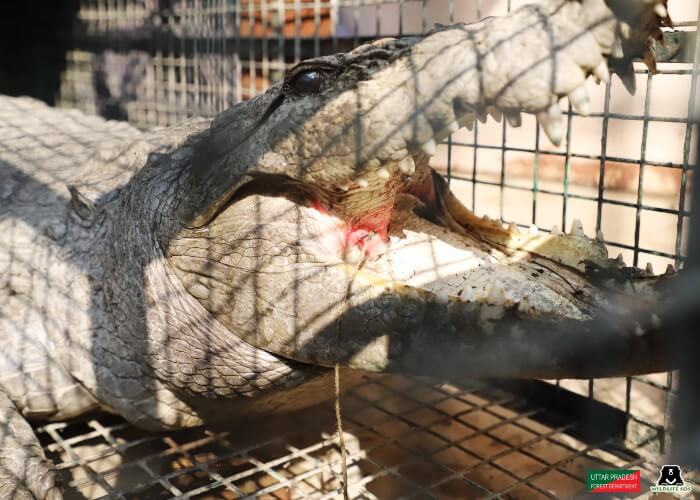 Ideally, the session of laser therapy depends on the condition of the animal, the gravity of wounds, the body weight and size of the animal as well as the nature of injury for which laser therapy is rendered. One session of laser therapy can last from a minimum 5 minutes to 45 minutes, depending on the condition, and conducted regularly for healing of orthopedic injuries.
At the Wildlife SOS Bear Rescue Centres, laser therapy plays an important role for our rescued sloth bears who also suffer from arthritis and weak joints. Regular sessions of laser therapy relieve them from stiff joints and accelerates healing for the affected muscles.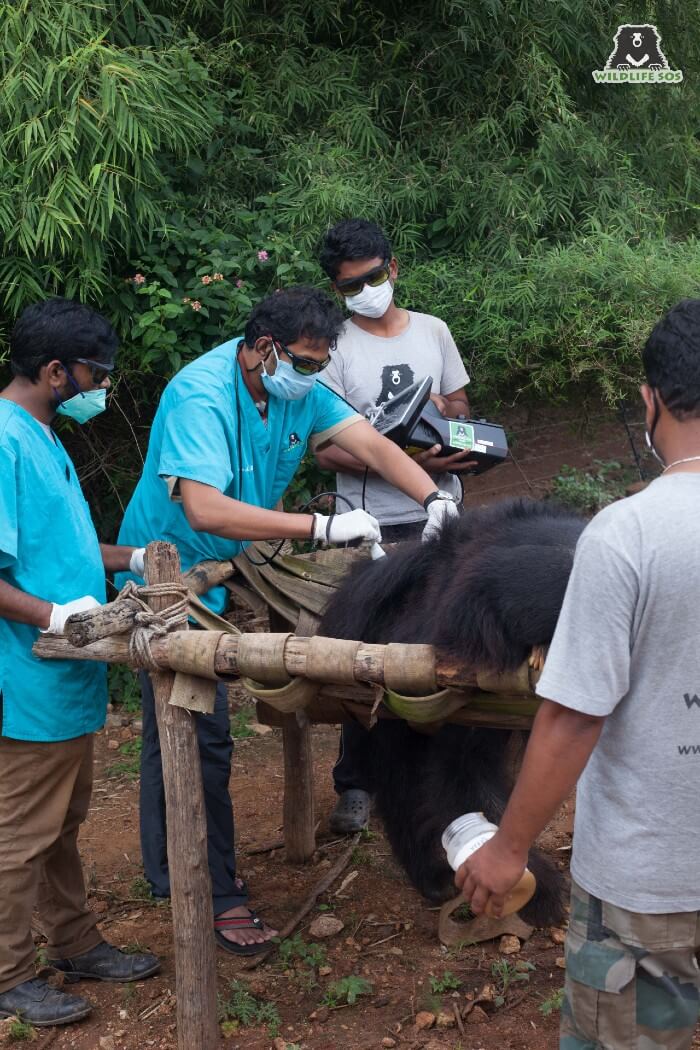 One of our rescued elephants, Priyanka, recently suffered from a serious bout of colic which rendered her exhausted and in unimaginable amount of pain and discomfort. While we continued pain management and antibiotics for her relief, our veterinary experts also administered laser therapy and acupressure. Pressure points and nerve centres were identified along her abdomen and she was given laser therapy, making her feel better.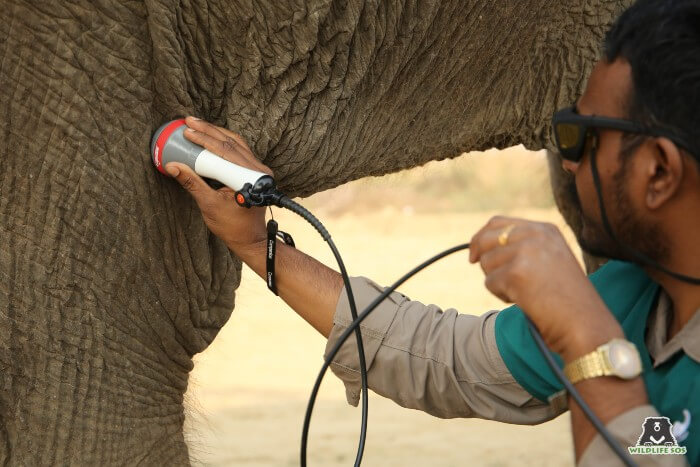 Laser therapy plays an excellent role in expediting the healing of physical injuries and wounds. Jai, the newest arrival at the Elephant Hospital suffers from seriously infected spiked chain wounds in his hind limbs and has been reaping the benefits of detailed laser therapy sessions. The penetrating laser has proven helpful in speeding up the repairing of the damaged, pus-filled tissues. After his laser therapy sessions conclude, our veterinary team also applies topical medication for his wounds in order to aid healing.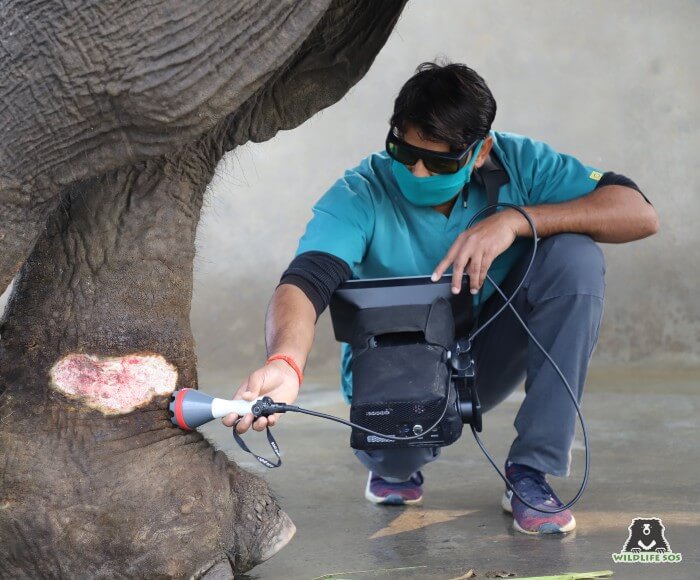 Bad feet riddled with chronic and infected abscesses as well as broken digits is also a common ailment that our rescued elephants suffer from. Relaxing laser therapy sessions help in repairing the damaged tissues, which in turn helps in the healing of toenail and footpad abscesses.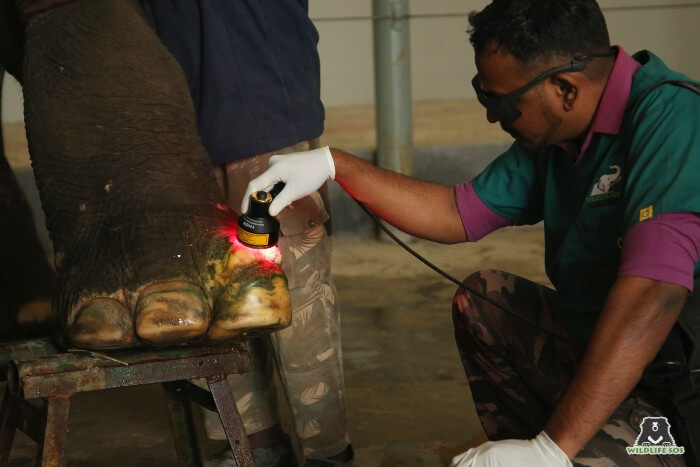 A few years ago, our rescued sloth bear Kuber who resides at the Wildlife SOS Bannerghatta Bear Rescue Centre, suffered cerebral haemorrhage caused by muscular incoordination. Ever since his diagnosis, he has been undergoing regular laser therapy sessions conducted along the length of his spinal cord which gives him relief. Kuber's caregiver comforts him with a study supply of dates which keep him calm during this treatment. More often than not, the repetitive motion and warmth of the laser puts our dear Kuber into a deep slumber!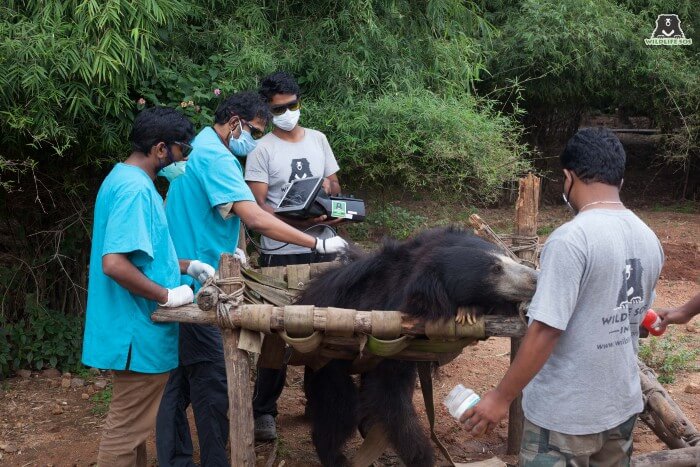 As a tumultuous year ends, we thank our supporters who have unwavering faith in us. Our dedicated animal care staff and veterinary teams across all the centres in the country have worked through the pandemic and the lockdown to ensure that the animals under our care are comfortable.
The contribution that you make plays a direct role in allowing us to work towards saving India's wildlife. The portable laser therapy machine has been instrumental in the treatment of the animals under our care as well as the animals we attend to on site. We are eternally thankful to generous supporters who make it possible for us to become a voice for the voiceless!