Kuber was only a few months old when he took timid steps into the vast expanse of the Wildlife SOS Bannerghatta Bear Rescue Centre in Bengaluru. Anxious to unfamiliar faces and new surroundings, Kuber and his brother, Nakul, were cowering in fear and shivering in starvation. They were rescued by Wildlife SOS anti-poaching unit "Forestwatch" after we received intelligence that their mother was killed by poachers. Survival in the wild without her would not have been possible as sloth bear cubs depend on their mother for up to two years of age. The siblings were rehabilitated and hand-reared by the bear care staff, who took special care in attending to their needs.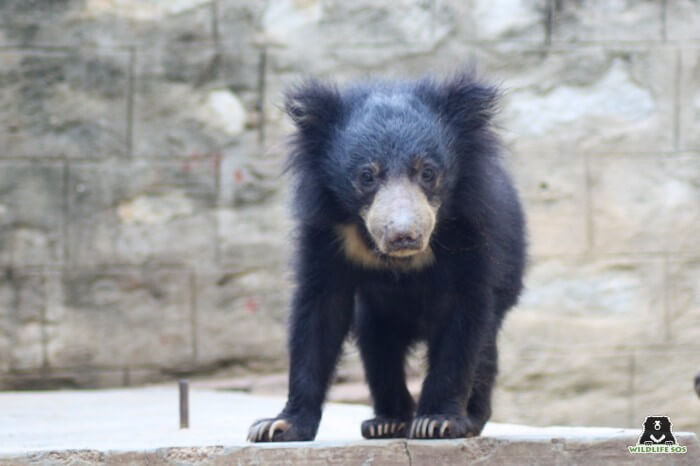 Ten years on and a lot has changed for Kuber who can be spotted lazily sprawled on his hammock enrichment, deeply snoring. Kuber loves his naps and spends most of the day resting either on his hammock or under the shade of the trees in his field. The only time we spot him slowly walking across the enclosure is when he spots his caregiver carrying a bucket of his favourite honey! Kuber patiently waits for his caregiver to pour delicious dollops of honey on the wooden logs or the tree branches and is quick to clean it off within a matter of minutes.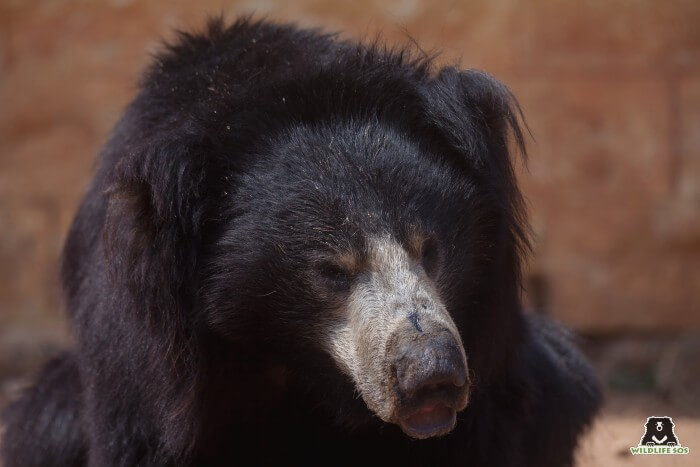 However, life has not been easy for Kuber as he was diagnosed with muscle in-coordination caused by a cerebral hemorrhage, five years ago. Our veterinary team sprang into action and without any further delay, he was rendered the necessary medical treatment to stabilize his condition. Kuber was taken to a human diagnostic centre during after-hours, at the special request of our veterinary team as we did not have the MRI machine required to examine him. Understanding the sensitivity of his condition, the veterinarians charted a treatment plan for him which included relaxing laser therapy sessions along the length of his spine and a series of medication to maintain his core immunity and muscle strength.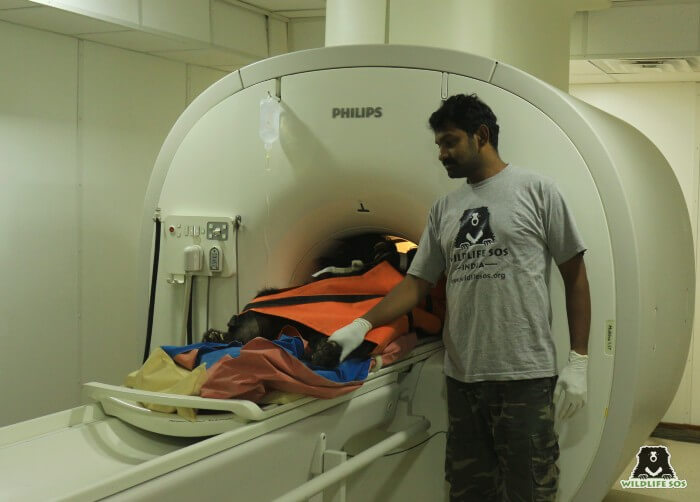 Our dear Kuber undergoes laser therapy sessions from the comforts of his hammock, aided by a steady supply of dates from his caregiver. The laser therapy sessions are instrumental in spelling relief for him and his condition has been steadily improving. However, he is not as active or alert as other bears due to his compromised reflexes, which is why he does not climb trees or actively dig mud pits. Kuber, however, is most active during the night time when he is out in his field, walking along the periphery of his field and observing other bears!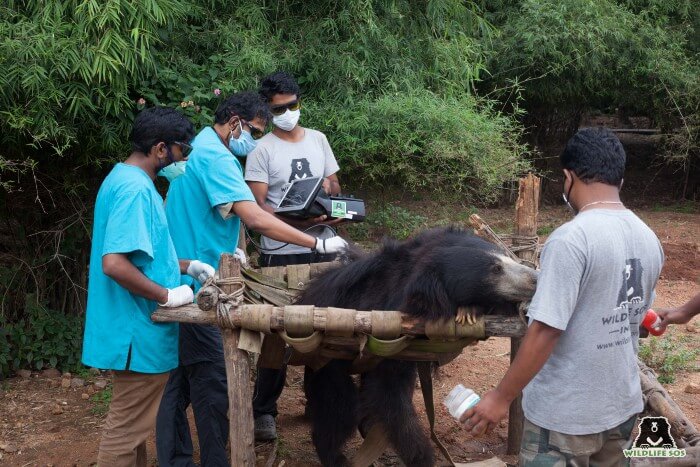 A few months ago, Kuber's world came crashing when he lost his brother Nakul to prolonged illness. Nakul and Kuber were rarely spotted apart, with Nakul always nudging his brother as he was in deep slumber or engaging in mock-wrestling sessions until they were exhausted. Initially, Kuber and his caregiver were heartbroken and he would spend days resting against the bark of the tree, scanning the field for his brother. He is doing much better now and has become more active.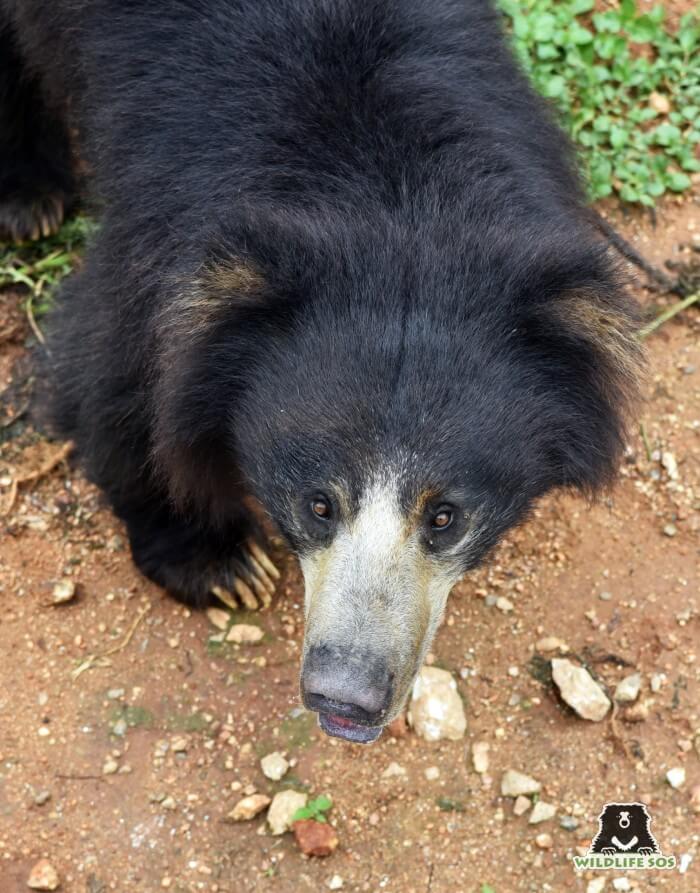 The enrichments in his field are curated carefully, keeping his condition in mind which is why there are no enrichments at a height beyond 3 feet.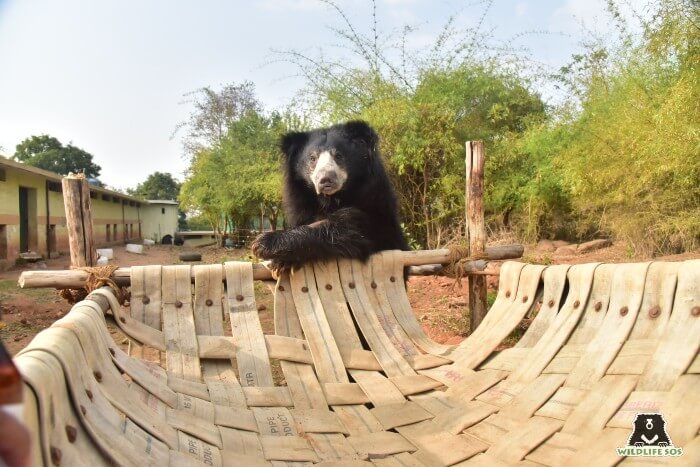 Kuber loves coconuts and plays around with them as a part of his fruit enrichment, spending hours breaking it apart and then devouring the pulpy goodness. His caregiver prepares his fruit platter with chopped pieces of watermelons, papayas, pomegranates, and grapes, often smearing it with honey because of Kuber's undeterred love for it!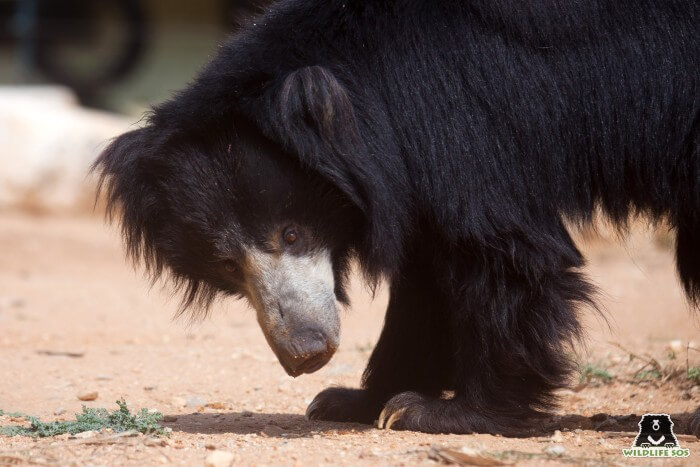 In the last decade, Kuber has braved a tough journey and survived, but as he enters his geriatric age, he will require specialized care and constant treatment. You can play an intrinsic role and support his ongoing care and treatment by considering becoming a sponsor for our dear Kuber.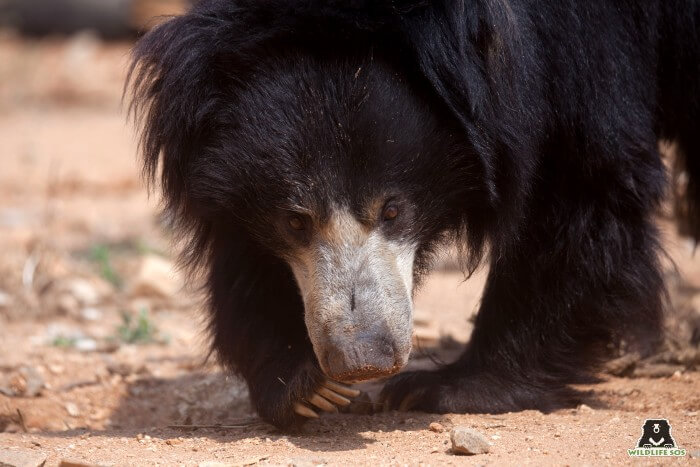 Watch Kuber make his international debut on television by tuning into National Geographic's India Jungle Heroes, a six-part series that acquaints the viewers on what makes Wildlife SOS a force to reckon with in India!