Every month, we receive hundreds of calls regarding urban wildlife in distress. Wildlife SOS operates 24×7 emergency rescue helplines in three cities:
Delhi NCR – +91-9871963535
Agra & Mathura in Uttar Pradesh – +91-9917109666
Vadodara, Gujarat – +91-9825011117
If you come across any wild animal in distress, please alert our rescue team on these numbers as soon as possible!
As we welcome the new year with high hopes and a wave of positivity, all of us at Wildlife SOS continue to work dedicatedly in safeguarding India's wildlife. The month of January brought with it dangerously low temperatures across Northern India as the temperature dipped to zero degrees in some parts! Our rescue staff worked very hard in ensuring that they are able to attend every distress call for snakes, leopards, birds.
It was a busy start to the new year for the Wildlife SOS-GSPCA Rapid Response Unit. The team received a frantic call about a snake sighting in Mahapura village, located near Sevasi, Vadodara. Upon reaching the location, the snake was identified as a Common Trinket Snake, a non-venomous snake. The snake was rescued and released back to its natural habitat, away from human settlements.
As the cold wave gripped Delhi-NCR, several reptile species were forced to seek shelter in houses and office buildings. Wildlife SOS Rapid Response Unit has rescued five snakes including cobras, rat snakes and black-headed royal snakes across the city. In winters, cold-blooded animals such as snakes go into a state known as 'brumation'. Their body temperature drops, metabolism slows down and they become less active. They will occasionally
emerge from this state for food and to avoid dehydration. In urban spaces, snakes can be found resting in undisturbed places such as basements of buildings, store rooms of houses, in garages and even in car engines!
A Painted Stork that was being chased by feral dogs was rescued by Wildlife SOS from a park in Mehrauli, New Delhi. The bird was severely traumatised and injured, even exhausted in the ordeal. The rescue team carefully extracted the bird from the area and it remained under medical observation, before being released into its natural habitat again.
A 4-foot-long Indian Rock Python was rescued by Wildlife SOS from an open
septic tank inside the Airforce station in Agra. The nearly 4 foot long
snake was trapped in an open septic tank used for treating waste water inside the Airforce Station in Agra. The rescue team carefully extricated the snake from the tank and placed it in a safe transport container designed for the purpose. The python appeared to be weak and exhausted from the ordeal, and was rendered the necessary medical aid, while it remained under observation. Once deemed fit by our medical team, the python was released into its natural habitat.
In Maharashtra, our team rescued a Barn Owl from a sewage drain after a concerned citizen noticed its struggle to fly. He immediately reached out to the Maharashtra Forest Department who contacted our team operating out of the Leopard Rescue Centre in Junnar. The owl was shivering from the cold so the veterinary team placed the bird under artificial heating and closely monitored its condition. After a day of recuperation, the owl was ready to return to its natural habitat and was released in a neighbouring forest area.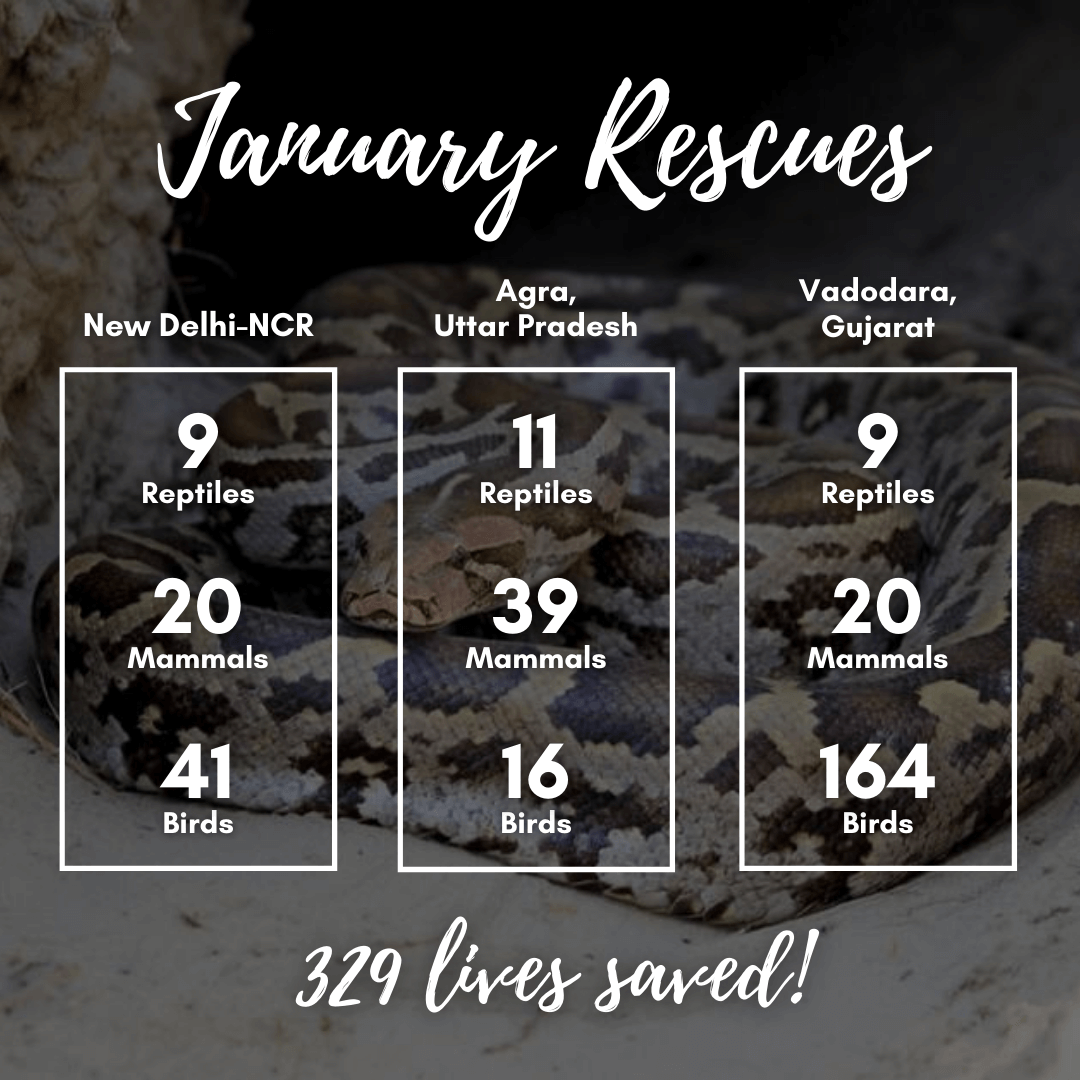 For more recent news from Wildlife SOS, click here.
Follow us on our social media platforms on Facebook, Twitter & Instagram.