In 2019, the Karnataka Forest Department received information about a male sloth bear trapped in a deadly snare, outside a village in Bellary district. The bear's left hind leg was ensnared in the crude hunting device. The snare's grip tightened around the bear as it struggled to free itself, causing severe damage to the leg.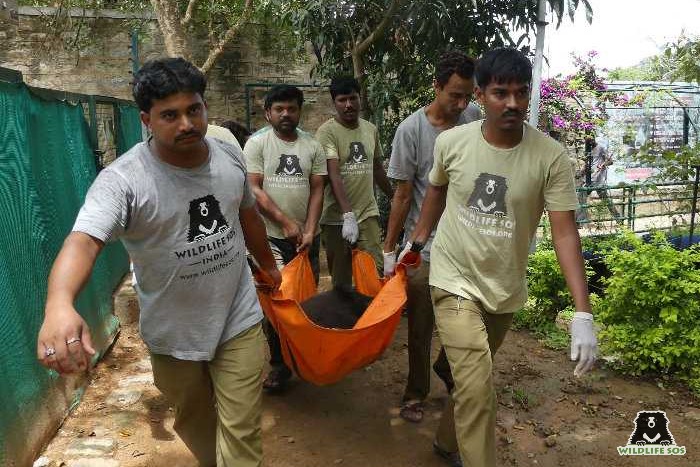 As Wildlife SOS' team based out of the Bannerghatta Bear Rescue Centre (BBRC) has previously assisted the Forest Department in providing veterinary aid in such sensitive cases, they took the lifesaving decision of shifting the bear to BBRC for urgent diagnosis and treatment. Estimated to be a 10-year-old male, the bear was starving and severely dehydrated. X-ray examination revealed that the digits on the bear's left hind foot had been severed off by the snare. Our team of veterinary doctors got right up to the task by attending to the life-threatening wounds and started intensive treatment.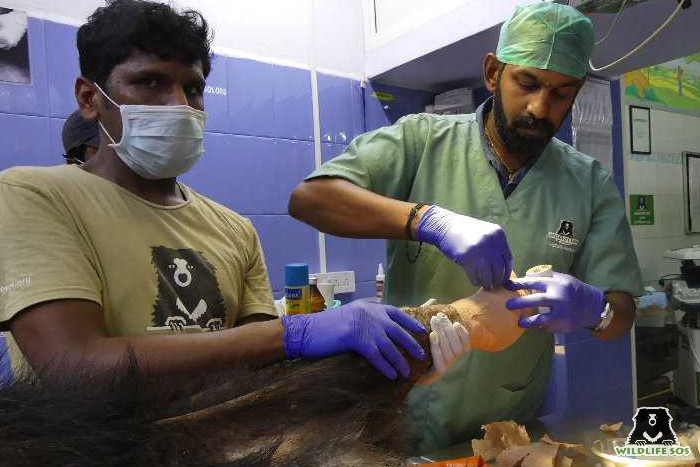 Over the next few weeks, with constant support and care from the vets and the bear care staff, he began showing signs of improvement. However, as the bear was left with a permanent disability, the chances of re-introducing him to the wild seemed bleak. Following a formal decision made by the Forest Department, the bear was placed under lifetime care at BBRC. To mark the transition to his new home, our team decided to name the bear Vaseekaran—after the character from a popular Tamil movie called Robot.
Being a wild bear, Vaseekaran was unaccustomed to human presence and would display aggression when approached by our bear care staff and vets. To ensure a safer interaction with him during treatment, we have been conducting positive conditioning sessions using treats like honey and dates as reinforcements.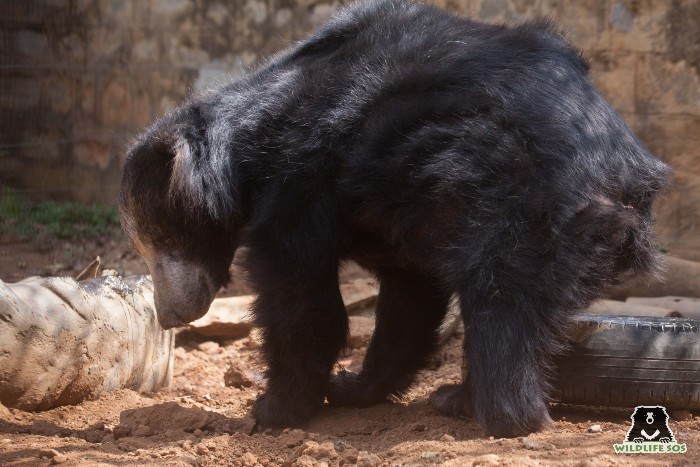 His wild roots always give him an advantage over the other bears, Vaseekaran has not let his disability deter him in any way whatsoever. He is adept at foraging and digging up insect mounds, and is fond of playing on the bamboo platform structures in his enclosure. Although apprehensive about interacting with other bears, we've observed that he has formed an unusual camaraderie with Maahi, one of our youngest sloth bears at BBRC. The two often engage in mock wrestles but for the most part, Vaseekran prefers his own company and enjoys snoozing on his hammock or gorging on watermelons and honey, which are his favourite! He spends hours playing with his puzzle feeder enrichments, which are stuffed with treats like dates and peanuts.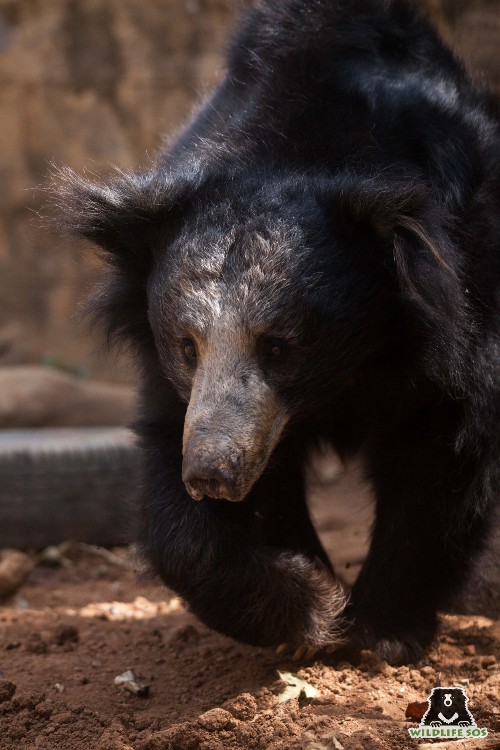 Since his arrival at BBRC, Vaseekaran has shown immense headway. Although he cannot use his hind legs to climb, he can now walk and run comfortably after a full recovery and now weights 97kgs! Our vivacious Vaseekaran is a content bear stepping into his geriatric years. He eagerly cooperates with our staff for regular checkups, which is accompanied with a steady flow of honey.
Vaseekaran's unconventional story and watching his personality shine over the years has been nothing short of extraordinary. You can play an intrinsic role in his healing journey by contributing to his ongoing care!