The entire dynamic of human-wildlife conflict changes when there is a large predator involved as communities living close to the forests fear for their lives and that of their livestock. Wild tigers and leopards often end up attacking cattle due to the rapidly shrinking prey base in various parts of the country. The solution to this lopsided, strenuous equation is most certainly not retaliatory killings. Hunting, poaching or maiming any wild animal invites hefty punishment and incarceration as well.
Disturbing news emerged from Bhopal, Madhya Pradesh when a critically injured wild tiger was admitted for treatment at the Wildlife Hospital, situated inside Van Vihar National Park. The male tiger sustained grave wounds and lacerations all across his body – especially on his head. Upon further investigation, it was learned that the tiger was rendered severely injured in an incident of a retaliatory attack by local communities when he strayed close to human habitations.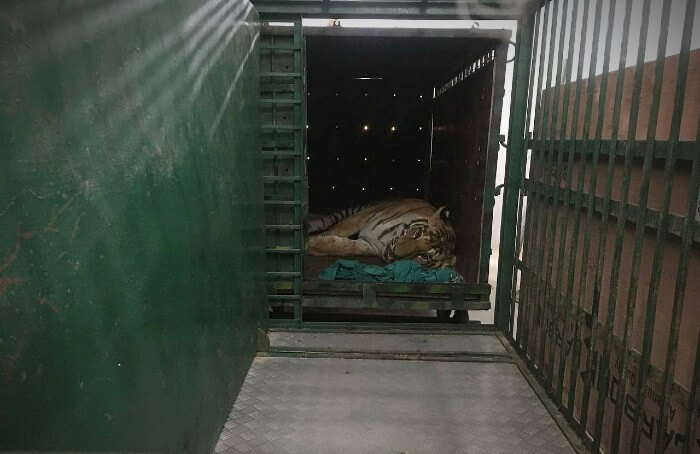 The tiger, estimated to be around 2 years of age and was rescued from Satpura Tiger Reserve, Madhya Pradesh and transferred to the Van Vihar National Park for urgent medical treatment. The trauma of the attack and the physical injuries were such that the tiger was unable to hunt, or even, stand, thus making him very weak.
The veterinary team at Van Vihar National Park, assisted by Wildlife SOS Veterinarian, Dr. Pritam and Dr. Pooja, immediately worked on stabilizing the tiger's condition. There were wounds inflicted by a sharp object on his head and the massive feline sustained fractures on the skull and left hind limb. He requires intensive medical care and treatment along with regular X-Rays, and the team closely monitors his behavior to observe for signs of haemorrhaging or permanent disability.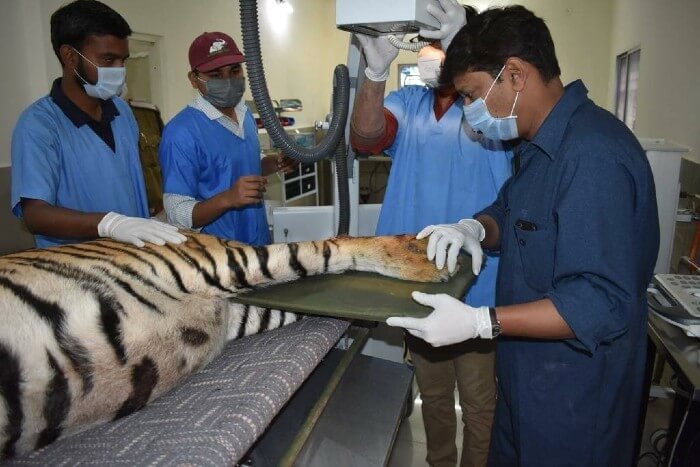 Even though the first 24 hours were very critical, this brave animal has shown immeasurable amount of strength as he recovers remarkably. Wildlife SOS Veterinary officer, Dr. Rajat, has been assisting the veterinary team at Van Vihar National Park in the immobilization of the tiger and his on-going treatment. Regular medical treatment and a thorough examination have revealed that the tiger has been showing excellent recovery. His fractures are gradually setting and his wounds show significant improvement, and there is no behavioural abnormality noticed.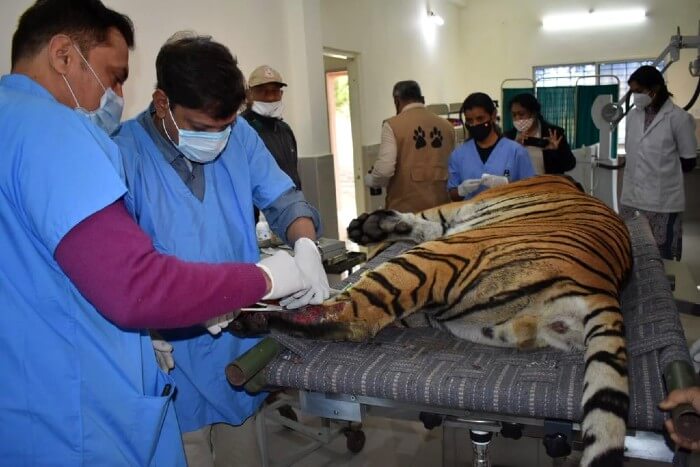 He rests during the day in an enclosure in the Indoor Ward of the Wildlife Hospital and is also given joint strengthening supplements as well as antibiotics to protect him from infections. Since the tiger's recovery is good, the National Park authorities are determined to release him back into the wild, in a phased manner. He will first be soft released in an area around the National Park and will be monitored closely, and once deemed fit, he will return to his rightful home and translocated to an area away from human habitation.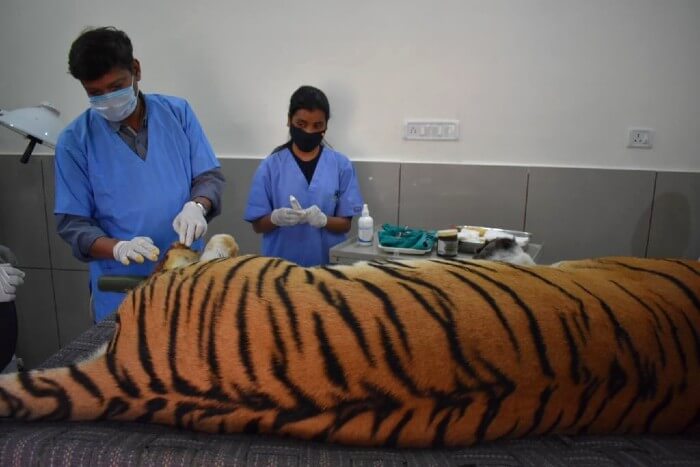 Wildlife SOS assists the Van Vihar National Park authorities in the treatment of wild tigers, sloth bears and other animals. The Van Vihar Bear Rescue Facility is home to 21 sloth bears rescued from the age-old practice of "dancing bears" as well as human-wildlife conflict situations. We are thankful to the National Park authorities as well as the Forest Department for their timely intervention which saved the tiger's life!
[Featured Image Credit: Unsplash]