Day after day for more than 40 years, Priyanka walked the hot, tarred roads inside the congested lanes of whatever cities, towns, and villages her "owner" demanded (she was in fact not legally owned). To him, this sweet elephant was nothing more than an ATM, a money-making machine to be used for begging on the streets — when she wasn't strapped with a heavy, spine-breaking howdah (saddle) on her back to give rides to children and adults. As if her daily life was not stressful enough, Priyanka's so-called owner would also rent her out to processions, weddings, and parades to earn a few more bucks, ignoring that it was putting her through immense stress. Firecrackers would be thrown around her and loud music was always blaring — all too much for her sensitive ears.
We saw all this from afar and were moved to action. Once we had all the important documents in place and the on-field conditions were relatively stable, we moved to rescue her. On the night of November 23, 2017, the perfect opportunity to take Priyanka to the safe haven of Elephant Conservation and Care Centre (ECC) finally appeared! Our team quickly mobilized and loaded her inside the Elephant Ambulance to undertake a journey of 300 kilometers (185 miles) in the cover of night. The dense fog and chill required us to stop and cover Priyanka with woolen blankets to keep her warm. We believe that Priyanka's cooperative nature throughout her rescue set the tone for her next one year with us!
Since her arrival at the ECCC, Priyanka's curious nature has been well satisfied with all the new experiences she's had: meeting other elephants, eating new fruits, encountering new textures and smells on her walks out in the open fields, to name a few. Priyanka's best discovery has been the pool inside her enclosure. She is a big water baby and spends hours submerged inside her pool or playing with her favorite tires. Some days when her keeper walks her down to the river, Priyanka invariably rushes in to take a dip, flatly refusing to come out until she's ready. Sometimes her poor keeper even has to dive in himself and coax her out of the water with treats.
Priyanka's health has been improving in her time at the ECCC. Due to improper nutrition during her younger years, Priyanka's hind legs are physically deformed and twist inward, indicating improper development. Although her condition is chronic and incurable, our dedicated team of vets and para-vets work hard to prevent it from worsening. She is given regular pedicures to prevent her toenails and cuticles from overgrowing. She also follows a strict exercise routine — going out for walks two times a day — to keep her from gaining weight and thus putting more pressure on her hind legs. Priyanka has a healthy and balanced diet of sugarcane, various fruits and vegetables, treats such as dates and peanuts, and a protein-packed bolus made with raggi flour.
Because today is the one-year anniversary of her rescue, our team had a special surprise in mind for her. They spent the better part of the day preparing her a special cake using protein-rich porridge layered with banana leaves and Priyanka's favorite: watermelon! To top it off, the team finely chopped up and arranged pumpkin chunks to spell out, "Happy anniversary Priyanka." All that was left then was to wait for Priyanka to see her special treat.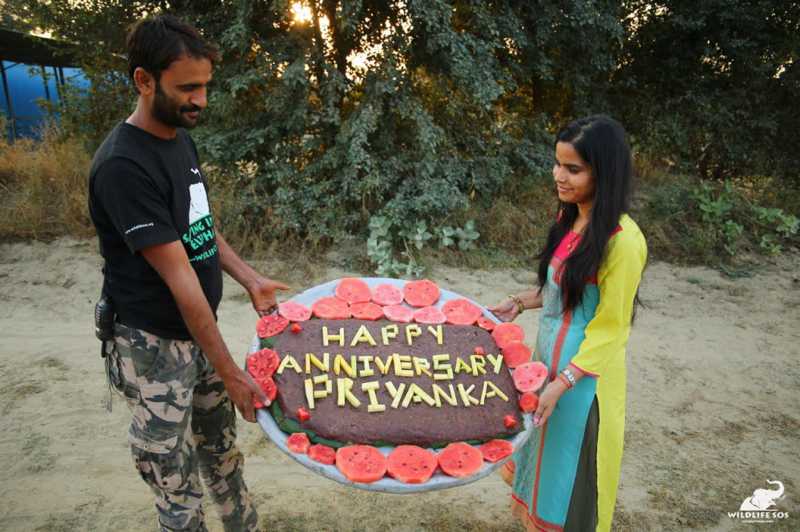 On her back way to her enclosure after her evening stroll, our curious girl was taken aback by the colorful cake directly in her pathway. She carefully inspected it with her trunk to make sure that it was not something alien. Upon encountering familiar scents and smells, she gobbled up the cake in a matter of minutes, leaving everyone in peels to see her sudden change in demeanor!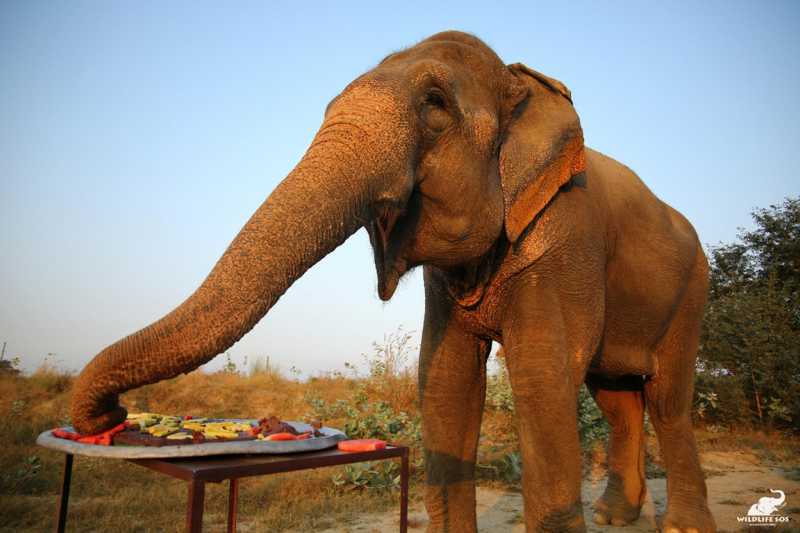 Priyanka's strong will to heal herself from the scars of her traumatic past fills everyone at the center with a sense of hope. Her life of freedom is so full of possibilities, we cannot wait to see what the journey ahead has in store for her! We thank everyone who helped us make her rescue possible and has stood with her ever since.