"Thousands have lived without love, not one without water." — W. H. Auden
For Kalandar families living in Atru, Rajasthan, water is as precious as gold. To fetch this precious compound, one has to travel three kilometers, navigating brutal rocky terrains under the scorching sun. Even after making the arduous journey, one is only able to return with a tiny amount of water – just enough to make food and quench one's thirst. Showers, laundry, and other activities that many of us have come to take for granted are luxuries in Atru.
Under such extreme water stress boundaries between man and animal have blurred in the town of Atru. Much like their human counterparts, the wildlife here suffers too –  birds, monkeys, and others search for sources of water, often dying of thirst. In 2022, as heatwaves gripped various parts of India, the water crisis here only got worse.
Ms. Rakhee Sharma, Project Manager – Community Initiatives & Alternative Livelihoods Wildlife SOS, witnessed the impact of the water crisis in Atru first hand. As she ventured into the town's Kalandar settlements, the water crisis stared back, demanding to be acknowledged. Ms. Rakhee discovered that no government water pipeline made its way to areas in Atru where Kalandar families lived. She found that with a lack of water every aspect of the community's life was impacted – children were unable to go to school, women and young girls were unable to access menstrual hygiene, and families were unable to survive.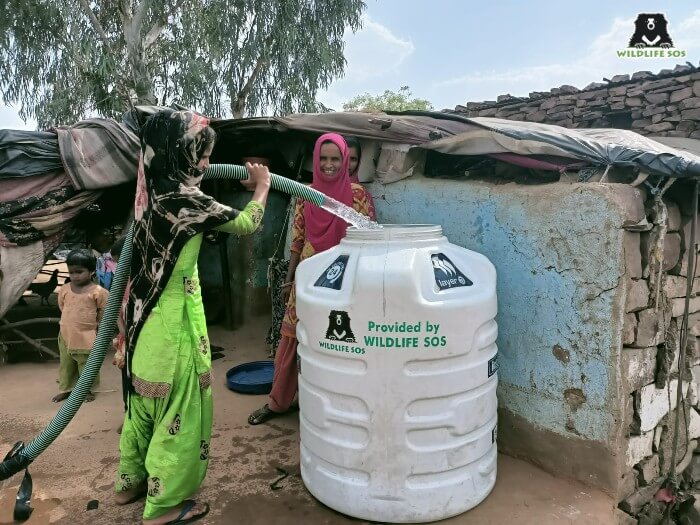 Through discussion with officials, Ms. Rakhee learned that the water pipeline to Atru existed; Yet it was unable to deliver water to the village due to large motor pumps used for agriculture that exhausted the water supply. The government was hard at work trying to bring water to Atru through a permanent and sustainable solution.
To aid the government in their commendable efforts, Wildlife SOS aimed to provide a temporary solution that would create access to safe drinking water in Atru during the summer months.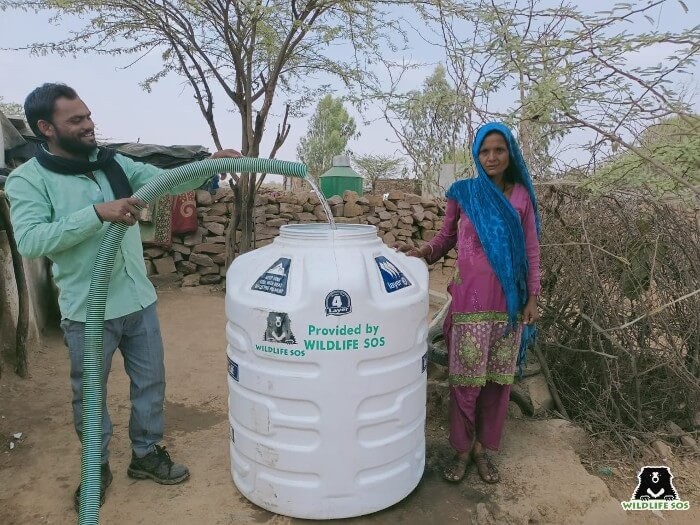 "One temporary solution that I could think of, was to distribute water to [the community] by a water tanker," said Ms. Rakhee Sharma. Yet, the plan failed as families did not have water storage tanks to store the water. 
As Ms. Rakhee understood the layout of the village more she identified 12 families in dire need of water. As a first step, Each family was given a water tank with a capacity of 5000 liters wherein water could be stored in safe and hygienic conditions. With tanks in place, Wildlife SOS arranged for a water tanker with a 5000-liter capacity that could distribute water twice a week.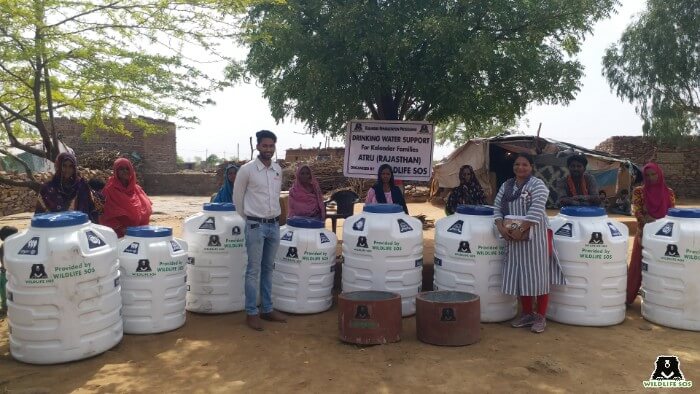 According to World Health Organization (WHO) an individual requires around 25 liters of water daily to meet their basic hygiene and food needs. The rest is used for purposes like mopping and cleaning. With 5000-liters of water twice a week, the Kalandar families, for the first time, received sufficient water to survive. 
With April, May, June, and July being the hottest summer months in India, the water distribution program is scheduled to be ongoing till the end of July. The municipal corporation of Atru is working hand in hand with Wildlife SOS and is helping provide water tanks to the village. Post-July, Wildlife SOS hopes to work with government officials to initiate a permanent water connection.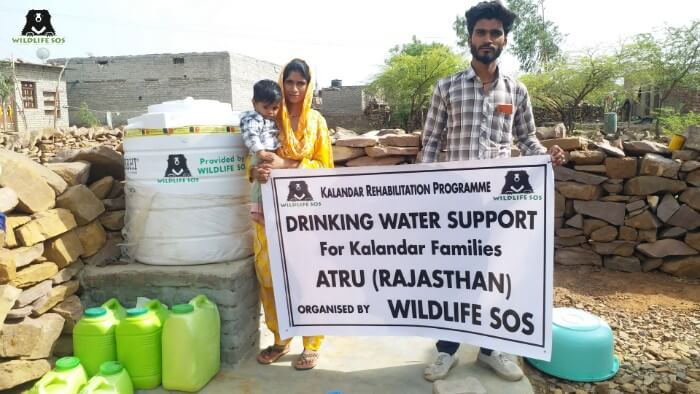 With the help of water from the tanker, drinking bowls were also set out for animals desperately in search of hydration.
As the first drops of freshwater reached Atru, the village came alive. The happiness of the Kalandar families was palpable. According to Ms. Rakhee Sharma, "The most gratifying thing was to see the animals drinking water and the children taking bath after a long time."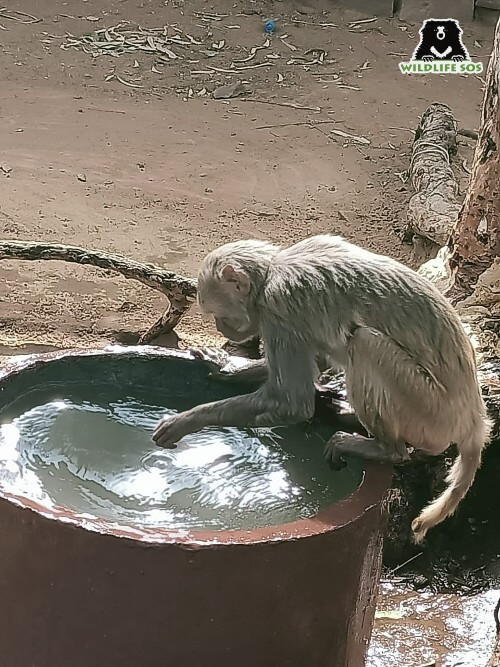 The power of water astounded all of us. We were all overwhelmed to see the changes such a small act could bring about. With water easily available, Kalandar families could truly live and move beyond merely fighting for their survival.
Through the efforts of Wildlife SOS and the dedication of Ms. Rakhee Sharma, Atur was able to be removed from this harrowing situation. Yet, numerous villages continue to fight for access to the most basic of rights – the right to safe water.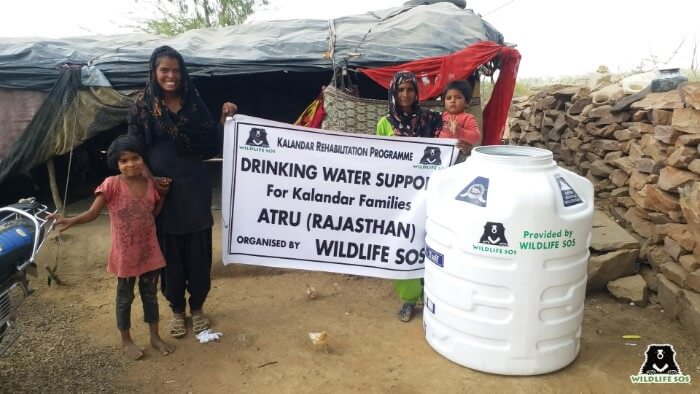 Often such issues are left out of the discourse of wildlife conservation, yet the water crisis of India is intrinsically tied to the well-being of our animals and forests. Due to various anthropogenic pressures, water systems that keep ecosystems thriving have slowly become stressed. As climate change impacts weather patterns, water around the world is effected leading to increase in droughts or floods.
In lieu of this, the government of India has set up a water ministry called "Ministry of Jal Shakti" that integrates water resource management under one ministry. The formation of this ministry is a testament to India's commitment to tackling the water crisis head-on. Under the 'Jal Jeevan Mission' of this ministry, approximately nine crore rural households have received clean tap water. Yet, governments are only as strong as their citizens.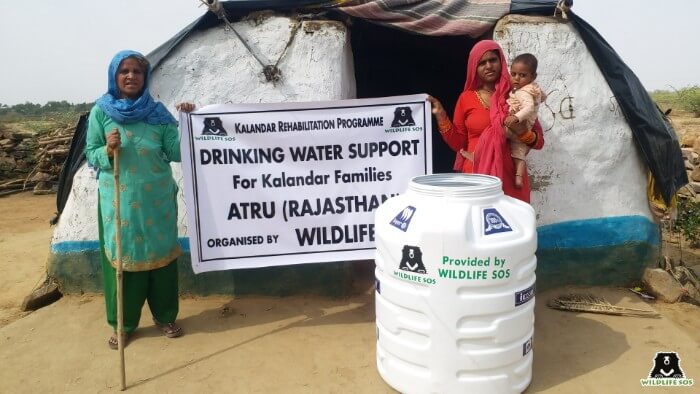 It is predicted that by 2025, two-thirds of the world's population may face water shortages. And ecosystems around the world will suffer even more. By 2040, almost 1 in 4 children will live in areas of extremely high water stress.
Battling water stress requires all of us to come together. As the story of Atru teaches us, without water there is no life.