The Wildlife SOS Rapid Response Units across Delhi, Agra, Vadodara and in Jammu and Kashmir have been preoccupied. In the last 6 months, an outpour of calls on each helpline number have led to phenomenal wildlife rescues. From snake extractions to a series of anti-poaching raids along with state forest departments in order to recover illegal wildlife contraband— the year so far has been remarkably eventful for the rescue teams.
1. Makar Sankranti and the Cruelty of Manjha
The annual festival of Makar Sankranti introduces the season of spring with wafts of sweets like kheer and chikkis through the streets. The celebration is also accompanied by the activity of flying kites. However, kite-flying has a flipside to it— various birds are critically injured by the glass-coated string attached to each kite. This string is called manjha, and is liable to pierce the birds' flesh, cut their wings and cause them life-threatening injuries. Several birds on their migratory routes fall victim to these kite strings.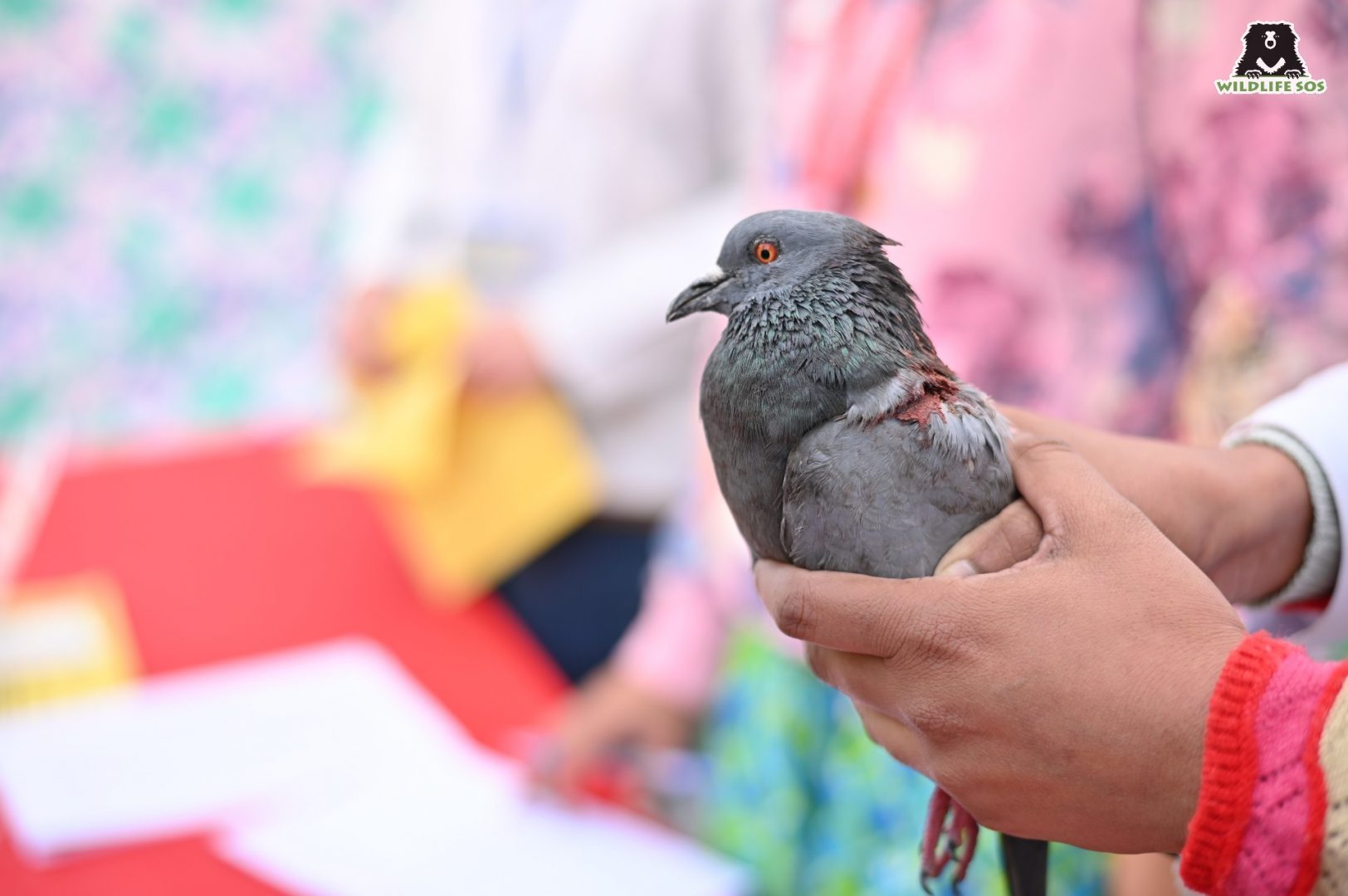 To help birds for the duration of this festival, the Wildlife SOS team collaborated with Eco Rescuers Foundation to set up a 3-day bird treatment camp in Jaipur, Rajasthan. Volunteers, along with members of both NGOs, brought in injured birds from various parts of the city for medical treatment. Interested participants were also given awareness and training sessions on what to do upon spotting a distressed bird. The veterinary team was able to provide aid to over 50 birds in this endeavour.
2. Black Kites Fall Prey to Heatwaves
The scorching heatwave across northern India proved to be dire not just for humans, but for wild animals as well. Birds in particular were highly susceptible to dehydration and heat exhaustion. Their flight paths, which once consisted of lush green forests, have now been replaced by concrete jungles with fewer and distant water bodies. The Wildlife SOS team in Agra and Mathura saved over 80 birds from dehydration in May and June.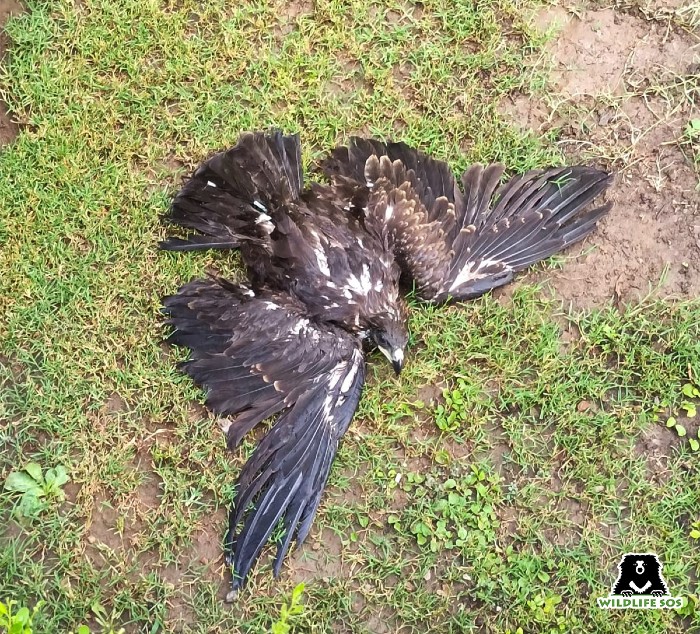 Our Rapid Response Units received a number of calls regarding Indian Black kites that had collapsed in parks, people's yards, or on the roads. The team brought in these distressed birds for rehydration and medical observation. They were released back into the wild once the veterinary team gave the green light!
3. Anti-Poaching Makes a Comeback!
Dedicated efforts against poaching had taken a hit due to the covid lockdown, which was when smuggling of wildlife contraband had seen a rise. With movement being prohibited due to the lockdown, smugglers and poachers found it easier to smuggle animals without constant surveillance. However, with a reduction in covid cases, the Wildlife SOS- Gujarat Society For Prevention Of Cruelty To Animals (GSPCA) team has been able to assist forest departments to crack down on poaching cases.
In January 2022, 14 Rose-ringed parakeets, 2 Plum-headed parakeets, and 2 Alexandrine parakeets were recovered by this team from traffickers. In a raid conducted by the forest department in February 2022, our team assisted the rescue of 8 parrots, 11 Alexandrine parakeets, shells, Black corals and 6 genitals of Monitor lizards.
The team in Delhi received a call from a concerned citizen about various birds being stuffed into cages and sold for pet trade. The team informed the forest department and the police, and along with them, recovered over 1,700 live birds and chicks of various species of munias, mynas and parakeets. The chicks were nursed to health by the team who provided them with 24×7 care and nutrition.
The unit at Agra also aided a Softshell turtle found outside a railway colony in May 2022. The turtle was suspected to be a victim of illegal wildlife trade, and was in a poor condition. An observant passer-by noticed this turtle and was quick to call our helpline.
4. A Rare Snake Makes an Appearance!
Not one, not two… but three Levantine vipers were extricated by the team at Jammu and Kashmir in the span of one day! One was found within an office, the second in the garden of a local resident while the third viper was spotted in an exclusive area that was housing senior bureaucrats. This snake is highly venomous; its venom can cause necrosis (death of body tissue) and affect hemostasis (the body's ability to stop bleeding after injury). The venom of this snake is not included in the polyvalent anti-venom that is used to treat the bites by the Big Four in India, making this viper's rescue highly dangerous! Hence, for each case, the team was extremely vigilant while dealing with this reptile. The Wildlife SOS unit in Jammu and Kashmir also makes an attempt to create awareness about this snake in the region, so that the people rely only on professional expertise to deal with them.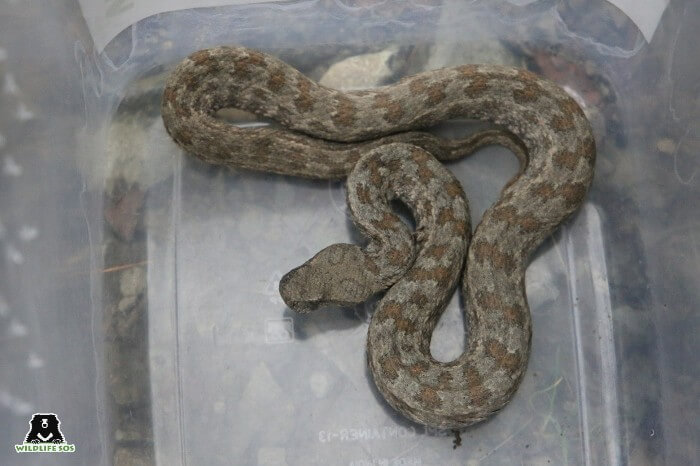 5. Monsoons — A Reptile's Favourite Season
With rainfall gracing us with its presence after hot months, a plethora of reptiles too have made their presence felt this monsoon. Over 22 reptiles were rescued by Wildlife SOS in Agra in just 72 hours! Among them were Indian Wolf snakes, Monitor lizards, Indian Rat snakes and Buff-striped keelbacks. With calls flooding the helplines, each Rapid Response Unit has been working day and night to allay every human-wildlife conflict situation.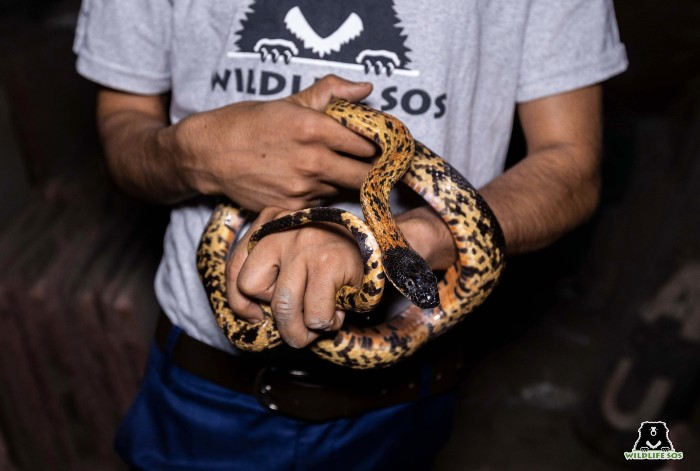 6. Lesser Florican Makes a Surprise Visit
In the month of May, a Lesser florican bird was found inside the guard's room of a government boys' school in Delhi. This rare bird, that no one had expected to find in the national capital region, prompted the staff to call the Wildlife SOS helpline number. The bird was quickly extricated by the staff and transported to the Wildlife SOS transit facility, eliciting a lot of scrutiny and confusion.
The female Lesser florican was kept under medical observation before it was released back into the wild. Lesser floricans are protected under Schedule I of the Wildlife (Protection) Act, 1972 and have experienced a severe population decline due to habitat destruction, use of chemical pesticides, and hunting.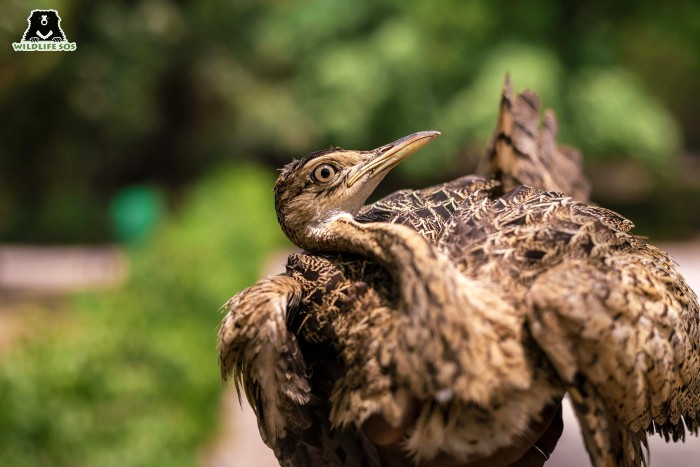 With many more animals in distress, all Wildlife SOS Rapid Response Units are active round-the-clock to attend to as many calls as possible. Our units are established in the following regions and can be reached out for assistance on the following helpline numbers:
Delhi NCR – +91 9871963535
Agra – +91 9917109666
Vadodara – +91 9825011117
Jammu & Kashmir – +91 7006692300, +91 9419778280
Share this article on our efforts to save wildlife with your friends and family, and support us by making a donation!