Seven decades is a long time. When an elephant is taken away from its natural habitat, made to walk on unnatural surfaces and beaten into submission to beg for alms at the hands of a negligent owner, all of it is bound to leave a huge psychological impact. Seventy years (nearly a lifetime) of intense walking immensely harmed her footpads, leaving Ella with severe pain and discomfort. She was forced to lift her trunk as a performance for the public, and was cruelly poked by an ankush (bullhook) to do so.
Ella's endless walking routine ultimately impacted her joints. As she aged, she required rest and specialised medical care. Instead, she was surviving on some dry grass and barely any water. It was in 2013 when Wildlife SOS rescued Ella, and finally broke both the chains that were holding her freedom. When she was brought to the Elephant Rehabilitation Centre (ERC) in Ban Santour, Haryana, Ella was weak. She had little strength in her limbs, and her psychological health was compromised too due to her agonising past.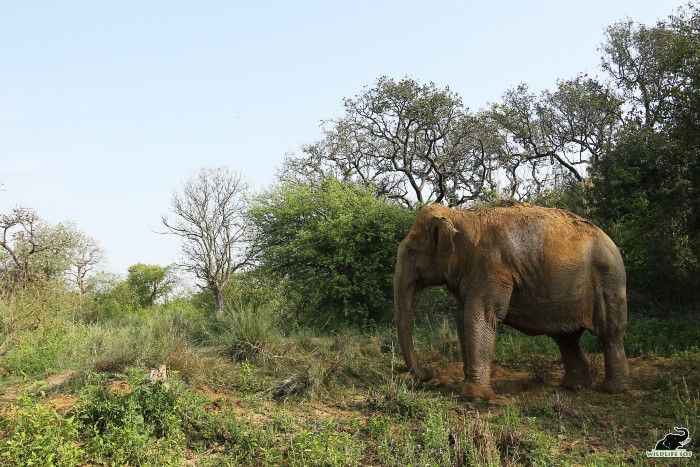 By some divine intervention, another female elephant named Erika was rescued and brought to ERC on the same day, and the two of them instantly greeted each other with excited rumbles. With their history shrouded in pain and agony, the two found comfort in each other's company, and they eventually formed an inseparable bond. Over the years, their companionship has played a major role in aiding their psychological recovery. Their friendship is one of the closest that we have seen among all our rescued elephants.
In their initial days, both Ella and Erika seemed slightly apprehensive about their new environment; the feeling of soft mud under their delicate footpads was a refreshingly new experience. The constant honking of cars on the road was now replaced by natural sounds of the wild; their slow pace was no longer being taunted by a bullhook.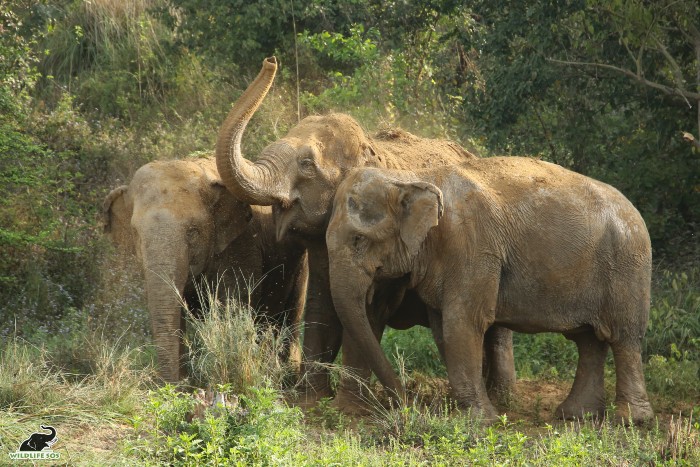 What makes 79-year-old Ella special is that she is the oldest elephant under the care of Wildlife SOS. She was rescued from a lifetime of begging at an old age, and so, the past 9 years with us have been crucial in reforming her health and mind. Ella has shown tremendous recovery, but being under geriatric care she needs constant care and delicate handling, more than any other pachyderm at the centre.
Absence of molars is why there is a special diet charted out for Ella. This is a common dental issue among geriatric elephants like Suzy, who is also under our care at the Elephant Conservation and Care Centre. Ella's feed intake includes 50 kg of fresh fruits and vegetables such as bananas, pumpkins and cucumbers. Ella has a soft corner for pumpkins, and we make sure that they are boiled and given to her so that she does not face any difficulty chewing. If pumpkins aren't available, Ella is likely to become a bit fussy about her food. Green fodder too is cut properly and given to her without its stems so that she is able to chew them.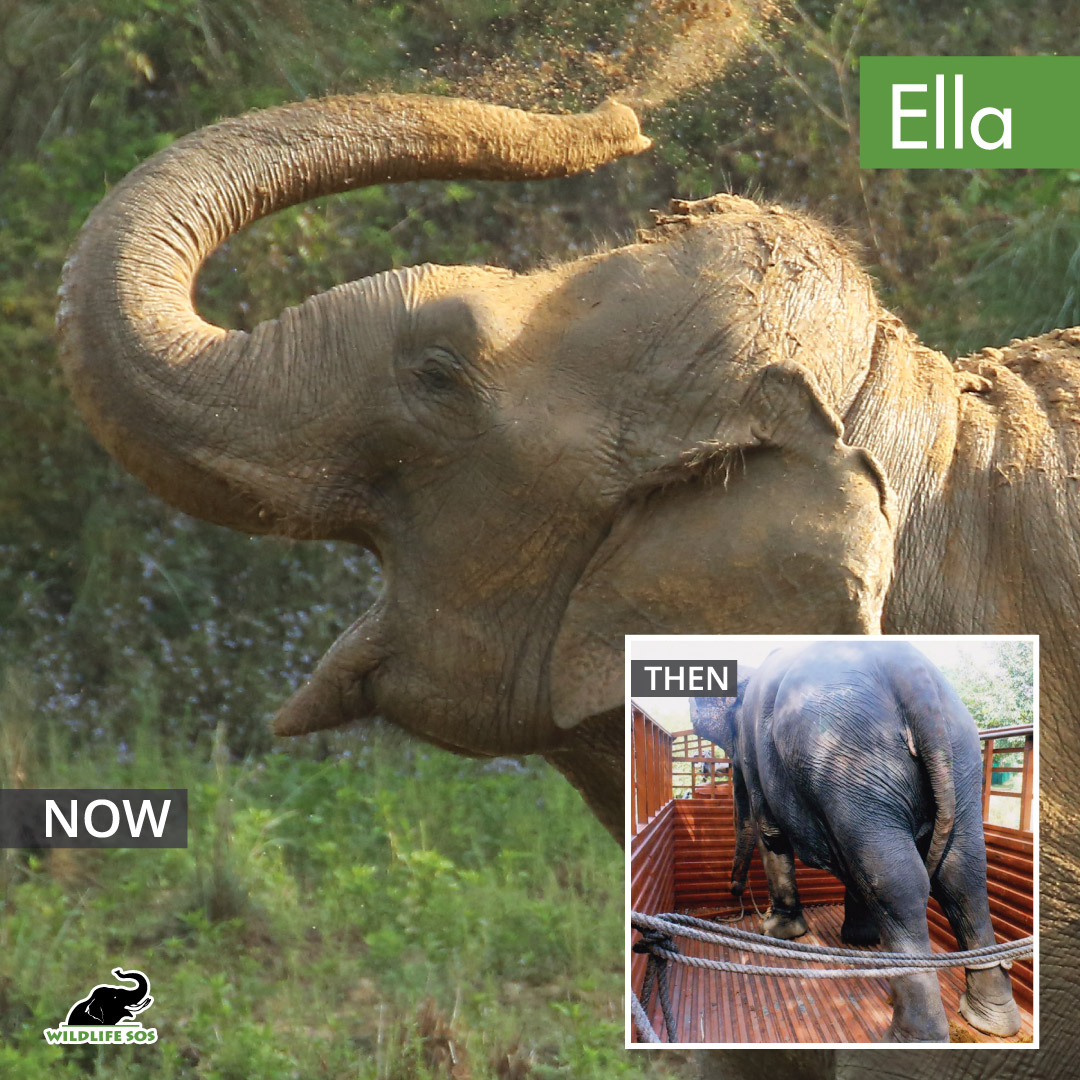 Ella is served a concentrate that is rich in condiments like garlic, turmeric, pepper, wheat flour and ragi. Though she is not a big fan of the cooked concentrate, it is an extremely nutritious meal for all our elephants. Focusing on her geriatric care, the concentrate has additional immunity boosters which help maintain her internal strength. Her fruits are finely chopped for easy consumption, and the bananas are peeled and given to her.
Ella is enjoying the gracious weather change, with spells of rain making ERC lush green. Ella displays her sense of comfort and security when she lies around in the mud and relaxes under the sun for a while. In fact during this summer, Ella and her two friends, Erika and Lily, were seen reveling in a long bathing session at the pond within the centre.
Despite being the eldest elephant, she becomes playful like a child during a mud bath. That she is extremely fond of it becomes evident when she raises her trunk and rubs mud all over herself, and then throws it around indiscriminately on Erika and Lily. While Ella enjoys her bath, she is also the first one to get out of the water owing to her aged limbs. Once out, she relaxes near the mud bog and waits for her friends to be done splashing around.
Age catches up to everyone, and like all other animals, it has gotten the better of Ella as well. Recently, the ERC staff has noted how Ella likes to stay alone rather than with other elephants. At present, we have also seen Ella grow more temperamental than earlier.
But Ella shares a close rapport with her caregiver and goes on morning walks with him. Her caregiver understands that Ella requires her own, sweet time due to her age – she occasionally halts to pluck a fresh fruit from the tree. This activity works as a perfect natural enrichment and keeps the elephant busy.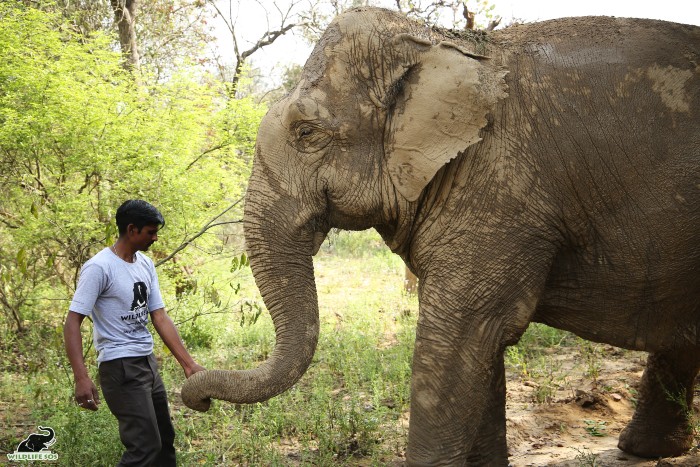 Presently, Ella is not undergoing any treatment, but regular toenail trimming sessions are a part of her routine now. We recognise Ella's strength and wisdom as we declare her as our Elephant of the Month. Her sheer resilience has shown us that even after a lifetime of suffering, she has a strong will to move on. In these 9 years, Ella has gathered all our love and respect: as an elder, as a teacher, and as an Elephant.
If you wish to see elephants living a healthy and fulfilling under our care, you can help us with their upkeep by becoming a monthly donor for Wildlife SOS.