Mercury levels are hitting records of up to 49°C in the hotter parts of the country, which is basically the Summer saying, "Look! I am here." Since the summer season can be difficult in India due to being located in the tropics, the dedicated team at Wildlife SOS ensures that a summer care plan is implemented to help our elephants and bears beat the heat.
The elephants love water (and mud)!
The Elephant Conservation and Care Centre (ECCC) in Mathura is blanketed by an air of lethargy to which nobody is immune, and the credit for this duly goes to the summer weather. Summer months and swimming pools go hand-in-hand and in Emma's case, her relationship with pools and water is very intimate. She has a jumbo pool inside her spacious enclosure and even on cooler days Emma doesn't give up an opportunity to enjoy a refreshing soak in it. Emma partially shares her enclosure with Maya and Phoolkali, and they mostly spend the day together. It's no surprise that these three use pool time to the optimum best. Meanwhile, the playful and friendly trio recently went to the Yamuna and seemed to enjoy their river bathing sessions thoroughly.
The elephants have an inclination for water baths, and simply standing and enjoying a cool shower is all they're looking for. Chanchal enjoys long showers! So once she comes back from her morning walk, she wriggles around as her caregiver washes her down, always standing for a little longer in hopes she will be bathed again. For the caregivers, giving a bath to the elephant is also a sign of trust and affection. This eventually helps them to clean the spots which are harder to reach.
The Yamuna river also makes for a perfect spot to beat the summer heat. The trio of Chanchal, Bijli and Laxmi was recently seen playing in the river for a prolonged period, and the squeaks and squeals from being in the water is a feeling of pure bliss. It was no different for Arya and Zara. Watching them immerse in the cool waters of Yamuna and splashing water with their trunks is a sight that can make anyone forget their worries. Elephants usually spray water behind their ears, which allows the circulating blood to cool down faster. Besides, who doesn't like a little splash in nature's swimming pool?
There is another gift which Mother Nature has provided the elephants with – mud! Mud baths are essential since it protects the elephants' skins not just from the heat, but also from sunburn. Now we know where the original sunscreens came from! Besides, when they lie down and roll on the mud, it creates a protective layer to shield their skin from insect bites. Forget about all those mosquito roll-ons, this is 100% organic!
The summer diet undergoes significant changes for the elephants. The intake of fruits increases which include cucumbers, sugarcane, watermelons, papayas and raw bananas. Along with that, they are also given seasonal vegetables like cauliflower, cabbage, carrots and jackfruit. Some of the elephants prefer fresh fruits over vegetables and will carefully pick out the fruits, analysing the juicy fragrance before gulping it down.
Bare necessities of summer
In Jammu & Kashmir, the Wildlife SOS Pahalgam and Dachigam Bear Rescue Centres are also preparing for the summer months. Even though maximum temperatures in J&K do not exceed 25°C during summers, the resident Asiatic Black bears and Himalayan Brown bears like to cool it off in their water pools. In fact, the bears like to spend hours there so the fruits are given in the pool itself! One of the resident black bears Julie was seen unleashing a frenzy and her joy knew no bounds once she entered the pool.
The Dachigam Centre has a natural environment, surrounded by a lot of bushes and shrubs. So we let it remain as wild as possible, and the bears can sometimes be seen using those bushes as their hiding places. The bears would also indulge in playful activities when their food or treats are hidden under rocks. and they would happily go and remove the rocks to relish the food in tranquility.
While the black bears and brown bears are not solely at the mercy of the sun, that's not the case for the sloth bears. Temperatures can get grueling at the bear rescue facilities in Agra and Bhopal. There are air coolers installed inside the bears' dens which is a huge respite. At both Agra Bear Rescue Facility (ABRF) and Van Vihar Bear Rescue Facility, there are pools and water sprinklers installed to make sure that if the bears come out and decide to have a blast in the water, they can do so without any inhibition. But geriatric bears like Mangee, Chameli and Jasmine at ABRF mostly stay inside their enclosures due to their age. The bear care staff also soften the soil with water sprinklers for the older bears so that they don't face any difficulty while walking.
Apart from the coolers, the caregivers shield the bear enclosures with grass piles in order to prevent the dens from getting heated. In terms of diet, fruits chopped into small pieces are mixed with milk and once frozen, they are served as popsicles to the bears to keep them cool.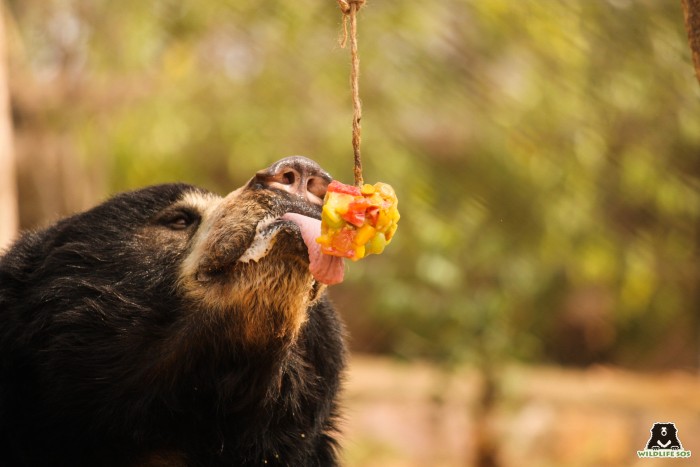 Down south at the Bannerghatta Bear Rescue Centre, summers are not as harsh as in the northern states but temperatures can go beyond 30°C. So the team prepares accordingly and makes sure that the water sprinklers are up and running, the pools are cleaned every two days and kept filled all the time. As a result, we can see some of our beloved members such as Odum, Maahi, Chandra and Bali taking full advantage of the pools. We also give the bears fruits which are high in water content, such as watermelons, muskmelons, apples and grapes, to keep them cool internally.
Seeing the bears and elephants under our care living a fulfilling life fills us with immense euphoria. But if you decide to become a monthly donor for Wildlife SOS, then animals like Chanchal, Arya, Laxmi, Julie and Odum can continue to live safely, enjoying the next summers of their lives equally well.