Injured and stranded for many days in the backwaters of Manchanabele Dam in Magadi, Karnataka, this was hardly the fate any majestic tusker could have hoped for. The locals residing in the Ramanagara district of Karnataka are no strangers to wild elephants as the dam built across the Arkavathy River is situated close to Savandurga forest, home to several wildlife species.
Earlier in the month of September, Sidda-as fondly named by the occupants of the neighbouring village, had wandered out of his forested home. He had the misfortune of falling into a ditch while walking across the area. The brutal impact of the fall had resulted in a fracture in his right forelimb and in addition to having a broken leg; the elephant had sustained several external injuries and was in desperate need of medical attention. The approx. 35 year old Sidda has since been spending his days in the nearby backwaters as the natural buoyancy of the water helps reduce the pain and allows the pachyderm to take weight of his feet. The sight of the massive elephant, injured and suffering from excruciating pain and his cries of anguish raised concerns amongst the villagers, who reported the incident to the Forest Department. Wildlife SOS was soon alerted of his plight and our team of veterinarians from the Bannerghatta Bear Rescue Centre has been since checking up on the elephant.
By nature, Sidda is gentle and proved to be a docile patient perhaps because of his partial blindness. Realising his helplessness to forage for his feed, the Forest Department and Wildlife SOS Director- Research & Veterinarian Operations, Dr. Arun A. Sha made an alternative arrangement to have fresh green fodder and food delivered to him by the side of the water body. The villagers also chipped in by bringing rice balls, fruits and corn.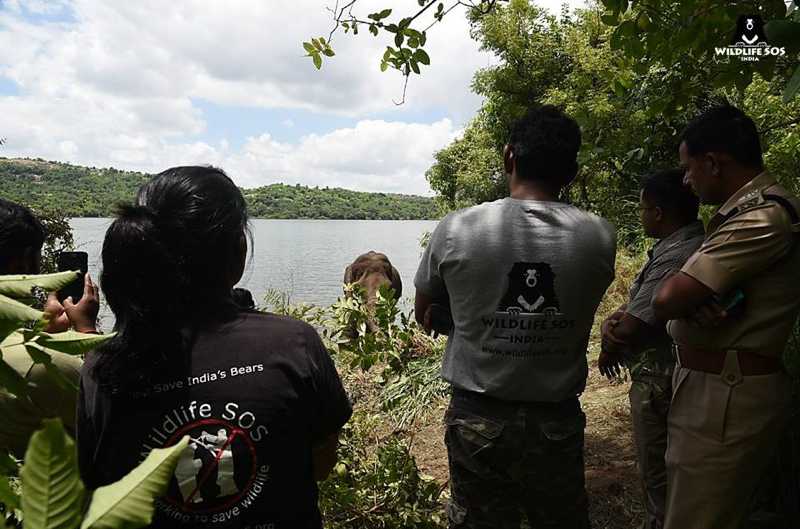 According to Dr Arun, Sidda was instinctively using the water body to soothe the pain in his fractured leg.  Although the Forest Department and the Wildlife SOS team had made attempts to feed painkillers and anti-inflammatory medication to reduce the swelling and the infection in Sidda's leg, the elephant would throw away any food in which they attempted to hide the medicines in.
In an effort to rescue the elephant, the Karnataka Forest Department formed a committee of experts from across the country including forest veterinarian Dr. Arun Zakaria from Kerala, Dr. K.K. Sharma from Assam, Dr. Nagraja from Nagarhole, Dr Arun A Sha & Dr.Ilayaraja from Wildlife SOS, following which a decision was made to immobilise Sidda to evaluate his condition in greater detail. On Friday morning, the team of experts were able to carry out the four hour long rescue operation, with the help of two trained elephants that were brought in to keep Sidda calm, enabling them to approach him.
They had to wait for the elephant to come out of the water, as it is extremely risky to tranquillise an animal while still in water. Once immobilised, they were able to conduct a proper medical examination and provide dressing for his wounds.  Sidda had sustained abrasions on his forelimbs and body from the fall and there was an abscess on his back which required treatment.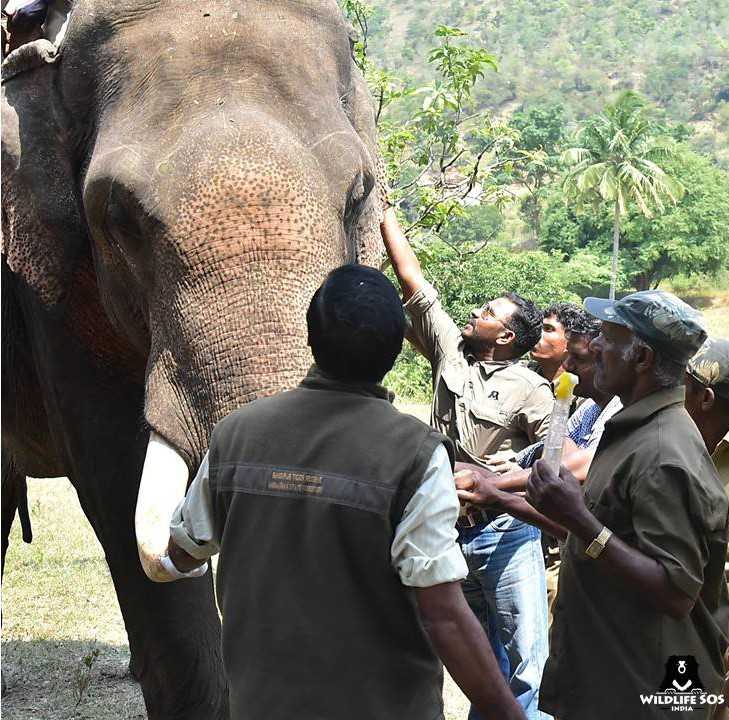 The Wildlife SOS team had brought over a portable x-ray machine to scan Sidda's fractured leg and to enable a thorough and accurate diagnosis of the extent of the damage to his limbs, thereby enabling the visiting experts to suggest the quickest and most efficient treatment.
Wildlife SOS veterinarians are working closely with the Karnataka Forest Department to provide medical care and treatment to Sidda while taking care to avoid any additional stress to the already suffering animal. Sidda's present health condition does not permit shifting him to a new location, so he is under observation at the location that he is familiar with. Sadly his prognosis is rather grave as he did not initially allow any medical intervention for several weeks which has taken a toll on his condition and we are afraid that will severely impact his recovery. Geeta Seshamani, co-founder Wildlife SOS said, " Our veterinarians advised he be taken in for treatment as Sidda proved to be a docile patient but the Forest Department has opined that it is more suitable to carry on with on-site treatment owing to his fragile condition. Sidda is a wild elephant and is therefore under the jurisdiction of the Karnataka Forest Department and any decisions regarding him including euthanasia can only be taken only by the Chief Wildlife Warden.
Click Here to watch Dr.Arun treating the elephant, Sidda.
UPDATE ON SIDDA'S CONDITION (2nd November,2016);
Our team has been on the field for the past week and has been tirelessly working to help Sidda. He requires the help of a crane while getting up as he is unable to stand up on his own.  Our team & the Forest Dept. have made a mud bed for Sidda as he finds lying on the soft wet ground much more comfortable. Concerned about his well-being, the villagers have been bringing him fruits and green fodder. Due to the inclined position, he was initially having trouble swallowing his food.
In addition to receiving supportive therapy in the form of intravenous fluids, our veterinarians have prescribed him a new diet of ragi balls, maize and sugarcane which are a rich source of nutrients. The Forest Dept is planning to build a structure to help support him, thus enabling him to stand on his own.
We are continuing with the painkillers and anti-inflammatory medication for the swelling and the infection in Sidda's leg.  This has helped ease the pain in his leg, which was evident from the way Sidda was enjoying gulping down some yummy ragi balls and was even seen playfully flapping his ears while doing so.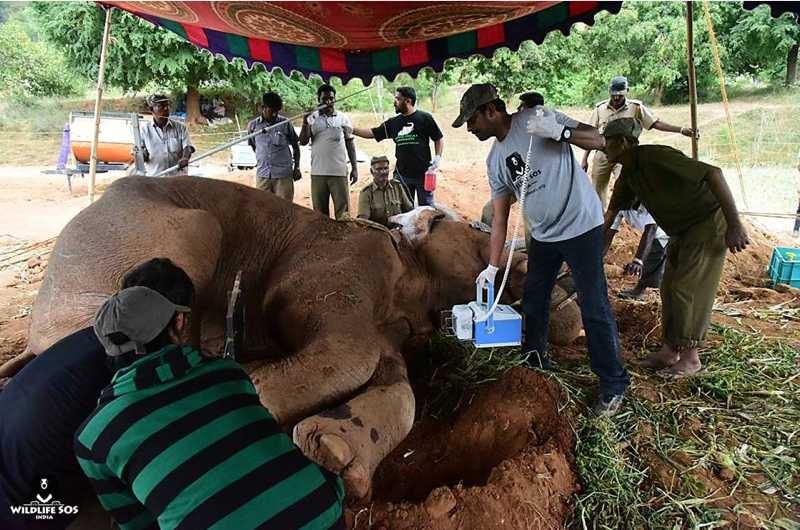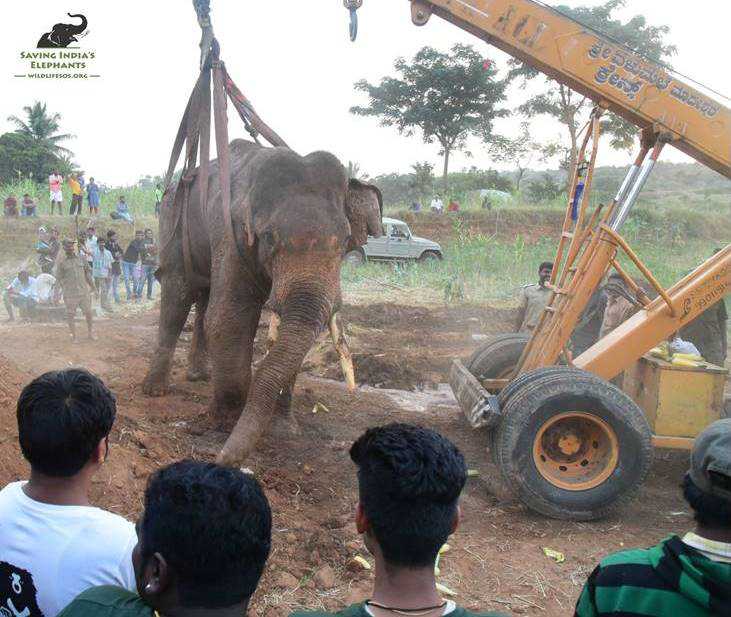 UPDATE ON SIDDA'S CONDITION (8th November,2016);
The Wildlife SOS team continues to assist the Forest Department in monitoring Sidda round the clock, to help this poor elephant by providing him treatment and care. We have observed slight improvement in his appetite and are continuing with the painkillers and anti-inflammatory medication for his injured leg.  However, we have observed that he tends to avoid eating fruits laced with medicines, making it difficult to give him the proper dosage of oral medication. Though Sidda has proved to be quite docile and calm for a young wild elephant, he often displays  aggression when approached by our vets for dressing of his wounds.  According to Dr. Arun and his team, as he has been lying in an inclined position for almost a week, Sidda is exerting pressure on the left side of his body which might have an effect on his blood circulation. This is also causing great discomfort to the massive pachyderm.
On hearing about Sidda's condition, Shiv Kunal Verma, a supporter of Wildlife SOS & Wildlife Film Maker reached out to General V K Singh – Former Army Chief and Cabinet Minister (MOS – Ministry of External Affairs) to request the Indian Army's help and assist in the efforts being put in by Wildlife SOS and the Forest Dept. to save the suffering elephant.
About 50 personnel from the Madras Sappers Division (MEG Bangalore) commanded by Brig R K Sachdeva are now currently using their expert engineering skills to build a supportive structure to lift Sidda and keep him suspended for better treatment. This will not only help the 35 year old tusker to take the pressure off his fractured forelimb by using a harness support but will also give our veterinarians the opportunity to attend to his wounds more effectively  and conduct x-rays to ensure that his bones are in the process of healing.
The immediate objective is to cordon off Sidda from public view so he is stress free and also to help him to stand up so the treatment can continue.  Although the prognosis of the elephant remains grave, we are trying the best we can to help this animal in distress.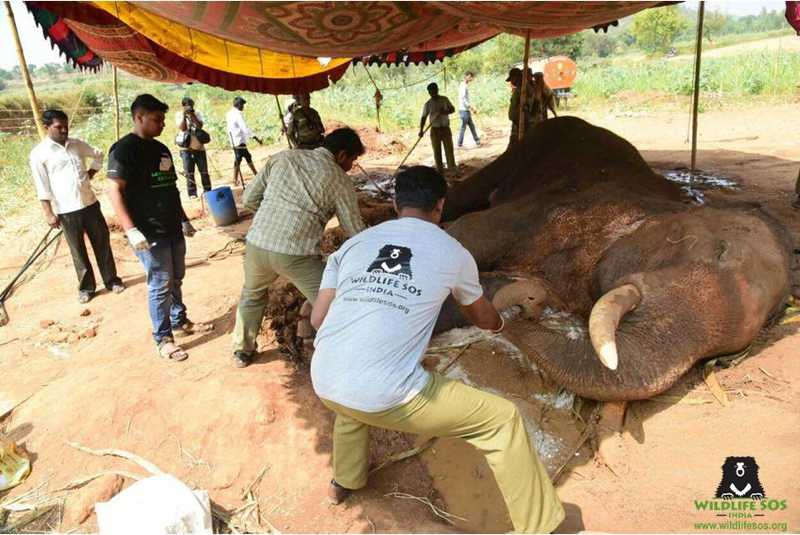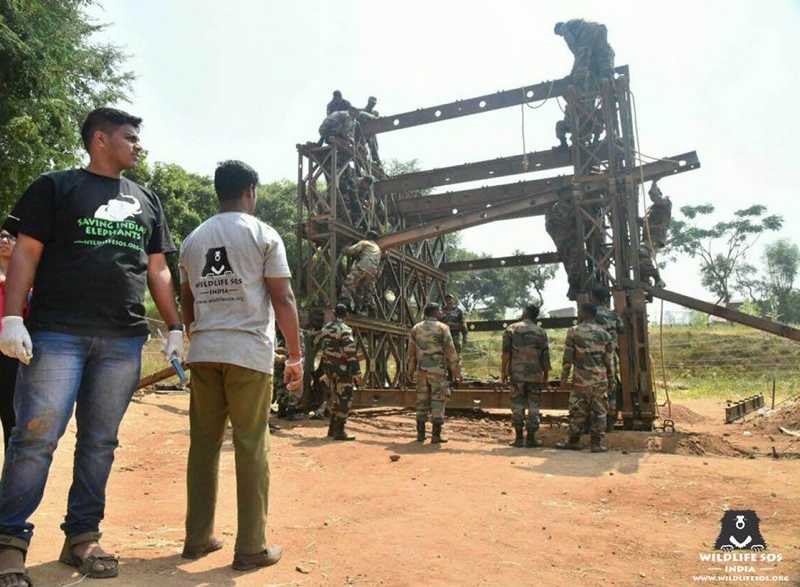 UPDATE ON SIDDA'S CONDITION (10th November,2016);
Yesterday, the Madras Sappers Division officers finished with the construction of the metal supporting structure and their team of engineers have been guiding us with selection of appropriate weight bearing pulleys, placement, length of the chain pulleys, belt locations etc. In the meantime, our team  arranged for giant wooden poles, 6 pulleys, and gunny bags filled with hay, as well as adequate support belts which would enable us to lift Sidda and place him inside the metal structure.
This morning, we successfully lifted Sidda into the kraal. It is important to have him in an erect position to carry out routine checkups, provide intensive treatment for his wounds and feed him with ease. We have taken careful measures to ensure that Sidda does not come in direct contact with the metal frames, therefore reducing the chances of him accidentally hurting himself. In order to do so, we have placed two layers of wooden beams next to the metal structure and lined the frame with soft bedding materials. Sidda will be able to lean against the support beams and the harness belts and pulleys will help support the elephant, allowing him to take the weight off his fractured limb. This will enable us to access him safely and at the same time, he will remain comfortable.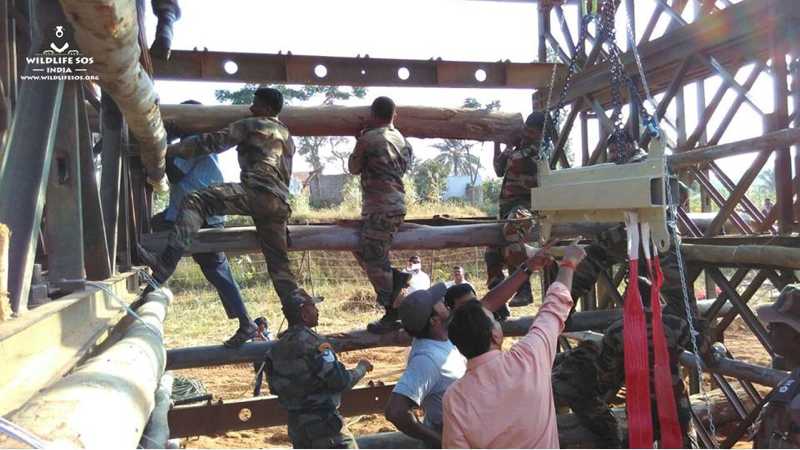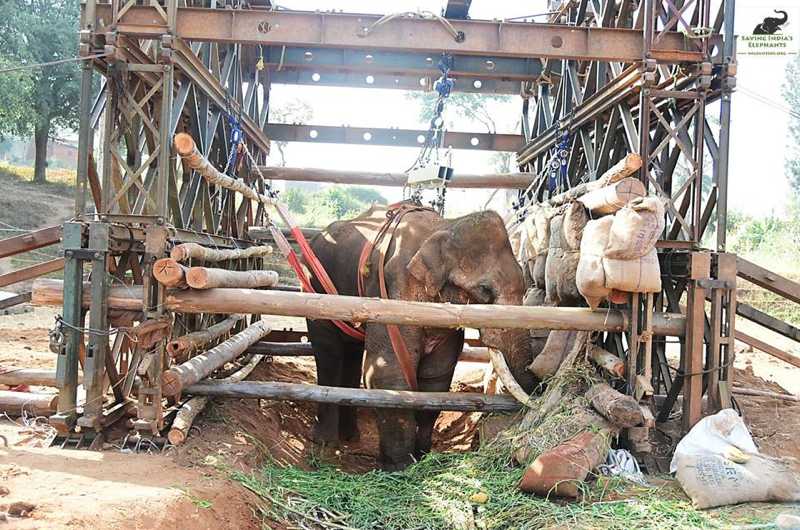 UPDATE ON SIDDA ELEPHANT (12th November, 2016);
In the morning, the army personnel's helped our team line the enclosure with gunny bags for bedding while Dr.Arun is still on ground treating Sidda. They are tending to the sores on his sides, following which they will start the process of draining the pus filed wound. Sidda has regained his appetite and has been munching on green fodder and fruits all morning.He was also seen taking baths and has not shown any signs of resistance so far.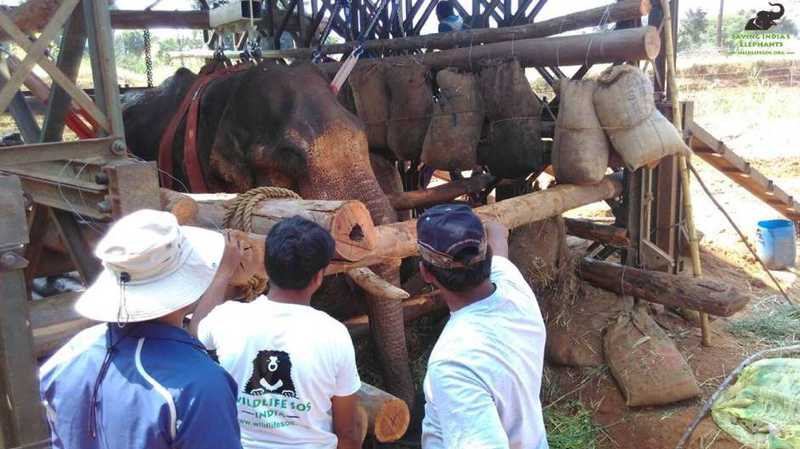 UPDATE ON SIDDA'S CONDITION (15th November,2016);
Our on ground veterinary team and the Forest Dept.continue observing and assessing Sidda's condition. They are dressing his wounds three times a day, administering anti-inflammatory medication for the swelling in his leg, making sure he remains hydrated and are monitoring the positioning of his harness belts to ensure that they are well adjusted and not facing any kind of discomfort to the large tusker.
Sidda has started consuming 150 kilos of fresh food such as fruits, green fodder, sugarcane, maize, coconut, ragi balls & stalks of banana trees. Additionally, he has been put on multivitamin supplements which will help him further regain his strength. The vets are regularly draining the pus infected area near his forelimb fracture and treating his external injuries. The sores on his left flank have greatly improved and they are spraying repellents on Sidda to prevent maggot infestation in his wounds.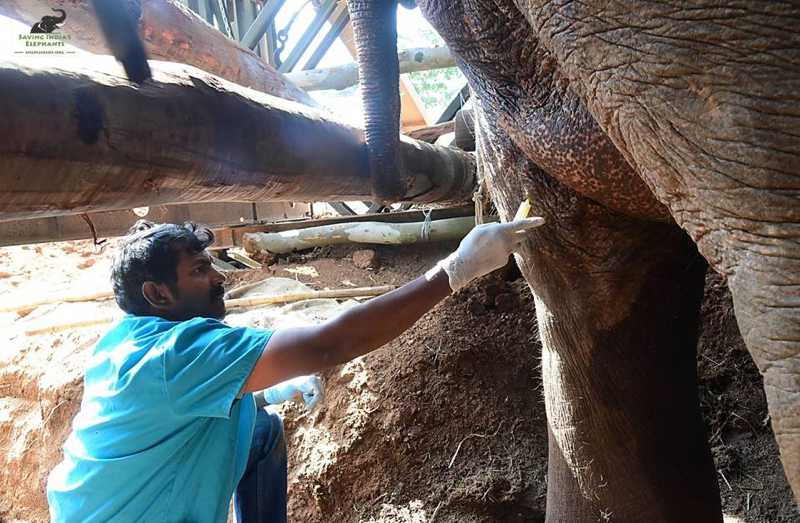 UPDATE ON SIDDA'S CONDITION (19th November,2016);
Doctors from Bangalore Veterinary College recently visited Sidda for an anaesthetic procedure to examine his fracture, followed by administering injectables and dressing of the wound. The pus formation on his leg is almost drained out but oedema has manifested around the wound.They have prescribed a line of treatment for him and our veterinarians have incorporated the same into their treatment regime. As it takes time for the sedation to wear off, Sidda's intake of food and water had reduced but is now back to munching on his favourite fruits and greens.
According to Dr. Arun A. Sha so far, the X-rays haven't given the clearest of images and this is making diagnosis difficult, however, we will continue to take X-rays from time to time to determine the extent of the fracture.
His bed sore wounds are healing and there has been no infestation of maggots or flies, as we are regularly cleaning and applying prescribed ointments on Sidda.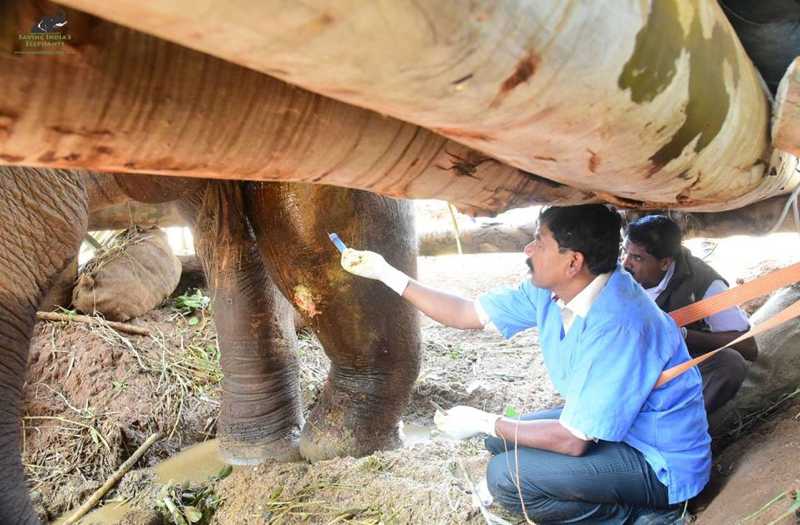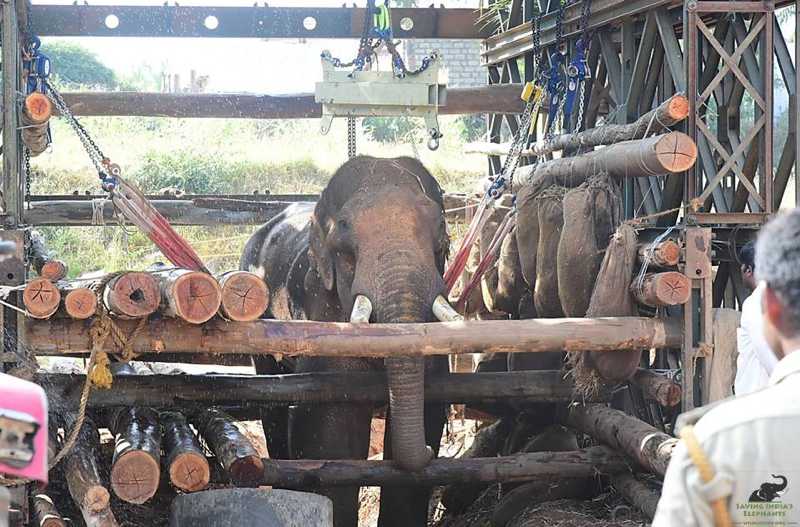 UPDATE ON SIDDA'S CONDITION (22nd November,2016);
Sidda recently suffered from a case of diarrhea but was immediately put under medication for the same. Though he is eating well now, his intake of water has reduced. Our veterinarians are continuing with regular injectables and dressing of his wounds.
Sidda has developed oedema in the penile region due to the harness belts which are keeping him propped up. We have re-adjusted the grip to make him more comfortable but it will take some time for the swelling to subside naturally. On a more positive note, Sidda has become more active and is making movement inside the support structure. He is back to eating full meals, flapping his ears and spraying water on himself. He is now consuming nearly 43 kilos of fruits and 92 kilos of fodder per day, along with 28-30 ragi balls which are a rich source of protein.
UPDATE ON SIDDA'S CONDITION (26th November,2016);
Our on ground veterinary team has observed a significant change in Sidda's condition. The swelling in his right forelimb has subsided and he has been trying to shift weight onto his fractured leg in an attempt to move it. The gaping wound above his right elbow has started to dry up and is gradually healing. As he was moving his legs quite a bit yesterday, the vets had to be careful while collecting blood samples during treatment. Sidda has regained strength and is reacting to the presence of the vets, reaching out to them with his trunk and attempting to disrupt any treatment on his hind legs by swishing his tail.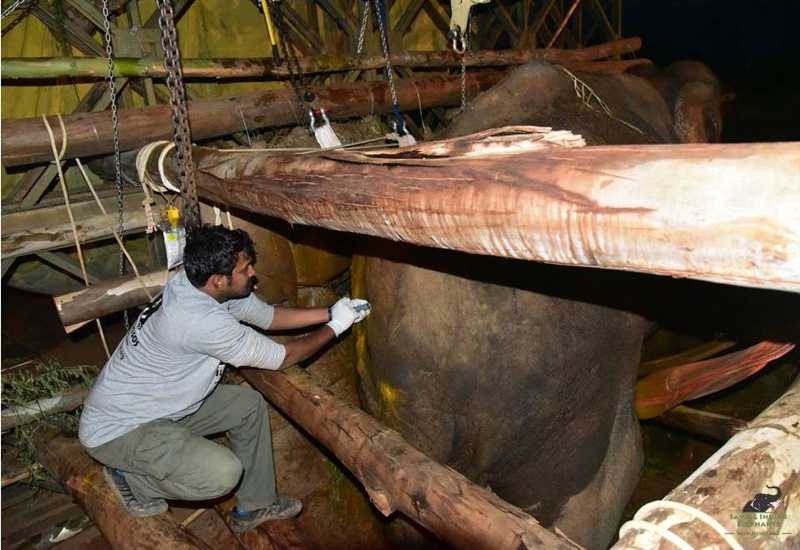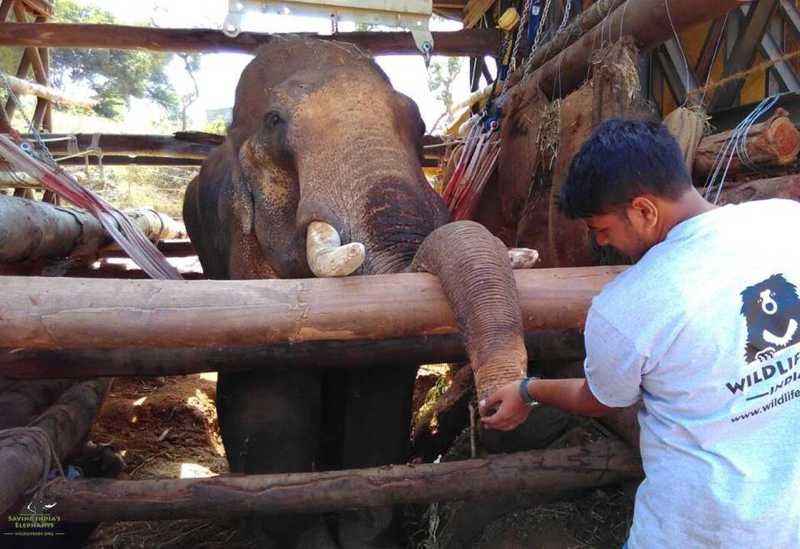 UPDATE ON SIDDA'S CONDITION (30th November,2016);
Sidda's appetite has greatly improved and he is now consuming 263 kilos of food comprising of ragi balls, fruits (papayas, bananas, banana stems, watermelons), vegetables (pumpkins and cucumbers), fodder( sugar cane, ficus, maize, grass). He is much calmer now and is allowing our veterinarians to approach him during his treatment sessions. We have been re-adjusting the harness belts from time to time to prevent any further development of oedema around the affected regions.
Unfortunately, Sidda suffered an arterial bleeding from the wound near his forelimb, which had to be cauterized immediately to prevent excessive bleeding. The wound has been treated and we are keeping him under close observation. However, we are yet to determine the cause of the rupture.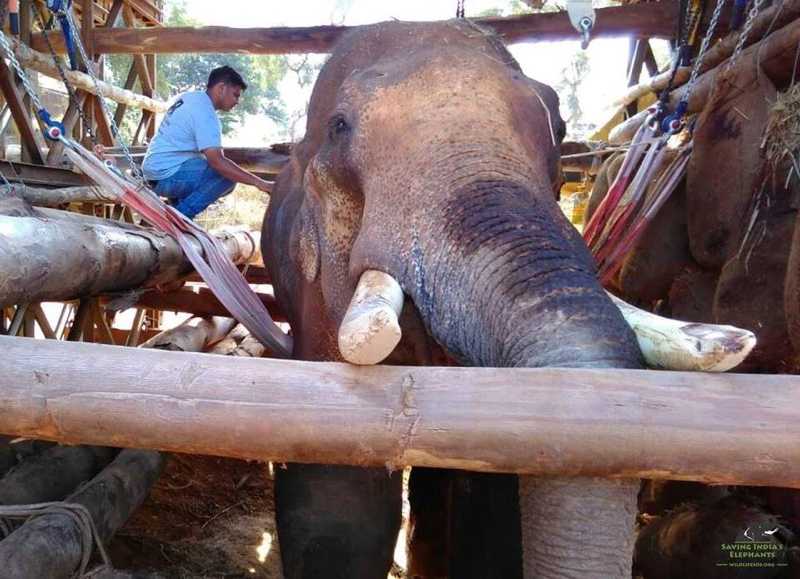 UPDATE ON SIDDA'S CONDITION (5th December,2016);
Our on ground veterinarian, Dr. Nitin has reported a significant improvement in Sidda's physical condition. The swelling around his fracture has visibly reduced and he is becoming more confident about putting weight on his right limb.
In addition to his bed sores, Sidda had developed pressure sores on his mandible (lower jaw) which are healing steadily. Furthermore, the gash on his right elbow has reduced in diameter and the inflammation around the elbow wound has subsided marginally. We are happy to observe a positive change in this majestic wild tusker and hope that your prayers and support go a long way in his recovery.
UPDATE ON SIDDA (9th December, 2016);
It is with heavy hearts that we share with you the painful news of Sidda's death. He fought long and hard, with friends at his side doing whatever they could to save him. Last night things took a sudden turn for the worse, and Sidda passed away unexpectedly. A postmortem examination is being carried out to determine the cause of this tragic incident.
The team who was in the field with him this entire time — and all of us whose lives Sidda touched — are deeply distraught at the loss of this majestic elephant.
Rest in peace, Sidda.