On December 24 last year, an elephant's life changed forever. Up until that day, the 45+-year-old tusker named Suraj had been wasting away in a tiny, depressing temple room in Maharashtra — chained up as a captive spectacle for temple visitors (see photo below). When our veterinarians helped emancipate Suraj, they found an elephant suffering from dehydration, malnutrition, and a multitude of other untreated injuries from years of neglect and abuse. As Yahoo News stated, Suraj was living in "solitary confinement in a 20 foot by 20 space with tight spiked chains on all four limbs… 24/7, from dawn to dusk."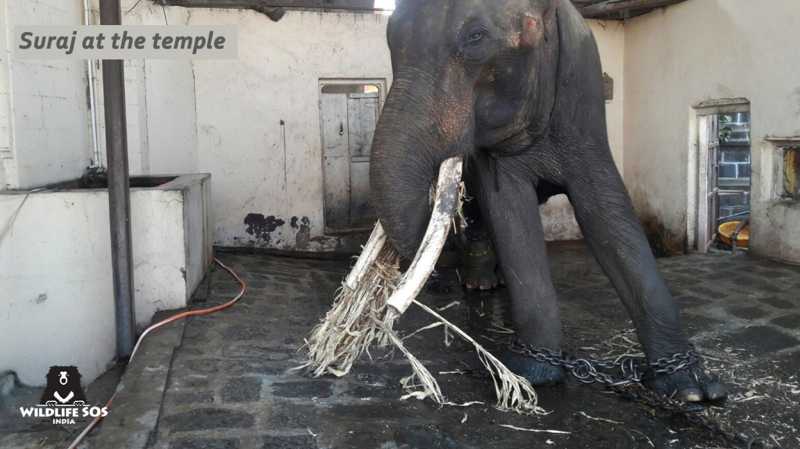 But life is very different for Suraj today! After more than 70 law enforcement officials joined us to rescue him (quelling a tense confrontation with a crowd of temple supporters), Suraj was shuttled off to his new home at our Elephant Conservation and Care Center (ECCC) in Mathura (see photo below). Since then he's been putting on some much-needed weight (with his penchant for papaya, peppermint, and peanuts helping the cause), learning the wonderful company of other elephants again, splashing around the water pool, and taking long strolls in the country outside the ECCC. He even made Time magazine's Most Influential Animals of 2016 list! Though Suraj is well on his way to recovery, his road hasn't been easy.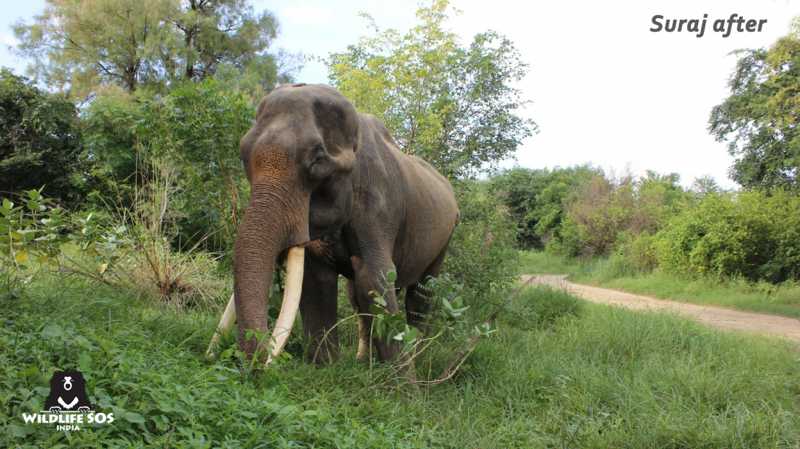 As Rhea Lopez (our elephant campaign manager) put it in our webinar last week, "Suraj's past has left him in a terrible state. You can't undo 50 years of abuse in just a few weeks. But over the first few months at the center, we've gotten to know Suraj — experiencing his first taste of freedom, his capacity to forgive, and his absolute joy in little things. It's been rewarding and just completely indescribable."
"It's amazing to see the progress Suraj has made in the last year," added Nikki Sharp, who is Wildlife SOS USA's executive director. "Sometimes it's hard to imagine the amount of pain and loneliness he endured for so many years. We can't return him to the wild from where he was taken, but we can give him some joy in his life. Seeing him doing so well makes us more motivated to help others in a similar situation as he was!"
Happy one-year anniversary, Suraj!