Being called "India's skinniest elephant" is by no means an exaggeration, since Lakshmi was found in an absolutely debilitated state due to long-term deprivation of water and food. The crippled elephant aged around 25 to 30 years old was allegedly used for street begging and subjected to abuse and neglect by her owners.
The Madhya Pradesh (MP) Forest Department took immediate action and seized the elephant on the complaint of a local animal lover, and gave her shelter at the Forest Department's premises in Bada Malhera in MP's Chhatarpur district. Given her deteriorating health and critical condition, The Bada Malhera court in Chhatarpur ordered the permanent rehabilitation of Lakshmi to the Wildlife SOS Elephant Conservation and Care Centre (ECCC) in Mathura, Uttar Pradesh.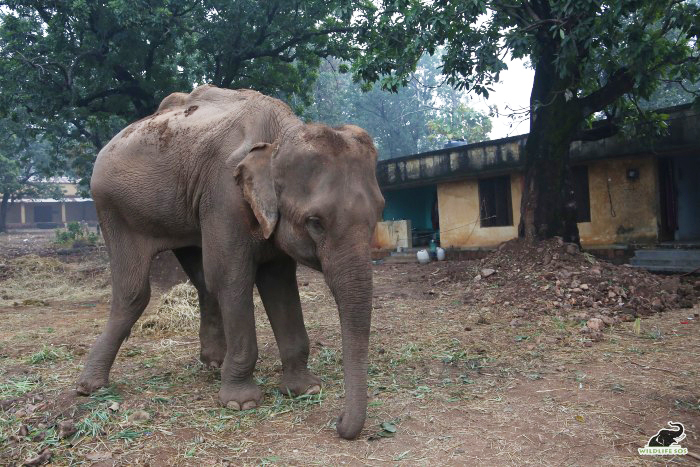 When we learnt about Lakshmi, she was suffering from critical ailments apart from her visibly emaciated body. Conspicuous bony projections indicating prolonged starvation, abnormal spinal protrusions, bent knees and disfigured limbs were unbecoming of a healthy elephant. These morphological features were a result of extensive abuse and severe negligence that she had to face for so many years.
Thus began our quest to liberate Lakshmi, driving almost 400 km to bring her home, to the Wildlife SOS Elephant Hospital campus.
December 28, 2021
Wildlife SOS dispatched veterinarian Dr. Pramod and an elephant caregiver ahead of the Elephant Ambulance to attend to Lakshmi before we arrived there. This was to ensure that we started her medical treatment on-site, and for our staff to build a bond of friendship and trust with Lakshmi to help facilitate her healing journey.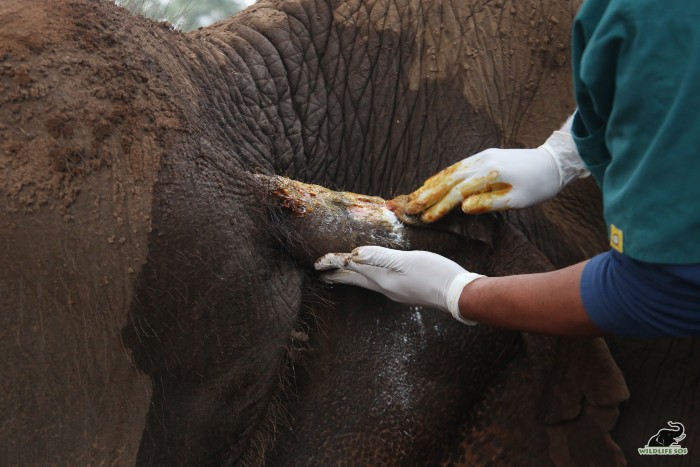 Meanwhile, the Wildlife SOS team were busy with extensive preparations before starting our journey for Lakshmi's rehabilitation, and the foremost part of this preparation was readying the Elephant Ambulance. Often, individual elephants require specific arrangements depending on their physical and psychological conditions. In Lakshmi's case, she was extremely emaciated with weakened joints (severe ankylosis) and fragile limbs so we placed rubber mats on the ambulance floor, along with a layer of fodder as extra cushioning. We also added a tarpaulin cover, a support belt as well as blankets to keep her warm during the return journey.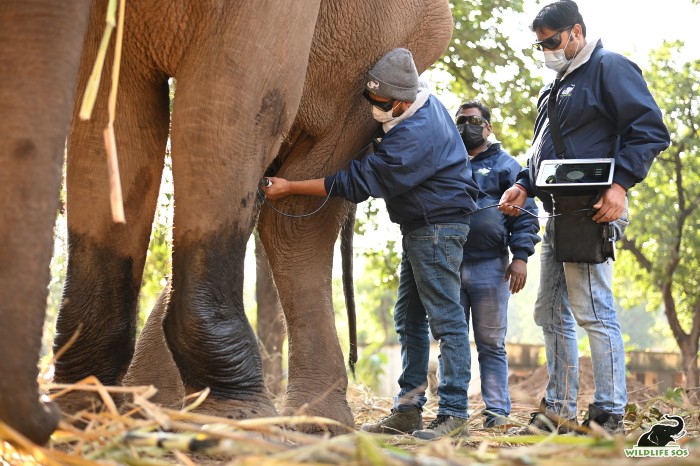 After much preparation and anticipation, we were finally able to depart for our desired destination. As we drove through a foggy, chilly night, we experienced little bit of rain so as a precautionary step, we halted momentarily and refilled the vehicle's windshield wiper fluid to ensure a safe journey.
December 29, 2021
After traversing quite a journey, we reached our destination and finally got a first-hand glimpse of Lakshmi, even though a part of us did not want to see her in this terrible condition. Although we had seen her photos, seeing her in person was quite a shocking sight. But our team kept itself strong and shifted its attention toward the betterment of the elephant, doing everything in their capacities to make her feel comfortable. To our surprise, Lakshmi showed her inquisitive side when she used her trunk to sniff and touch the Elephant ambulance. Seeing her almost clutching onto the ambulance stirred up a wave of emotions inside us, as if she was asking us to take her with us.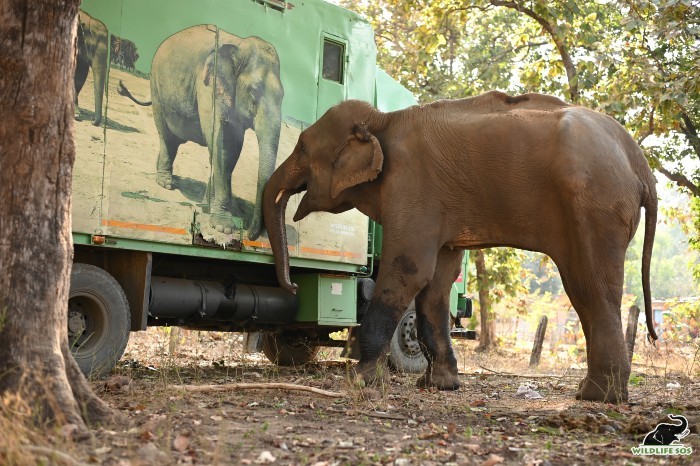 Lakshmi's scars speak volumes about the torture that she had to live through for years. Initial examination by our veterinary officers reveals numerous chronic wounds on her body. This deep, open, septic wound along her spine is a result of the brunt of a sharp object, a bull-hook in all probability. Moreover, the constant use of the saddle for riding has made it difficult for the wound to heal. Our vets immediately put her on a long-term course of antibiotics, cleaning, and topical ointments.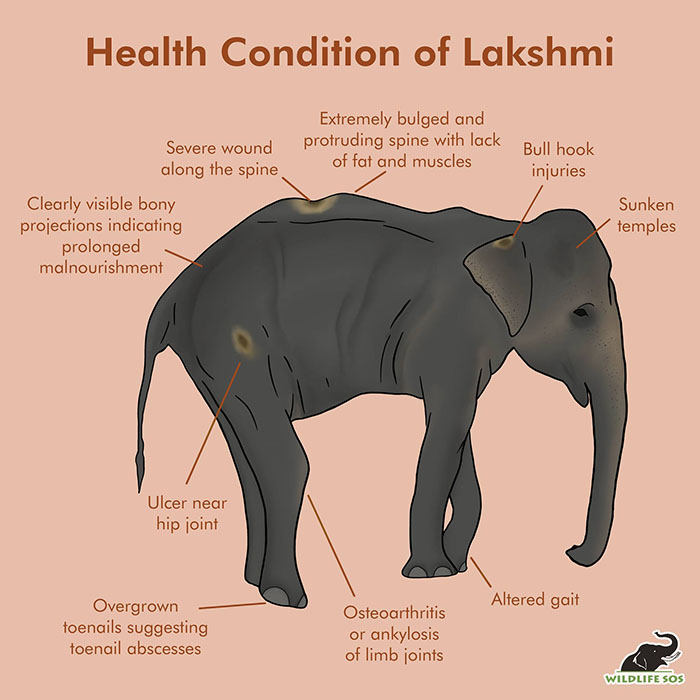 December 30, 2021
With our team members at the location, all Lakshmi wanted was food and freedom and friendship. Sadly, she received none of it in her past life. Her life surviving on scraps has made her extremely frail, so much that she is barely able to walk. Our elephant caregiver lent her a hand of calmness and trust, since it is the initial step to building a long-lasting relationship between an elephant and a caregiver.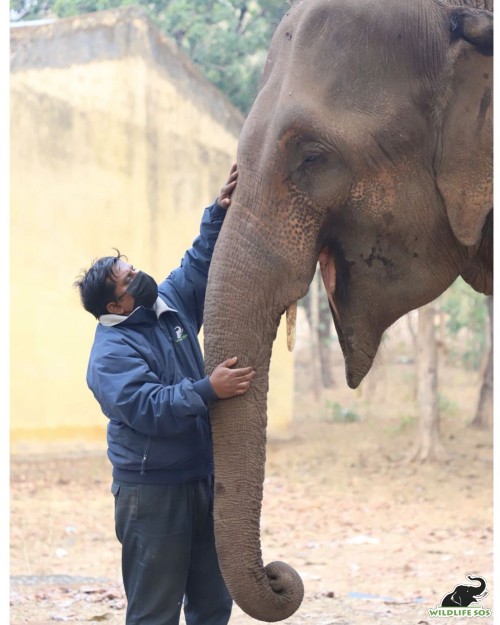 To gain her trust, he fed her an assortment of various fruits such as apples, pomegranates and sugarcane, and to watch her savor the food given to her was heartwarming. Lakshmi seemed to particularly enjoy eating bamboo leaves, much to our surprise, choosing it above all other fruits!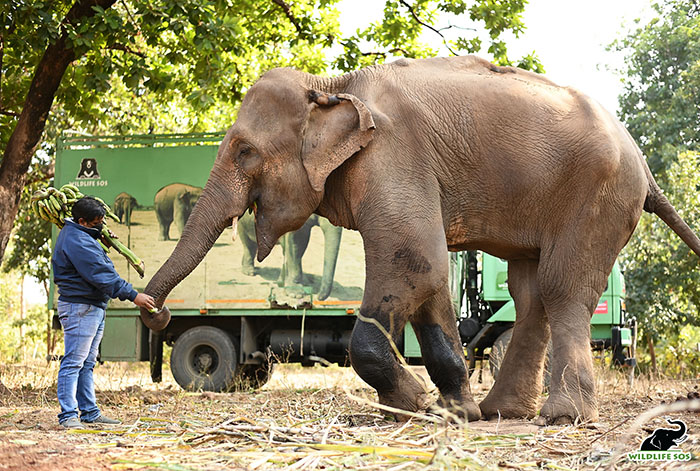 Keeping in mind Lakshmi's condition, the Wildlife SOS veterinarians administered laser therapy treatment on Lakshmi's joints to help her cells heal faster and work on speeding up the overall healing process.
December 31, 2021
Lakshmi suffered excruciating pain and just to support her weight on her deformed legs was an arduous task for her. To relieve some of her pain, our vet massaged anti-inflammatory medicine on her joints, and provided her with some painkillers and supplements.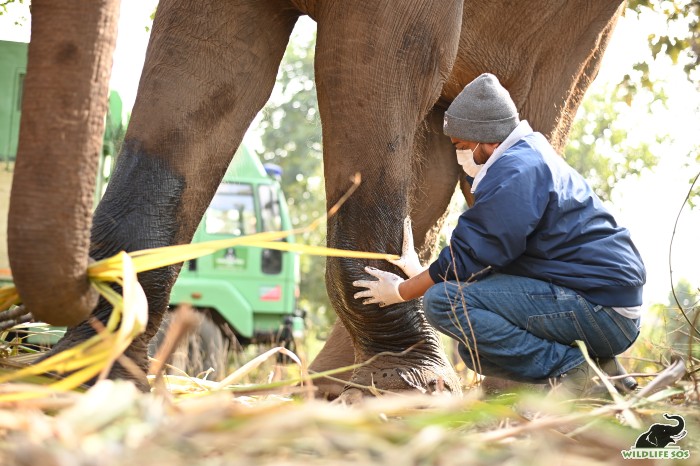 Our team members poured their heart and soul to make Lakshmi board the Elephant Ambulance as seamlessly as possible. The ambulance is equipped with a hydraulic ramp but for added support, we dug a pit for the vehicle to descend into. After the ambulance was parked inside the pit, the ramp was opened onto a higher surface to make sure it was flat and there was no incline during the climb for Lakshmi.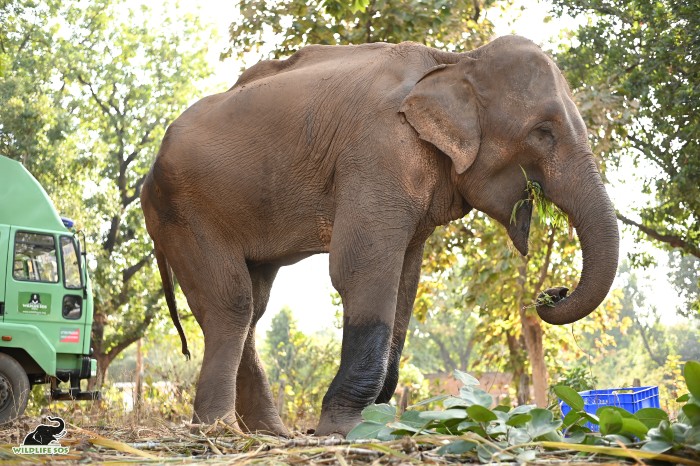 We also made sure that the ambulance had all the necessary arrangements required for a safe and comfortable return journey for Lakshmi. We stocked the ambulance with blankets and tarpaulin covers to keep Lakshmi warm from the chilly, winter night.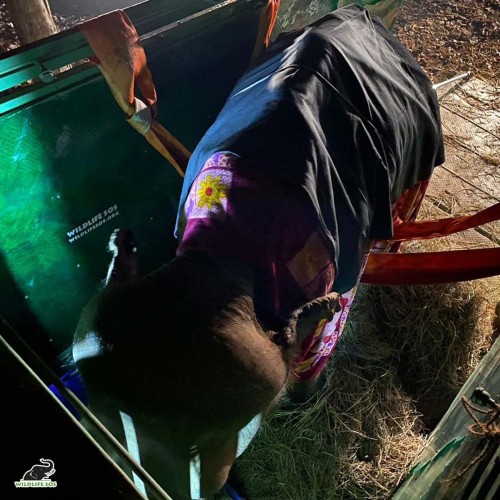 January 1, 2022
We were finally on the last leg of our journey and Lakshmi was about to reach the hospital. But before that, we made a small pit stop so that our Wildlife Veterinary Officer could handpick fresh fruits and vegetables like cauliflowers and bananas to feed Lakshmi. Keeping any rescued elephant energized and hydrated through a healthy diet during the journey is something we always keep in mind.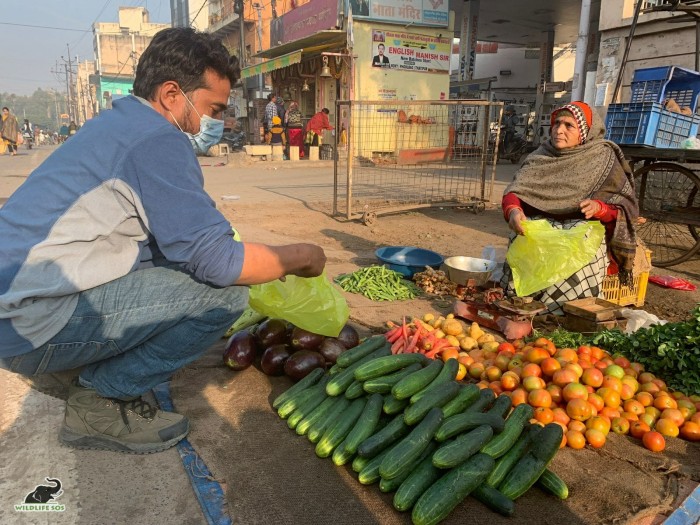 Long waits, anxiousness and eagerness were the emotions we were going through during this entire journey. But when Lakshmi walked out of the ambulance and put her first steps into the Elephant Hospital campus, our joy knew no bounds. We could not have asked for a better New Year celebration as Lakshmi's arrival coincided with the first day of 2022. We are grateful to the Hon'ble Court for being sympathetic to Lakshmi's deteriorating health condition and thank the Chief Wildlife Wardens of Madhya Pradesh and Uttar Pradesh for issuing necessary permissions to move this elephant for her medical care and welfare.
January 2, 2022
As Lakshmi settled down, we prepared for an important tradition which we follow for every new elephant who comes under our care – the welcome feast. Watching Lakshmi devour the yummy fruits and fodder that her caregiver had set up for her was an indescribable feeling. She had an affinity for watermelons and pumpkins over all the other fruits, but she also preferred her greens and proceeded to chew the leaves off from the sugarcanes as well.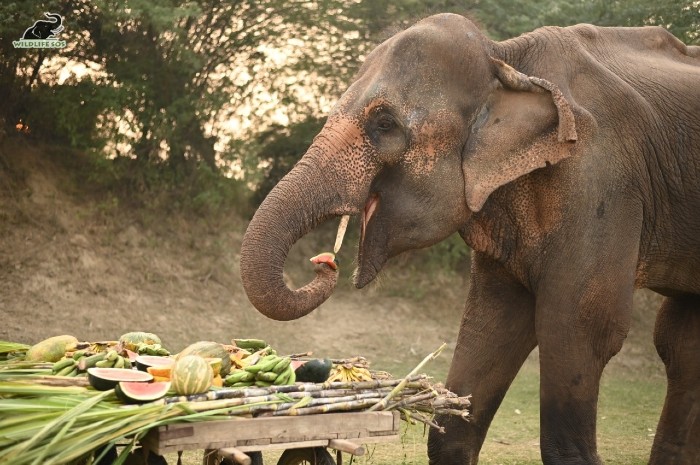 At that moment, watching a captive elephant enjoy her first meal of freedom was one of the most beautiful things one could cherish. Now all that remains is to provide Lakshmi with the best medical care and treatment, and help her walk towards a hopeful future.