A five year old male leopard was rescued from Nagla Padam village in Sadabad, near Agra city in a seven hour long joint operation by Wildlife SOS and Uttar Pradesh Forest Department. The leopard had attacked two village residents on their morning walk. Following this, the animal had sought refuge on a tree fearing the angry and agitated mob who had started pelting stones on the animal. The villagers then  contacted the local police station and the forest department who in turn alerted Wildlife SOS to the situation.
A nine member rescue team, led by Wildlife SOS, Director Conservation Projects Baiju Raj M.V, accompanied by D.F.O Mukesh Sharma and a team of forest officers rushed to the location and made an initial assessment of the situation. Since the leopard was sitting on the top of the tree, it was decided that the best course of action would be to use a bucket truck to be able to effectively tranquilize the animal from a height. The team waited patiently for a proper view of the leopard upon which Wildlife SOS Veterinary Officer Dr. Gochalan Elango and Baiju Raj darted the distressed animal using a sedative injection. The sedated animal was then carefully brought down from the tree and transported to the Wildlife SOS center for a thorough medical examination.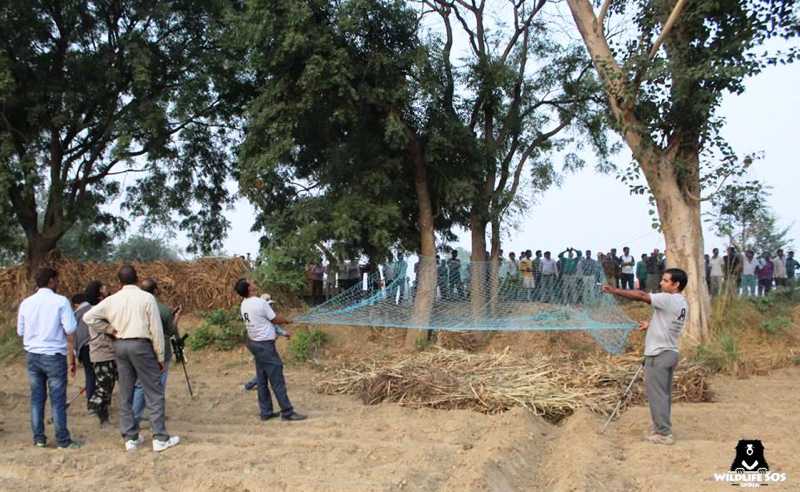 The leopard for kept under observation for a few days and examined for signs of stress, disease or injury. After the veterinarians concluded the animal to be in good health, it was subsequently released in its natural habitat.
Crowd management and public safety were the two major concerns of the teams and the rescue workers had to be extremely careful as to not agitate the leopard who was already under stress in the present situation. Nearly 2000 people had gathered around the scene, which made the rescue a challenging task. The forest department and police officials played an instrumental role in controlling the crowd and making sure that no untoward incident took place at the site. Rescue operations like this can be dangerous and need careful planning in order to ensure the safety of the animal as well as the people.
Kartick Satyanarayan, co-founder and CEO, Wildlife SOS explained that the depletion of the leopard's natural prey base and habitat due to encroachment and deforestation is forcing them to seek out smaller preys closer to human settlements. This often leads to human-leopard conflicts which have violent and brutal consequences for both humans and wildlife. It is imperative that we spread awareness amongst the public on issues of conflict mitigation, in order to sensitize people and encourage them to be more tolerant of wild animals.