In a horrifying incident indicating increasing intolerance and violence toward wildlife, a hyena was found trapped in a deadly jaw trap set up by poachers in Phulpur village, located in Fatehabad district of Agra. The hyena's right forelimb was caught in the lethal hunting device and to make matters worse, the trap was coiled around a branch making it difficult for the hyena to even move. Local farmers stumbled upon the pitiful sight of the animal desperately struggling to free itself while on their way to the fields.
Worried for its safety they thought it best to inform the Forest Department, following which the Deputy Conservator of Forests Mr.Siddharth requested the Wildlife SOS team at the Agra Bear Rescue for their assistance in carrying out the rescue operation. With rescue equipment in hand, a four member team comprising of trained rescuers along with two forest officials rushed to the village, located nearly 40 kilometres from the center. The hyena must have been trapped for hours as it was semi-conscious by the time the team arrived and in need of immediate medical intervention. Identified as an approx. six year old male, the wounded animal was rushed to the Wildlife SOS animal hospital.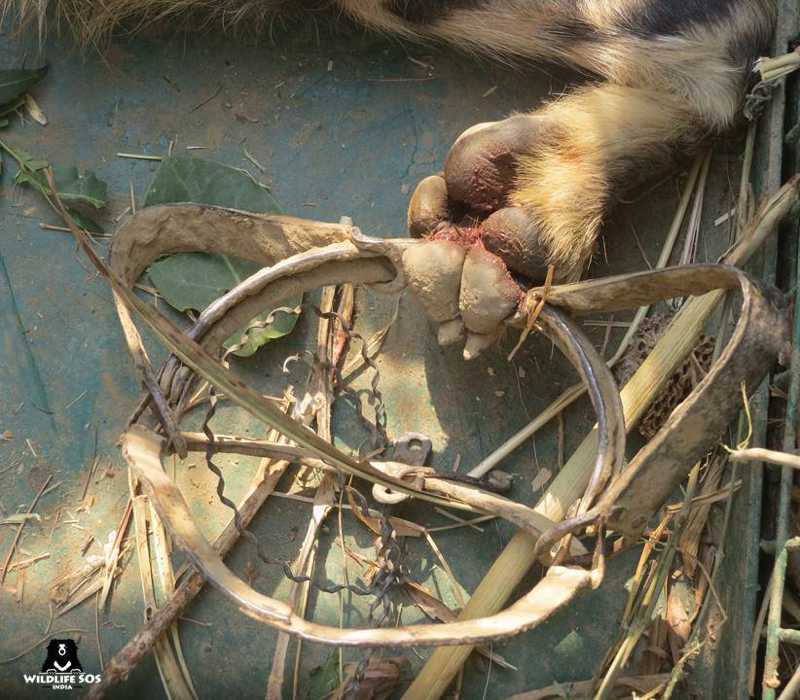 Dr. Ilayaraja, Wildlife SOS Deputy Director Veterinary Services carried out a meticulous examination which revealed that the jaw trap had cause severe bleeding in the right forelimb region. The external cut wounds were disinfected and he administered topical treatment along with analgesics and anti-inflammatory medication. We also conducted an X-ray examination to confirm the presence of a possible fracture and extent of the internal injuries. Fortunately no fractures were detected and there have been no inflammatory reactions. As the hyena is under extreme stress from the trauma, we are currently monitoring his condition. Once the injuries are healed and his condition stabilizes, we will release him back into the wild.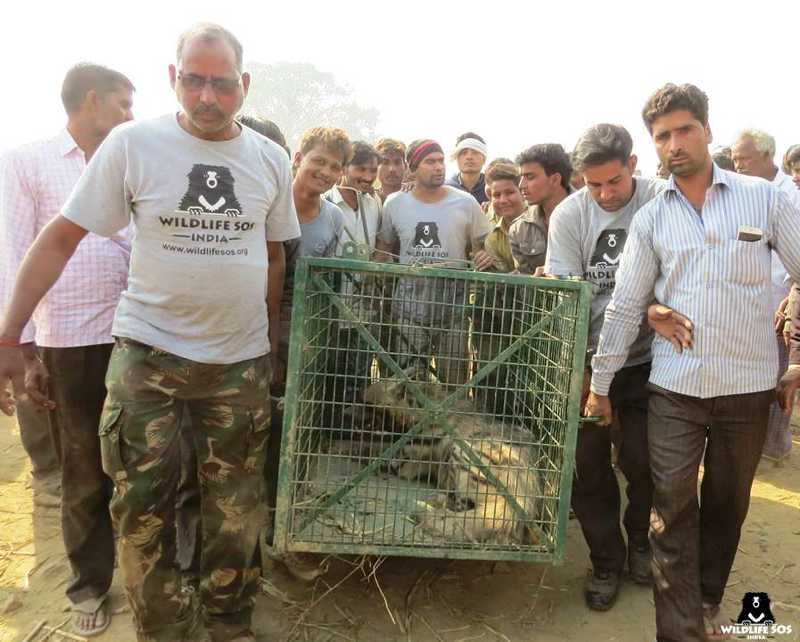 We are appalled by this heinous act of crime against an innocent animal. Used across centuries, jaw traps are lethal hunting devices which can cause severe lacerations, joint dislocations, mutilations, fractures and even death in most cases. Animals caught in these traps often struggle for hours, in some cases even days before succumbing to thirst, hunger, strangulation, internal injuries and even predation from carnivores. There is an urgent need to educate the public about the illegality of such offences in order to curb poaching. The Striped hyena (Hyaena hyaena) is listed as Near Threatened in the IUCN Red list and is protected under Schedule III of the Wildlife Protection Act, 1972. However, we are confident that the Forest Department will be investigating this matter closely to bring the culprits to justice.