They say everything around us is meant to teach us a lesson. At Wildlife SOS, we believe that our greatest teachers are our animals, specifically our elephants. From lessons on the importance of companionship to the power of forgiveness, our elephants are a trunk full of knowledge. One particular elephant, who continues to teach us vital lessons on the key to life, is Pari – a majestic pachyderm who seizes life by the horns (or tusks if you will!). This March, we dig deeper into Pari's life, celebrating her glorious journey as the elephant of the month.
The first time we laid our eyes on Pari, is a moment not many of us at Wildlife SOS can forget. We found the frail pachyderm shackled in chains with a heavy saddle tied to her back. Hanging from the saddle were various tools of torture such as Ankush (bullhook) and spears. It wasn't hard to imagine the brutal ways in which these tools were used on Pari; Her body told the tale of this torture. With multiple abscesses, cracked toenails, and front legs slanted in an angular manner, Pari bore no resemblance to the majestic creature she was meant to be. Moreover, Pari's emaciated appearance made it unbelievable that the pachyderm was merely 20 years of age!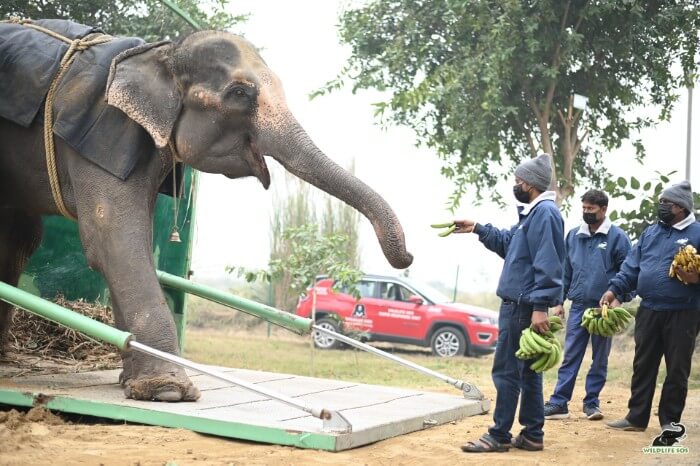 Having borne such tremendous abuse at the hands of humans, our team knew that building Pari's trust would be no easy feat. To begin the process, Pari's caregiver gently patted the pachyderm, allowing her to feel love rather than the whip of a bullhook. As if being able to differentiate between cruel humans and kind humans, Pari responded to the Wildlife SOS team with total ease. Rather than being wary of humans who she had only known to cause her pain, Pari trusted our team. She stood calmly as we removed the heavy saddle from her back and bid adieu to the tools of torture. She gently flapped her ears, as the veterinarian examined her wounds, ensuring she was fit to make the long journey to Mathura. Thereupon, Pari's journey to the Wildlife SOS Elephant Hospital was plain sailing. From our very first encounter with her, Pari taught us a lesson on trust and forgiveness, one that we will never be able to forget.
Pari's arrival at the Wildlife SOS elephant hospital initiated a new phase in her life. Our veterinary team was heartbroken to discover that she suffered from severe bone degeneration and ankylosis in her limbs along with necrotic abscesses on her toenails and body. She had severe cracks on the footpads of all four limbs. Our veterinarians began providing Pari with intensive medical care. Till today, Pari's treatment continues. Her abscesses are dressed regularly, she receives footbaths every day along with intensive laser therapy for her joints. She continues to receive pain medication on a need basis along with joint supplements to help her heal. Despite the pain Pari must be in, she spends her treatments munching on sugarcane, teaching us a thing or two about resilience.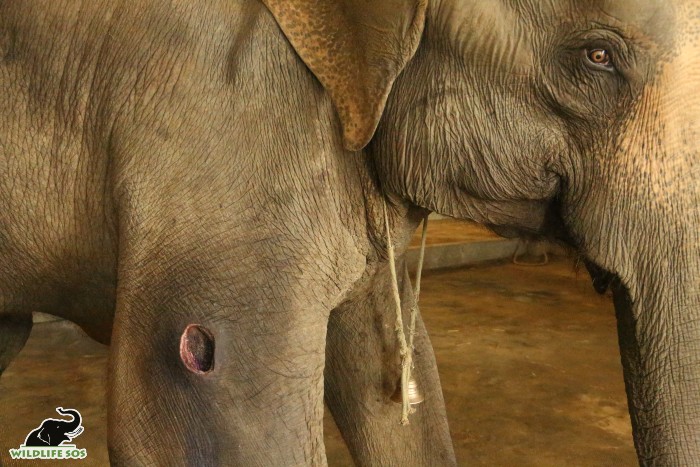 The veterinary team has curated a diet plan for Pari to help her gradually increase her weight. Currently, her diet consists of an assortment of fresh fruits and vegetables like papaya, watermelon, cucumber, and bananas. She is even given porridge daily along with constant sugarcane and fodder to munch on.
Pari has revealed herself to be a true foodie at heart. Her care team describes her as a "child-like elephant" who will throw tantrums if she does not get her treats on time! With a penchant for watermelon, this jovial pachyderm will consume a whole watermelon in one go! Pari even looks forward to her medical treatments, knowing she will receive treats if she cooperates. Recently, Pari has developed a new trick of extending her trunk outside the treatment pen to grab the juicy fruits even before her caregiver hands them to her! As we watch Pari engage in quirky antics to get food, we learn to embrace the little joys in life.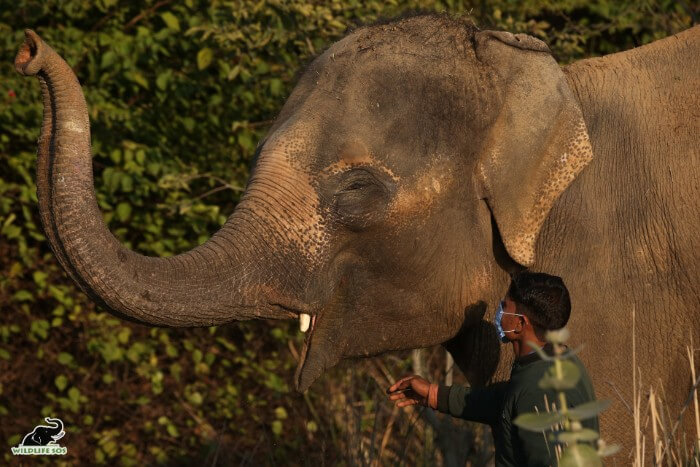 With Pari quickly accumulating to her new surroundings and healing emotionally and physically, our team decided it was time to shed the last reminder of her abusive past – her bell. These bells are often hung around the necks of elephants who are being forced to live in unnatural environments like busy cities and towns. The bells help alert people of the presence of an elephant amidst them. Other captive elephants are also made to wear the bell as mere "decoration." Removing the bell is an integral step in an elephant's healing journey. Thus, Dr. Ilayaraja, Deputy Director of Veterinary Services ensured Pari had eased into her new life enough before taking this bold step. Our veterinarians Dr. Pramod Rajpoot and Dr. Tenzing did the honor of removing the bell and rope from around Pari's neck. Having seen Pari since day one, our team was overwhelmed with gratitude for this moment.
Today, Pari stands tall, slowly regaining her wild spirit and becoming the 20-year-old jovial elephant she is. Yet, her healing journey still has a long way to go. Her body still needs to be strengthened and her mind continues to heal from the traumas of the past. She is yet to be socialized with other elephants, a decision our veterinary team will make once they deem Pari fit. Our care team continues working round the clock, ensuring Pari does not experience any discomfort.
The three months we have spent with Pari have taught us the importance of forgiveness, finding joy, and most importantly the importance of respecting every being as equal. This march, we hope all of you take time to learn from our elephant of the month and strive to fight for other elephants like Pari.
You can become Pari's guardian angel. Click HERE to contribute towards her care