For over 40 years, Priyanka knew no home. She spent most of her time on the dusty streets  begging for money from passersby, living in constant fear of the bull-hook that remained threateningly close by always ready to land a painful blow should she diverge from the mindless activity she was being forced to do. She gave rides to children and adults that clambered into the heavy carrier that sat atop her aching back and ambled sadly through by-lanes even as her spine ached and her feet burnt on the hot tar. With no respite from the sun and no shelter from the elements, she went about this mundane activity everyday of her life. The worst however, was when she was rented out to parades. After being made to walk nonstop over long distances between districts, her mahout on her back, she would eventually reach the site of the event, weary and exhausted but with no respite in sight.
Weddings, processions and parades are noisy and crowded affairs, and can be immensely stressful for an elephant. Strangers would clamber all about her, shoving, screaming and creating a ruckus, even as firecrackers and loud music would shock her sensitive ears.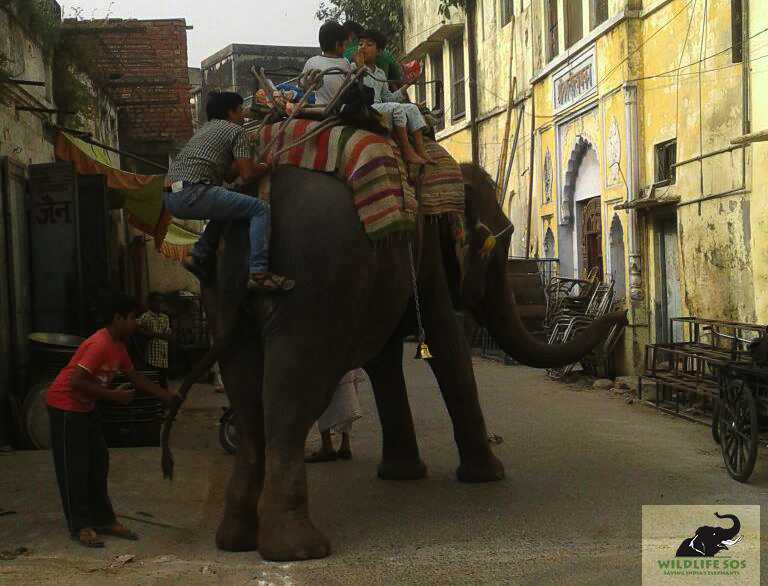 The entire time, Wildlife SOS was keeping a close eye on this suffering elephant. We had found out about Priyanka over a year ago and had been tracking her movements ever since. Rescuing elephants is a complicated process and requires us to identify the perfect time for a rescue, to avoid any danger to the elephant and the rescue team, knowing full well that if we should fail, she could disappear forever. It broke our hearts to see her suffer, but we couldn't risk jeopardizing her rescue and losing the chance to save her.
The perfect opportunity presented itself last week. We immediately mobilized a rescue team to assist the local Forest Department in the area to conduct a daring seizure operation along with the local police department. But even perfect opportunities can easily go wrong, and we had to keep everything on the down low for the safety of Priyanka and the amazing team that had gone out to rescue her.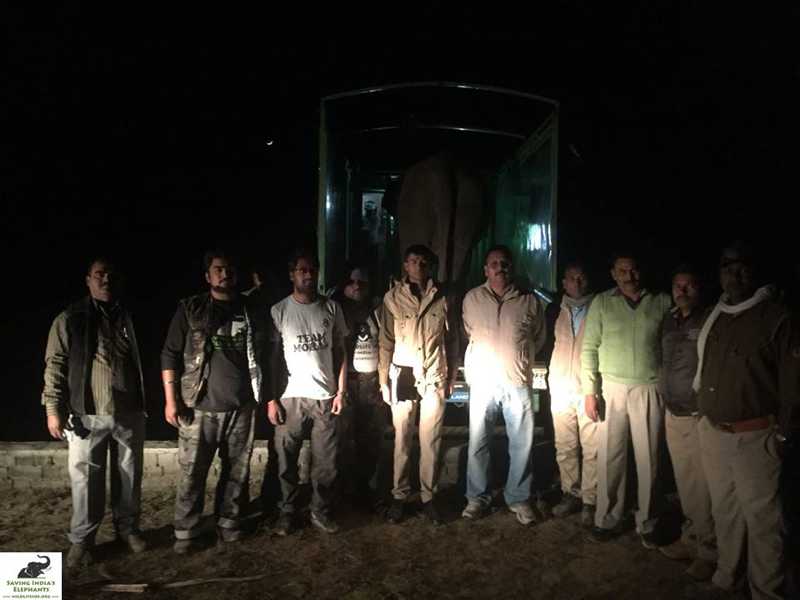 Despite the initial success of getting her to the Forest Department, things were still dangerous as her owner showed up and tried to pull every string he could to have the elephant returned to him – despite not even being able to produce any valid ownership documents for her! As a result it took a couple of days to pull together all the requisite paperwork and permissions to finally move Priyanka to the safety of the Elephant Conservation and Care Centre, until finally under the protective cover of the dark night, the Wildlife SOS team finally loaded this lovely elephant into our ambulance and she began the 300 km journey to her new forever home.
The journey proceeded through the night, but was forced to halt just short of the destination due to the dense fog creeping through the town and severely limiting the visibility of the driver. The team halted and ensured Priyanka was well covered up and warm, with enough water and fodder to tide her through the break and the remainder of her journey.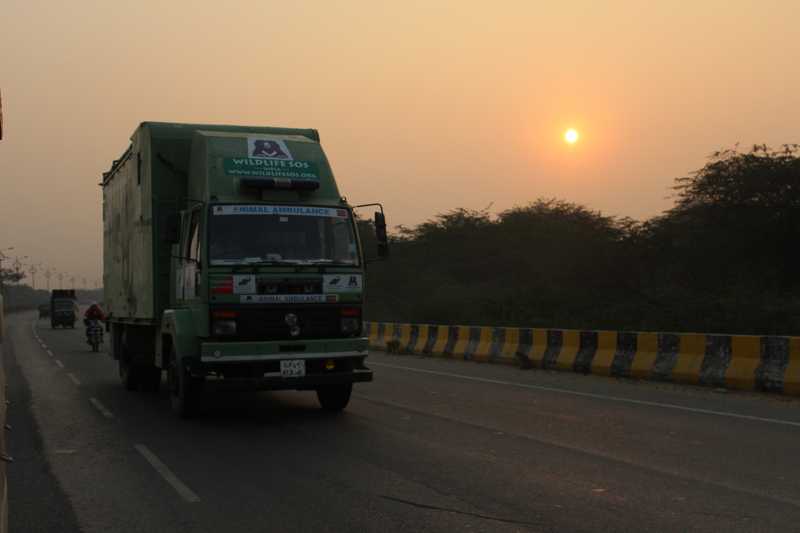 She arrived early in the wee hours of the following morning, just in time for daybreak and an ecstatic welcome from the staff at the centre. The excitement of open space to roam was obviously quite a welcome surprise to this recently rescued elephant that she immediately took off running as soon as she stepped down from the ambulance and began her first excited exploration of the rescue centre. Eventually though she was happy to settle down with a big bale of sugarcane and recover from her journey. She seems aware of the presence of the other elephants and will sniff the air curiously as if trying to gather all the information she can about her new neighbours. The centre is abuzz with the squeaking and rumbling of our other elephants as well, as they too realize that another one of their kind is now in their midst. Although we need to give her a few days to comfortably settle in before introducing her to any other elephants, we are excited to see who she will befriend and which herd will eventually adopt her as a part of their family at the rescue centre.
The veterinarians have sent samples of Priyanka's blood, faeces and urine for testing to confirm any internal parasitic infections and deficiencies, and are awaiting the results of the same. In the meantime however, a thorough checkup by the doctors has confirmed that she has corneal opacity in both her eyes and is likely going blind. Her hind limbs appear to be twisted inwards due to improper development due to poor nutrition in her younger years – her toenails are overgrown and have begun cracking as a result, and she has an abscess developing on her right hind limb. As she seemed to be uncomfortable while walking, an xray was taken of both her hind feet that appeared to be giving her trouble. Sadly the results revealed that she has a fracture in the third digits of both feet which will need careful monitoring and supplements to allow it to heal under the care of our veterinarians.
She also seems to have a fungal infection in her ears and trunk, and a number of external parasites. Treatment for each of her ailments will begin gradually as she adjusts to her new home, and to the kind touch of her new caretakers.
She is eating sugarcane, just like the other elephants, along with a variety of fruit and vegetables, as well as delicious treats like peanuts and groundnuts which she absolutely loves.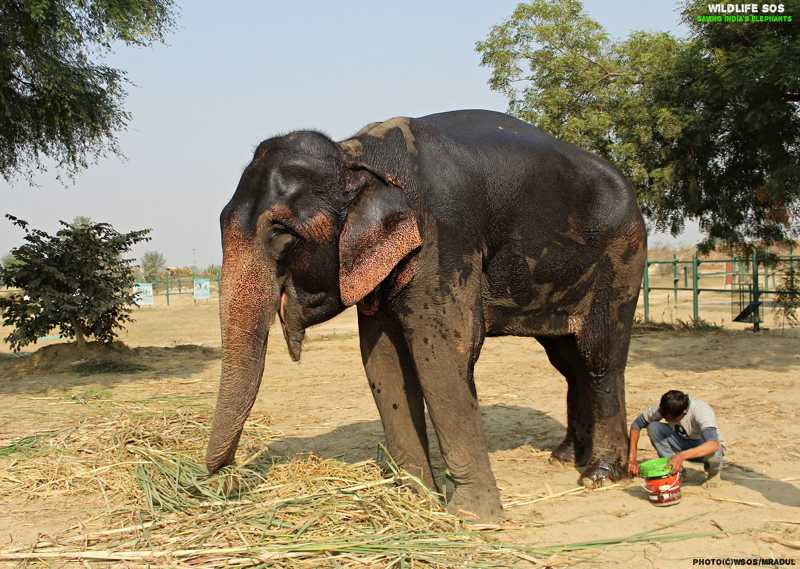 Since it is winter, the keepers are making an extra effort to keep her warm, rubbing her down with warm oil and giving her a relaxing massage. She also gets a nice cozy plus-sized blanket to keep her snug through the night, with a halogen lamp at a safe distance to add to the comfort.
It gives us immense joy to know that Priyanka now has a place full of love and warmth to call her home, and are determined to shower on her all the kindness and care she requires to begin her long journey of recovery from the brutality she suffered at human hands.
We need your help to make this possible, and are looking for 200 new monthly donors to pledge their support to Priyanka's medical and general care, and become an integral part of her new life! You can become a monthly donor by following this link.