The Wildlife SOS Field of Dreams witnessed an unusual amount of activity on the morning of 4th of July, this year. It turns out our elephant care staff was counting days to this grand day of celebration when they would organize a surprise feast for one of our beloved elephants— Raju! Seven years ago, everyone was moved to tears with Raju's brave story of surviving the most difficult times that he was put through, a traumatic past that will always rest in the corner of his memory.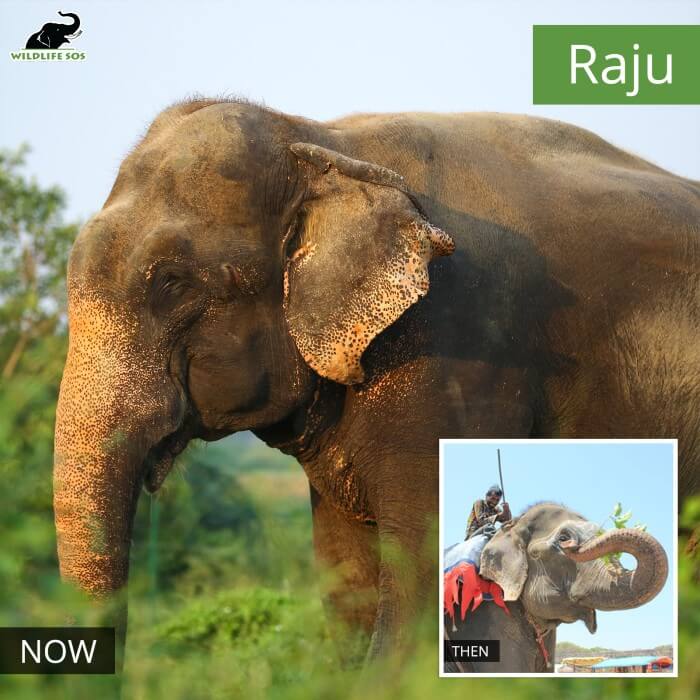 From being starved and beaten to walking on the blazing asphalt roads in heavy spiked chains, Raju was put through insurmountable physical and psychological torture. His timid nature is testimony to the fact that he was petrified of humans.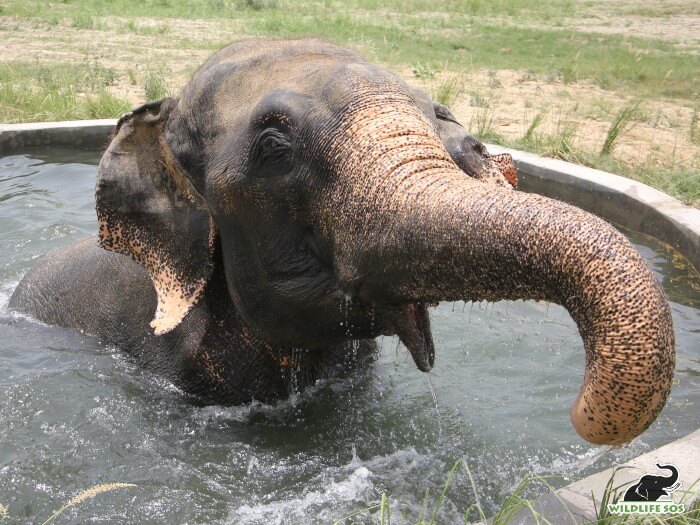 When his spiked chains came off, we felt a certain amount of relief course through our hearts as well. The first thing that Raju did was trace his feet using his trunk, his bewilderment palpable as he slowly took his first steps of freedom without the chains digging around his ankle. Our team attended to the wounds on his body and made an effort to heal the ones that we couldn't see – the immense psychological trauma that he underwent.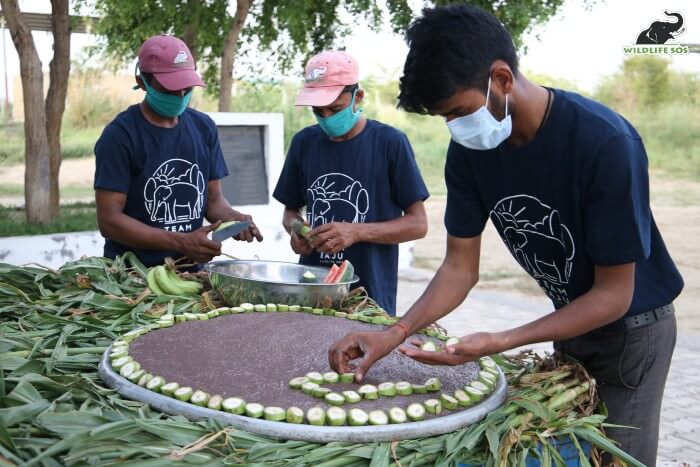 In 7 years, we have witnessed this brave pachyderm rediscover himself. Today, as he plays with trunkful of dust, brushing loose mud all over him on a hot summer day, he looks majestic in every movement. He walks around his spacious field, looking over to his neighbouring fields which have Coco and Peanut on one side and Sanjay, on the other.
This year, his caregiver, Surendra, single-handedly charted an interesting plan and coordinated with our field team to celebrate Raju. When we ask Surendra as to why he loves Raju so much, he always smiles and says "What is there to not love about Raju? He never troubles me with his meals, his treatment, his bathing and even in the most challenging times, he has always been so calm."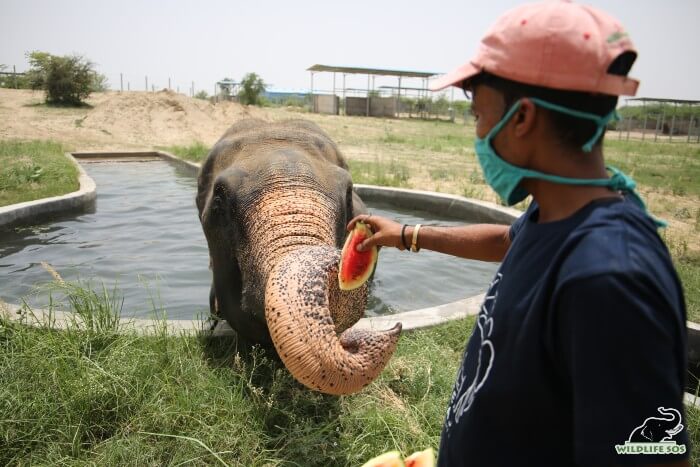 Raju and Surendra have a special ritual that they do almost every day wherein Raju trumpets out to Surendra, each time he goes into the pool in his enclosure and Surendra will rush to his side. He will be carrying a huge bucket full of watermelons and papayas for Raju which he enjoys munching on from the comforts of his pool. Surendra also ensured that Raju's favourite tyre enrichment is ready for him in the pool, as he loves playing with it!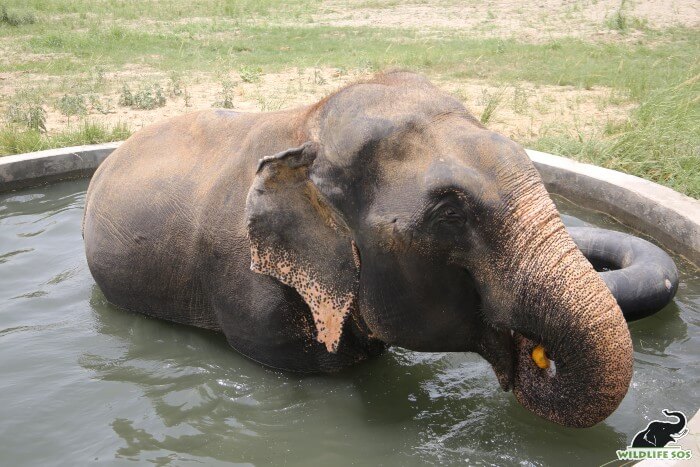 Raju spending time in the water is an absolutely delightful sight – he will immerse himself in the water, often coming up with a tyre resting on his head or his trunk resting at the edge of his pool. In that moment, he appears carefree, calm and ecstatic, which makes us realize how little these gentle giants need to be content and comfortable with their surroundings! Raju deserves every bit of the celebrations on his special day, which is why the elephant care staff prepared a special cake made out of cooked concentrate.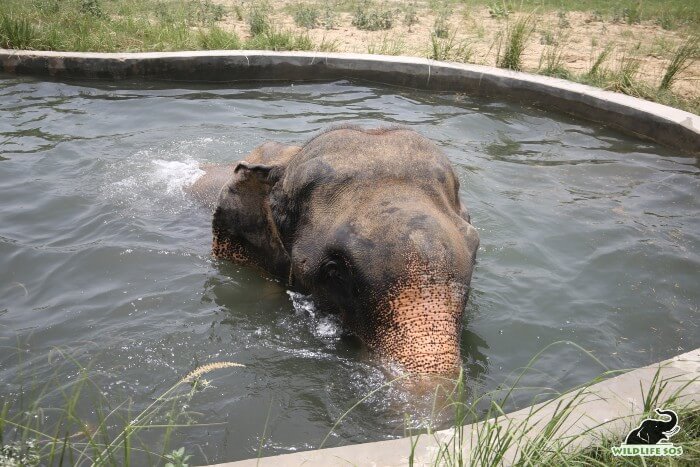 The scrumptious cake was garnished with pumpkin seeds and his caregiver meticulously chopped raw bananas to write RAJU on it. The feast was completed with chopped watermelons, papayas, bananas, cucumbers and green fodder. In accordance with the plan spearheaded by Surendra, the feast cart was wheeled to his field and kept on one side while Raju was busy picking on some pumpkins from his cage-feeder enrichment. As soon as Surendra called out to Raju, he gradually walked over to find the delicious cart waiting for him! He was quick to approach it and using his trunk, picked up generous chunks of the delicious cake and fruits, and gulped them down.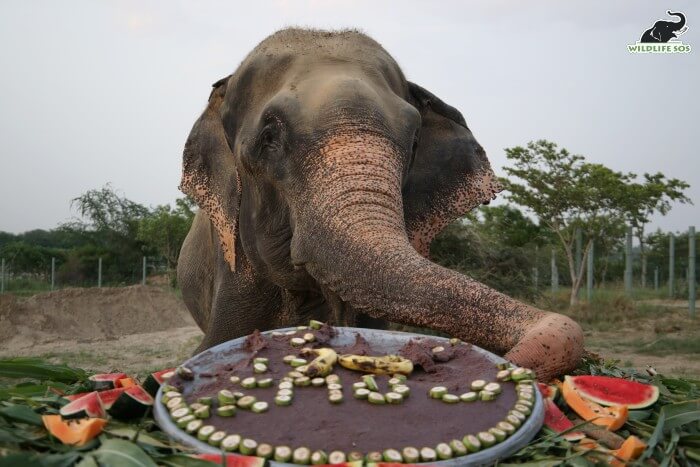 Within a matter of a few minutes, the entire palate was cleaned, and Raju lifted his trunk in sheer happiness. As the day concluded, he made his way to one of the high mud beds curated in his field and napped comfortably through the night.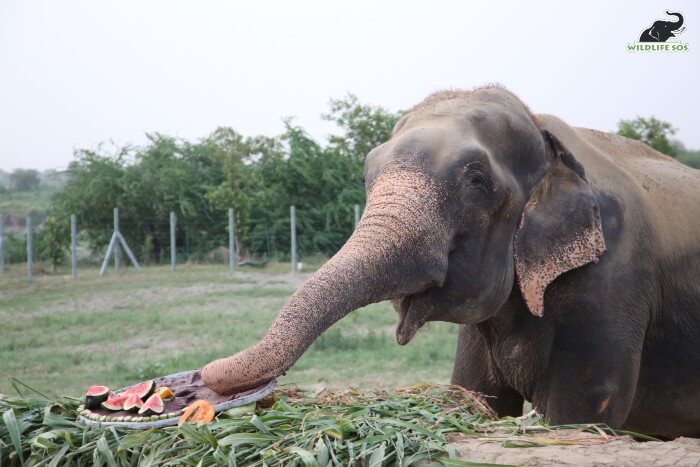 We take this moment to thank each one of you for your support to Raju's journey. He will require continued care for his physical ailments as well as his compromised mental health. We leave no stone unturned in ensuring that he is well taken care of, and his ageing needs are paid special attention to. You may consider becoming a monthly donor or a sponsor for our brave Raju, so he continues to be surrounded by the love and care he deserves. Watch the video of his celebrations, right here!