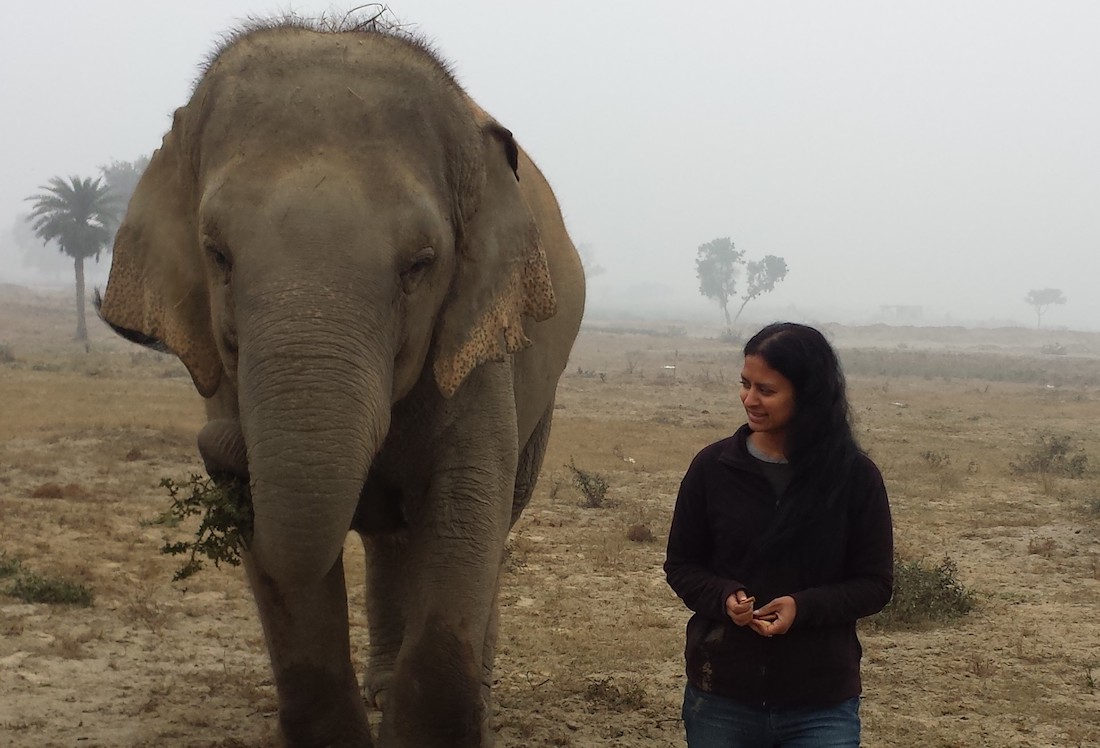 Lavanya Raju is the Director of Finance and Administration based in our small Utah, USA office. She joined Wildlife SOS in 2015. You can often find Lavanya working closely with our supporters on questions about their monthly donations, estate planning, corporate contributions and many, many other finance and donor relations matters. We sat down with Lavanya and asked about her work and how she joined Wildlife SOS.
1.) How did you first get interested in Wildlife SOS?
I first met Kartick and Geeta, the co-founders of Wildlife SOS, when they visited the animal sanctuary where I worked back in 2005. A few years later, I had the opportunity to meet them again and visit their bear sanctuary when I attended an animal welfare conference in India. Their holistic approach to eliminating the Dancing Bear trade made an impression on me. And when they started rescuing elephants, I knew I wanted very much to work to help in this effort.
2.) You were at the elephant center when Suraj first arrived after his rescue, what was that like?
I was very excited to be there to witness Suraj's arrival at the elephant center. I was able to see the amount of extensive work that goes into preparing for a new elephant arrival. It was so cool to see his trunk above the ambulance as he sniffed out his new surroundings as the elephant ambulance drove into the elephant center. Suraj is a very tall elephant with magnificent long tusks and he happily and calmly climbed off the truck following the trail of snacks into his new enclosure. I loved just sitting there and watching him as he settled in.
3.) What do you do for the organization?
I am the Director of Finance and Admin for Wildlife SOS in the USA. In addition to the accounting and compliance work for the US organization, I do a wide variety of other tasks that are required to efficiently run a non-profit and to ensure that everyone can be proud of the organization we support.
4.) What do you like most about your job?
Although I'm behind a desk all day, I know that the work I do ultimately helps progress the work of Wildlife SOS and that gives me immense job satisfaction. I work with a small but awesome team in the US and love following the rescues in India! I do also get to communicate with a lot of our donors one on one and I very much enjoy interacting with our supporters.
5.) What have you learned about wildlife that you didn't know before you started working for Wildlife SOS?
I'm amazed at how much cooperation is needed from all sectors in order to really help wildlife. We can't do it alone, we need individuals, government agencies and other partners to make the kinds of significant impact that we all want. And before I joined, I had no idea of the extensive preparation needed to rescue/transport wildlife.
6.) Your last name is 'Raju', do you get a lot of questions about that?
Yes, especially when I first started and Raju's rescue was more recent. Raju happens to be a common family name from the state of Andra Pradesh in India. I'm honored to share Raju's name and love that so many people all over the world now know the name Raju because of one amazing elephant.
7.) When you're not working, what do you like to do in your spare time?
Currently, most of my spare time is spent with my young son – and I am so pleased that he has also developed a love of nature and animals. I also love hiking and fostering dogs.
8.) What message would you have for all of our followers and supporters?
A huge thank you for all that they make possible for wildlife. Because of them and their trust in us, Wildlife SOS is able to make a significant impact on so many lives.
9.) Anything else you'd like people to know
If you ever have the opportunity, go visit our sanctuaries – you won't regret going. It's so satisfying to see the elephants and bears that are now safe and enjoying life.