Considered the lifeline of the capital state, the Delhi Metro witnesses as many as a million travellers each day who use this inexpensive and hassle-free mode of transportation to travel from one part of the city to the other. Delhi Metro, not only makes travel affordable but plays an inseparable part in reducing carbon emissions, hence massively contributing to control the pollution content of the city's depleting air quality. A wonderful alternative to people who want to escape the metropolitan's mundane traffic, the Delhi Metro can get you from one end of the Delhi to another in a matter of about 70 minutes at the comfort of air-conditioning and not burning your eyes on the windscreen!
Understanding the demographic that travels in the Delhi Metro,  what better way to spread awareness and encourage people to take a part in our Refuse to Ride campaign dedicated to ending elephant joyrides, but the Delhi Metro!
The last week of February experienced the Pink Line of the Delhi Metro carrying the Refuse to Ride message in all the coaches of the train. With more than a million pair of eyes reading the message and being educated about the plight of captive elephants that undergo brutal training methods to become "rideable". By refusing to ride elephants, tourists can play an important role in curbing the demand for illegal procurement of wild elephants from the forests. This will help in combating illegal trafficking of elephants which then subjects them to a lifetime of servitude and captivity, causing an insurmountable amount of physical and mental stress and trauma. Elephants that are used for tourist joyrides are kept chained in small enclosures with unnatural flooring, when not being abused for riding, that makes the condition of their feet worse, causing overgrown toenails, torn footpads and severe foot rot.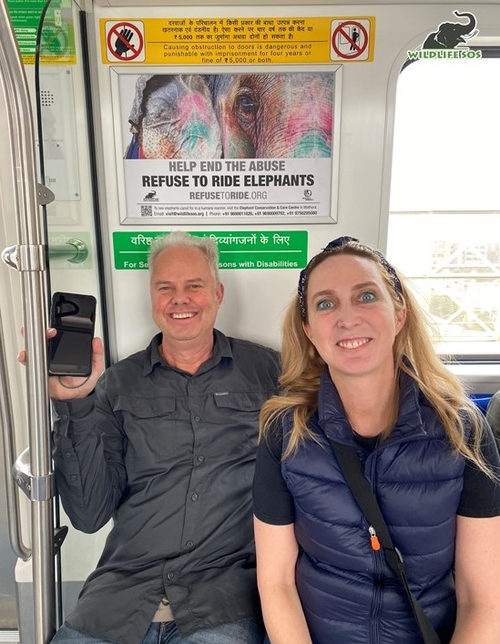 Spreading the message loud and clear, "Help end the abuse, Refuse to Ride elephants", the panels of Delhi Metro Pink Line have been the medium of outreach to the people travelling on a daily basis, in order to encourage them to take our message forth by never riding an elephant. The idea is to invoke responsible and ethical tourism among people in order to make them understand that riding an elephant might be entertainment for them but it is torture for the elephant.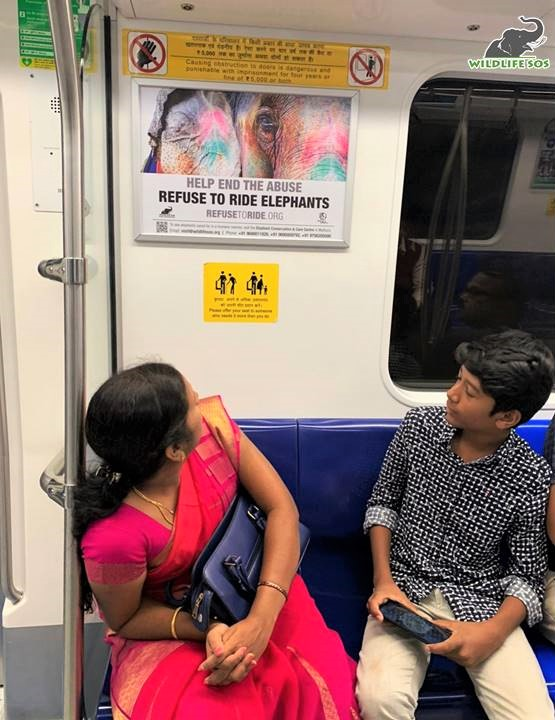 As young students carefully read through the Refuse to Ride message, many other college-going students were spotted clicking photos of the panels, possibly to share it with their friends and family. With our campaign reaching out to people from all walks of life, a subsequent wave of change has been stirred within people to indulge in responsible wildlife tourism and play an intrinsic role in bringing much-deserved relief to the elephants that do not belong on stone roads and concrete surfaces, but their real home – the forest!