For all us travel enthusiasts, the COVID19 pandemic has put a screeching halt to all our plans and expectations of what 2020 would look like. With almost 9 months of the year gone by, it is very tough to look back and recall what we accomplished in the past year, especially in terms of all the places that we wished to travel. On the occasion of World Tourism Day, Wildlife SOS organised a panel discussion with esteemed members of the travel and tourism guild on 'Responsible and Ethical Tourism in India'.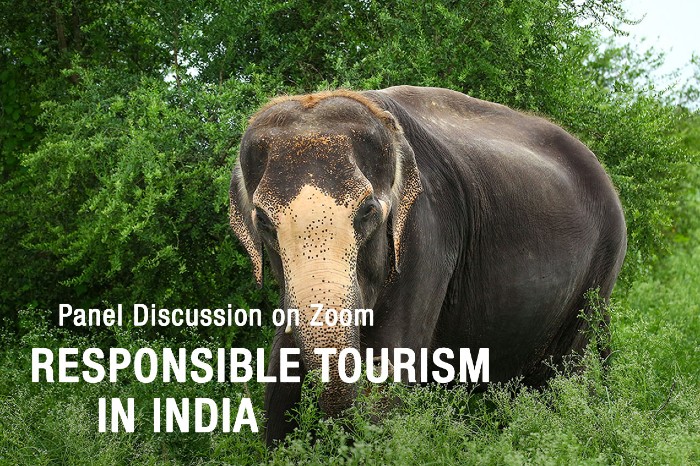 Mandip Singh Soin, the Founder President of Responsible Tourism Society of India, has been working in the field of tourism for many years and recounts his experiences on how the industry has changed over the years. Travellers now look for more wholesome experiences when it comes to visiting new places. It is important to make them aware of unethical tourism practises along with educating them on what can be considered ethical tourism. He spoke on how the pandemic severely paralysed the tourism industry and as people are confined to the four walls of their homes, it would serve as an excellent chance for people to understand more sustainable ways to travel now.
Adding to this, Shoba Mohan, Founder, RARE India, spoke in detail on the new normal that people are now going to be introduced to. As the travel and tourism industry had never experienced anything like this before, there has to be a completely new strategy in place to rebuild the tourism sector from the scratch. The hospitality industry largely relies on ensuring that proper hygiene standards and sanitisation measures are in place, but now, they will have to be even more careful in the execution of their standard operating procedures.
An actor from the South Indian film industry, Samyukta Hornad, has been actively advocating for environmental issues that grip the country. She has been an avid supporter of Wildlife SOS and has even volunteered at the Wildlife SOS Bannerghatta Bear Rescue Centre. Samyukta recounted how the extensive travel she undertook brought her face to face with the reality of how increasingly people were becoming irresponsible tourists and even as citizens of the country, by improper disposal of garbage, increased use of plastic bags and the overall intolerant behavior towards animals.
Gautam Pandey, Wildlife Photographer and National award-winning Cinematographer, has always been known as the man on the move as he never missed an opportunity to capture wildlife in its natural habitat. People visit India for the endemic biodiversity that it hosts and hence, they opt for safaris as a way to witness and cherish wildlife in their natural habitat. Many misinformed tourists are not aware that seemingly harmless activities such as elephant rides, bathing and painting actually involve a lot of cruelty that is inflicted upon the elephant. Travellers should be made aware of this crucial aspect, he insisted.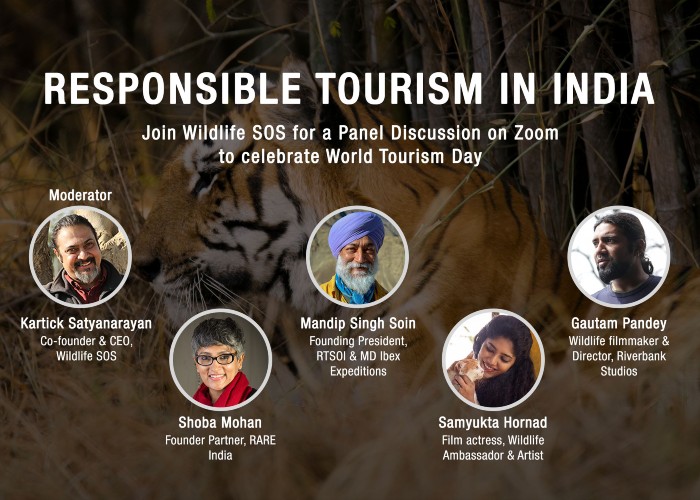 The discussion centred around the core issue of responsible tourism, a large part of which can be attributed to educating and empowering travellers to make more conscious travel choices. A responsible tourist will go the extra mile to ensure that their itineraries do not involve activities that support or encourage illegal wildlife trade or animal cruelty. Responsible tourism redefines travel and focuses on how tourism can be an excellent way of leaving a positive impact while emphasising on conservation and sustainability.
Each place that we visit and gather experiences and memories from are places to which we owe a responsibility to, especially as we gradually adjust to the new normal, we can all promise ourselves to be a lot more sustainable in our travels, to be careful, to understand those wild animals only belong in the wild and to make the conscientious choice of visiting places that care for animals in the manner in which they rightly deserve.
Wildlife SOS supports responsible and cruelty-free tourism for our great nation and aims to educate tourists about India's vast and diverse wildlife in partnership with the Responsible Tourism Society of India.