Four years old and nearly half the weight he should have been, Bhalu (whose name means 'bear' in Hindi) spent the first few years of his life slowly making his way through the streets of India led by a coarse rope strung painfully through a crude, raw piercing in his muzzle that had never healed, being constantly tugged at by the rope that tied him to his painful life of deprivation. Beaten and starved, Bhalu was a complete misnomer- he looked nothing like a bear, more closely resembling a skeletal frame covered in matted, flea infested fur. He had never even been given the chance to experience life as a bear- poached from the wild as a cub, this horrific life of cruelty, 'dancing' in dusty by-lanes, was all he had ever known.
19th January 2005, things changed for Bhalu. The Wildlife SOS team picked him up and moved him to the Agra Bear Rescue Facility, which was to be his new home. Bhalu was finally going to learn how to be a bear.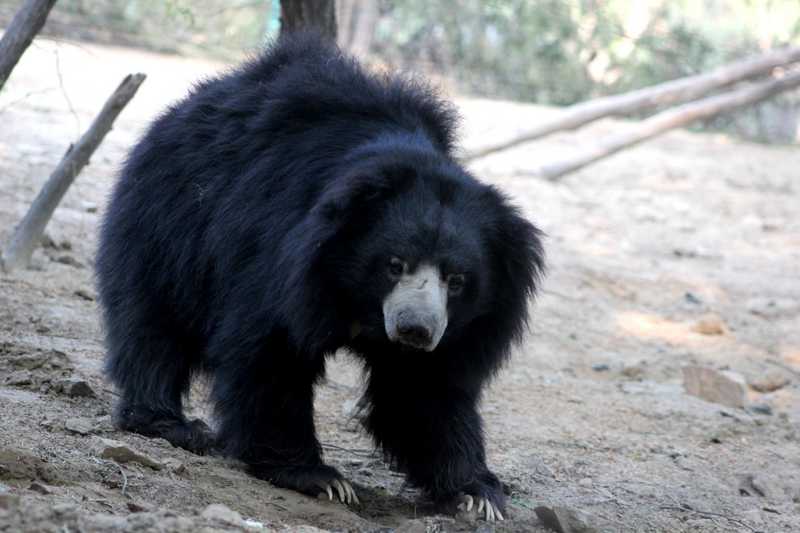 Ten years on, Bhalu was a marvel to behold. A thick, luxurious coat of black fur falling magnificently across his broad shoulders, this healthy 150 kilo male sloth bear stood testament to the mission of Wildlife SOS to not just rescue India's dancing bears, but to give them a chance at a whole new life. Bhalu was strong and able, climbing trees with ease and digging up large mud pits that rivalled those created by any of the other bears at the centre. But inside this magnificent body was the kindest heart, and Bhalu's damp, freshly excavated mud-pits were open to any bear that wanted a cool nap or a warm cuddle with this wonderful bear. His large size was deceptive, and Bhalu was among the most gentle bears we've known, willing to share even the treats he loved so much with a bear that might wander up to him during feeding time.
Years of abuse and torture failed to break the spirit of this amazing animal, and Bhalu was an inspiration to us all, making the most of the chance he'd been given at a better life. He ate all his meals with relish, climbed trees with youthful abandon and tried out every enrichment within minutes of discovering it in his enclosure. He was charming and affable, and his spirit was contagious, making him exceptionally popular among the other bears, particularly Herbie who, over the years, became his best friend.
01st July 2015, Bhalu's spirit seemed to be failing, and we found him spending more time in his den than usual. He was eating a pitiful amount and his spirits seemed to be at a heart-breaking low. We were concerned, and he was taken in for a veterinary examination, the results of which broke all of our hearts- Hepatic Cancer. Over his last month at ABRF, Bhalu's condition deteriorated steadily, the cancer slowly sapping him of his energy. It was an incredibly difficult month for us all, and watching Bhalu suffer the way he did was almost impossible to bear.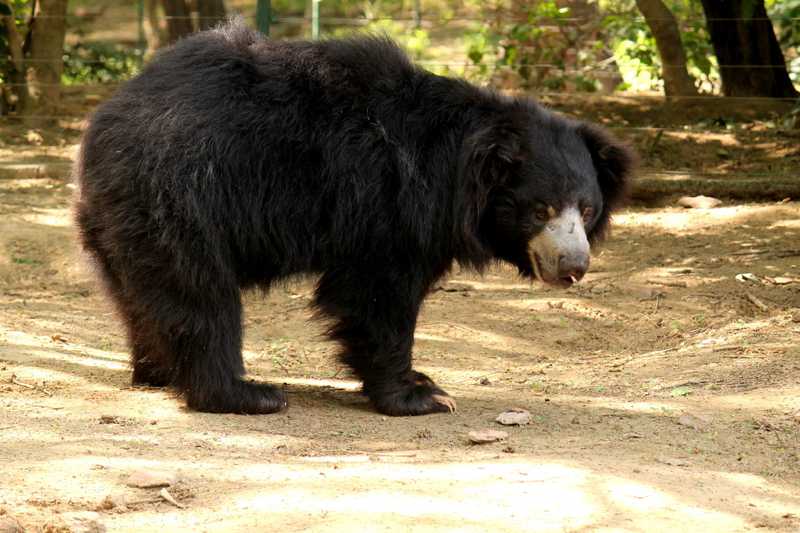 22nd August 2015, Bhalu finally succumbed to his dreadful disease, and passed away quietly at the Agra Bear Rescue Facility, leaving behind a host of broken hearts for the staff and cool mud pits for the bears that loved him the most.
It's been five months since we lost Bhalu and the pain has started to ease, but today would have been the anniversary of his eleventh year in our care, and we wanted to take a moment to remember him for his indomitable spirit, his kind heart and his inspiring strength. While we wish we had more time with him, to watch him bound up trees and excitedly slurp down his morning porridge, we take comfort in knowing that Bhalu had many years of happiness in our care and that we were privileged to have been a part of the ten years of his life when he got to be a bear again.