Daisy was a partially blind begging elephant, and one of the last captive elephants of Delhi. When she was rescued, her body carried the scars of ankush (bullhook) wounds, and she was suffering from severe foot ailments such as overgrown toenails and cracked footpads. Like all captive elephants, Daisy was malnourished and her nutrition did not even include the basic fodder and required amount of water.
She was used for begging and forced to walk in wedding processions on the busy streets of Delhi. Living in a cramped city was no easy task and it came at a great mental and physical cost for Daisy. The blaring sounds of the chronically traffic-jammed roads of Delhi caused her tremendous mental stress. However, she had no choice but to cooperate, for any 'disobedience' of her keeper's command led to painful blows from his ankush.
Leading a life as a money making commodity after being tamed and controlled by the lashings of an ankush is a suffering one cannot even imagine. Dragging an elephant for nearly 50 years through the busy streets of Delhi, and exploiting the animal through an endless cycle of torture and abuse is an ordeal no elephant should go through.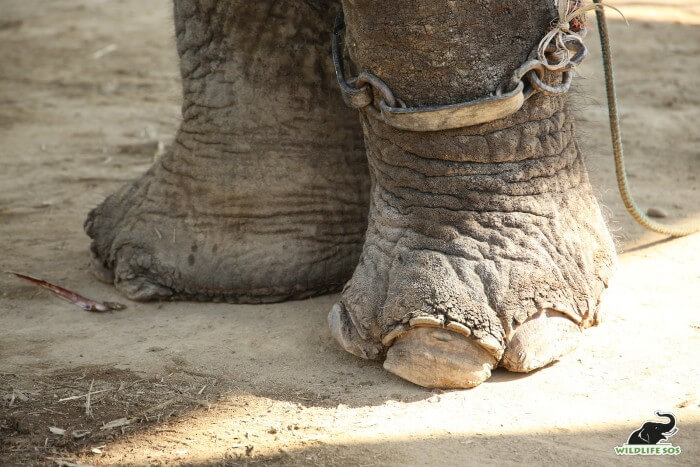 This was Daisy's life for five long decades when her working ground was the blazing hot concretised roads of the city. In the summer of 2019, Daisy's life saw the light at the end of the proverbial tunnel when the Forest Department, Government of NCT of Delhi, rescued the geriatric elephant in a successful operation. Daisy was sent to Wildlife SOS' Ch. Surinder Singh Elephant Rehabilitation Centre (ERC) in Haryana for long-term care and treatment under the jurisdiction of Haryana Forest Department, a lush and pristine habitat for rescued elephants.
However, it is with a heavy heart that we have to share with you the burdening news of Daisy's demise. After having spent more than four years under our care, Daisy returned to Mother Earth, peacefully passing away with no pain. Despite the tireless efforts of our veterinary team, age and the wear and tear of time finally took its toll.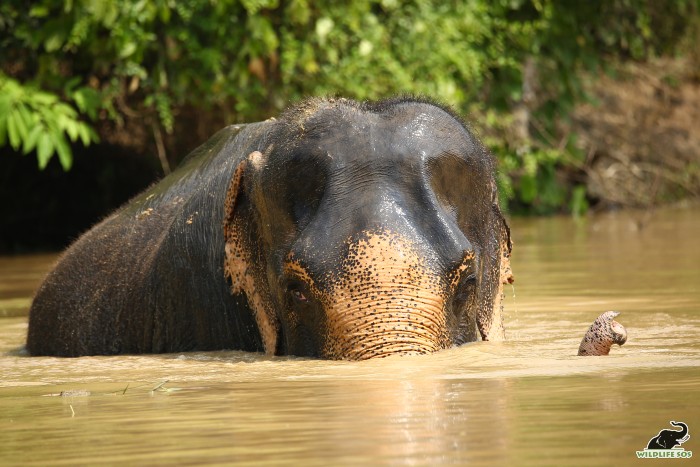 As this gentle giant leaves a huge emotional chasm, we mourn her absence amidst us. Meanwhile we are also proud to have given her a chance at a free life, in an environment as close to her natural habitat as possible. We try to turn the clock back and take one last look at how this magnificent pachyderm graced us with her presence and how we were able to bring about positive change in her life.
Her days at the centre had nothing that involved being forced upon or negatively reinforced. Instead, it included regular walks in the forested sanctuary mixed with a handful of solitude, greenery and melodious bird calls. Such an atmosphere also contributed greatly to her overall healing journey, and improved her physical and mental state.
The soft forest floor and the gentle crush of twigs under Daisy's feet spelled relief for her ailing limbs. Wildlife SOS' dedicated veterinary team diligently carried out constant dressing and cleaning of her feet with turmeric and Magnesium sulphate, to treat the abscesses on her front and hind legs. Additionally, Daisy received multivitamins and supplements, a routine for geriatric elephants under our care. All of this was supplemented by regular walks in the dense, vegetation filled facility in the company of her caregiver.
Under the care of Wildlife SOS, Daisy received a wholesome diet of seasonal fodder such as sugarcane and sorghum, and fresh fruits and vegetables like apples, bananas, watermelon, pumpkin and cucumber, to name a few.
As we glance over the before-and-after situations, it's clear as daylight how antithetical the two phases of Daisy's life were. Even though we are blanketed by a cloud of despair, there's a silver lining of pride. Thinking about how we were able to provide a fulfilling life to Daisy is one way to cope with her loss, and is a reminder that we need to continue doing this work for the thousands of elephants still in captivity.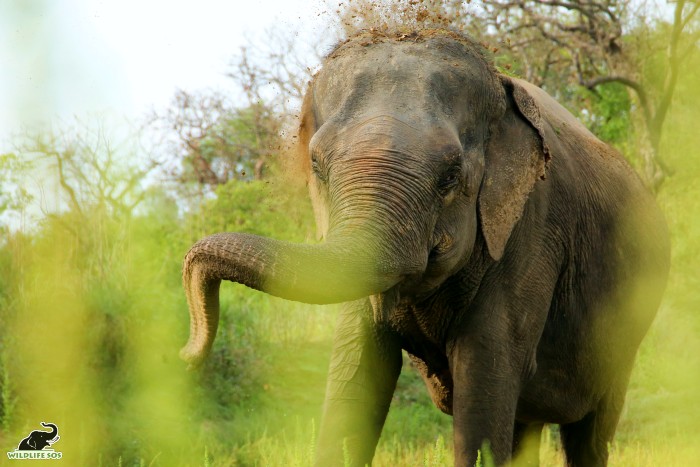 Daisy will always live on in our hearts and continue to inspire us to fight for the protection and care of elephants like her. To support the care of more such elephants, visit our website and become a monthly donor for Wildlife SOS.