With over 4,000 animals saved in 2021, team Wildlife SOS continues to work dedicatedly this year as well. As temperatures across the northern parts of the country remained in single digits, our team went above and beyond to attend to each and every call for animals in distress! Be it birds, reptiles, mammals – our Rapid Response Unit worked diligently to ensure safety for all in January 2022.
India's Magnificent Rosette In Distress
We kickstarted the year with a heartwarming reunion of two leopard cubs with their mother in Maharashtra. After a farmer from Nirgude village in the Junnar division of Maharashtra discovered two tiny leopard cubs while harvesting sugarcane, he immediately contacted the Forest Department and our team. Mother leopards prefer using the thick foliage of sugarcane fields to give birth and protect their young ones from predators. Our veterinarians performed a thorough medical examination of the 45-day-old cubs at the Manikdoh Leopard Rescue Centre. Once deemed fit, the teams closely observed the reunion between the cubs and the mother at the same site!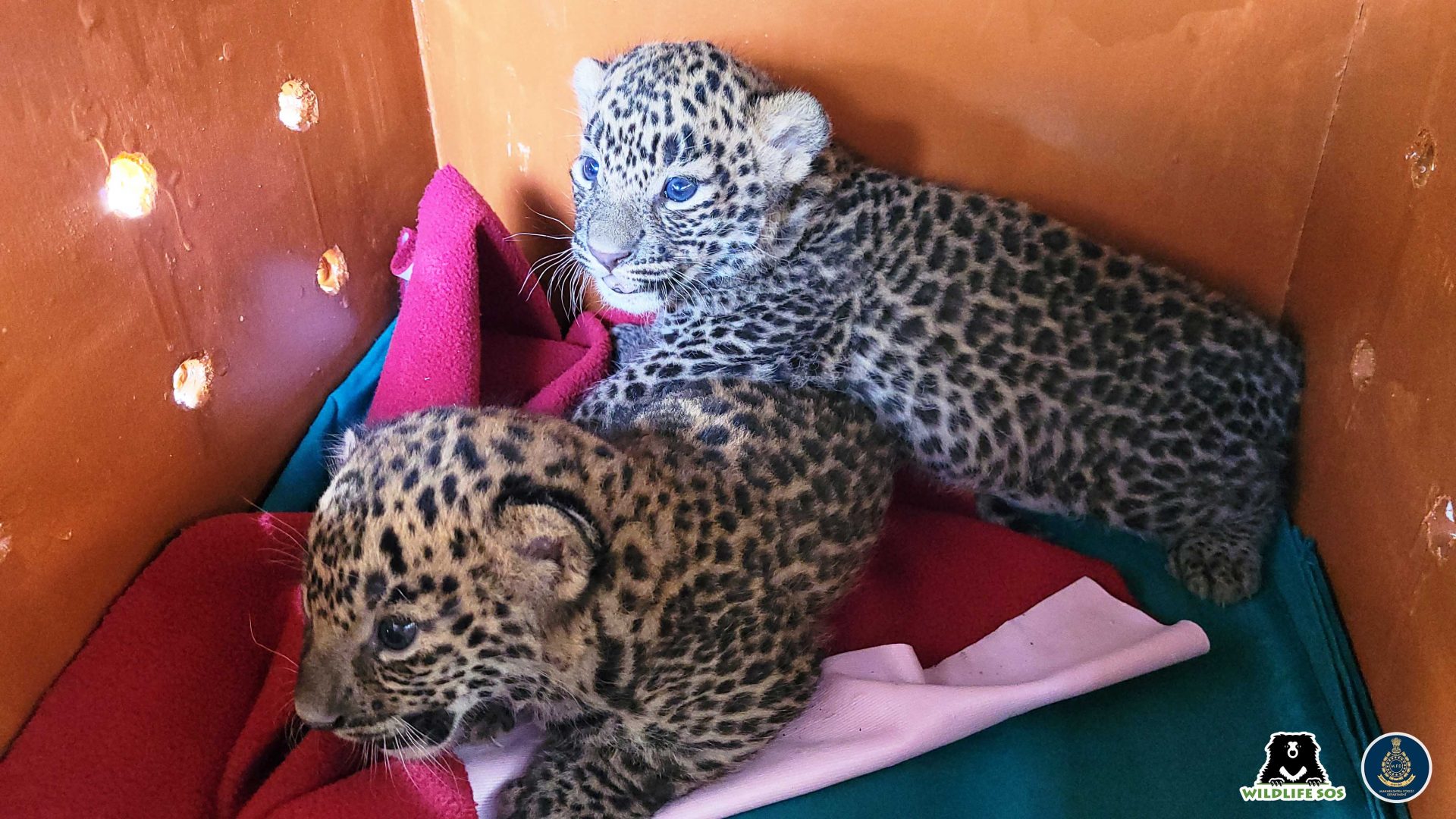 A few days into the month, an approximately 11-year-old aged female leopard was found wandering in a cattle shed in Taharabad village of Ahmednagar, Maharashtra. By placing a trap cage at the entryway of the shed, the feline was lured in carefully. After the diligent 3-hour-long rescue operation by the Forest Department and Wildlife SOS, the leopard was brought to Manikdoh Leopard Rescue Centre to be kept under medical observation.
Manjha Menace: Birds In Distress
Makar Sankranti, celebrated in the month of January, is an annual festival welcoming spring. Along with social festivities such as kite flying, this day also brings enormous cases of avian fatalities and injuries. Several innocent birds, including migratory as well as threatened species, fall victim to the glass-coated string or "manjha." These sharp strings entwine and trap birds, and may even manage to cut through their flesh, causing life-threatening injuries. In collaboration with Eco Rescuers Foundation, Wildlife SOS set up a free 3-day bird treatment camp in Jaipur, Rajasthan, on this occasion. Our veterinary team provided aid to over 50 distressed and injured birds in that area besides conducting awareness and training sessions.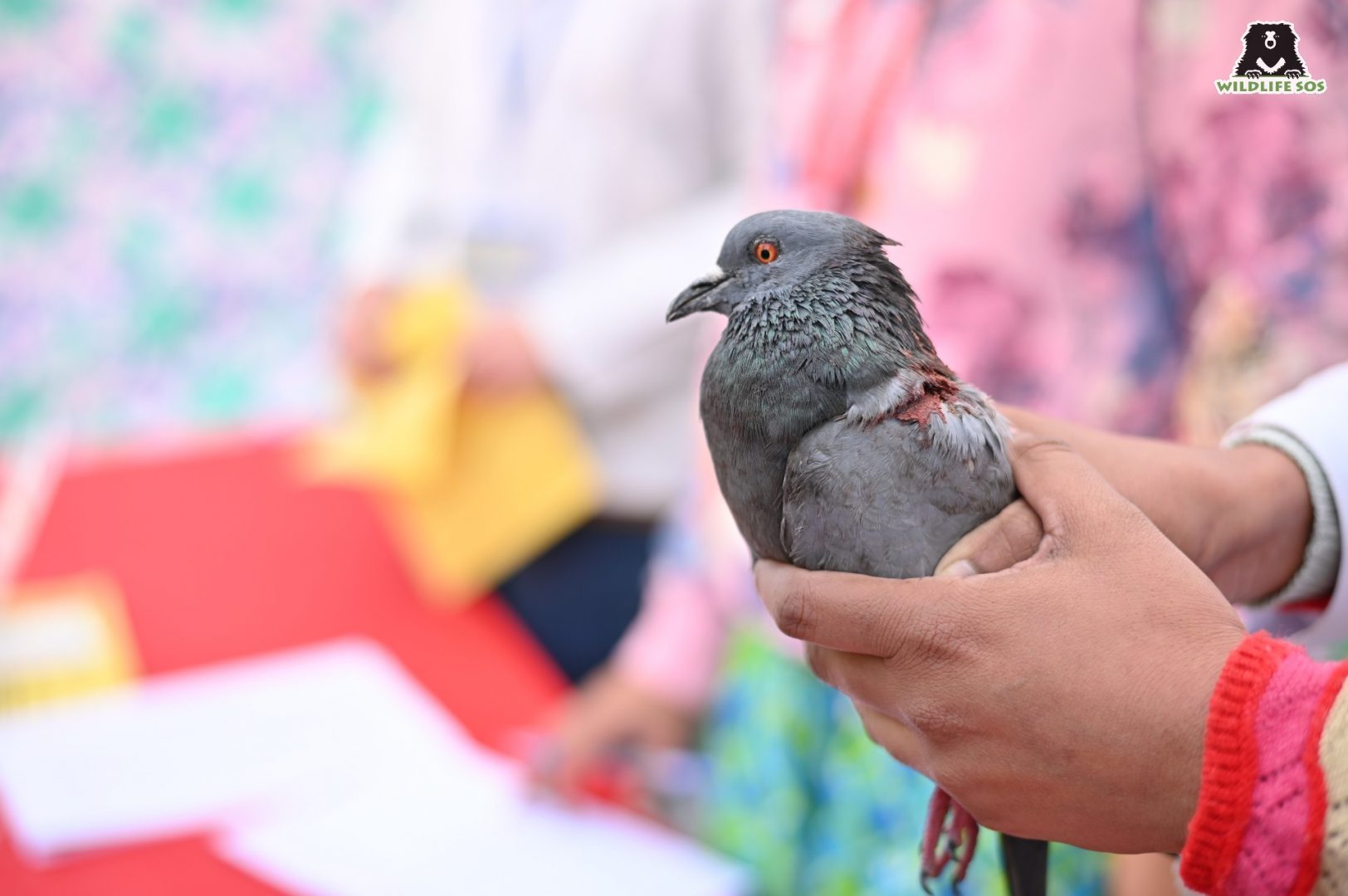 Golden Jackal In A Jarring Condition
Occupants of Tejur village, Maharashtra, found a Golden Jackal in a semi-conscious state in an agricultural field. Swiftly, they alerted the Forest Department, who thereby informed the Wildlife SOS to aid in the rescue operation. Upon examination, our veterinary staff determined that the young mammal had suffered from complete hindquarter paralysis. The approximately 8-month-old omnivore probably suffered injuries during a conflict incident and is now under intensive care at the Manikdoh Leopard Rescue Centre in Junnar.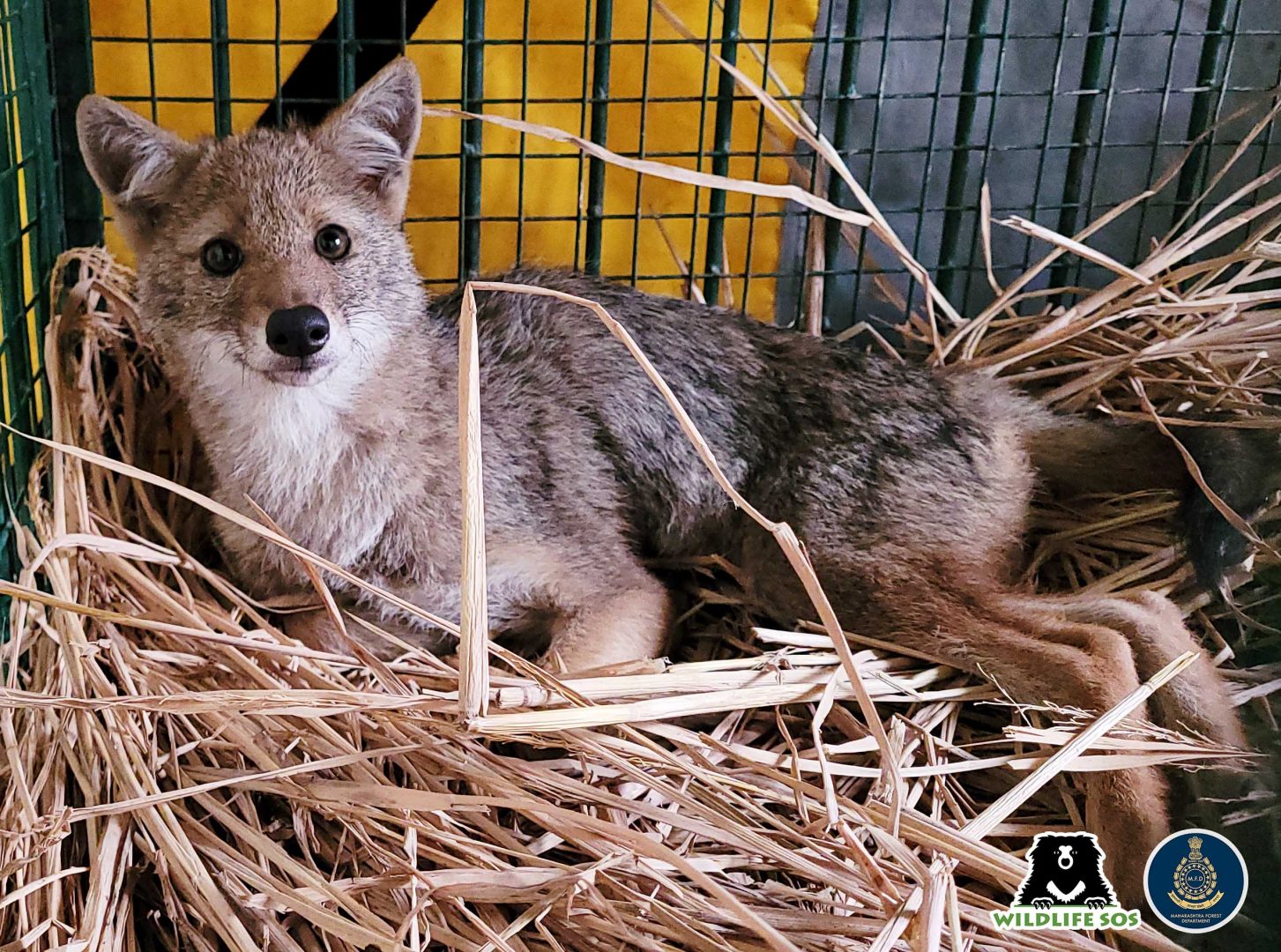 Snakes On The Loose
As winter tightened its grip all over northern India, the severe cold compelled snakes and other reptiles to seek warmer shelters in urban areas. Being cold-blooded animals and lacking thermoregulation, they are extremely vulnerable to the harsh weather and rely on external sources for heat. In the cities Agra, Delhi, and Gujarat, we saw a sudden spurt in snake sightings. A total of 76 reptiles were rescued by our teams including monitor lizards, tortoises, turtles, and venomous as well as non-venomous snakes.
The station superintendent of Keetham Railway Station, Agra spotted a 5-feet-long snake near the platform and immediately informed Wildlife SOS on its 24-hour helpline. To avoid any mishap, our Rapid Response Unit immediately rushed to the location and identified the species to be Indian Cobra. Within 15 minutes, they safely extricate the reptile from the station. Another Cobra was rescued from Shri Shyam Mahavidyalaya in Karahara, Agra upon receiving a frantic call about the sighting. In another instance, the employees at an electricity sub-station in New Delhi's Okhla Industrial Estate spotted an Indian Rock Python. The 8-foot-long python was safely rescued by our team and kept under observation. Another python was found stuck inside a pipe at Nalkoop Khand (Irrigation and Water Resources Department), Agra. After a staff stumbled upon the snake, they contacted the Wildlife SOS hotline and a two-member team undertook the rescue operation.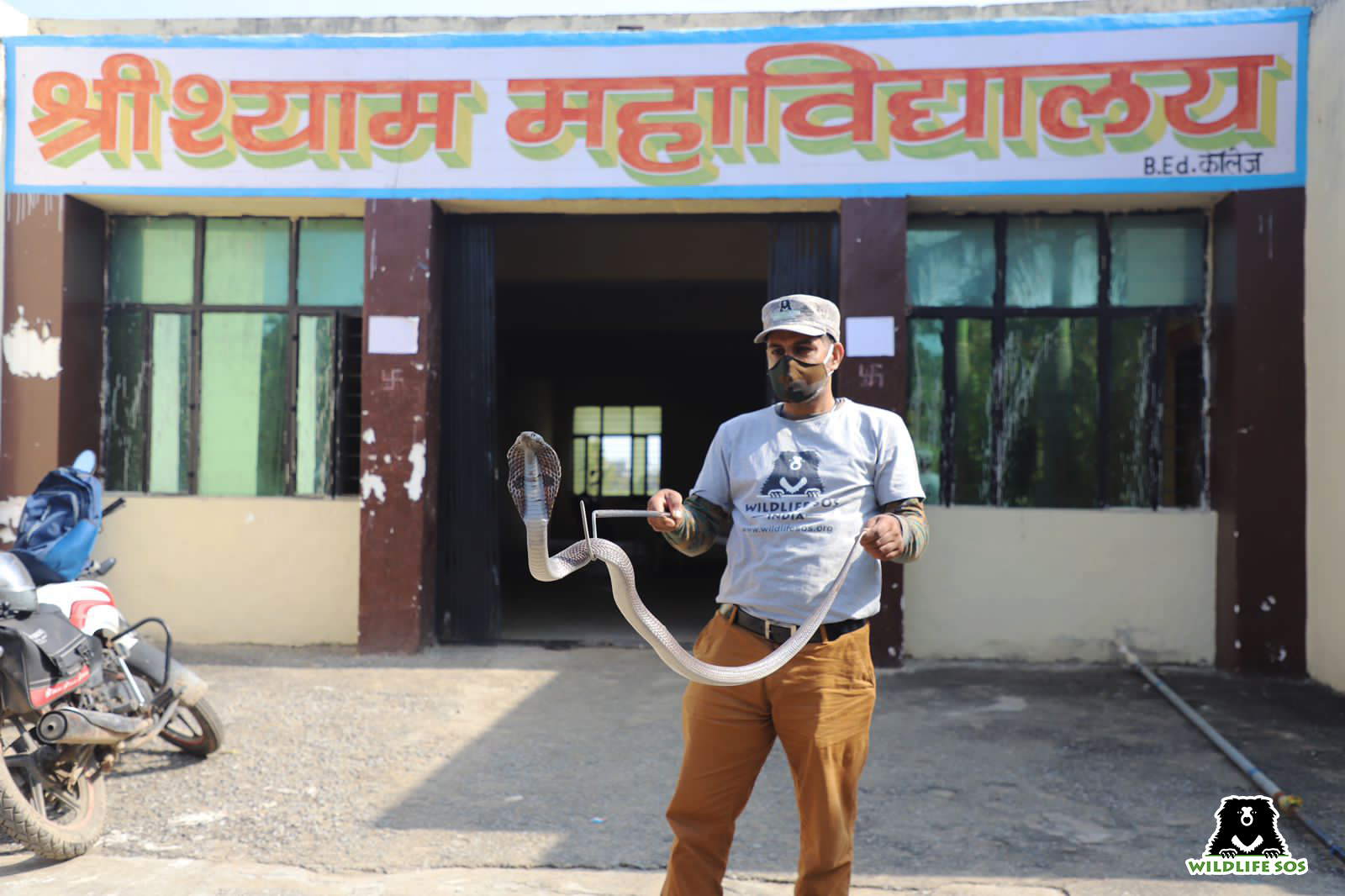 Besides these, numerous snake species such as rat snakes and royal snakes were also rescued by the teams. The Wildlife SOS-GSPCA team even found a monitor lizard and turtle species taking shelter in human-dominated areas. They rescued a total of 38 reptiles in the month of January. When rescued, reptiles are kept under close veterinary observation and later released back into their natural habitat.
The Bird Calls
Our team had a busy month rescuing birds from balconies, front porches, and even parking lots! A whopping number of 256 birds were rescued by our teams that work round the clock.
In the rapidly expanding areas of Delhi and Agra, our teams rescued several species of birds. The helplines did a total of 73 bird rescues in the month of January – including injured peafowl, owls, pigeons, kites, and even rare Egyptian vultures! Residents of Sarita Vihar had an unusual guest as they were greeted by a barn owl perching on their front door. The NGO took merely 15 minutes to safely extricate the bird and examine it before release. Being nocturnal, it is suspected that the animal faced difficulty navigating its way during broad daylight hours. A black kite was rescued from a parking lot of a metro station, while an injured Shikra was rescued stranded in the balcony of a house.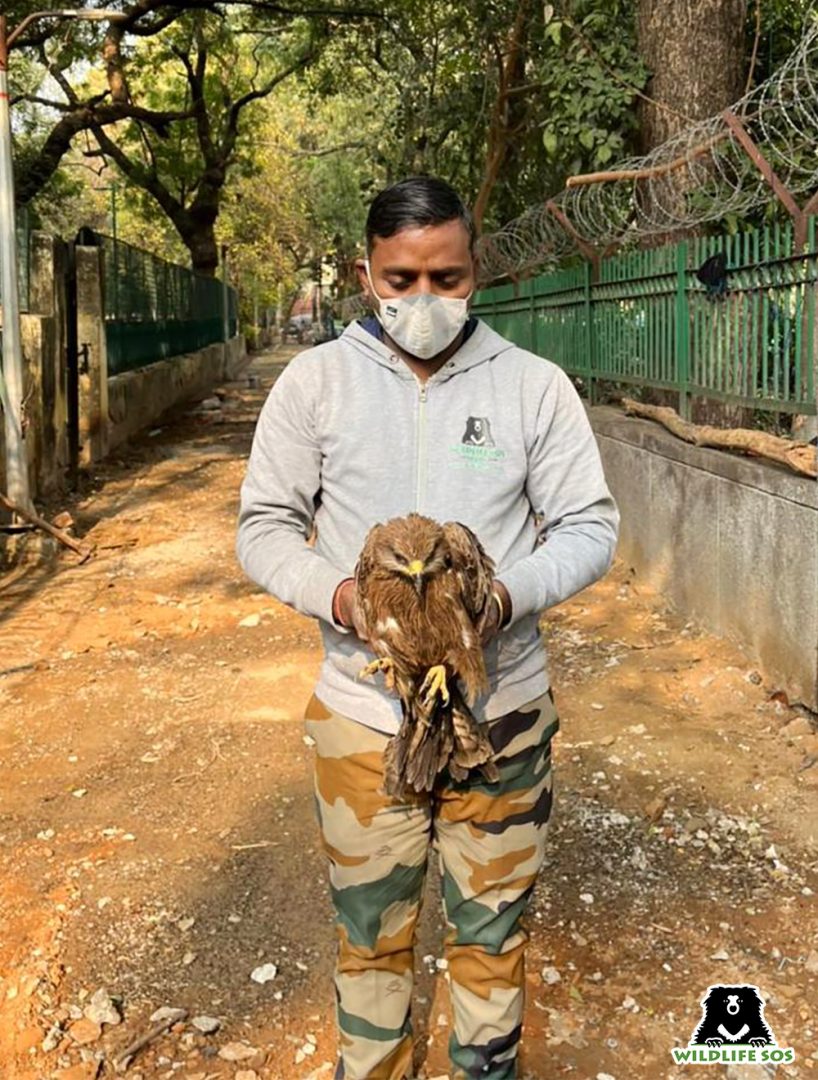 In the northernmost part of the country, our Rapid Response Unit rescued two barn owls. Concerned citizens based out of Jammu and Kashmir contacted our hotline after spotting two barn owls in distress, which were immediately rescued. Upon thorough examination, the birds were deemed fit and thus released into the wild.
Our team at Vadodara carried out a raid along with the Forest Department to seize birds being traded illegally. Several parakeet species were seized in the month of January, cramped in cages, and being transported for pet trade. A total of 14 rose-ringed parakeets, two Plum-headed parakeets, and two Alexandrine parakeets were caught by the Wildlife SOS-GSPCA team. Numerous animals are captured from the wild at a very young age and forced to live in horrific conditions, thereby violating the guidelines set in The Prevention of Cruelty to Animals Act, 1960. During the raid, the team also confiscated three tortoises being trafficked for the purpose of being kept as a potential pet.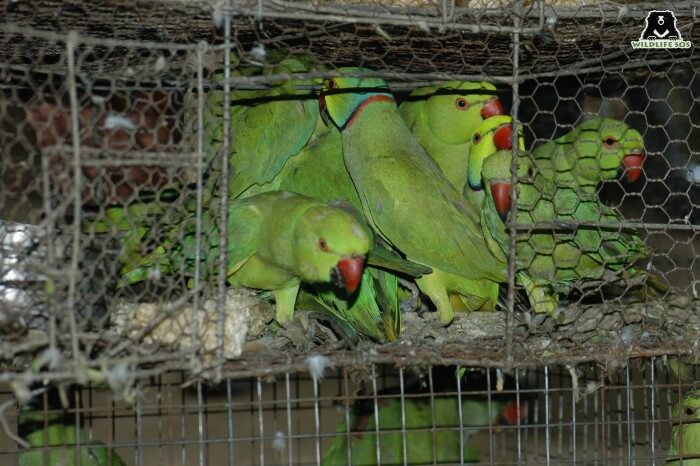 A Rapid Response By Wildlife SOS
Various animals call these urban cities their home, thereby increasing the chance of being stumbled upon by humans. Leaving no stone unturned, our teams rescued a total of 70 mammalian species this month! Wildlife SOS-GSPCA helpline successfully extricated Rhesus monkeys, nilgai, cows, cats, and dogs from distressed situations in January. The burgeoning of urban wildlife keeps our rescue teams engaged in thrilling rescue operations.
Our Rapid Response teams are well-equipped and highly trained to handle such meticulous rescue operations. We appreciate the efforts of citizens who take the time out and inform us in time to give these distressed wild animals another chance to safely return to their habitat.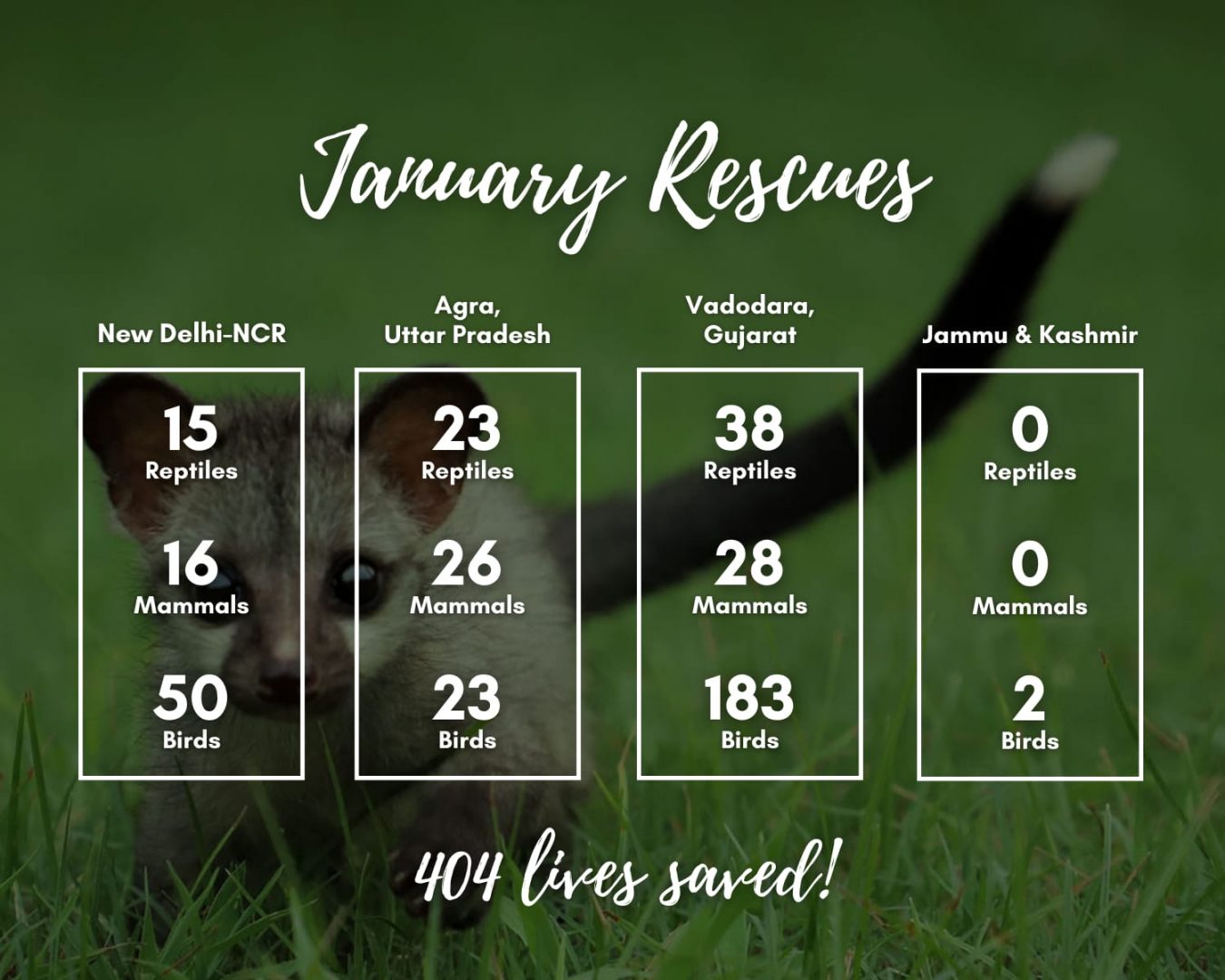 Every month, we receive hundreds of calls regarding urban wildlife in distress and January 2022 was no different. Wildlife SOS operates 24×7 emergency rescue helplines in the following cities:
Delhi NCR – +91-9871963535
Agra & Mathura in Uttar Pradesh – +91-9917109666
Vadodara, Gujarat – +91-9825011117
Jammu & Kashmir – +91-7006692300, +91-9419778280
If you come across any wild animal in distress, please alert our rescue team on these numbers at the earliest!