January came as a whirlwind for our Rapid Response Unit. The new year began with a barrage of rescue calls that kept the team members on their toes. Here are some of the rescues conducted across the Delhi-National Capital Region (NCR), Agra, Gujarat, and Jammu and Kashmir in the first month of this year.
Delhi-NCR
In January, Delhi transforms into a canvas painted with the chilly hues of winter. Amidst all this, some of the wildlife made its presence felt in unexpected places. A medical store owner at Shri Aurobindo Marg was stunned to see that his store was occupied by a golden jackal that had wandered into it presumably from the nearby Ridge area. Our team reached the spot and identified the jackal as a young male that had sustained minor injuries on the stomach, presumably during an attack by a dog. Our veterinary officers provided effective treatment to the jackal, before it was declared fit to be released back into the wild.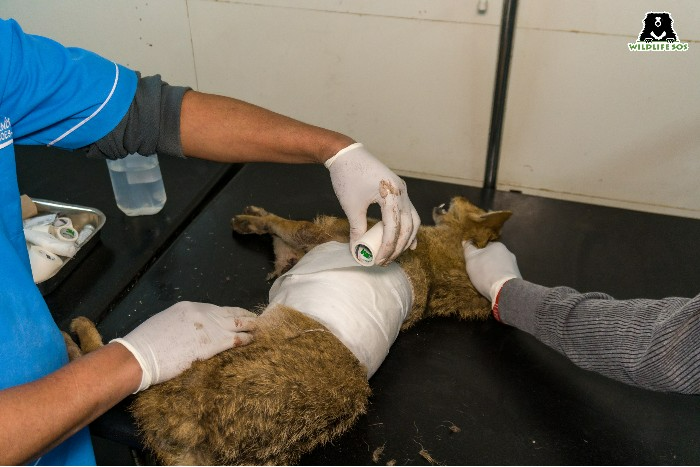 In another incident, a civet with an injured jaw was discovered sitting on a doormat outside an office in Shahpur Jat. A gentleman from the office staff reached out to Wildlife SOS, mistaking it to be an odd cat. The civet was rushed to a transit facility for medical treatment and was later released when deemed fit.
Another civet was rescued by Wildlife SOS from the Parliament House! The small Indian civet is a nocturnal animal. Due to their highly adaptable nature, civets can dwell in human habitation within drainage pipes, and, if accessible, can even in the dark parts of a building!
The team in coordination with Delhi Police also rescued an injured barn owl, a parakeet, a bat, and a crane soon after concerned calls were made to the Wildlife SOS hotline. Calls regarding kites and pigeons in distress also poured in from across the city. Overall, the Delhi-NCR Rapid Response Unit was able to rescue a total of 45 birds, 4 reptiles, and 28 mammals in the month of January.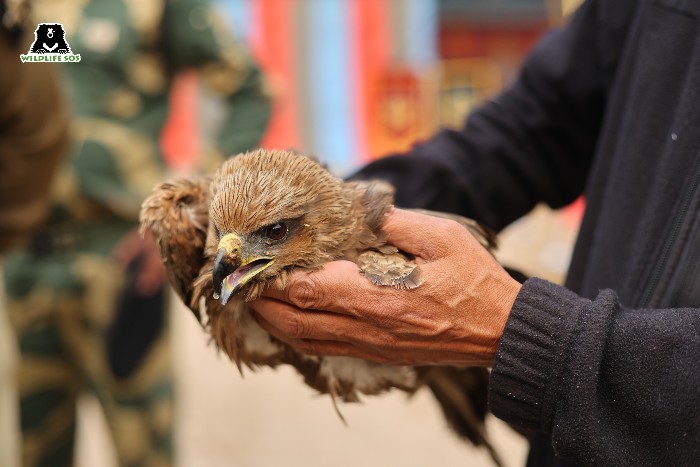 Agra
Agra experiences low temperatures in the month of January. Despite the chill, the team remains ready to tackle various rescue operations. Agra in January recorded the rescues of 383 animals, including reptiles, birds, and mammals. Of these, the number of reptiles rescued was the highest at 331. Among them were 298 Indian flapshell turtles and Indian softshell turtles that were saved from Kosma Musalmeen village in Uttar Pradesh's Mainpuri district through a joint effort with the Uttar Pradesh Forest Department. These turtles were brought to the Wildlife SOS centre for medical examination. After a green signal by our veterinary officers, the turtles were released into the Soor Sarovar bird sanctuary.
Additionally, Wildlife SOS rescued various other reptile species that included Indian rock pythons, Indian rat snakes, spectacled cobras, wolf snakes, monitor lizards, a checkered keelback, and common kraits.
Among the birds rescued were sarus cranes, Egyptian vultures, Indian peafowls, black kites, Indian rock pigeons, rufous treepies, and shikras. In all, 23 avians were rescued in January.
The number of mammals rescued in the same month was 29, which included Indian gray langurs, blue bulls, civets, rhesus macaques, hog deer, spotted deer, and a leopard.
Vadodara
Meanwhile, in the western part of the country, the Wildlife SOS-GSPCA (Gujarat Society for Prevention of Cruelty to Animals) team was working tirelessly to resolve the several rescue calls that were coming in. The team rescued a whopping number of 129 birds in January.
Timely calls on the rescue helpline enabled the team to rescue and safely relocate 19 non-venomous snakes and 9 venomous snakes. The Wildlife SOS Vadodara team also conducted a snake awareness programme to spread awareness of these highly misunderstood and mythicised reptiles.
The team also conducted raids in January that resulted in the rescue of 11 parrots, 3 turtles, 1 Nilgai, and 2 owls from wildlife trafficking. In all, the Wildlife SOS and GSPCA together rescued a total of 207 animals in January from across the state of Gujarat.
Jammu and Kashmir
As the frigid air settled in over the picturesque valleys and snow-capped mountains of Jammu and Kashmir, the number of rescue calls in January were expected to be lower than usual. However, the helpline brought in calls for birds in distress. The Jammu and Kashmir team rescued 2 barn owls and 1 kite in the first month of the year.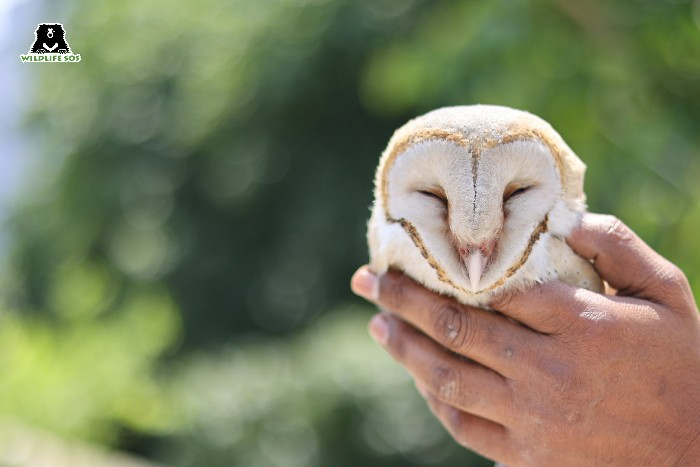 Every month, Wildlife SOS carries out numerous rescues of birds and wild animals. In January 2023, Wildlife SOS also collaborated with the Eco Rescuers Foundation to host and fund a free Bird Treatment Camp in Jaipur. The camp was set up during Makar Sankranti, a festival during which bird casualties are at an all-time high due to rampant kite-flying. We successfully treated many birds during the camp, including rock pigeons, a black kite, a common swift, a red-wattled lapwing, and a barn owl.
If you come across any bird or animal in distress, please reach out to us.
Wildlife SOS operates 24×7 emergency rescue helplines in the following cities:
Delhi-NCR – +91 9871963535
Agra and Mathura, Uttar Pradesh – +91 9917109666
Vadodara, Gujarat – +91 9825011117
Jammu and Kashmir – +91 7006692300, +91 9419778280