Every month, we receive hundreds of calls regarding urban wildlife in distress. Wildlife SOS operates 24×7 emergency rescue helplines in three cities:
Delhi NCR – +91-9871963535
Agra & Mathura in Uttar Pradesh – +91-9917109666
Vadodara, Gujarat – +91-9825011117
If you come across any wild animal in distress, please alert our rescue team on these numbers as soon as possible!
July in North India means soaring temperatures, making everyone run helter-skelter for shelter and relief. Needless to say, this is the time when animals seek shelter too, often by coming out of their natural habitat and being spotted frequently by residents. Our rapid rescue units have been dealing with such emergency calls all through July, especially for reptile sightings.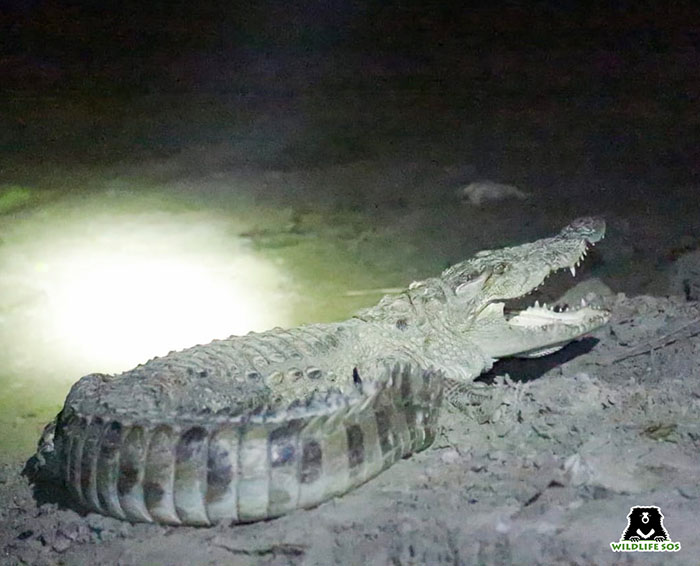 Human-crocodile conflict has been on a consistent rise in Gujarat, which is why our team has been actively attending to such distress calls. A nearly 8-feet-long mugger crocodile was spotted near the road, next to a pond in Dumad village in Vadodara. The concerned and panicked residents reached out to the Wildlife SOS-GSPCA helpline number and a team of 3 members, along with the Forest Department reached the location with the necessary safety gear. The crocodile was rescued and released back to its natural habitat, away from any human habitation the next morning.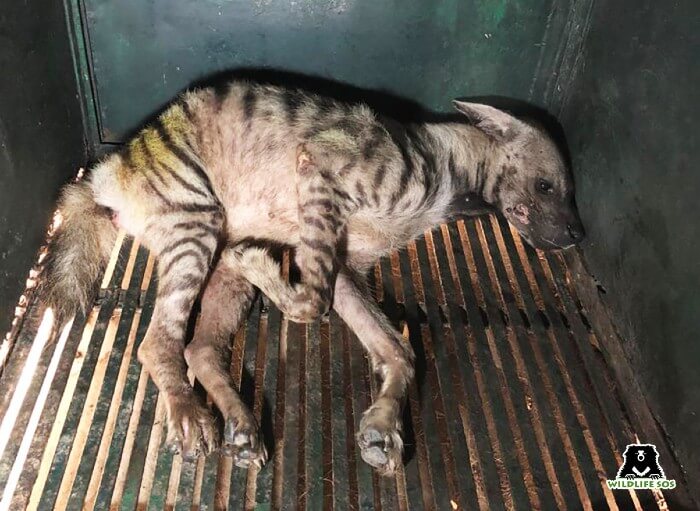 An adult female Hyena was left struggling for her life after being hit by a speeding vehicle. A concerned passer-by found the animal lying in an unresponsive state in a field and immediately contacted the local government authorities and Wildlife SOS for help. With necessary rescue equipment and protective gear in hand, three member of our Rapid Response unit along with forest officers rushed to Bhilawali village, in Agra. The hyena was found with hindquarter paralysis that restricted its movement for which she needed immediate treatment and pain management. She was shifted to the intensive care unit of the Hospital for necessary treatment by our veterinary team.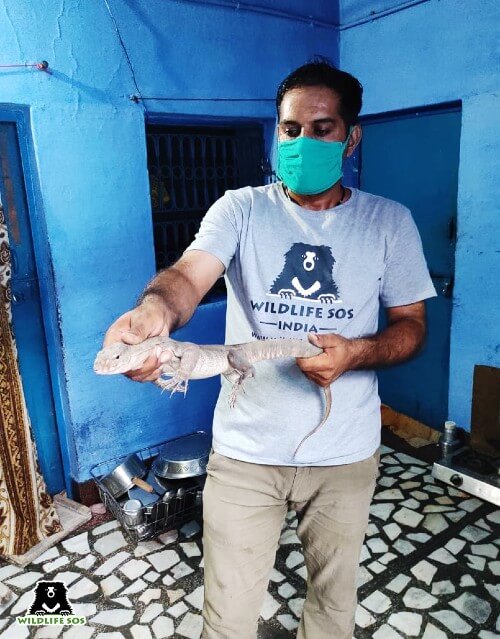 For one consecutive week, our team in Agra responded to over 18 calls for reptile sightings in and around the city! A five-foot long Indian Rat snake was rescued from a marriage hall in Pushpa Farm, Dayalbagh, Agra. Seeking respite from the heat, the snake had taken shelter inside an air cooler. The Wildlife SOS rescuers carefully extricated the snake and transferred it to a snake bag. Meanwhile, a few kilometres away in Mathura, a five-foot-long Cobra and an Indian Wolf snake shocked occupants of a house in Piproth village located in Raipura Jat. Both snakes were found resting between the grooves of a brick boundary wall and were safely rescued by the Wildlife SOS team.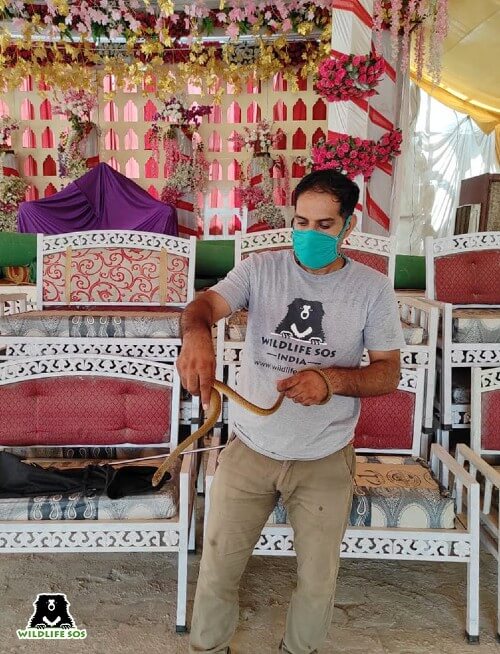 Our rescue team from Delhi rushed tot he rescue of an Indian Rat snake that was entangled in garden netting. This has been a common sight for the team from the past few weeks in houses with huge, open verandahs wherein snakes get trapped and dangerously entangled in wire mesh. In a struggle to free themselves, the netting only gets tighter, causing the snake great discomfort and putting them at a risk of injuries and asphyxiation.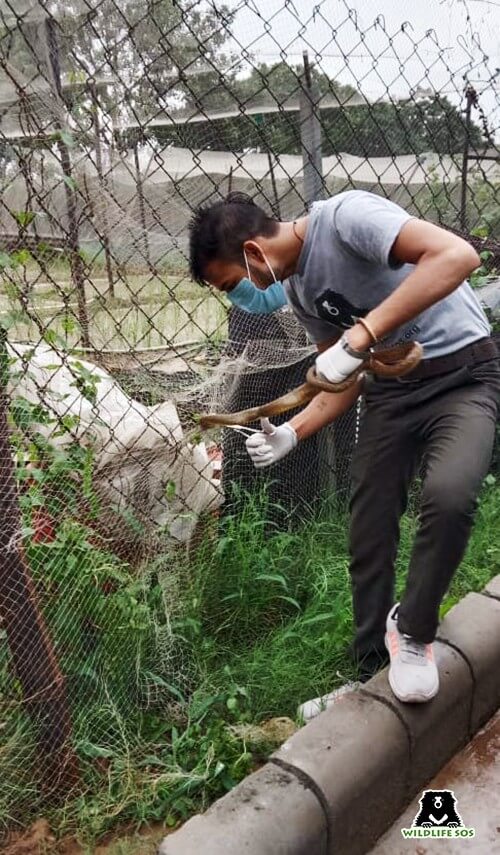 In another incident from Chhatarpur, Delhi, a family decided to investigate why their air conditioner was not working and were stunned to find a two-foot long Indian Rock Python resting in the unit. They immediately reached out to the Wildlife SOS rescue helpline number and a two-member team reached the location to carefully extract the python, which took nearly an hour! After detailed examination for injuries, the snake was released back to its natural habitat away from human habitation by our team.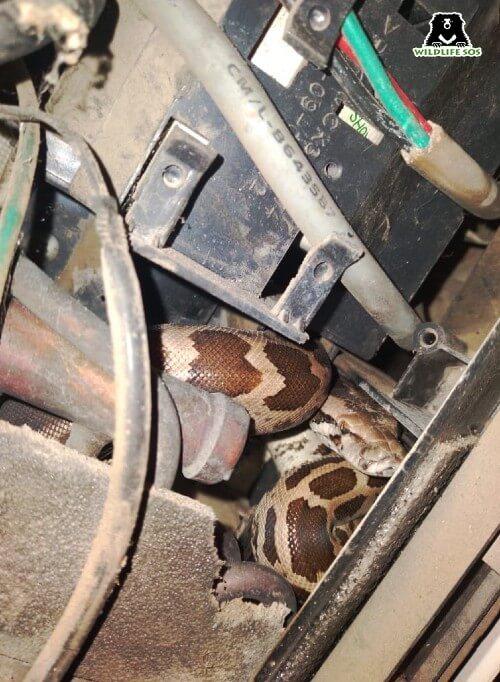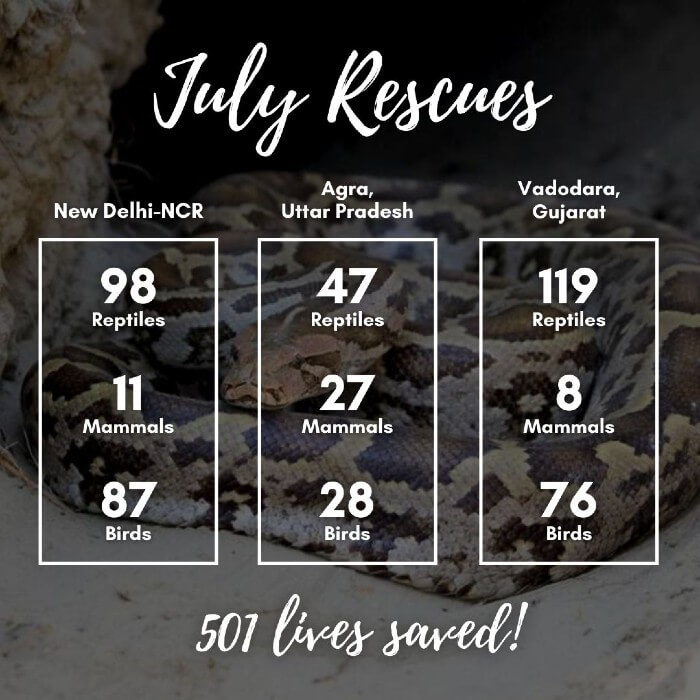 Our team saved a total of 501 animals in the month of July!