The dedicated team at Wildlife SOS continues to remain hard at work to mitigate human-animal conflict to the best of their abilities. There is no shortage of instances where the paths of humans and wild animals have overlapped and every month, we receive multiple calls on our 24×7 helpline numbers about such encounters. This month was no different! Here, we highlight some interesting rescues that our Rapid Response Unit undertook in the month of July.
Delhi NCR
Numerous animals struggle to find shelter in concrete jungles. Our Rapid Response Unit in Delhi rescued 182 animals in July alone! Given the heavy rainfall, the Wildlife SOS helpline number was flooded with calls about reptiles that had ventured into human-dominated habitats. Snakes were rescued from the most unexpected places — a Common Sand boa from a parking lot, an Indian Wolf snake stuck on a gate, an Indian Rat snake on a flyover, and another one that was entangled in a synthetic net!
Monitor lizards, too, made appearances in unusual places such as a shop, construction site, water tank, and even inside a house! Several Spectacled cobras were rescued from residential complexes across the city. A Nilgai calf was also rescued by our team after it was injured by a pack of feral dogs in West Delhi. Subsequently, the antelope was shifted to our transit facility for treatment.
Agra and Mathura
With a total of 244 rescues in July, our Rapid Response Team based in Uttar Pradesh safely rescued 39 reptiles, 28 mammals and 167 birds. Heavy downpours across the state led to numerous reptiles struggling to find shelter. The Indian Wolf snake was the most commonly rescued reptile, followed by the Bengal Monitor lizard.
Not one, but two Monitor lizards paid a visit to the Juvenile Justice Board located in Sirauli, Gwalior Road, Agra! They were safely rescued by our team and later released back into the wild. Soon after, the rescuers received a call on our helpline from the district jail about a snake in a wall opening inside the premises. Upon investigation, the team confirmed it was a venomous Common krait and extricated the distressed reptile.
Our team also rescued a 5-foot-long Mugger crocodile wandering the streets of Nangla Chattu village in Firozabad district! Panicked locals immediately contacted the forest department, who called Wildlife SOS for reinforcement. As a large crowd gathered around to catch a glimpse of the crocodile, our team safely rescued the reptile. Once deemed fit by our medical team, it was released into a suitable freshwater body nearby. It was speculated that the crocodile made its way into the agricultural field through a canal.
In collaboration with the forest department, our team also rushed to the rescue of several primates that were illegally kept as pets. From Rhesus macaques to Grey langurs, the animals were kept in harsh and neglected conditions.
Gujarat
The Wildlife SOS-Gujarat Society for Prevention of Cruelty to Animals (GSPCA) team rescued a total of 238 animals in July — including venomous and non-venomous reptiles, birds like owls and peafowls, and mammals. Vadodara is home to the 'Big 4' venomous snakes of India, which cause a scare amongst the public. Our team frequently rescues these snakes from residential and commercial regions.
As the monsoon season brought heavy rains, Vadodara became a haven for crocodiles. In such a situation, our rapid response team rescued five Mugger crocodiles — with one of them measuring 11.5 feet long! These massive reptiles indeed create panic amongst the public and hence are safely lured into trap cages to be released back into the wild.
In the month of July, the team conducted raids to seize animals that were being traded illegally. In these intense operations, our team, along with the Gujarat forest department rescued three owls, macaques, parakeets, and even caught hold of tiger skin! Subsequently, the perpetrators were also arrested under the Wildlife (Protection) Act, 1972.
Jammu and Kashmir
The Wildlife SOS team based out of Jammu and Kashmir successfully rescued 16 animals in July! Nine reptiles, one mammal, and six birds were rescued from unique circumstances.
A family located in the Shalteng area of Srinagar stumbled upon four abandoned baby Barn owls in their backyard and immediately dialled our helpline numbers. To provide them with care in absence of their mother, our team rescued them and is currently tending to them until they are fit to be released!
In another instance, a Black kite was found lying still on the ground by a resident of Rawalpora region. Concerned for the raptor's safety, the individual contacted our Rapid Response Unit, which reached the spot in the nick of time. The bird was found with a wing injury and is currently receiving treatment from our veterinary staff.
Of the nine reptiles, the team rescued one venomous Levantine viper, five Indian Rat snakes and three Himalayan Trinket snakes from human-dominated landscapes. Our team works extensively throughout the union territory to raise awareness about wildlife, especially snakes, since they are often the most misunderstood creatures. As a result, these reptiles are met with fear and hostility and even end up getting injured. Fortunately, in the instances that we encountered, citizens called our helpline and assisted our team to handle such delicate rescue operations.
Maharashtra
In collaboration with the forest department, the Wildlife SOS team in Maharashtra rushed to rescue a male leopard who fell victim to a road accident. Our teams provided the big cat with an on-site medical examination and emergency treatment. He was given fluid therapy and antibiotics to stabilise his health. The animal was in need of critical care and was hence moved to the Manikdoh Leopard Rescue Centre. Our veterinary staff suspected hind limb paralysis due to nerve damage. Unfortunately, the animal succumbed to his extensive injuries.
Together, the two teams also came to the aid of a Golden jackal that was trapped inside a 50-foot-deep open well in Kusur Village of Pune. The sub-adult canid was spotted in the well by villagers when they decided to contact the forest department and Wildlife SOS. Cautiously, our teams lowered a pole to help the jackal, who was clinging to a motor pipe, struggling to remain afloat. Timely intervention saved the animal's life, and he was released back into the wild after a medical assessment.
You can help us make a difference by signing our petition against open wells. If you wish to contribute towards this cause, please click here.
Wildlife SOS operates 24×7 emergency rescue helplines in the following cities:
Delhi NCR – +91 9871963535
Agra & Mathura in Uttar Pradesh – +91 9917109666
Gujarat – +91 9825011117
Jammu & Kashmir – +91 7006692300, +91 9419778280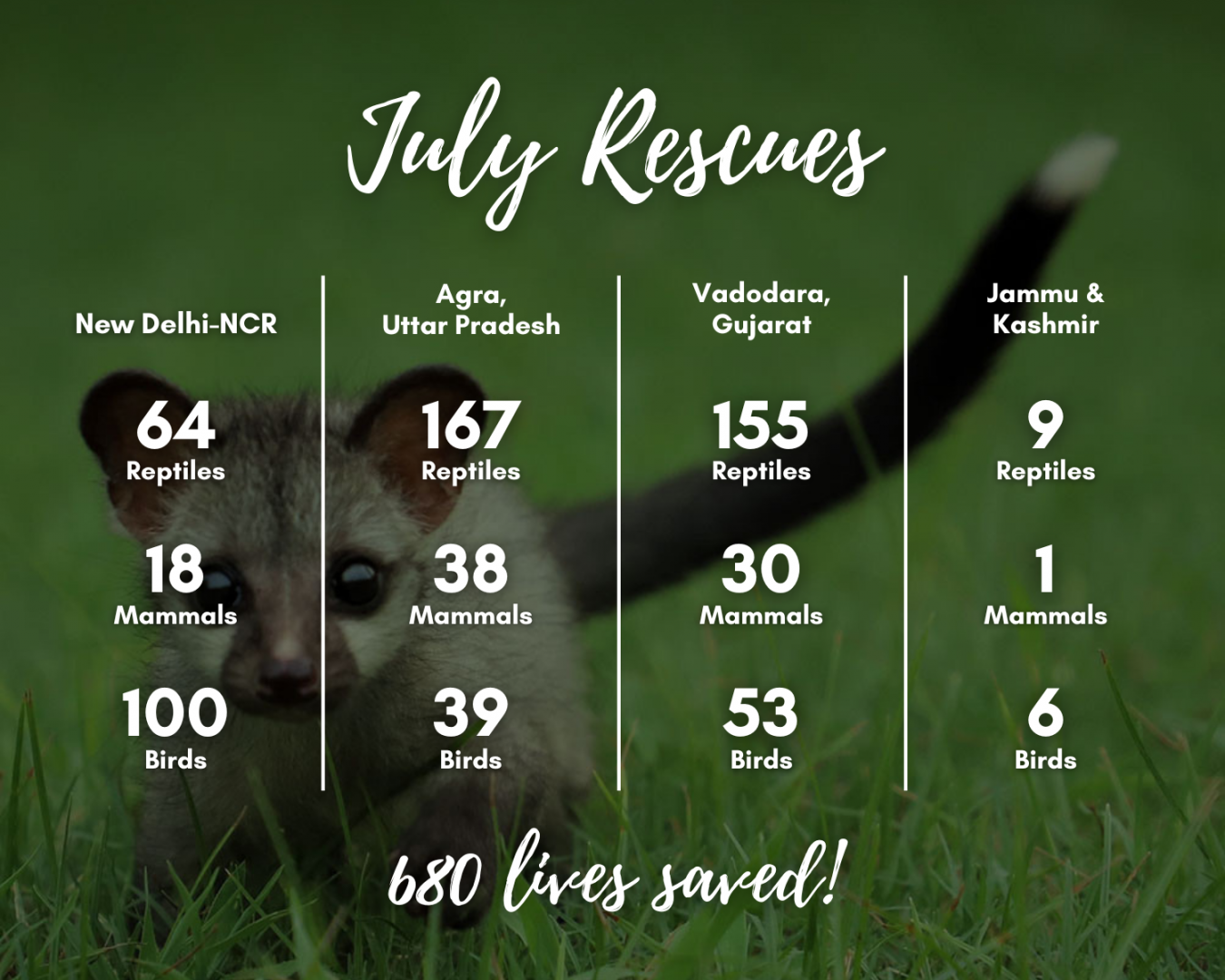 If you ever come across any distressed wild animal in these regions, do alert our team on these numbers at the earliest!