The ever prevalent dichotomy between the urban and the natural jungle always keeps our rescue teams busy, and the month of October was nothing different.
The Delhi Rapid Response Unit was on its toes and engaged in some thrilling rescue operations across the National Capital.
Snakes are a common sight throughout the NCR but not so much for a family residing in New Delhi's East Punjabi Bagh, when they spotted a 3-foot-long venomous Common Krait comfortably resting under their living room sofa. Our rescue team reached the location very swiftly and carefully transferred the highly venomous snake into a transportation carrier, much to everyone's relief.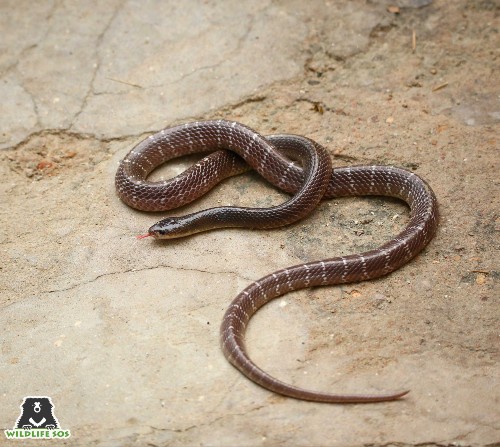 Common Kraits are nocturnal in nature so they venture out at night for food and prey. Due to the rapid depletion of their natural habitat, they enter human-dominated landscapes where they're met with fear and hostility. A classic example of this was when our rescue team received a call from JNU (Jawaharlal Nehru University), where they rescued a baby Cobra near the girls' hostel.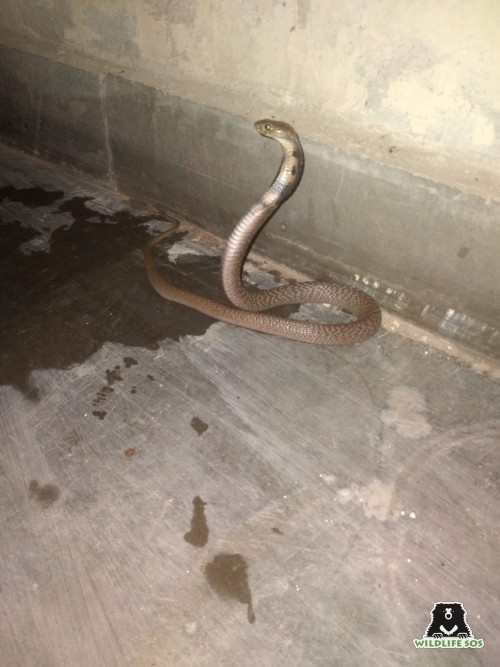 Not just snakes, our team also had to rush to the Siri Fort Sports Complex where they rescued a distressed kite that had fallen into the swimming pool. We managed to rescue a total of 49 birds and 83 reptiles for the month of October, in Delhi alone.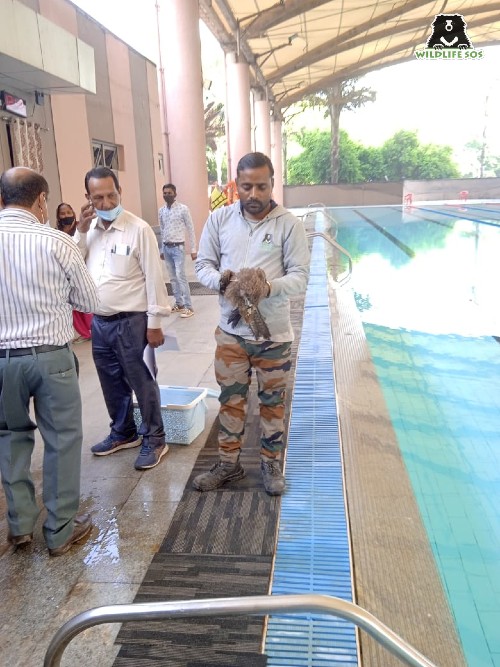 The Delhi team also carried out 23 mammal rescues for October. A specific case involving the rescue of a Golden Jackal in Bhatti Khurd, Chhatarpur shows telltale signs of animals suffering due to habitat fragmentation and encroachment. A two-member team arrived at the location and retrieved the jackal from an 8-feet deep unused water tank of a farmhouse. They used a ladder to reach the bottom of the tank and after an hour-long operation were finally able to rescue the animal. Found with no injuries, the jackal was safely released back into its habitat.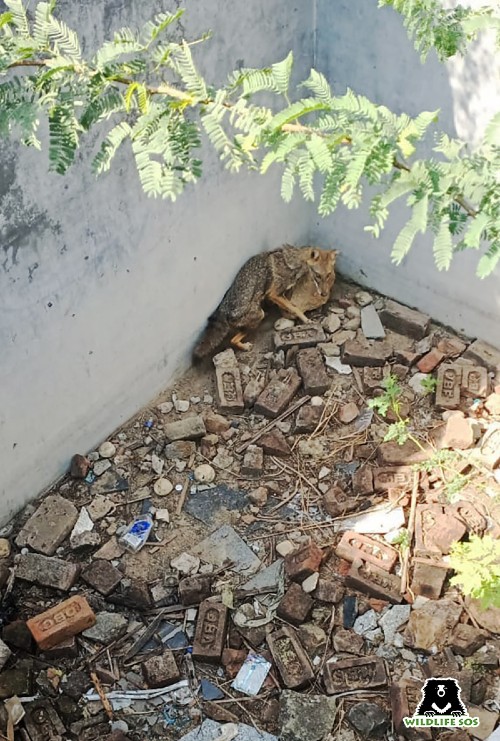 Meanwhile, our Agra team was also busy rescuing several animals that were caught in distress situations. In a very rare occurrence, two different types of snakes found at two different locations were rescued from inside cars! One of them was a 5-foot-long Indian Rat Snake found hitching a ride on the front seat of a car. Our team rescued the snake from Sikandra, Agra and later safely released it back into the wild.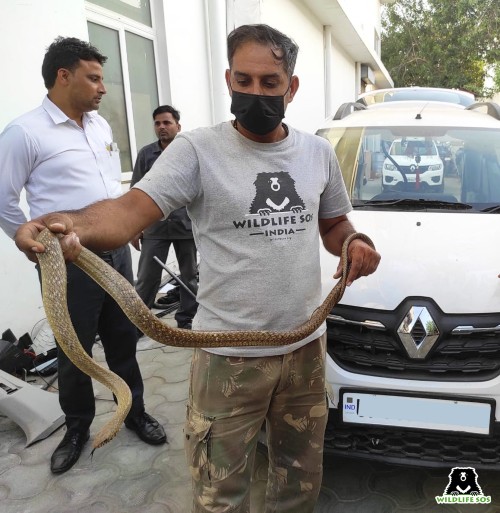 In another instance, the team rushed to the aid of a 6-foot-long Indian Rock Python in Sikandra, but this time from the car's bonnet. A three-member team arrived at the location with the necessary equipment but a large crowd had gathered around the car, which made the already dramatic rescue even riskier. Intelligently managing crowd control, the team proceeded very cautiously and was finally able to rescue the large python. A total of 43 mammal rescues, 26 bird rescues and 125 reptile rescues were conducted in Agra.
In the extreme west of the country, it was raining crocodiles for the Wildlife SOS-GSPCA (Gujarat Society for Prevention of Cruelty to Animals) team. A 7-foot-long Mugger Crocodile stirred panic in a residential colony next to Timbi Lake located in Ajwa Chokdi, Vadodara. After a 30-minute rescue operation by our team, the crocodile was handed over to the Waghodia Forest Department. In another unthinkable scenario, we received a call about the presence of a 4-foot-long Mugger Crocodile in a slum near Lalbaug. The rescue team carried out the extrication with near perfection, transferring the crocodile into an animal transport vehicle.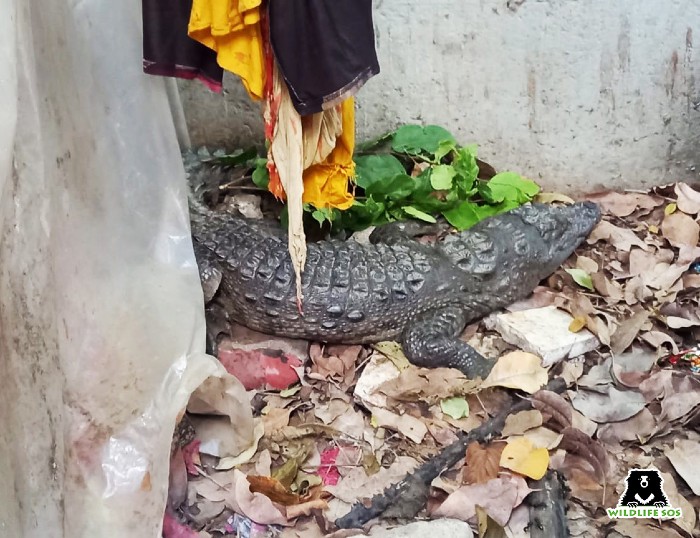 The Vadodara team successfully rescued 87 snakes, 9 crocodiles, 8 monkeys and 40 birds among others, for the month of October.
Lastly, our Jammu & Kashmir center also had a busy time saving snakes. The team rescued a Levantine Viper from outside the United Nations office. Another Levantine viper was rescued from a residential area where kids were seen playing and they had a very narrow escape. It was a tricky rescue because the snake had taken up shelter inside a stack of wooden logs, but the team was successful in carefully extricating it. Wildlife SOS' expertise on snakes led to the rescue of 9 snakes, in addition to a Black Kite as well, taking the total number of rescues for the month to 10.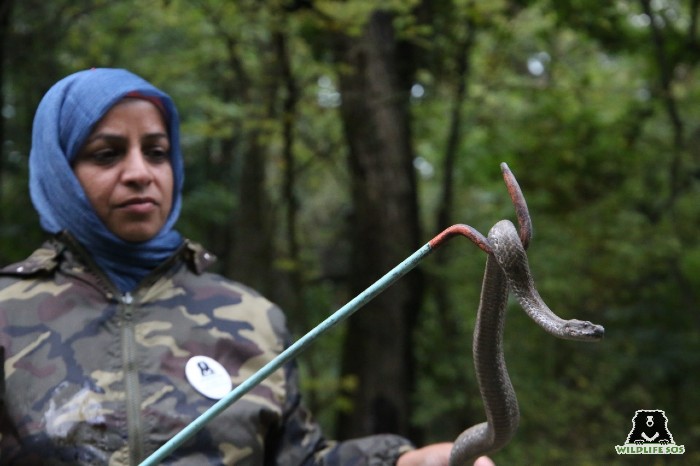 None of this would have been possible if concerned citizens had not taken time out to inform us. We thank you for your constant support in creating a world where all animals can thrive.
Every month, we receive hundreds of calls regarding urban wildlife in distress. Wildlife SOS operates 24×7 emergency rescue helplines in four places
Delhi NCR – +91-9871963535
Agra & Mathura in Uttar Pradesh – +91-9917109666
Vadodara, Gujarat – +91-9825011117
Jammu & Kashmir – +91-7006692300, +91-9419778280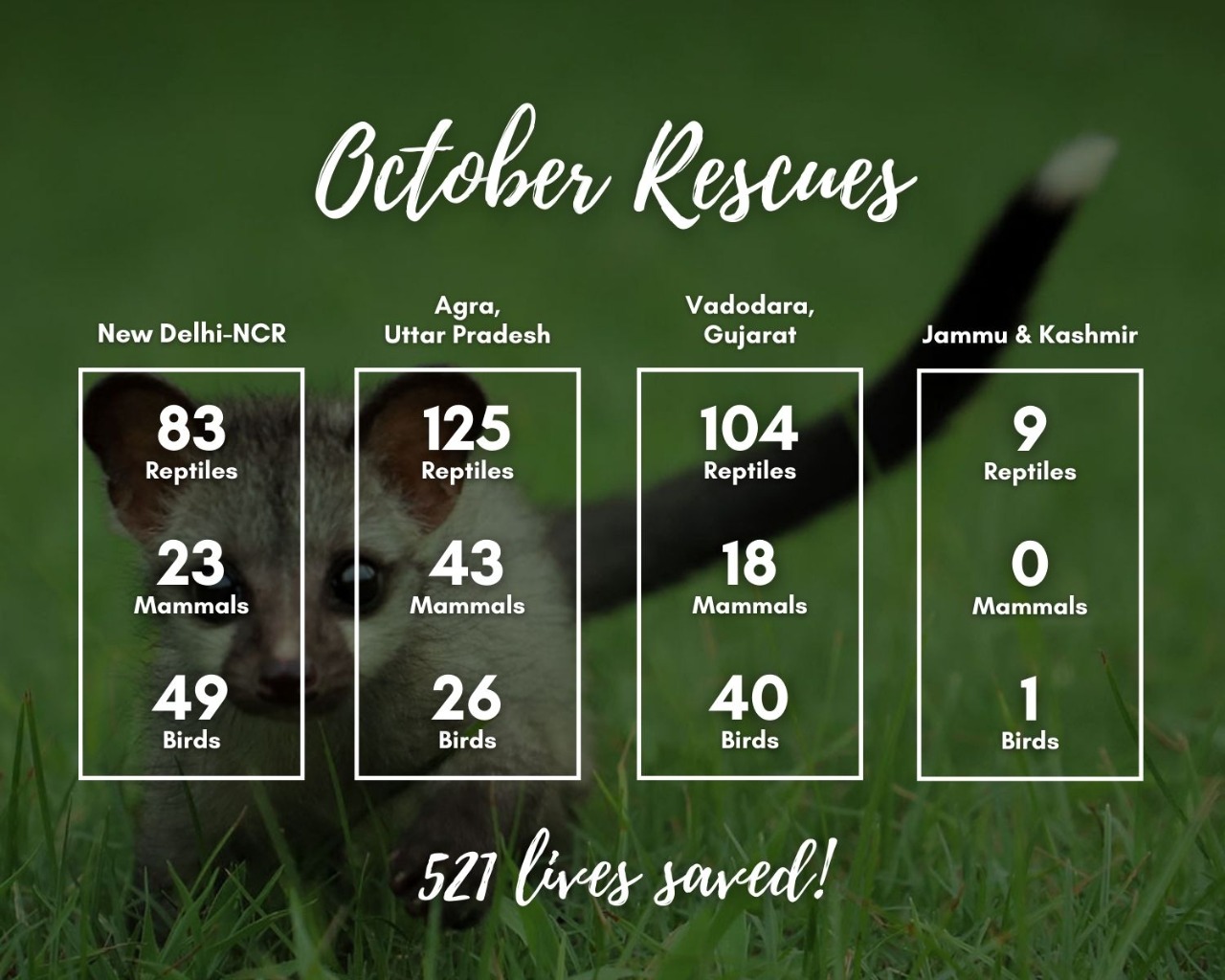 If you come across any wild animal in distress, alert our rescue teams on these numbers as soon as possible.