India is known for a multitude of things – its rich culture, history, scenic destinations, and welcoming people. A lesser-known fact about this incredible country is that India is the 2nd largest producer of sugarcane globally, right after Brazil! This significant cash crop is the primary source of sugar for India. It is also a form of renewable agricultural resource that gives us biofuel, fertilizer, and numerous other ecologically sustainable products. The state of Maharashtra is the second-largest producer of sugarcane in India, with most of its rural population engaging in sugar cane harvesting from December to March. Wildlife SOS often finds itself in these vast sugarcane fields of Maharashtra; Not to enjoy some delicious sugarcane juice but to rescue the often overlooked wild citizens of the state – leopards.
Finding leopards in sugar cane fields is, in fact, a common occurrence throughout agriculturally dominated areas. The tall grass of sugarcane fields acts as a haven for leopards searching for food and shelter. Numerous female leopards even give birth under the refuge of tall sugarcane fields in hopes of keeping their young ones safe. Thus, as sugarcane harvesting season comes and the farmers begin cutting down these mighty crops, they commonly come across leopards, specifically, cubs, left in the field as their mother prowls for food.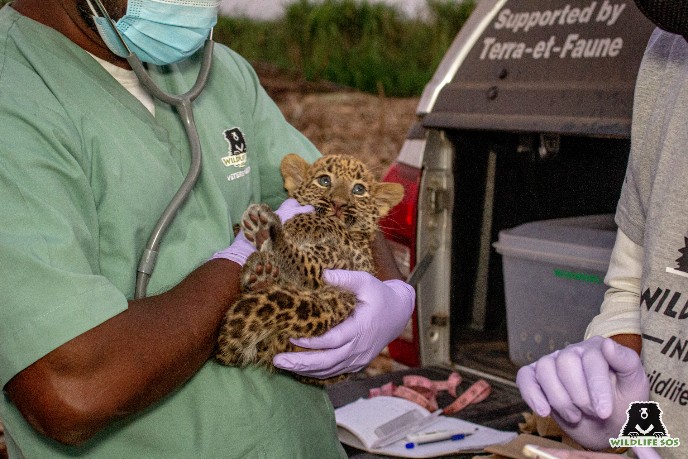 Recently, during the last weeks of November, the Wildlife SOS team operating out of the Manikdoh Leopard Rescue Center was called to Mangrul village to rescue two leopard cubs stranded in a sugarcane field. Located in the Otur forest range of Junnar division, Maharashtra, Mangrul village houses a mere 1000 or more people. The quaint village depends on agriculture for sustenance, mainly sugar cane farming. Accustomed to seeing leopards during peak harvesting season, sugarcane farmers acted out of empathy and compassion for the leopards and immediately contacted Wildlife SOS and the Forest Department.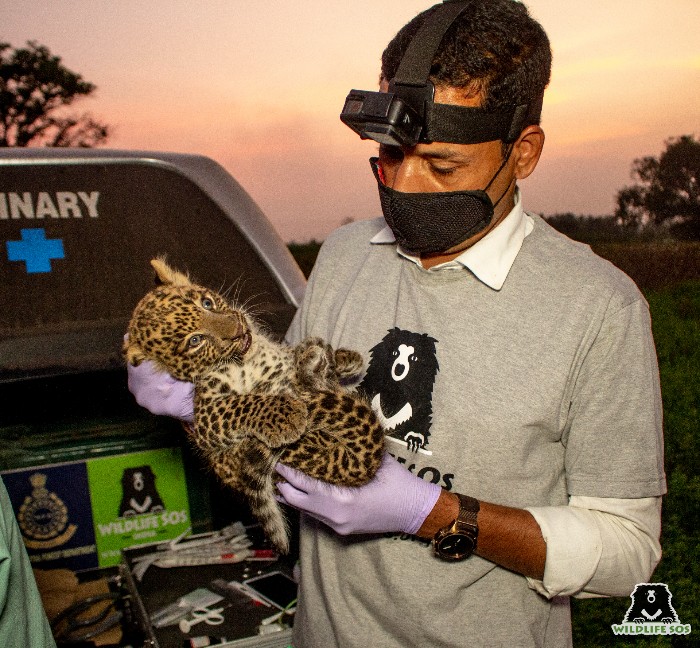 Our team always gears up for leopard cub rescues during this season and was thus promptly at the location. As a first step, Wildlife SOS veterinary doctor Dr. Nikhil Bangar conducted an on-site examination of the leopards to confirm their age and ensure that the cubs were not suffering from injuries or ailments. The cubs were found to be physically fit and identified as one male and one female, estimated to be about around two months old.
As the cubs were deemed fit, our team knew that they had to do whatever it took to reunite them with their mothers. The mother plays an integral role in the life of a leopard cub as she teaches her young ones how to hunt and survive in the wild. Thus, leopard cub reunions with their mothers are integral to ensure that they can continue thriving in the wild. This is an essential task in Maharashtra, a state with a steadily declining third-largest leopard population.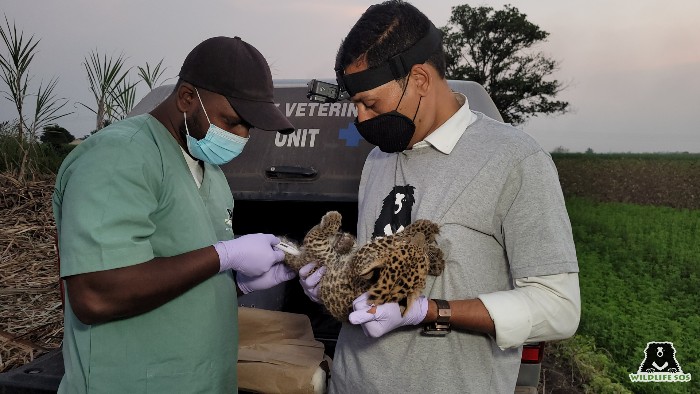 To ensure that these leopards could live a happy life, our team began searching for signs of the mother.   In such rescue cases, time is of the essence – the longer the time of separation between mother and cub, the higher is the chances of the reunion failing. On spotting a female leopard in the field, the cubs were kept in the exact location where they were found and were then reunited with their mother.
This was Wildlife SOS' second trip into a sugarcane farm in just one week! This successful reunion took place only days after three leopard cubs were reunited with their mother in Umbraj village, located in the Otur forest range of Junnar division, Maharashtra. The three cubs were also found in a sugarcane field. Due to the swift response of the villagers who spotted them and their judicious action of simply maintaining distance with the leopards until help arrived, the cubs were safely rescued and reunited with their mothers.