Wildlife conservation has long struggled to include indigenous people within its discourse. Intentionally or unintentionally, indigenous communities have been marginalised from the praxis of conservation, leaving them vulnerable to poverty and discrimination. At Wildlife SOS, we believe that our conservation efforts are most successful when both the concerned wildlife as well as the people directly involved with it are effectively rehabilitated. Thus, our efforts to conserve the Sloth bear population by bringing an end to the 'dancing' bear practice also centred around rehabilitating the Kalandars, a community that depended on taming Sloth bears for a living. Today, 13 years since the last 'dancing' bear was rescued, Wildlife SOS has provided over 3,000 Kalandar families with alternative livelihoods and over 8,000 Kalandar children with education support. The Kalandars have faced various challenges to their survival from poverty, lack of access to education, discrimination and so on. Determined to back the community through thick and thin, Wildlife SOS's Kalandar Rehabilitation Programme continues to expand and aid Kalandars in need.
Recently, the Wildlife SOS Kalandar Rehabilitation programme provided assistance to many from the Kalandar community in Rajasthan. Among them was education support to 456 Kalandar children, livelihood support to 14 families in Nagar Bharatpur district and a cycle to Rameen, a man from the Kalandar community who has formed a special place in the heart of the Wildlife SOS family!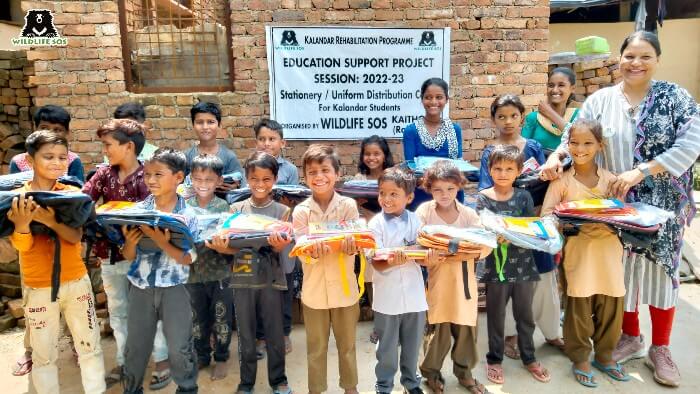 While numerous Kalandar children have been given access to education through enrollment in schools, they face challenges in continuing their education. Their families lack the finances to procure basic school supplies. To fill this cavity, Wildlife SOS conducts annual education camps where students are provided with all they need to continue their education.
Ms. Rakhee Sharma, head of the Kalandar Rehabilitation Programme – Wildlife SOS,  and her team had already ventured into the states of Haryana and Uttar Pradesh earlier this year, where 423 children were given support for their education. To continue this momentum, the team dedicated the month of August to revisiting the state of Haryana. Their itinerary consisted of five main pit stops, namely the villages of Tonk, Chaksu, Talera, Kaithoon and Atru. The Kalandars residing in these villages were intimately familiar with the work of Wildlife SOS, as many of them had been recipients of what our various programmes offered. Wildlife SOS recently aided Kalandars in Atru to access safe drinking water, while Tonk is now home to a sewing centre set up by Wildlife SOS.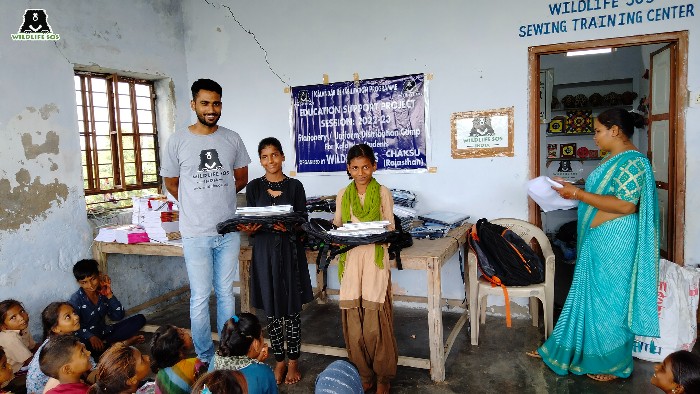 Thus, numerous Kalandar students eagerly awaited the arrival of the Wildlife SOS team. Camps were set up in each village through which students were given school supplies like bags, stationery boxes, uniforms, textbooks and notebooks. The children were overjoyed as they received all the supplies they needed to begin a new school year on a positive note.
These education drives also provide an opportunity for the Wildlife SOS team to assess the situation of Kalandar families and help them with any needs they may have. During an education camp in Nagar village of Bharatpur district, Ms. Rakhee Sharma identified 15 Kalandar families living in extreme poverty. Lacking a primary source of income, these families could not put food on the table. Moreover, many of the families lived in houses that lacked a concrete roof, creating an unsafe and unhealthy environment in their homes. Such families were provided with roofs, which gave them a sense of security. Others were given livelihood support to ensure they always had a stable income. Faisal Khan, a 35-year-old Kalandar who was unemployed, was given all the provisions he needed to set up a ground nut stall in his locality. Salman, Raj and Zuber from the community who had their own trinket stores were provided with sourced rings and gems to help uplift their sales.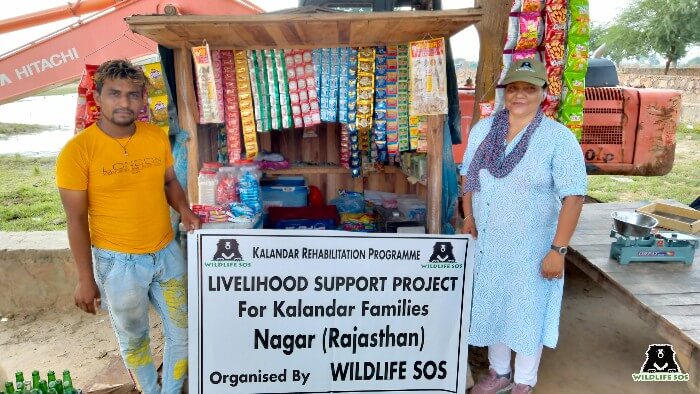 One Kalandar man developed a special relationship with the Wildlife SOS team. Rameen, his wife and three children live in a temporary tent near a sewage canal. In a quest to support his family and eventually provide them with proper shelter, Rameen goes from village to village as a magician, performing small shows with tricks for local children. After covering all neighbouring villages, Rameen hopes to go to farther towns and cities so that he can earn a larger stipend from his shows. However, he did not own any mode of transportation, and he could not afford the bus fares to travel as often. The lack of opportunities left Rameen and his family in a compromised situation — they did not have enough money to even feed their children.
Rameen expressed his anguish while interacting with the Wildlife SOS team: a cycle, he said, would allow him to travel places without incurring any additional cost. This would greatly help Rameen provide for his family and ensure that his children never have to go hungry.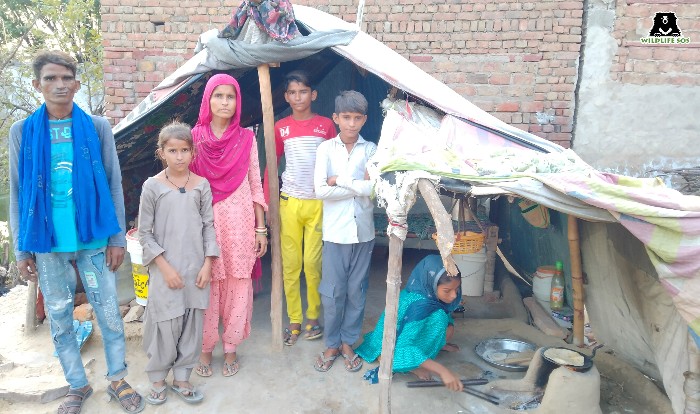 Understanding his plight, Ms. Rakhee Sharma arranged for a brand-new bicycle for Rameen. "I hope that now Rameen will be able to ride this cycle to many more places and earn money for his children," Ms. Rakhee said. Raman was overcome with gratitude for Wildlife SOS's assistance. "As much as it brought joy to Rameen, it brought happiness to me as well to know that such a small act could help Rameen and his family in such an important way. When I asked Rameen if he had anything to say to Wildlife SOS, he just folded his hands with tears in his eyes… He was so emotional that he could not even speak properly. This moment was very emotional for me as well," Ms. Rakhee added.
Over the years, the Wildlife SOS team has developed a bond with many like Rameen in the Kalandar community. These associations remind us that wildlife conservation will never be successful if people, specifically indigenous people, do not flourish. The assistance Wildlife SOS continues to provide to the Kalandar community is an integral aspect of conservation that we refuse to overlook. These programmes ensure that the Kalandars never have to rely on poaching wild animals to make a living.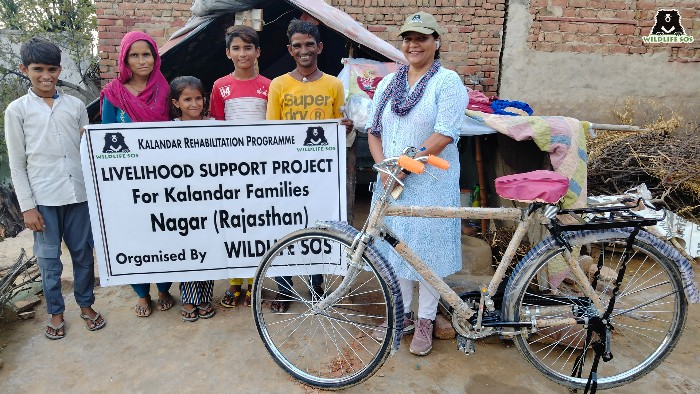 To contribute towards the Wildlife SOS Kalandar Rehabilitation Programme, please click HERE.