Recently a video of a captive elephant consuming pani puri on the streets of Tezpur in north-east India's Assam went viral. In the 35-second clip, the elephant is seen feeding on the famous fast food from a street vendor while a mahout is seen sitting atop the elephant. But this seemingly innocent and harmless video puts a garb on the unfortunate reality behind elephant captivity.
Addressing the Problem in the Video
The most apparent problem in the whole scenario is the presence of an elephant in the middle of a busy city road, but there's another one that is also quite disconcerting. An elephant eating a streetside snack is unnatural, and is not a part of the animal's natural diet. The video has gone viral for all the wrong reasons. People are missing the point that an elephant should not be walking on concrete roads, eating modified food such as pani puri that is only palatable to human beings. What is all the more worrying is that the elephant looks malnourished and seems to be consuming the unhealthy snack out of sheer hunger.
Comments have been pouring in on the post, where people were seen enjoying this seemingly 'adorable' moment. However, everything about this incident presents the conundrum right in front of us: elephants kept in brutal captive conditions away from their natural habitat. Currently, there are nearly 2,500 captive elephants living in India, who share the same unfortunate fate. Instead of getting a steady supply of their natural diet, sometimes they are forced to eat such fried fast food, usually given to them in the form of an 'offering' or 'alms'.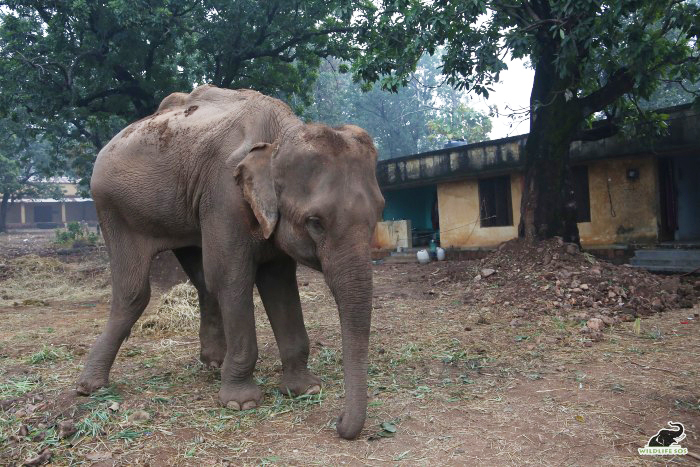 When in forests and natural settings, elephants feed on wild vegetation such as grasses, leaves, roots, small stems and barks from trees and short herbaceous plants. An adult elephant can consume up to 300-500 lb (136-250 kg) of food in a single day. But elephants who remain in harsh captive conditions do not even get essential nourishment such as water and basic fodder.
A Similar Story
In this context, one of the elephants rescued and rehabilitated by Wildlife SOS faced a similar situation as seen in this viral video – the only difference being that it was not a one-off instance. Laxmi was a begging elephant in the bustling city of Mumbai, India. Going from temple to temple, she was seen as an incarnation of the Hindu god – Lord Ganesha. The endless walking and the overbearing weight of a carrier caused severe physical distress to Laxmi, but what made it worse was the unhealthy diet that she was forced to survive on.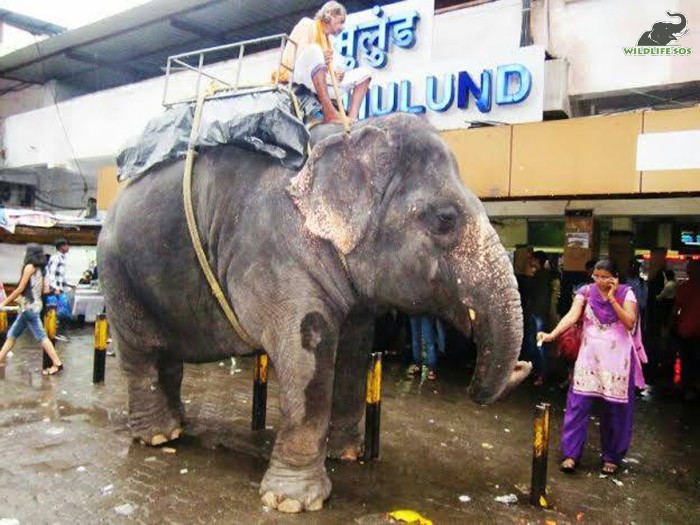 When we brought Laxmi to the Elephant Conservation and Care Centre (ECCC) in Mathura, she was suffering from obesity from being fed fried foods on a regular basis. Some of you might be familiar with this story but for those who aren't, Laxmi was fed as many as 200 vada pavs (Indian burgers) and sweet temple offerings every day. Unnatural components in an elephant's diet led to Laxmi gaining an abnormal amount of weight and reaching the level of obesity that caused acute stress to her joints. Laxmi was at the risk of suffering from pulmonary diseases as well. At the young age of 18, Laxmi was already suffering from a serious condition of osteoarthritis and exhausted joints. Keeping these in mind, our veterinarians planned a specialised diet chart for her which included green fodder such as sugarcane and chari (sorghum), and vegetables such as cauliflower, beetroot, cabbage, pumpkin and gourd. In fruits, there is nothing that Laxmi loves more than munching on bananas, followed by watermelons.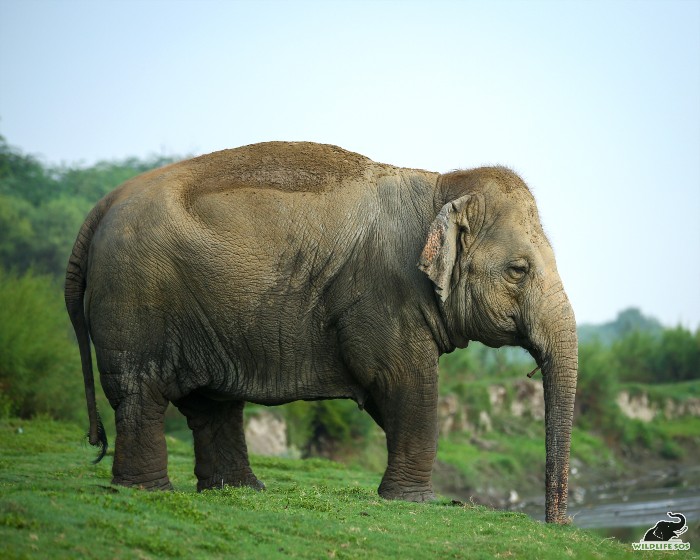 When we first heard about Laxmi, we knew there was an urgent need to rescue her before she met with an unfortunate fate. Tireless efforts over the years have made a positive difference to Laxmi's life. Today she is a much healthier elephant, majorly due to the expertise of our veterinarians, and the healthy and nutritious diet that they prepare for her.
Torment of Captive Elephants
The sad reality is that for most of their lives, captive elephants are forced to walk on unnatural surfaces like hot tarmac roads and subjected to regular beatings. There are various hazards to this practice, one of which is suffering severe injuries from getting hit by cars and trucks. For a very close companion of Laxmi, it was an accident with a speeding vehicle that changed Bijli's life forever. With no proper treatment rendered for her serious injuries, Bijli was left with a permanently damaged hind leg and tormenting memories of abuse.
Another case involving a horrible highway accident was of Bhola, when he was left battling for his life after being hit by a truck on a highway in Noida. Miraculously enough, both Bhola and Bijli were rescued by Wildlife SOS. These two elephants have spent over a decade under our care and have overcome their past trauma with remarkable resilience. With help from generous supporters, our caregivers and expert veterinary team, they have healed considerably, and are in a much better place. But not all elephants who remain in captive conditions share the same good fortune. Such incidents have happened numerous times, killing and maiming many elephants every year.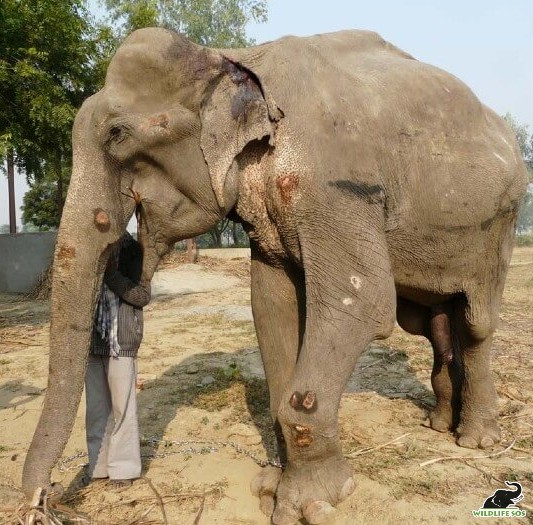 Many of the elephants rescued and rehabilitated at Wildlife SOS arrived with chronic infections from lack of medical care for cuts, burns and lacerations. Walking on roads also subjects them to sharp debris like rusted nails, shards of broken glasses, sharp stones, pebbles and metal scraps! This causes unimaginable pain and discomfort to their delicate foot pads, which are meant for the soft forest floor. While Laxmi suffered from the ill effects of consuming excessive detrimental food, the other Lakshmi under our care had faced a contrasting reality — she hardly got anything to eat while she was made to beg by her own captor. She was found completely emaciated with a protruding spine that was visibly clear, and was therefore called 'India's skinniest elephant'. Though they share the same name, both Lakshmi and Laxmi depicted opposite yet extreme consequences of the adversities they were subjected to.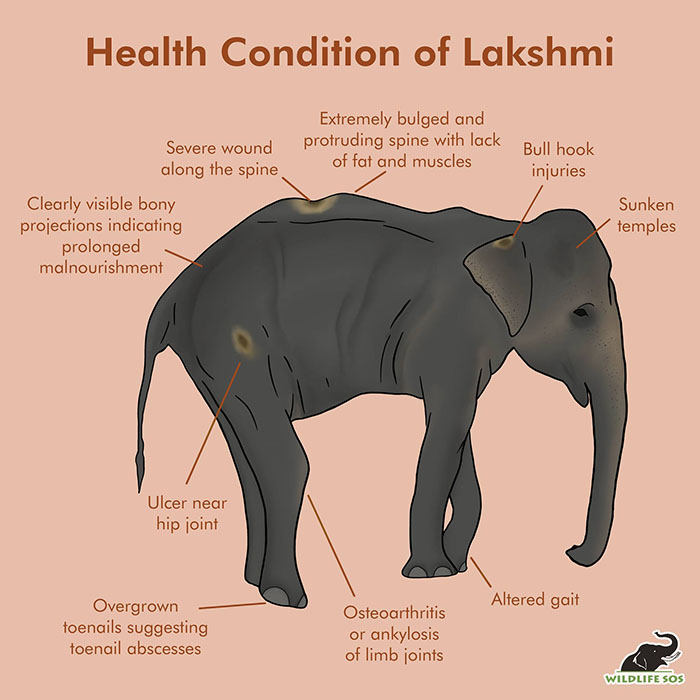 In the wild, elephants are constantly walking in search of food or water. They are completely aware of their daily feed intake and therefore don't face the issue of being overweight or underweight. But the walking should not be anywhere close to how we saw in the video that went viral. Wildlife SOS aims to create an environment as close to an elephant's natural habitat. Thus, daily and routine walks are an integral part of the care provided to the resident elephants at ECCC. You too can support the upkeep of our rescued elephants who have suffered due to their horrific past, by becoming a monthly donor for Wildlife SOS.