Making her way to the Yamuna riverside, blind Arya uses her trunk to trace the ground and carefully listens to the natural sounds around her. The excited chirping of birds and the soft current of the river water instantly calms her down as she lifts her trunk in delight. Zara, her dear companion and one of the youngest elephants under our care, responds with a soft rumble to let her friend know she is here.
However, Arya was seldom accustomed to the kindness and love that she is surrounded with at the Wildlife SOS Field of Dreams. As a blind begging elephant, her day was an endless routine forced to walk from one village to another, amidst blaring horns of trucks and tractors. In the peak summer months, she was forced to walk without water or food for hours at a stretch, her swinging, guiding trunk picking up litter scattered on the dry, asphalt roads, in the hope of some respite.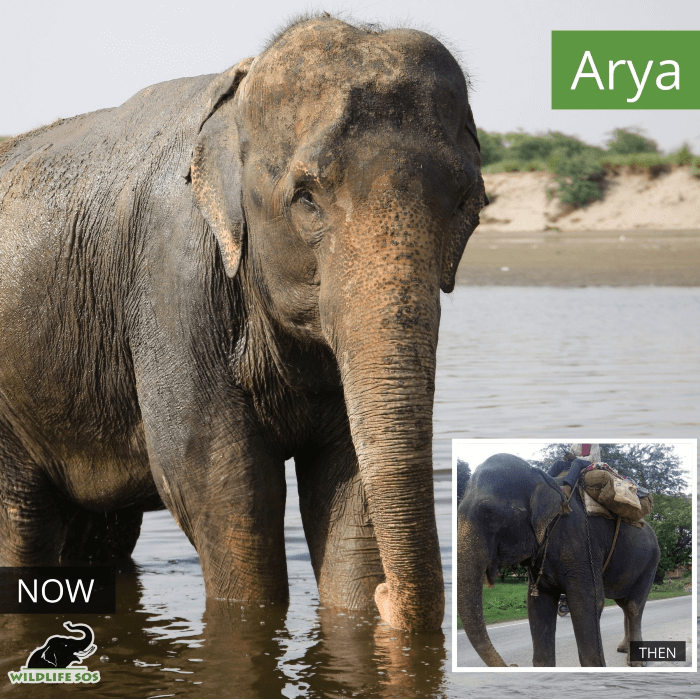 This strenuous ordeal left her weary and exhausted, and she was safely transferred to the Wildlife SOS Elephant Hospital for long-term care and treatment. Arya's medical assessment revealed that she was severely malnourished resulting in very poor body composition.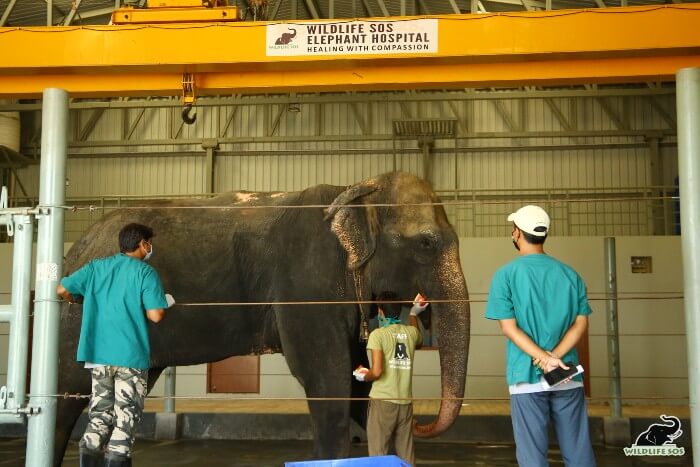 Upon further examination, our veterinary team noticed rope burn injuries on her hind limbs, implying that she was restrained tightly for long periods of time. There were lacerations along her spinal region due to an overweighing saddle, and was secured from under her tail.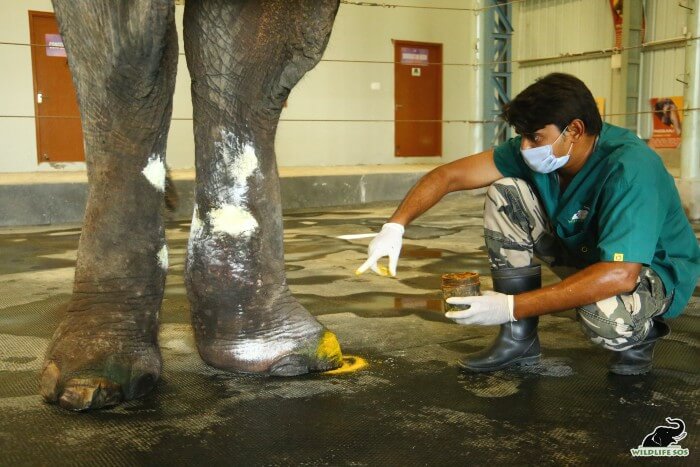 Since she was forced to walk during blistering summers, bone-chilling winters and torrential downpours, the rope would cut through her flesh, and she developed sores and infected wounds at the base of her tail. It was unfathomable as to how she was able to walk in such pain and discomfort. Needless to say, Arya stunned us with her strength and calm demeanour as the veterinary team attended to her condition.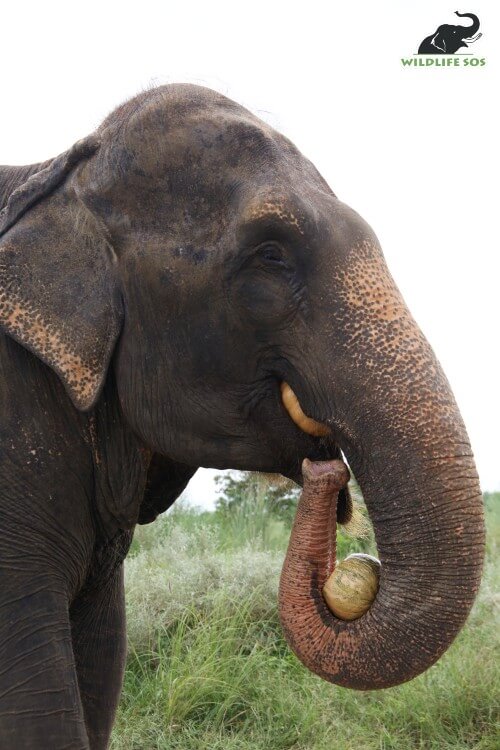 Like any other blind elephant, the initial days were challenging for her as she would refuse to rest and would wake up startled at any unfamiliar sounds. Our field team was alerted to not talk loudly or operate any vehicle around her enclosure while she settles, thus ensuring she is comfortable. As time passed, we saw her regain her strength – physically and mentally, especially when she munched on juicy watermelons and pumpkins.
While most of our elephants do not enjoy the bitter fruits, Arya never hesitates for multiple helpings of pumpkin and gourds. In Arya's company, Zara has also acquired a taste for these vegetables! Zara finds comfort in Arya's company as they go on long walks together and refuse to leave each other alone when it is time for bath! Their love for water keeps them joined at the hip as the duo loves playing in the Yamuna river or taking long, relaxing showers.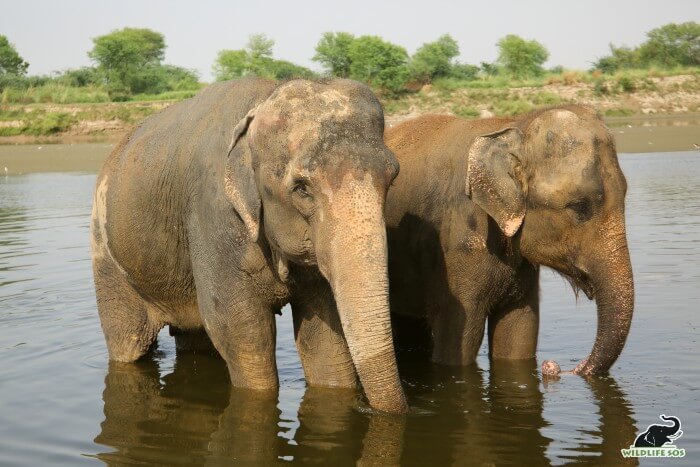 In the last one year, our veterinary team has managed to stabilize Arya's condition. She receives laser therapy massages for her arthritic limbs to alleviate the discomfort she faces. Her infected injury at the base of her tail has shown remarkable improvement and continues to remain under treatment. The rope burn injuries have healed considerably as she receives laser therapy massages to expedite healing.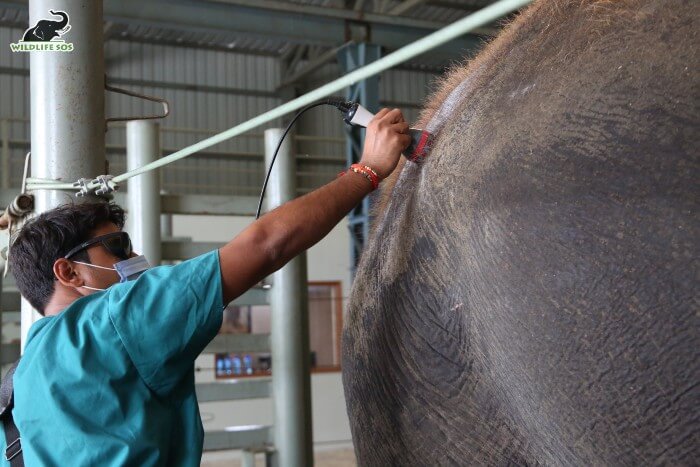 No longer forced to walk on unnatural surfaces, Arya carefully walks on the soft mud floors of the lush green surroundings of the Centre, with Zara. She never hesitates to pull out stalks of napier grass and munch on them heartily. She looks resplendent as she takes relaxing dust baths under the sun, often placing a stray bunch of grass sit atop her head like a hat.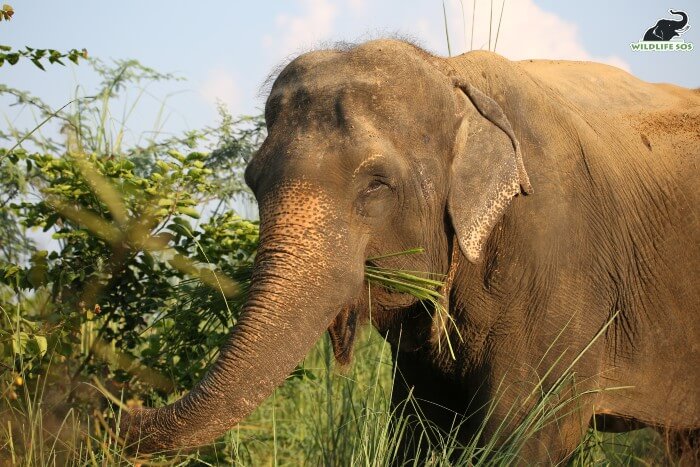 For blind, ageing elephants, such huge changes in surroundings and lifestyle are very challenging, especially when they are used to an unkind life and ill-treatment. Like every elephant who suffers this fate, Arya was anxious and worried as well but she chose to trust us to care for her – which is a moment to cherish for us.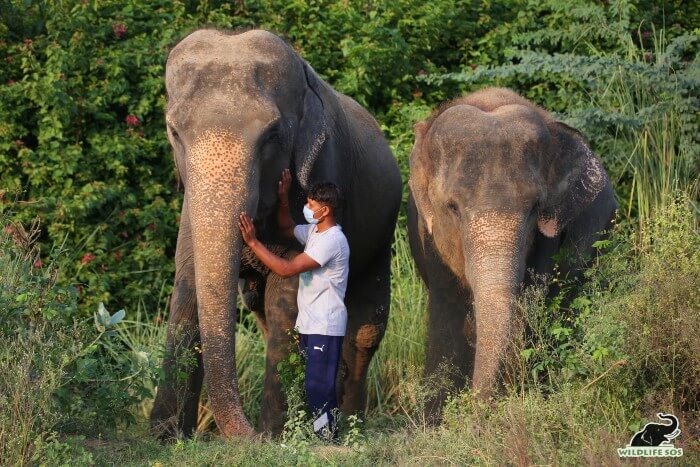 To mark Arya's first year of celebrations, what better an occasion than the Elephant Appreciation Day jumbo feast? Our elephant care staff combined the big celebrations and organized a delectable feast of fruits stacked on top of each other, making our elephants absolutely elated. While Zara wasted no time in gobbling down the huge helpings, Arya was slowly enjoying and devouring the feast, taking her time.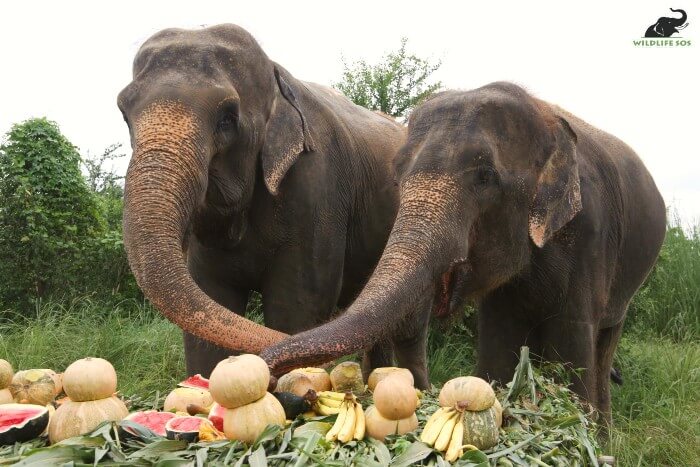 You can also consider becoming a monthly donor or a sponsor for our dear Arya and supporting her ongoing care and treatment with us.