Known for its picturesque landscape and sky-high mountain ranges, the union territory of Jammu and Kashmir is home to a myriad of wild animals and plants. Through the years, spreading awareness has led local inhabitants to gradually coexist alongside wildlife. However, there is one animal species that continues to be at the centre of conflict in this region — the Asiatic Black bear.
The species is listed as Vulnerable on the IUCN Red List. It is protected under Appendix I by CITES and Schedule I of the Wildlife (Protection) Act, 1972, however, the Asiatic Black bear still faces threats because of habitat loss, and the rampant commercial trade of live bears and bear parts.
Conflict with Humans
Although cryptic and shy, these bears are frequently involved in raiding crops and attacks on humans. In the last 20 to 30 years, due to various anthropogenic activities such as the expansion of agricultural practices, habitat fragmentation, human encroachment, and lack of awareness, the cases of conflict have significantly proliferated.
Bear attacks are defensive in nature and generally occur during surprise encounters. Three distinct reasons why these attacks take place are: Close proximity between humans and bears, the high density of bears in the area, and the reaction of humans in the presence of bears. For instance, in a fruit orchard, Asiatic Black bears often make their way in search of fruits, nuts, and branches. Those working in these fields tend to shoo them away, but it results in conflict and potential attacks.
Research by Wildlife SOS
While research on other bear species around the world is abundant, studies are lacking when it comes to Asiatic Black bears. While attacks by them are considered to be 'rare', locals in Jammu and Kashmir have frequently encountered them.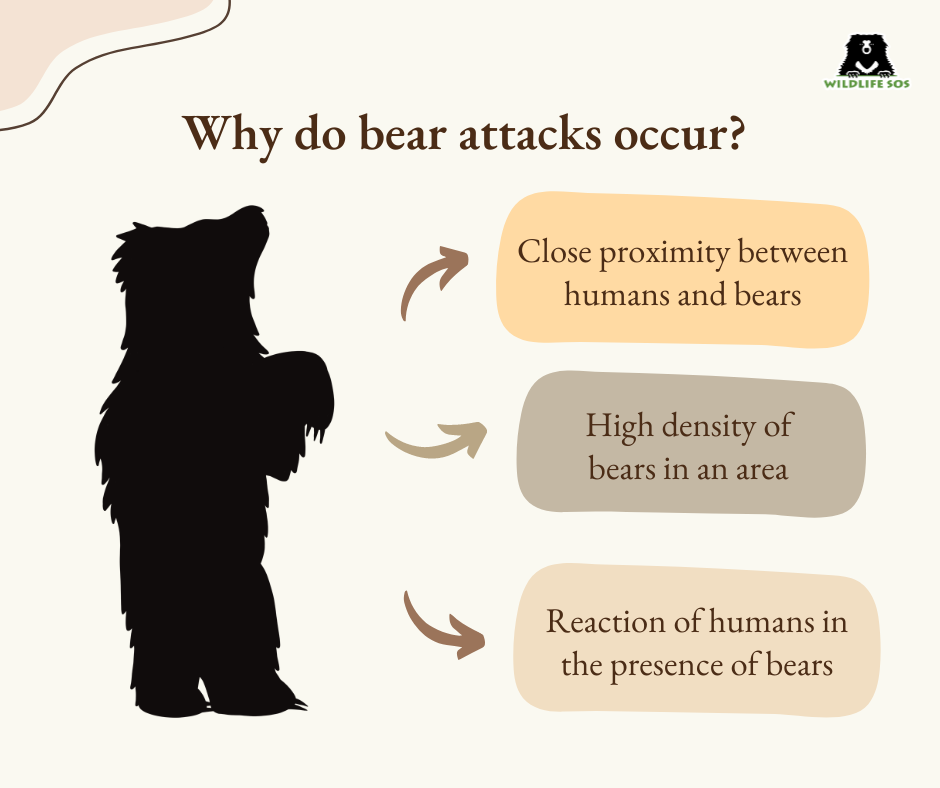 To understand the extent of this conflict, Wildlife SOS and the Jammu and Kashmir Wildlife Protection Department, Kashmir Region conducted research in the Kashmir Valley region. The research titled 'Asiatic Black Bear Ursus thibetanus attacks in Kashmir Valley, India' has been published recently in the Journal of Threatened Taxa, an international journal on conservation and associated fields. The study has revealed striking results. It has been noted that in a span of 20 years (from 2000 to 2020), a total of 2,357 bear attacks were recorded. Of these, 95.2% resulted in injuries to humans.
The maximum number of attacks (282) were reported in the year 2010 and the minimum (49) in 2020. Since 2016, the frequency of attacks has declined owing to positive as well as negative factors. The positive factors include awareness campaigns and active involvement of the wildlife department. Reduction in attacks has also been due to retaliatory killing — poison, gunshots, and setting bears on fire have been used as ways to execute bears.
In the 20 years that were considered in the study, the month of August was reported to have the most bear attacks (21.3%) while the least number of attacks (2.2%) occurred in January. Individuals between the ages of 31 and 50 years were found to be most susceptible to Asiatic Black bear attacks. Those working in or walking towards agricultural fields, gardens, or orchards have been prone to the attacks. Shepherds and herders who had taken their herds for grazing also became victims of bear attacks.
The research study categorised recorded injuries under 'minor', 'grievous', and 'permanent disability' based on the intensity of the attack. The injury was considered 'minor' if the victim received treatment at a local hospital, but 'grievous' if they were taken to a speciality hospital. In case the injury led to permanent incapacitation, it was recorded as 'permanent disability'.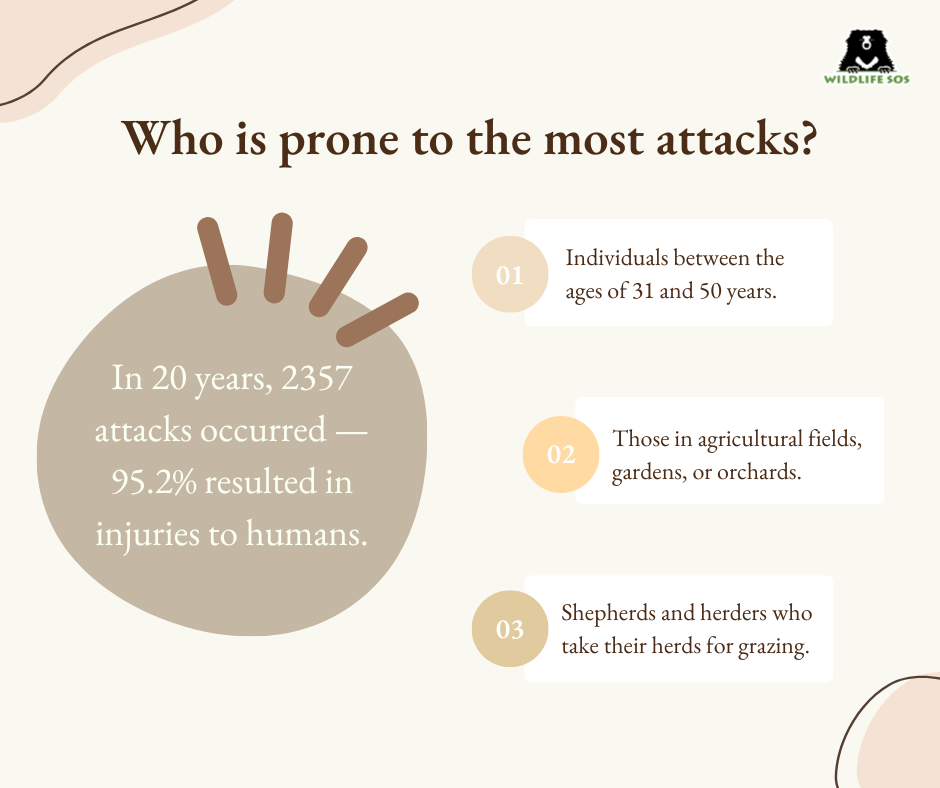 Avoiding Conflict with Asiatic Black Bears
In order to avoid encounters with or attacks by Asiatic Black bears, the authors of the study have collated advisories that can be followed. Making noise is highly recommended when one is approaching or moving within an area where bears are known to occur, because noise can alert bears and give them a chance to leave the area. In case of an attack by the bear, falling on the ground in a ball-like shape and immediately covering head and face with one's arms is extremely important in order to survive. The bear is likely to attack on the head and the face first.
Research studies are significant to highlight and understand human-wildlife interactions. Wildlife SOS has been working for the conservation of Asiatic Black bears in India for nearly 15 years. The Dachigam and Pahalgam Rescue Centres in Jammu and Kashmir are home to six rescued and rehabilitated Asiatic Black bears. Wildlife SOS has not only rescued these bears from precarious situations, but has also facilitated ex-situ conservation of this species by providing them rehabilitation. You can contribute towards the upkeep of these bears by making a donation here.
To read the research report in its entirety, click here.