What if we told you that climate change is causing an increase in snake sightings in Jammu and Kashmir? The state is blanketed by snow in January and February when temperatures can drop below 0 degree Celsius. March marks the arrival of spring, and Kashmir usually experiences rainfall in the months of March and April, followed by summer in May and June. But human-induced climate change resulted in a drastic transition from winter to summer this year.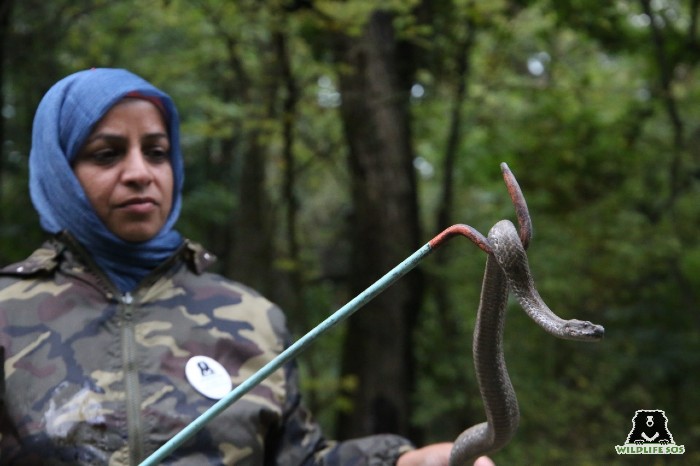 With summer arriving early, the Wildlife SOS 24-hour rescue helpline in Jammu and Kashmir started receiving snake rescue calls from the month of March itself. Our Jammu and Kashmir Programme Head Aaliya Mir informed us that the helpline starts receiving snake rescue calls generally from the month of May, with the arrival of summer. But how are increased snake sightings related to the early arrival of summer in the Valley?
Why We Are Seeing More Snakes
The month of March this year was reportedly the hottest March that India experienced in 122 years, and there was an increase in snake sightings across the Jammu and Kashmir landscape. Aaliya explained that due to the excessive heat and the lack of rainfall, there is a high probability that their hibernation period (known as brumation) was shorter, forcing them to come out of their burrows. Since snakes are ectothermic (animals that cannot regulate their internal body temperature), they do not come to the surface during the colder months of March and April. They remain underground to keep themselves warm, and only surface in summers for natural sunlight and heat.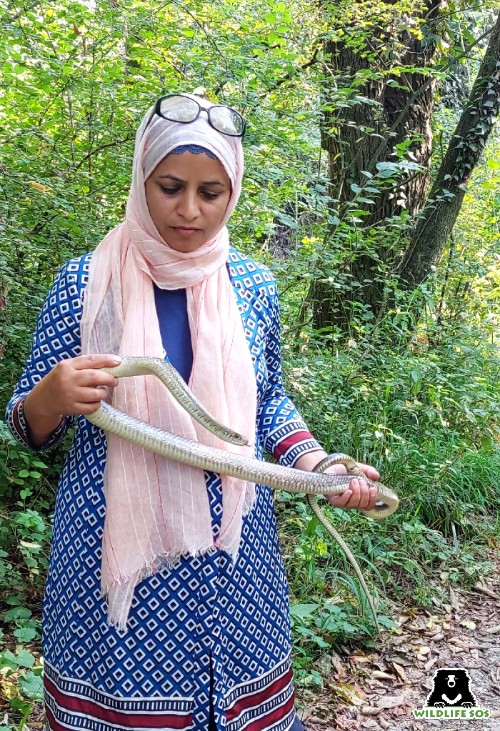 With the early arrival of summer this year, there has been a huge jump in the number of snake rescues by Wildlife SOS as compared to April 2021. A total of 19 snakes were rescued this April, as opposed to just one in April 2021. The month began with the rescue of a nearly four-foot-long Levantine Viper found inside a residential area in Srinagar within the Zabarwan Forest Range. The panicked residents who spotted the snake in their garden immediately informed the Wildlife SOS Rapid Response Unit.
After an hour-long operation, the rescue team finally extricated the venomous snake and put it into a safety box. This was the season's first viper rescue. Another Levantine Viper was rescued from the mess of a government office.
The Ones Most Rescued
The Wildlife SOS helpline operates out of the Srinagar district and receives rescue calls regarding a number of snake species within this area. Aaliya has noted that the maximum number of calls near the Dachigam area are of Levantine Vipers, followed by Himalayan Trinkets. As they move more toward the south of Srinagar, most of the rescue calls are of Indian Rat Snakes which come from urban areas and human-dominated landscapes. She recalls rescuing an Indian Rat Snake from the swimming pool of a hotel. Another species which our rescue team has encountered is the Eastern Cliff Racer, an elusive reptile not commonly seen in Jammu and Kashmir.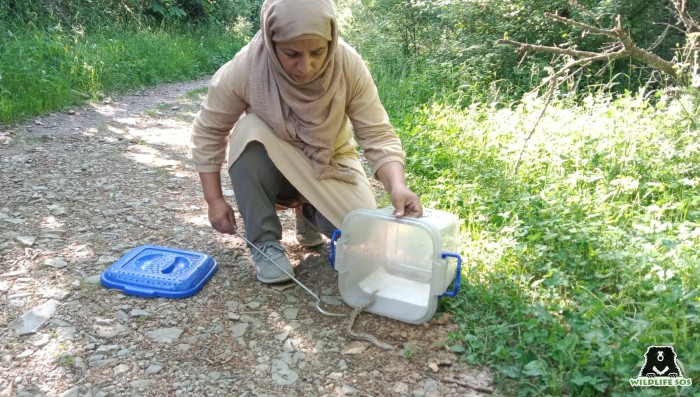 The month of May also saw a considerable rise in snake sightings with a total of 24 snake rescues which kept our rescue team busy. A nearly six-foot-long Himalayan Trinket Snake got injured in a conflict situation in the Zabarwan Forest Range area of Jammu and Kashmir, when the reptile was spotted by the locals.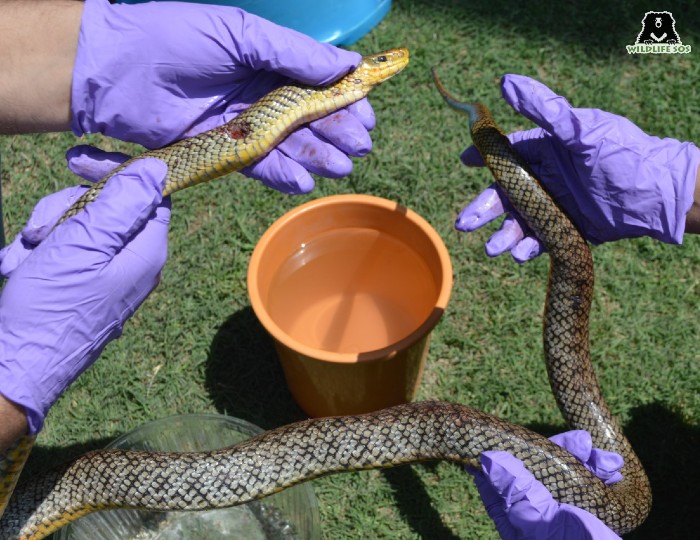 They tried to chase it away using either a stick or a sharp object, which injured the reptile on its neck. The Wildlife SOS Rapid Response Unit rescued the animal and provided topical medication to treat its injuries. To curb such instances from recurring, Aaliya and her team have conducted numerous awareness drives while rescuing a snake. She also educates the local people about the causes of increased snake sightings due to factors like climate change and rapid urbanisation. Because of these efforts, there has been a palpable shift in people's attitude towards snakes and other wildlife. Now they enquire about the various snakes found in the landscape, and the kind of measures that should be taken in case they spot one.
In some rare cases, the rescue team also comes across a few snake species which are not native to Jammu and Kashmir. Aaliya informed us about the rescue of a juvenile Common Sand Boa, which is not found here. It was suspected to have boarded a transport or goods carrier truck coming from another state. This instance can serve as a caution for people to check their vehicles, especially goods carrier vehicles, thoroughly for the presence of wildlife before moving from one state to another.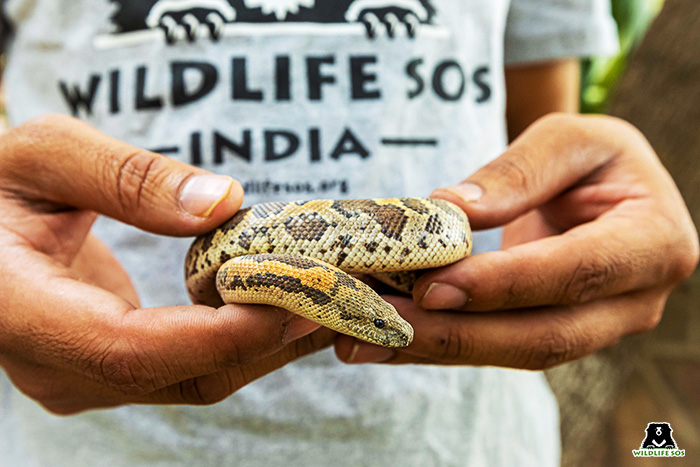 Wildlife SOS works tirelessly to save India's wildlife through its helplines which run 24×7 in four regions of the country, namely Delhi-NCR, Agra, Vadodara and Jammu and Kashmir. You can help in wildlife conservation efforts too, by becoming a monthly donor to support our rescue operations.