Wildlife SOS works relentlessly to save India's wildlife, through our helplines which run 24×7 in four regions of the country, namely Delhi-NCR, Agra, Vadodara and Jammu & Kashmir. During rescue operations, our various Rapid Response Units have had their fair share of unusual encounters. Reptile rescues form a large part of some of the most unusual rescues Wildlife SOS has conducted.
Bathrooms, LPG cylinders, parks, under a mixer grinder, store rooms, back seat of a scooter, and even car engines and tyres… you name it, and our teams have rescued a reptile from at least one of these places! It is time to take a look at some of the most unusual places that Wildlife SOS had to visit in order to rescue these animals.
Reptile Rescue Capital
When it comes to city rescues, we can never expect where one may have spotted a reptile. While instances of snake rescues are numerous, Monitor Lizard rescues are also carried out by Wildlife SOS occasionally. Some of the most commonly rescued snakes in Delhi-NCR include the Indian or Spectacled Cobra, Indian Rat Snake, Indian Rock Python, Common Sand Boa, Black-headed Royal Snake and Indian Wolf Snake, to name a few.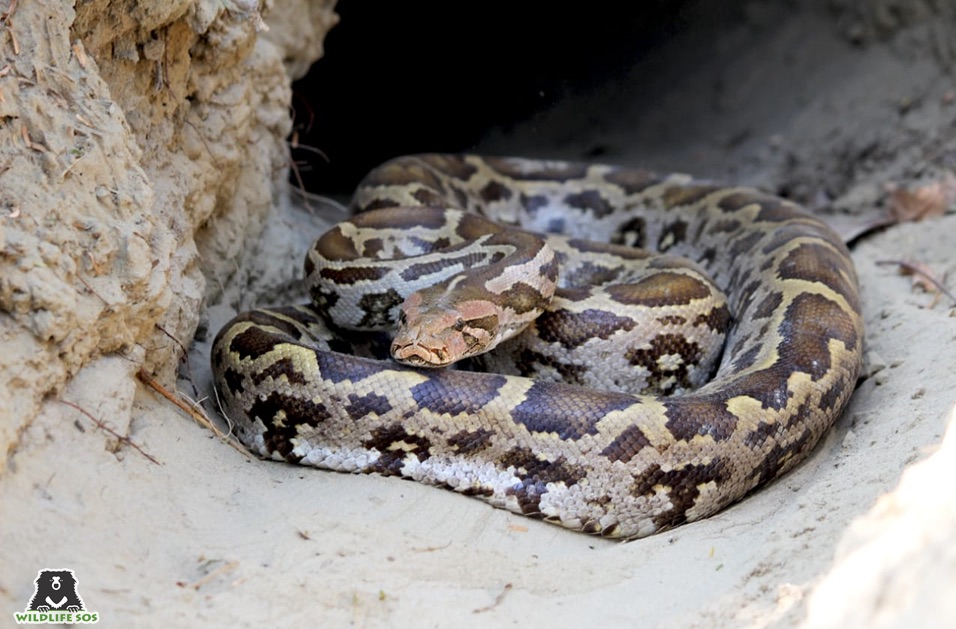 Our rescue team also comes across some rare and uncommon species, in unusual spaces! In one instance, a 4-foot-long Checkered Keelback was spotted nestled in the water pump motor of a residence in Delhi, and a Bronzeback Tree Snake was rescued from Delhi's Dwarka area. Residential areas are not the only places from where snakes are rescued. People working at Rashtrapati Bhavan recently got an unexpected visitor in the form of a 5-foot-long Indian Rat Snake. One of the guards discovered the reptile coiled up in one corner of the garden and immediately alerted Wildlife SOS. This is just one of the numerous instances where our team has rescued a snake from the President's Estate.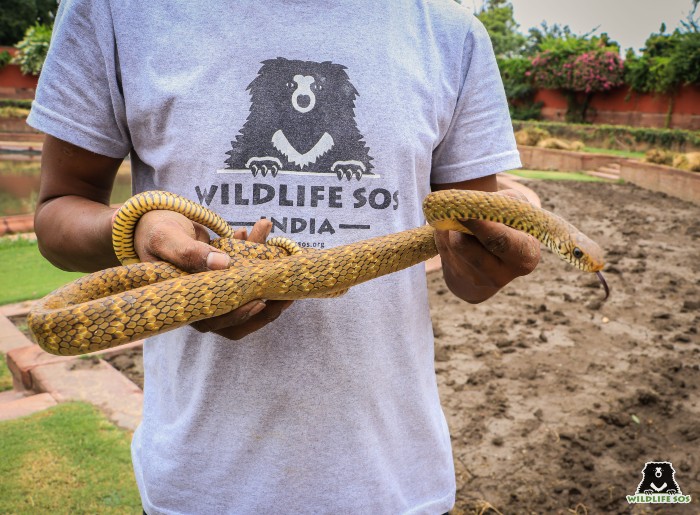 Snakes often find themselves entangled in synthetic nets that are mostly used for games such as tennis, cricket or volleyball. Recently, members of a residential colony in Ghaziabad came across a Black-headed Royal Snake entangled in a synthetic tennis net. After an extremely thorough operation which lasted nearly 30 minutes, the Wildlife SOS Rapid Response Unit carefully extricated the snake and handed it over to the Forest Department. Last year, Wildlife SOS had rescued a 6-foot-long python caught in a cricket net at a sports club in Gurgaon.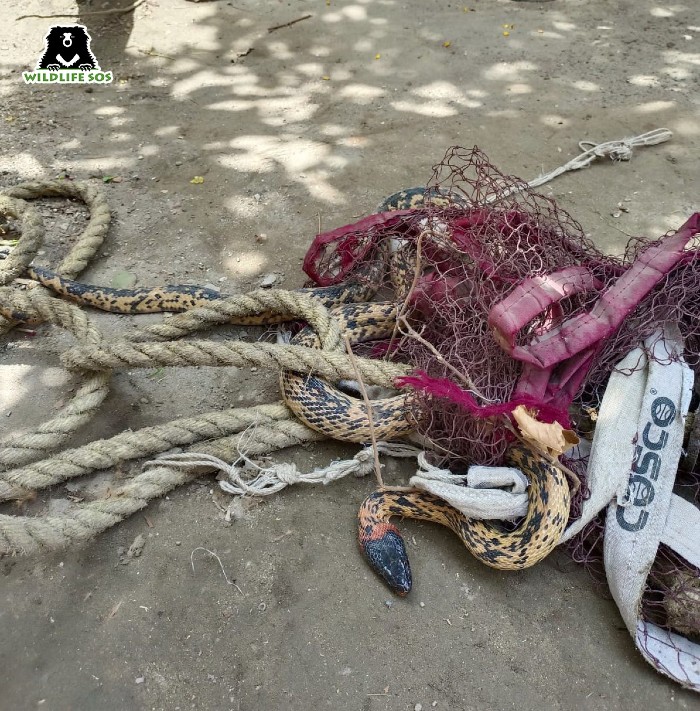 These synthetic nets found in gardens and fields are a bane for wild animals – especially reptiles. Unsuspecting wildlife can die from suffocation by being entangled or trapped in them.
In what was a rare operation, Wildlife SOS rescued a Buff Striped Keelback from a residential complex in Delhi. Though widespread across mainland India, this species is rarely seen, which made the rescue even more unique. In another bizarre scenario, Wildlife SOS rescued an Indian Cobra, which was coiled on top of an LPG gas cylinder in the kitchen of a renowned office complex in Gurgaon. But that wasn't all – the team recently also rescued and treated an injured Monitor Lizard found stuck in a wired fence along the garden of a Honda manufacturing unit in Greater Noida.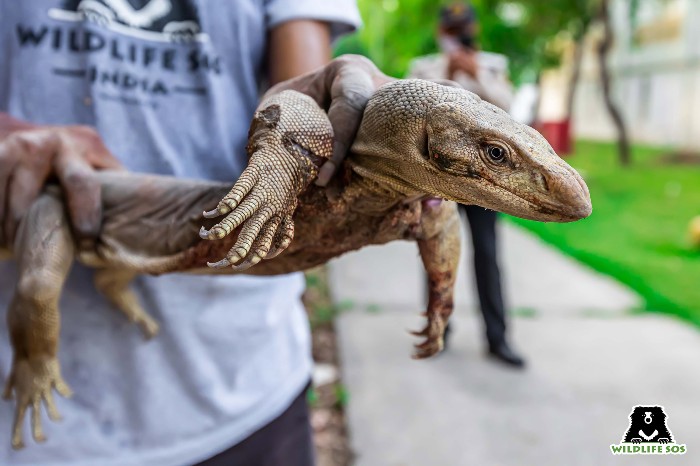 Wild animals enter urban settlements when their habitat is disturbed or encroached upon by rampant development, forcing them to seek refuge in human habitation. Wildlife SOS' 24-hour rescue helpline receives regular calls from people reporting snake sightings in buildings, parks, college premises and people's homes.
The Heat Factor
Rising mercury levels across northern India has seen snakes creeping out of their burrows and pits to take shelter in cooler places such as houses and factories. Consequently, the Wildlife SOS Rapid Response Unit has been busy saving reptiles across the city of Agra. One such emergency call was about a massive Indian Rat Snake seen entering the electric fuse panel of a house. The rescue team carefully removed the fuse box and brought the reptile to safety.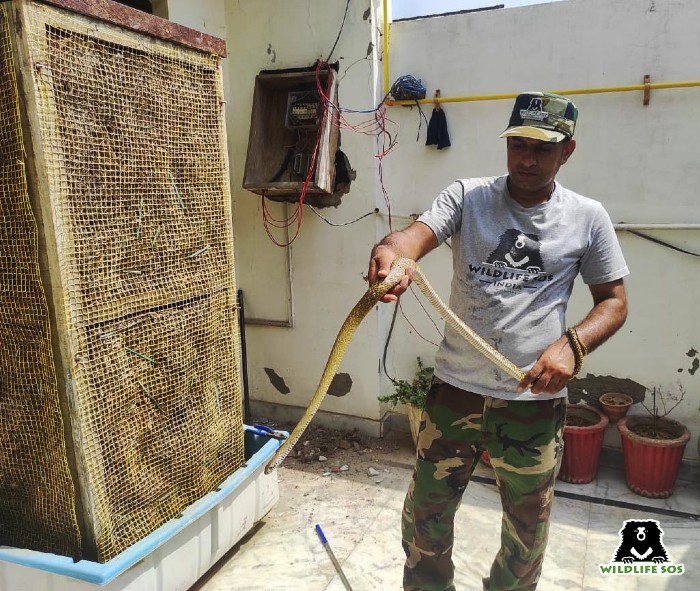 Soon after, the team received a panic-stricken call about an Indian Cobra sighted in the meeting hall of a school. This time, the snake took shelter in an empty paint bucket, from where it was safely rescued by Wildlife SOS. Earlier this year, the team had an encounter with a nearly 5-foot-long cobra at a railway station near Agra.
One of the major reasons for a spurt in snake sightings is the rise in temperature. Snakes are ectothermic animals; they cannot regulate their internal body temperature and therefore, rely on their environment. This makes them come out of their pits on hot days in search of cooler, shaded places to take shelter.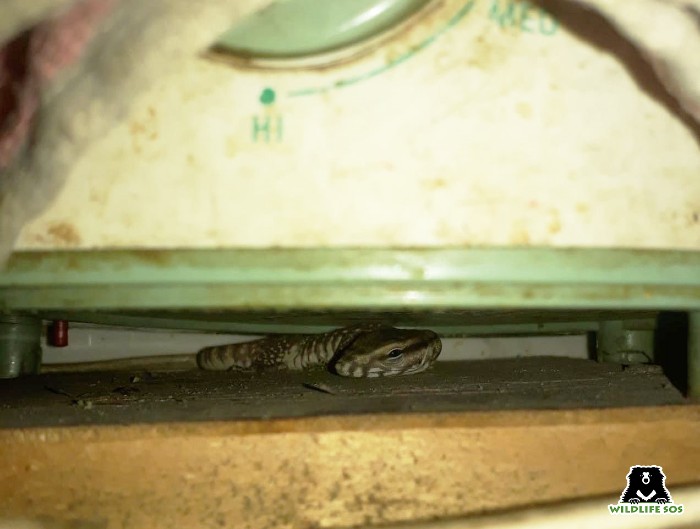 Out team has come across numerous situations involving Monitor Lizard rescues. One of them involved a Monitor Lizard hiding underneath a mixer grinder inside a residence in Agra. In another unusual scenario, members of an Agra household were flabbergasted to find a Monitor Lizard in a drain, with its head stuck in a jar. Wildlife SOS immediately reached the location upon being alerted and brought the distressed reptile to safety. The unusual spotting of this lizard is due to fragmentation and encroachment of wildlife habitats, leading to increasing interactions between human and wild animals.
Rescues at Higher Altitudes
The impact of fragmented habitats can be seen at higher altitudes as well. Our 24-hour helpline running in Jammu & Kashmir has conducted numerous reptile rescues across the landscape. One particular instance made headlines when the J&K team rescued the highly venomous Levantine Viper from the Chief Minister's residence. The Wildlife SOS Jammu & Kashmir Programme Head, Aaliya Mir carried out an-hour long operation to safely extract the snake. Recently, the J&K team rescued a nearly 4-foot-long Levantine Viper from the garden of a Srinagar residence. Extreme caution has to be exercised during the rescue of this particular snake due to its hemotoxic venom and highly aggressive nature.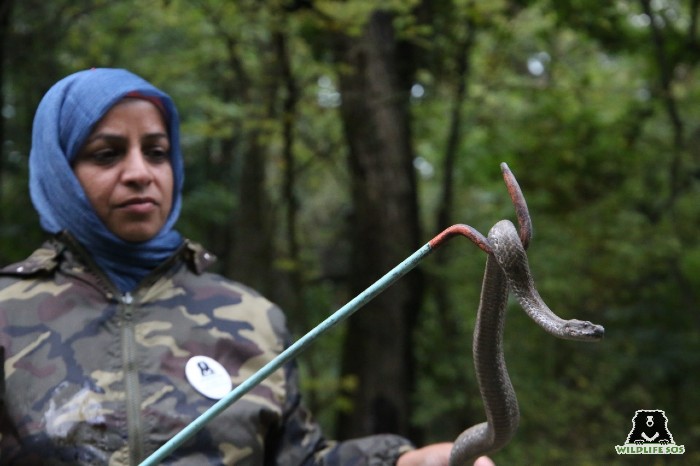 In a rare incident, the J&K rapid response unit rescued a juvenile Common Sand Boa. This snake is not native to Jammu & Kashmir, which makes the rescue a rare case. It was suspected to have boarded a transport or goods carrier truck coming from another state. According to Aaliya, this instance can serve as an example for people to be careful and check their vehicles, especially those carrying goods, thoroughly for the presence of wildlife, before moving from one state to another.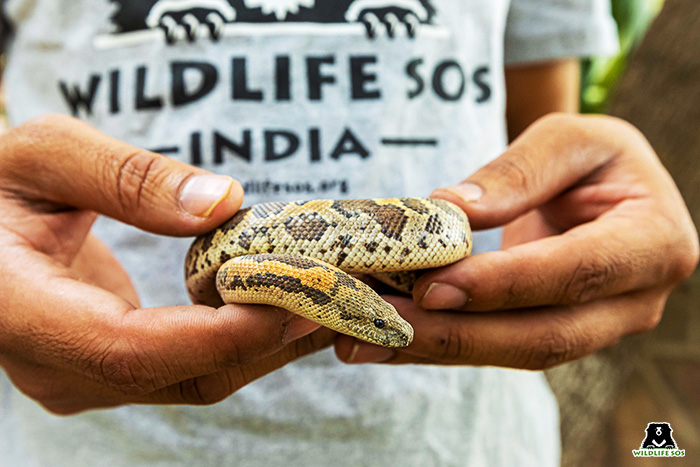 Wildlife SOS became the first organisation to initiate reptile rescues in the Valley. Battling stern stigma and a deep-rooted fear of snakes, our efforts soon built credibility among local communities. In May 2021, we launched the 24-hour rescue helpline in Jammu & Kashmir, which has carried out numerous rescues and managed to change people's attitude towards wildlife.
Crocs on Land
Gujarat is arguably the largest habitat for Mugger Crocodiles in the country with an estimated population of around 1,400. Vishwamitri, Narmada, Mahi and Dhadhar rivers are home to a lot of muggers, and three out of these four rivers flow through Vadodara city, where Wildlife SOS runs its 24-hour rescue helpline with the Gujarat Society for Prevention of Cruelty to Animals (GSPCA).
In Vadodara, flooding of the Vishwamitri river due to heavy monsoon rains forces the mugger crocodiles out of their natural habitat. When they are displaced, the crocodiles move into small ponds and reservoirs in search of food and shelter. Post the deluge, they sometimes lose their way and are spotted on land in human habitations. The Wildlife SOS-GSPCA team has rescued numerous muggers from slums, housing complexes, schools, under cars and more such unusual spots.
In one instance, a 4-foot-long mugger was found astray in a Vadodara slum. The Wildlife SOS-GSPCA team carefully extricated the reptile from the bathroom and released it back into the wild. In a separate incident, Wildlife SOS-GSPCA, in collaboration with the State Forest Department, rescued an 8-foot-long crocodile from a golf course.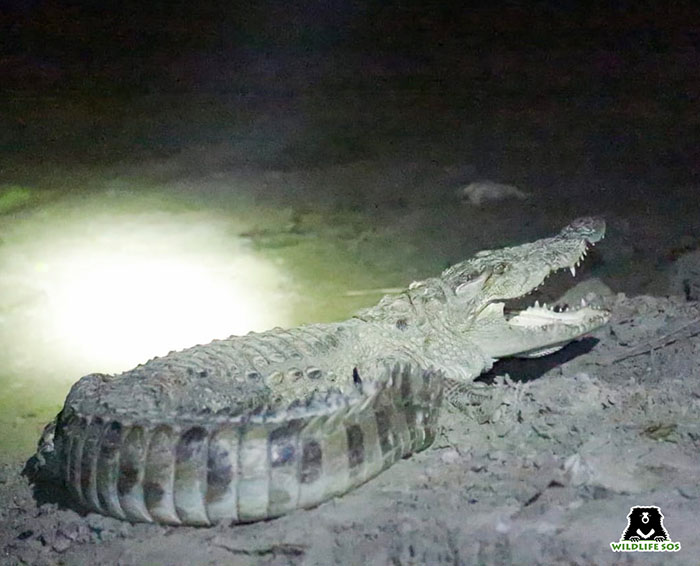 To ensure minimal interaction between crocodiles and humans, Wildlife SOS has conducted awareness programs to educate people on how to react to such scenarios. We put emphasis on avoidance behaviour, which is beneficial for one to avoid known hotspots or situations involving frightened or wounded crocodiles. We aim to reduce conflict by making people aware about the reasons which force crocodiles into man-made habitats, and the behaviour of these reptiles.
The unusual rescue instances give us a bigger picture of the grave impact of unplanned urbanisation on the habitats of wild animals, and the stress that these reptiles have to go through. Each rescue exposes the deep-rooted problems caused by anthropogenic pressures. You can play your part and contribute too. If you come across any wild animal that is injured, sick or in distress, do alert our rescue teams on these numbers:
Delhi NCR: +91-9871963535
Agra & Mathura in Uttar Pradesh: +91-9917109666
Vadodara, Gujarat: +91-9825011117
Jammu and Kashmir: +91-7006692300 and +91-9419778280