All sentient beings deserve to live a life free of cruelty and torment. As poaching and animal abuse plague the voiceless inhabitants of Earth, it becomes increasingly necessary to speak up for their rights. With that very aim, Wildlife SOS in collaboration with the Uttar Pradesh Forest Department conducted the "Wildlife Crime Enforcement and Prosecution Workshop" on 4th June 2023, at the Hindustan College of Science and Technology in Mathura, Uttar Pradesh.
The workshop was inaugurated by Chief guests – Hon'ble Mr. Justice Vivek Agarwal, Judge Madhya Pradesh High Court, Jabalpur Bench, Hon'ble Justice Mr. G.R. Swaminathan, Judge Madras High Court, Madurai Bench, and Hon'ble Mr. Justice Vinod Diwakar, Judge Uttar Pradesh High Court, Allahabad Bench in the presence of over 200 participants including judicial officers, forest officers, police officers and Advocates.
The workshop had a host of reputed and well experienced speakers from across India who shared their knowledge of wildlife crime investigation and prevention including the complications and challenges in wildlife prosecution, anti-poaching measures and the rights and conditions of captive elephants. Mr. Satyanarayan Vashishth, Adv. Supreme Court of India, moderated the session and invited the three chief guests on stage.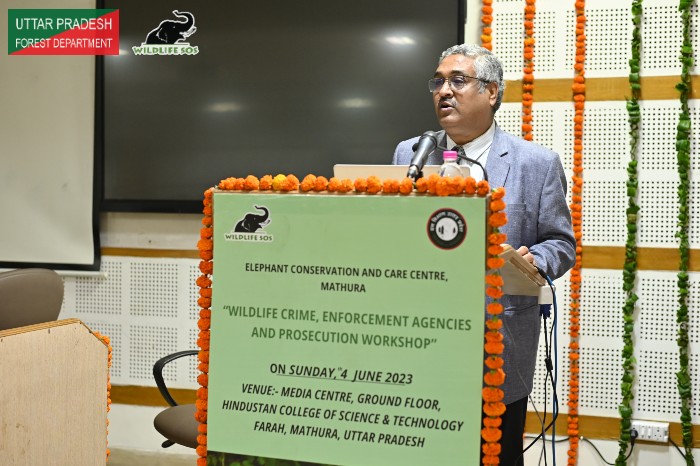 Wildlife crime prosecution served as the focus of the first session, which commenced with an inspiring keynote talk by Hon'ble Justice Shri Vivek Agarwal . This was followed by Hon'ble Mr. Justice Swaminathan's informative discussion of elephant Lalitha's case that concerned the death of the captive pachyderm in Virudhunagar, Tamil Nadu. Hon'ble Mr. Justice Vinod Diwakar conducted the third session by speaking on the topic of wildlife crime prosecution in Uttar Pradesh. He significantly emphasised that the tasks assigned to young forest department personnel would yield success if they are performed efficiently, without any fear or favour.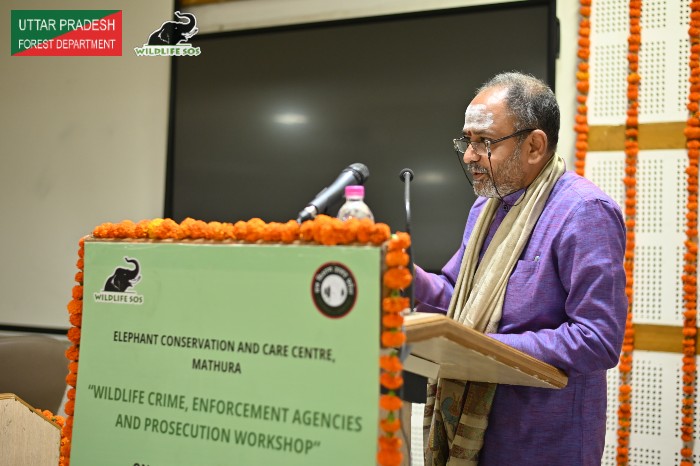 Justice Diwakar also spoke about sharpening investigative techniques and the necessity of drawing out the truth from the facts discovered during the investigation. In the present era, when cutting-edge scientific and forensic methods are available to identify the true offender, a scientific inquiry is essential. The judges' speeches shed light on important legal aspects of human-animal conflict and coexistence, and were followed by an interactive session with the audience.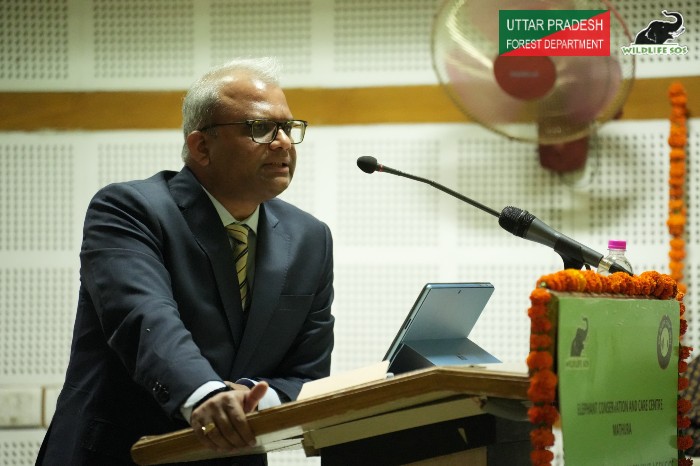 Following the sessions held by the keynote panel, Wildlife SOS CEO and Co-founder Kartick Satyanarayan introduced the topic of wildlife crime and case studies on it with a presentation. The talk delved into the tireless efforts of Wildlife SOS's Forest Watch division in keeping an eye out for illegal poaching activities and assisting enforcement agencies in taking action against them.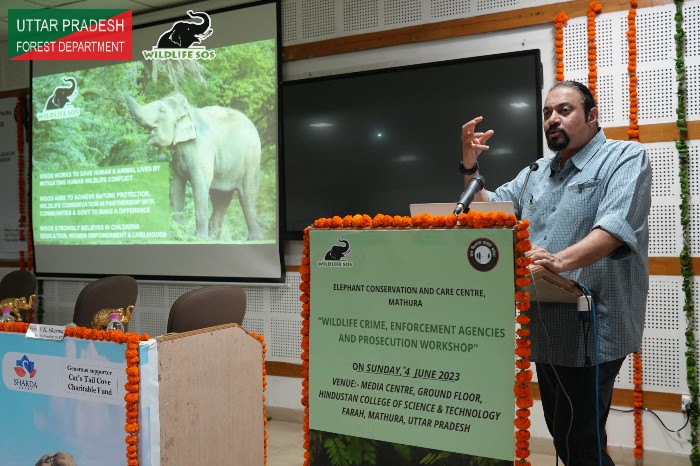 The technical sessions commenced with Mr. Rajnikant Mittal, IFS- Divisional Forest Officer Mathura, who took the stage to explain the investigation and prosecution of wildlife crime cases, substantiating his points with relevant case studies.
Ms. Shraddha Pandre- Divisional Forest Officer, Khandwa, Madhya Pradesh presented a case study on a wildlife crime that occurs in her region. She discussed the various difficulties faced while dealing with such crimes, as well as the potential strategies that would help overcome the same. Investigation and prosecution case studies were provided by Dr. Aravind Chaturvedi, IPS, SP Vigilance, Uttar Pradesh Police.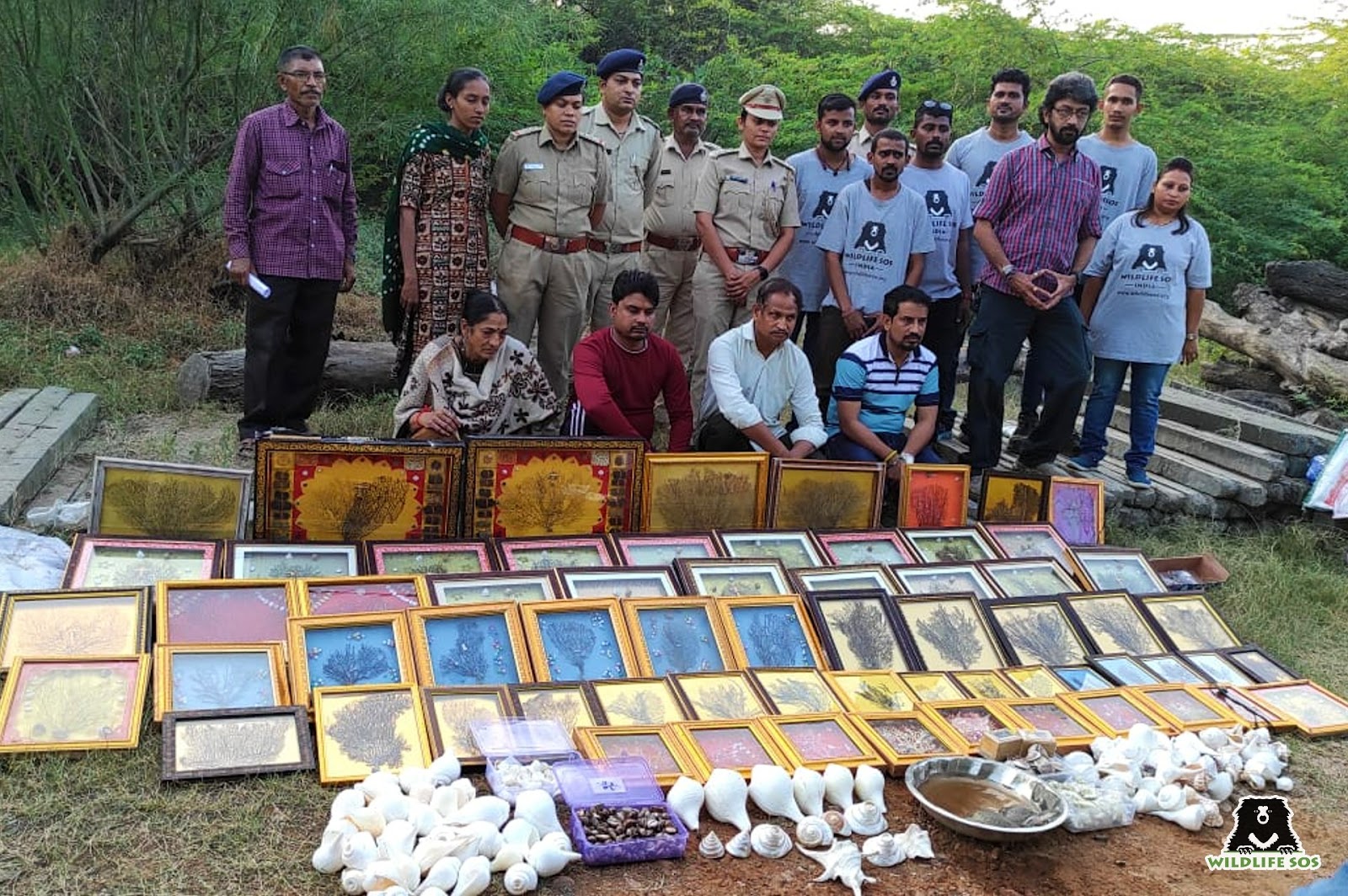 Mr. Adarsh Kumar, IFS- Divisional Forest Officer Agra, was the next speaker, and he brought forward the importance of conservation at the grassroots level. He highlighted the efforts of forest rangers and other officials who interact with local people living in the vicinity of forests and encourage them to remain alert about wildlife crimes. Mr. Baiju Raj M.V., Director of Conservation Forests and Mr. Wasim Akram, Deputy Director-Special Projects from Wildlife SOS also presented essential case studies on wildlife crime and anti-poaching measures.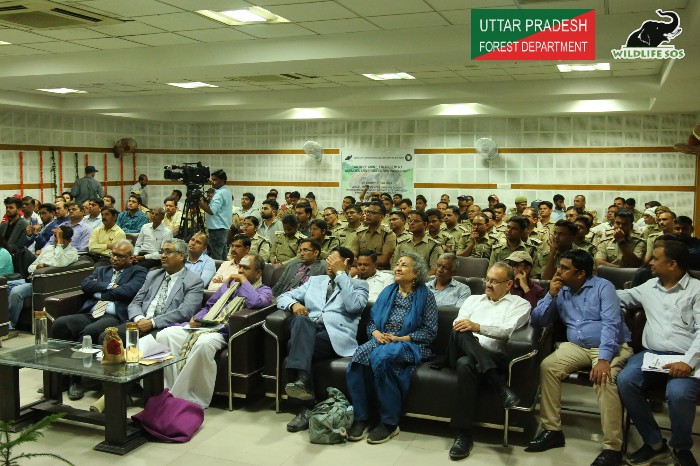 After a lunch break, the workshop resumed with a session with Shri Avishkar Singhvi, the Additional Standing Counsel of the Delhi High Court. Mr. Satyanarayan Vashishth concluded the session by bringing forward the high points of the workshop. A vote of thanks was then delivered by Mr. Baiju Raj M.V., and this was followed by the distribution of certificates to the participants. We are deeply grateful to the Cat's Tail Cove Charitable Fund and Hindustan College for their efforts in helping us make this endeavour a success.
We are looking forward to hosting many such sessions in the future in order to showcase the hurdles associated with wildlife conservation and the dedicated efforts of our team.