The 10th of March 2019 marks a memorable day for Wildlife SOS as the prestigious Maharana Udai Singh Award was presented to Kartick Satyanarayan, the Co-founder and CEO of Wildlife SOS for the organisation's wildlife conservation efforts. Geeta Seshamani, the Co-founder of Wildlife SOS and the Vice President of Friendicoes SECA (Society for the Eradication of Cruelty to Animals) was felicitated with the national award as well for her lifelong commitment towards animal welfare and wildlife conservation. Over 1500 national and international dignitaries invited by the Maharaja for the annual awards function people cheered as the Maharaja of Udaipur – His Royal Highness Shriji Arvind Singhji Mewar of Udaipur presented the prestigious award.
The Maharana of Mewar Charitable Foundation (MMCF), Udaipur was established in 1969 and the Maharana of Mewar Foundation Annual Awards (MMFAA) constitutes a major part of the activities of the foundation. It recognises the tremendous work of individuals towards the society in various fields. Eminent personalities who have been recipients of the prestigious Maharana Mewar Foundation awards include India's past President – Prof A P J Kalam, Mr Shekar Gupta of the Indian Express, Vocalist – Lata Mangeshkar, Celebrated Author – Sir V S Naipaul, Cricket Legend – Sunil Gavaskar, Bollywood actor Nandita Das, Environmental magazine publisher – Bittoo Sehgal, Writer & thinker – Shashi Tharoor, sports woman – PT Usha, TV anchor and News personality – Mr. Rajdeep Sardesai.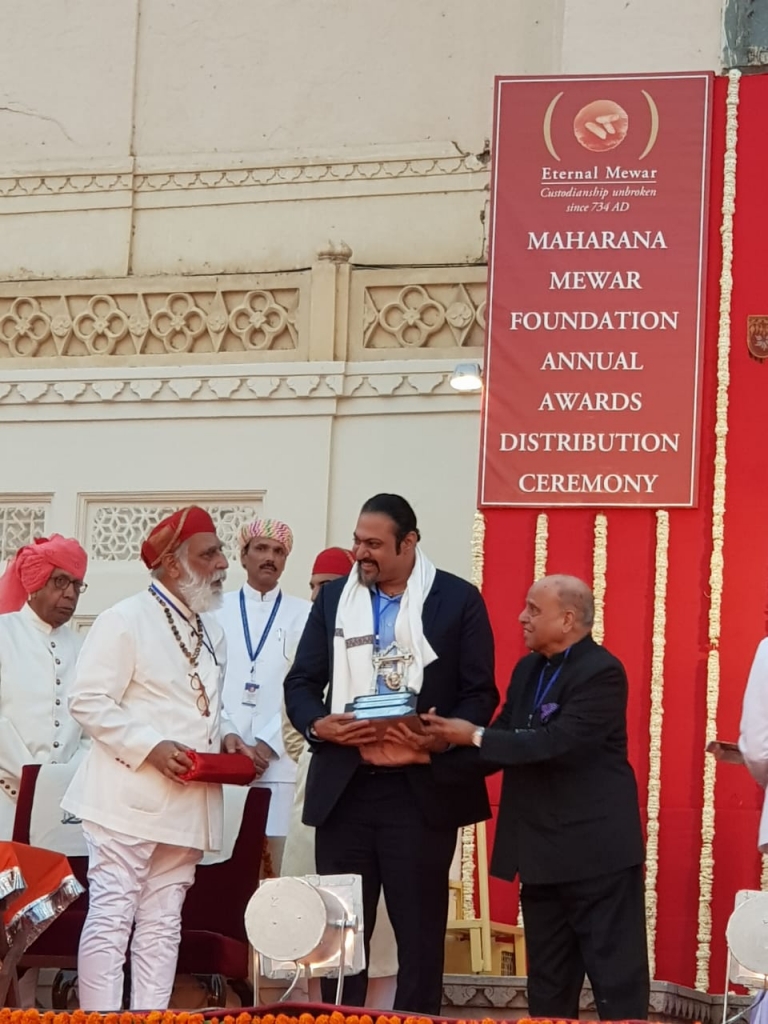 Geeta Seshamani and Kartick Satyanarayan have been honoured with Maharana Udai Singh Awards as recognition for over 20 years of incredible contribution to environment conservation and animal welfare in India. Their best known efforts of two decades were to end the illegal and brutal practice of "dancing bears" across India. They collaborated to establish Wildlife SOS as a non-profit charity in 1995 to combat illegal wildlife trafficking and to stop poaching by working with indigenous communities. They succeeded by focusing on a holistic approach by providing sustainable alternative livelihoods, education and women empowerment for the people who depended on exploitation of wildlife. This helped to wean the Kalandar community away from their dependency on using wild animals for their livelihood. Wildlife SOS today operates over ten wildlife rehabilitation centers across India in collaboration with the Government. The organization's work primarily revolves around wild animals such as the sloth bears, asian elephants and leopards, operates over ten wildlife rescue and rehabilitation centres across India in collaboration with the Indian Government, and provides medical treatment to animals in need.
Friendicoes SECA began as a shelter for sick, injured or abandoned pets in 1979 in Delhi. Today, the organisation runs several animal birth control programs, has a well-equipped life time care sanctuary and a mobile clinic for working equine animals like horses, mules and donkeys and helps the economically disadvantaged owners with their treatment and care.
Kartick and Geeta were both humbled by the national awards and grateful for the acknowledgement by the Maharana of Mewar Charitable Foundation. According to Kartick, "We must honour India's diverse but fast disappearing wildlife heritage and it is the need of the hour to encourage positive environmental action by inspiring people to take active participation in working to improve and protect it." It is a milestone for both Wildlife SOS and Friendicoes. Geeta affirmed by saying, "people can create more compassion & love for animals. A greater understanding of why it's so important to human life needs to be conserved." It is believed that the award will bring attention of the people to animal welfare and India's efforts to protect wildlife.
Wildlife SOS is truly honored by this esteemed recognition and really grateful to the Royal Family of Udaipur . The organisation has reached greater success with our Co-Founders' unwavering dedication and it motivates all of us at Wildlife SOS to work harder towards conserving wildlife.