Wildlife SOS was invited to participate in an international seminar on 'Challenges in Healthcare, Welfare and Conservation of Asian Elephants and Rhinos'. The three-day programme was hosted by the College of Veterinary Science, Assam Agricultural University in Guwahati.
Wildlife SOS was one of the speakers at the seminar, deliberating on the topic 'Elephant Healthcare and Management, a Welfare-oriented Approach'. Wildlife SOS shared their knowledge in the field of welfare and conservation. In their presentations, Dr. S. Ilayaraja, Deputy Director of the Veterinary Department at Wildlife SOS and Kartick Satyanarayan, Wildlife SOS Co-founder and CEO, highlighted the in-depth and high degree of veterinary care provided to rescued elephants at the Elephant Hospital and Elephant Conservation and Care Centre at Mathura, in Uttar Pradesh. Both these facilities are run by Wildlife SOS in collaboration with the state forest department.
Sjt. Atul Bora, Hon'ble Minister of Animal Husbandry and Veterinary Science, Govt. of Assam and Sjt. Chandra Mohan Patowary, Hon'ble Minister of Environment and Forests, Govt. of Assam were present as chief guests for the inauguration of the international seminar. They were accompanied by members of the Assam Veterinary College: Dr. Kushal Konwar Sarma, HoD, Dept. of Surgery and Radiology, Dr. B. C. Deka, Vice Chancellor and Dr. B. K. Saikia, Dean.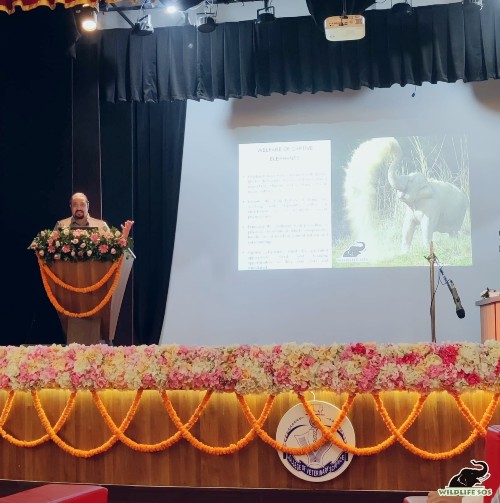 Representing Wildlife SOS, Kartick Satyanarayan and Dr. S. Ilayaraja spoke on contemporary views on the welfare of elephants in captivity. They added valuable insight on the plight of captive elephants, and the various welfare and health issues they face. These include chronic foot infections, blindness and lameness due to malnutrition and osteoarthritis, with a focus on how to address these issues at the ground level.
Wildlife SOS has been rescuing elephants from mistreatment and exploitation for over two decades. The primary factors involved are tourism, circus performances, entertainment and street begging. At Wildlife SOS, special care is provided for geriatric elephants using modern medical equipment such as hydrotherapy pools, portable X-ray machine, and laser therapy machines, among the most important ones. A healthy living environment and humane management is equally essential to aid the overall healing process of elephants.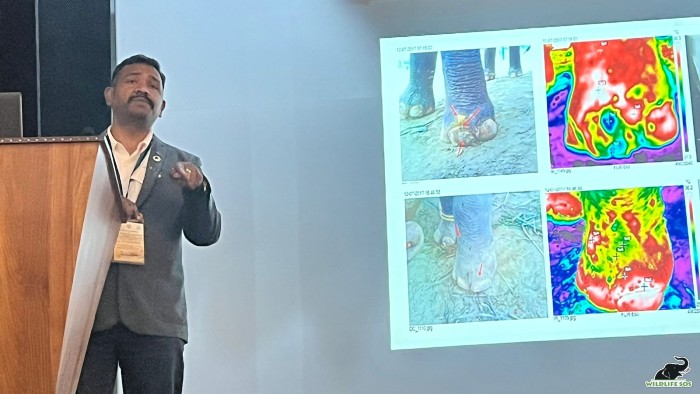 This international seminar served as an influential platform to bring together wildlife veterinarians, and experts in the field of elephant and rhinoceros welfare, and conservation. It allowed for representatives from all three fields to converge and exchange useful information. Conservationists were apprised of the veterinary measures that are currently being undertaken. Similarly, the veterinarians learnt about welfare issues and conservation actions that are taking place on the ground.
The seminar saw the gathering of veterinary professionals representing various government and non-government conservation organisations. The topics covered broad-scale ecological issues and were presented with an inclination to provide solutions, such as preventing train-elephant collisions in Assam, human-elephant coexistence by protecting crops and empowering communities, and managing human-elephant conflict in the Brahmaputra landscape.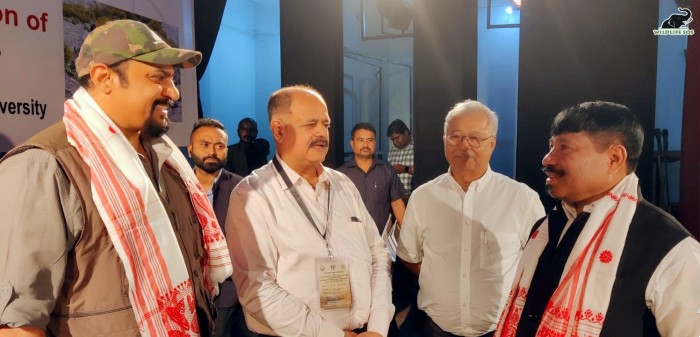 The event also included talks on health management topics such as captive and free-ranging elephant healthcare, the welfare of elephants in captivity, breeding management and assisted reproduction in elephants, and emerging and re-emerging diseases in elephants. There were sessions dedicated to issues like mismanagement of captive elephants in temples, vaccination of elephants, non-invasive treatment methods, hand-rearing orphaned elephant calves, and health management of elephants in Thailand.
Meanwhile, the segment dedicated to Greater one-horned rhinos dealt with topics such as diseases in free-ranging and wild rhinos, global initiatives of rhino conservation, stray rhino management, captive breeding to revamp threatened rhino species and insight into rhino horn trade.
With regard to the welfare and health management of elephants in captive care, Wildlife SOS has been a pioneer and has always taken important strides. Wildlife SOS has held veterinary workshops on elephant welfare with the Elephant Cell at the Wildlife Institute of India, MoEF&CC and the Uttar Pradesh Forest Department in the past. The one held at Agra dealt with topics such as disease management, musth management in male elephants and human-elephant conflict.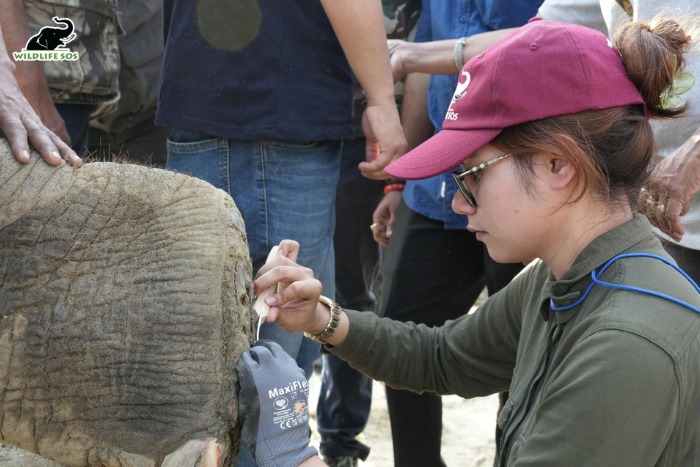 In February 2023, Wildlife SOS conducted its first- ever international elephant healthcare workshop at its Elephant Hospital Campus in Mathura. The workshop was the Met Gala of elephant experts congregating from different organisations. Workshops like these are crucial in strengthening the frontline capacity of field veterinarians and elephant caregivers. You too can play an integral part and help our veterinary team to further elephant conservation. Click here to become a monthly donor for Wildlife SOS and support our efforts.