As one of the first Indian wildlife charities to reach over a hundred thousand subscribers on YouTube, Wildlife SOS has been awarded the Silver Play Button. This Creator Award from YouTube is a testament to the organisation's efforts to promote its cause on the well-known video-sharing website.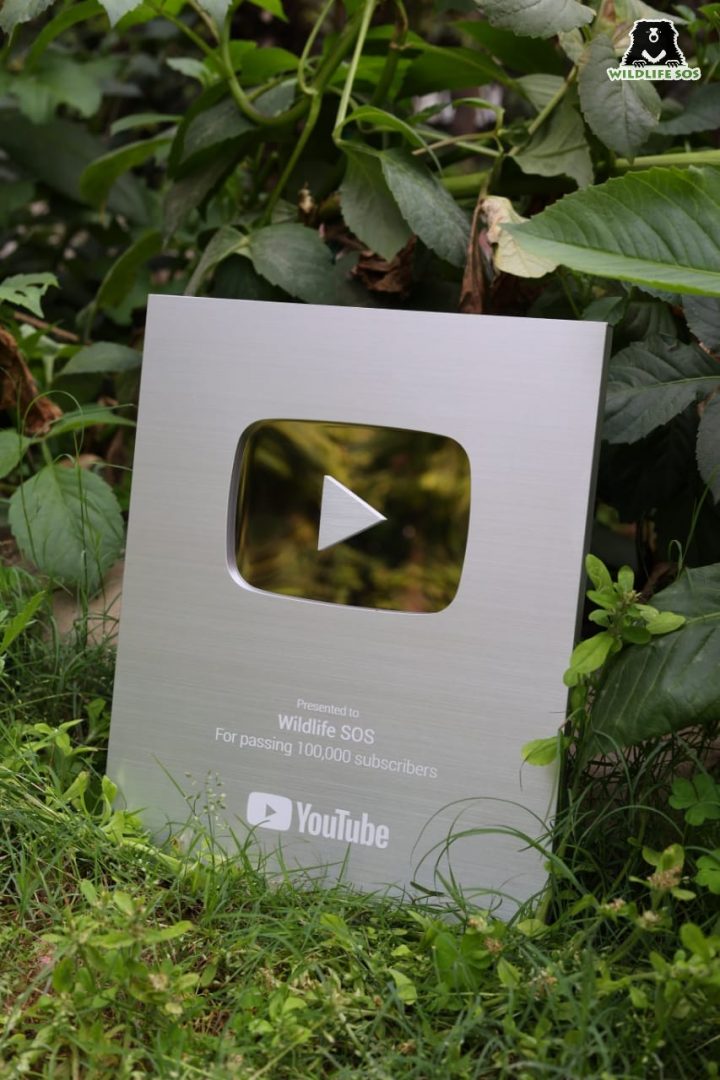 The Silver Button is awarded to a YouTube channel that reaches the milestone of 100k subscribers. In fact, this week we rapidly surpassed 250,000 subscribers. Our videos have received thousands of views and supportive comments from people all over the world.
In recent times, our work with leopards has garnered significant media attention. Rising urbanisation has led to more wild cats entering human habitations. Huge fields of sugarcane have now encroached upon their formerly wilderness-filled environment. The beginning of sugarcane harvest coincides with the period that leopards are known to give birth, and mothers use the thick, dense foliage as the perfect, alternative cover for their cubs when they go out to hunt for food. Often times, mother leopards are separated from their cubs, necessitating collaborative action by our rescue team, famers and the state forest department to reunite them. This reunion is made possible by the timely action of local farmers who spot these cubs.
The danger of open wells is another lived reality that leopards have to contend with. Our team at the Manikdoh Leopard Rescue Centre has saved over 40 leopards from open wells in Maharashtra.
The audio-visual documentation of these rescues on the Wildlife SOS YouTube channel serves to educate and caution the populace of how open wells threaten not only leopards, but also other wild animals. Our efforts are recorded to emphasise the importance of covering wells up and preventing accidents from taking place. On-field videos significantly record challenging rescue operations, animal behaviour and the various threats that surround our planet's wild cohabitants.
One of our recent videos on YouTube was about Nina, the blind begging elephant who is under the care of Wildlife SOS at its Elephant Hospital Campus in Uttar Pradesh. The footage served as an eye-opener on the brutality faced by begging elephants, and captivated the attention of viewers worldwide. Elephants are known to have complex emotions, and they exhibit their mood through their behaviour. The pachyderms under our care come from a life of cruel neglect that affected their health and wellbeing. Through our videos on YouTube, we are able to share their stories far and wide.
As highly sociable animals, rescued elephants at our centres often bond with each other and form new social groups. The heart-warming videos of such introductions strike a chord with many who appreciate the new lease of life these gentle giants are given at our Elephant Care and Conservation Centre (ECCC).
Wildlife SOS has been instrumental in stopping the 'dancing' bear tradition in India. Our Agra Bear Rescue Facility (ABRF), Bannerghatta Bear Rescue Centre (BBRC), Van Vihar Bear Rescue Facility and Purulia Bear Rescue Facility have proven crucial rehabilitation homes for many of these bears, some of whom have also been rescued from jaw traps and poachers. The Wildlife SOS YouTube channel documents the nature of human-animal conflict with these unique bears found only in the Indian subcontinent.
However, sloth bears are not the only ursines that we work with. Rapid urbanisation in the Himalayas has brought human beings in closer proximity to Asiatic black bears and Himalayan brown bears. A webinar recording on our survey of Himalayan brown bears received applause on YouTube for the information gathered about a bear species that had largely slipped under the radar.
While leopards, elephants, and bears are the primary species we work with, our videos on YouTube feature a whole host of mammalian, avian and reptilian rescues. Talking about reptiles like snakes and animals like bats is often a two-step process, be it on the rescue site or online. During rescue operations, our team interacts with people to dismantle stigmas that surround misunderstood animals. Increasing awareness is a key step to encourage wildlife conservation.
Our YouTube channel also features wildlife warriors from various walks of life! Corporate partners, celebrity volunteers and local villagers in conflict areas have joined hands with us to demonstrate their dedication to our cause. A recent highlight has been the active participation of celebrity Jennifer Winget at ECCC and ABRF.
To know more about our activities and how we strive tirelessly to protect India's wildlife, subscribe to our YouTube channel.